Abstract
Studies on human thermal comfort in urban areas typically quantify and assess the influence of the atmospheric parameters studying the values and their patterns of the selected index or parameter. In this paper, the interpretation tools are the first derivative of the selected parameters (∆Parameter/∆t) and the violin plots. Using these tools, the effect of sites' configuration on thermal conditions was investigated. Both derivatives and violin plots indicated the ability of vegetation to act as a buffer to the rapid changes of air temperature, mean radiant temperature, and the physiologically equivalent temperature (PET). The study is focused on the "thermal extreme" seasons of winter (December, January, and February) and summer (June, July, and August) during a 3-year period of measurements in five selected sites under calm wind and sunny conditions. According to the results, the absence of vegetation leads to high derivative values whereas the existence of dense vegetation tends to keep the parameters' values relatively low, especially under hot weather conditions.
This is a preview of subscription content, log in to check access.
Access options
Buy single article
Instant access to the full article PDF.
US$ 39.95
Tax calculation will be finalised during checkout.
Subscribe to journal
Immediate online access to all issues from 2019. Subscription will auto renew annually.
US$ 99
Tax calculation will be finalised during checkout.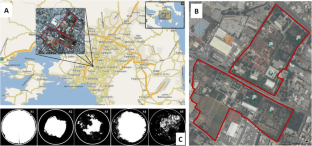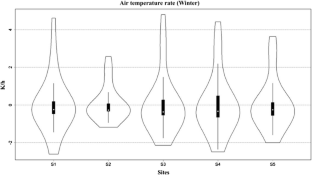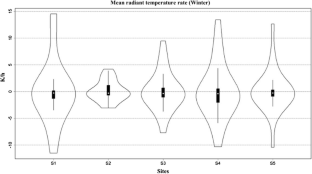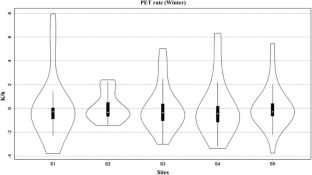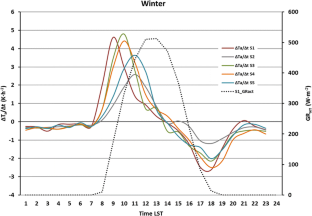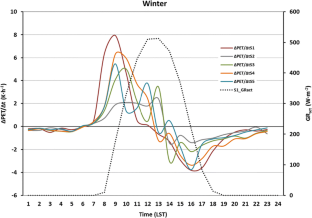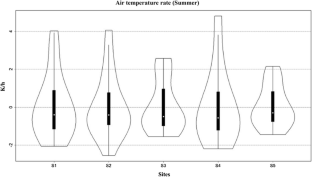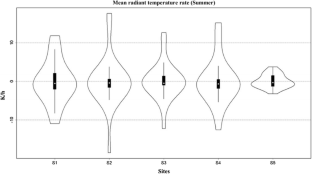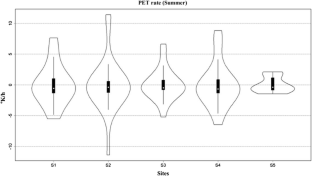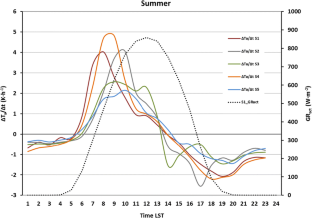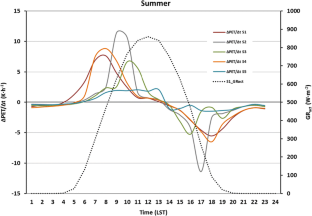 References
Ahmed KS (2003) Comfort in urban spaces: defining the boundaries of outdoor thermal comfort for the tropical urban environments. Energy Build 35(1):103–110. doi:10.1016/S0378-7788(02)00085-3

Akbari H (1992) Cooling our communities: a guidebook on tree planting and light-colored surfacing. vol Report; Lbl-31587

Ali-Toudert F, Mayer H (2007) Effects of asymmetry, galleries, overhanging facades and vegetation on thermal comfort in urban street canyons. Sol Energy 81(6):742–754

Bowler DE, Buyung-Ali L, Knight TM, Pullin AS (2010) Urban greening to cool towns and cities: a systematic review of the empirical evidence. Landsc Urban Plan 97(3):147–155. doi:10.1016/j.landurbplan.2010.05.006

Brown R (2010) Design with microclimate. The secret to comfortable outdoor space. Island Press, Washington

Bulmer M (1979) Principles of statistics. Dover Publications, New York

Cao X, Onishi A, Chen J, Imura H (2010) Quantifying the cool island intensity of urban parks using ASTER and IKONOS data. Landsc Urban Plan 96(4):224–231. doi:10.1016/j.landurbplan.2010.03.008

Charalampopoulos I, Chronopoulou-Sereli A (2005) The influence of urban green areas on Discomfort and Relative Strain Index spatial pattern. The case of 'Elaionas' region in Athens, Greece. Annalen der Meteorologie 41

Charalampopoulos I, Chronopoulou-Sereli A, Tsiros I, Matzarakis A (2013a) A numerical model-based method for estimating wind speed regime in outdoor and semi-outdoor sites in the urban environment. In: 12th Conference on Environmental Science and Technology, CEST2013 Athens, Greece

Charalampopoulos I, Tsiros I, Chronopoulou-Sereli A, Matzarakis A (2013b) Analysis of thermal bioclimate in various urban configurations in Athens, Greece. Urban Ecosystems:1–17. doi:10.1007/s11252-012-0252-5

Chow WTL, Svoma BM (2011) Analyses of nocturnal temperature cooling-rate response to historical local-scale urban land-use/land cover change. J Appl Meteorol Climatol 50(9):1872–1883. doi:10.1175/JAMC-D-10-05014.1

Cohen P, Potchter O, Matzarakis A (2012) Daily and seasonal climatic conditions of green urban open spaces in the Mediterranean climate and their impact on human comfort. Build Environ 51(0):285–295. doi:10.1016/j.buildenv.2011.11.020

Fanger P (1972) Thermal comfort. McGraw Hill, New York

Fröhlich D, Matzarakis A (2013) Modeling of changes in thermal bioclimate: examples based on urban spaces in Freiburg, Germany. Theor Appl Climatol 111(3–4):547–558. doi:10.1007/s00704-012-0678-y

Giridharan R, Lau SSY, Ganesan S, Givoni B (2007) Urban design factors influencing heat island intensity in high-rise high-density environments of Hong Kong. Build Environ 42(10):3669–3684

Giridharan R, Lau SSY, Ganesan S, Givoni B (2008) Lowering the outdoor temperature in high-rise high-density residential developments of coastal Hong Kong: the vegetation influence. Build Environ 43(10):1583–1595

Givoni B (1991) Impact of planted areas on urban environmental quality: a review. Atmos Environ Part B Urban Atmos 25(3):289–299

Gómez F, Cueva AP, Valcuende M, Matzarakis A (2013) Research on ecological design to enhance comfort in open spaces of a city (Valencia, Spain). Utility of the physiological equivalent temperature (PET). Ecol Eng 57(0):27–39. doi:10.1016/j.ecoleng.2013.04.034

Gulyás Á, Unger J, Matzarakis A (2006) Assessment of the microclimatic and human comfort conditions in a complex urban environment: modelling and measurements. Build Environ 41(12):1713–1722. doi:10.1016/j.buildenv.2005.07.001

Hassid S, Santamouris M, Papanikolaou N, Linardi A, Klitsikas N, Georgakis C, Assimakopoulos DN (2000) The effect of the Athens heat island on air conditioning load. Energy Build 32(2):131–141

He X, Miao S, Shen S, Li J, Zhang B, Zhang Z, Chen X (2014) Influence of sky view factor on outdoor thermal environment and physiological equivalent temperature. International Journal of Biometeorology:1–13. doi:10.1007/s00484-014-0841-5

Hintze JL, Nelson RD (1998) Violin plots: a box plot-density trace synergism. Am Stat 52(2):181–184. doi:10.1080/00031305.1998.10480559

Holmer B, Thorsson S, Eliasson I (2007) Cooling rates, sky view factors and the development of intra-urban air temperature differences Geografiska Annaler: series a. Phys Geogr 89(4):237–248. doi:10.1111/j.1468-0459.2007.00323.x

Höppe P (1999) The physiological equivalent temperature—a universal index for the biometeorological assessment of the thermal environment. Int J Biometeorol 43(2):71–75

Hwang R-L, Lin T-P, Matzarakis A (2011) Seasonal effects of urban street shading on long-term outdoor thermal comfort. Build Environ 46(4):863–870. doi:10.1016/j.buildenv.2010.10.017

Jenerette GD, Harlan SL, Brazel A, Jones N, Larsen L, Stefanov WL (2007) Regional relationships between surface temperature, vegetation, and human settlement in a rapidly urbanizing ecosystem. Landsc Ecol 22(3):353–365. doi:10.1007/s10980-006-9032-z

Kassomenos PA, Katsoulis BD (2006) Mesoscale and macroscale aspects of the morning Urban Heat Island around Athens, Greece. Meteorol Atmos Phys 94(1):209–218

Ketterer C, Matzarakis A (2014) Human-biometeorological assessment of heat stress reduction by replanning measures in Stuttgart, Germany. Landsc Urban Plan 122:78–88. doi:10.1016/j.landurbplan.2013.11.003

Ketzler G (2013) The diurnal temperature cycle and its relation to boundary-layer structure during the morning transition. Boundary-Layer Meteorology:1–17. doi:10.1007/s10546-013-9898-7

Krüger EL, Minella FO, Matzarakis A (2013) Comparison of different methods of estimating the mean radiant temperature in outdoor thermal comfort studies. International Journal of Biometeorology:1–11. doi:10.1007/s00484-013-0777-1

Lafortezza R, Carrus G, Sanesi G, Davies C (2009) Benefits and well-being perceived by people visiting green spaces in periods of heat stress. Urban For Urban Green 8(2):97–108

Landsberg H (1981) The urban climate. Academic, New York

Lee DO (1979) Contrasts in warming and cooling rates at an urban and a rural site. Weather 34(2):60–66. doi:10.1002/j.1477-8696.1979.tb03406.x

Lin B, Li X, Zhu Y, Qin Y (2008) Numerical simulation studies of the different vegetation patterns' effects on outdoor pedestrian thermal comfort. J Wind Eng Ind Aerodyn 96(10–11):1707–1718

Lin T, Matzarakis A, Hwang R (2010) Shading effect on long-term outdoor thermal comfort. Build Environ 45(1):213–221

Matzarakis A, Mayer H, Iziomon MG (1999) Applications of a universal thermal index: physiological equivalent temperature. Int J Biometeorol 43(2):76–84

Matzarakis A, Rutz F, Mayer H (2000) Estimation and calculation of the mean radiant temperature within urban structures. In: de Dear R-J, Kalma. J-D, Oke T-R, Auliciems A (eds) ICB-ICUC'99, Sydney

Matzarakis A, Rutz F, Mayer H (2007) Modelling radiation fluxes in simple and complex environments—application of the RayMan model. Int J Biometeorol 51(4):323–334

Matzarakis A, Rutz F, Mayer H (2010) Modelling radiation fluxes in simple and complex environments: basics of the RayMan model. Int J Biometeorol 54(2):131–139. doi:10.1007/s00484-009-0261-0

Matzarakis A, Muthers S, Koch E (2011) Human biometeorological evaluation of heat-related mortality in Vienna. Theor Appl Climatol 105(1–2):1–10. doi:10.1007/s00704-010-0372-x

Mayer H, Höppe P (1987) Thermal comfort of man in different urban environments. Theor Appl Climatol 38(1):43–49. doi:10.1007/BF00866252

Mayer H, Matzarakis A, Iziomon MG (2003) Spatio-temporal variability of moisture conditions within the Urban Canopy Layer. Theor Appl Climatol 76(3–4):165–179. doi:10.1007/s00704-003-0010-y

McAdie A (1926) Man and weather. Harvard University Press, Cambridge

Mihalakakou G, Flocas HA, Santamouris M, Helmis CG (2002) Application of neural networks to the simulation of the Heat Island over Athens, Greece, using synoptic types as a predictor. J Appl Meteorol 41(5):519–527

Nastos PT, Kapsomenakis J (2014) Regional climate model simulations of extreme air temperature in Greece. Abnormal or common records in the future climate? Atmospheric Research (0). doi:http://dx.doi.org/10.1016/j.atmosres.2014.02.005

Nastos PT, Matzarakis A (2013) Human bioclimatic conditions, trends, and variability in the Athens University Campus, Greece. Adv Meteorol 2013:8. doi:10.1155/2013/976510

Oke TR, Crowther JM, McNaughton KG, Monteith JL, Gardiner B (1989) The micrometeorology of the urban forest. Phil Trans R Soc Lond B, Biol Sci 324(1223):335–349. doi:10.1098/rstb.1989.0051

Petralli M, Massetti L, Brandani G, Orlandini S (2014) Urban planning indicators: useful tools to measure the effect of urbanization and vegetation on summer air temperatures. Int J Climatol 34(4):1236–1244. doi:10.1002/joc.3760

Philandras CM, Metaxas DA, Nastos PT (1999) Climate variability and urbanization in Athens. Theor Appl Climatol 63(1–2):65–72. doi:10.1007/s007040050092

Potter K, Kniss J, Riesenfeld R, Johnson CR (2010) Visualizing summary statistics and uncertainty. Comput Graph Forum 29(3):823–832. doi:10.1111/j.1467-8659.2009.01677.x

Robitu M, Musy M, Inard C, Groleau D (2006) Modeling the influence of vegetation and water pond on urban microclimate. Sol Energy 80(4):435–447

Shashua-Bar L, Pearlmutter D, Erell E (2011) The influence of trees and grass on outdoor thermal comfort in a hot-arid environment. Int J Climatol 31(10):1498–1506. doi:10.1002/joc.2177

Shashua-Bar L, Tsiros IX, Hoffman M (2012) Passive cooling design options to ameliorate thermal comfort in urban streets of a Mediterranean climate (Athens) under hot summer conditions. Build Environ 57(0):110–119. doi:10.1016/j.buildenv.2012.04.019

Spronken-Smith RA, Oke TR (1998) The thermal regime of urban parks in two cities with different summer climates. Int J Remote Sens 19(11):2085–2104

Stathopoulou M, Synnefa A, Cartalis C, Santamouris M, Karlessi T, Akbari H (2009) A surface heat island study of Athens using high-resolution satellite imagery and measurements of the optical and thermal properties of commonly used building and paving materials. Int J Sustain Energy 28(1):59–76

Streiling S, Matzarakis A (2003) Influence of single and small clusters of trees on the bioclimate of a city: a case study. J Arboric 29(6):309–316

Taha H, Douglas S, Haney J (1997) Mesoscale meteorological and air quality impacts of increased urban albedo and vegetation. Energy Build 25(2):169–177. doi:10.1016/S0378-7788(96)01006-7

Takebayashi H, Moriyama M (2009) Study on the urban heat island mitigation effect achieved by converting to grass-covered parking. Sol Energy 83(8):1211–1223. doi:10.1016/j.solener.2009.01.019

Tsiros IX, Hoffman ME (2013) Thermal and comfort conditions in a semi-closed rear wooded garden and its adjacent semi-open spaces in a Mediterranean climate (Athens) during summer. Architectural Science Review:1–20. doi:10.1080/00038628.2013.829021

Upmanis H, Eliasson I, Lindqvist S (1998) The influence of green areas on nocturnal temperatures in a high latitude city (Goteborg, Sweden). Int J Climatol 18(6):681–700

VDI (1998) VDI guideline 3787.Part 2. Environmental meteorology, methods for the human-biometeorological evaluation of climate and air quality for the urban and regional planning at regional level. Part I: Climate. Beuth. Berlin

Wilmers F (1990) Effects of vegetation on urban climate and buildings. Energy Build 15(3–4):507–514. doi:10.1016/0378-7788(90)90028-H

Zhang H, Arens E, Huizenga C, Han T (2009) Thermal sensation and comfort models for non-uniform and transient environments: Part I: local sensation of individual body parts.
Acknowledgments
We thank the reviewers for the useful suggestions and insights that led to a significant improvement of the original manuscript.
About this article
Cite this article
Charalampopoulos, I., Tsiros, I., Chronopoulou-Sereli, A. et al. A note on the evolution of the daily pattern of thermal comfort-related micrometeorological parameters in small urban sites in Athens. Int J Biometeorol 59, 1223–1236 (2015). https://doi.org/10.1007/s00484-014-0934-1
Received:

Revised:

Accepted:

Published:

Issue Date:
Keywords
Urban microclimate

Mean radiant temperature

Physiologically equivalent temperature

Athens

Human thermal comfort