Abstract
Effective ecosystem functioning relies on successful species interaction. However, this delicate balance may be disrupted if species do not respond to environmental change at a similar rate. Here we examine trends in the timing of spring phenophases of groups of species occupying three trophic levels as a potential indicator of ecosystem response to climate warming in Ireland. The data sets were of varying length (1976–2009) and from varying locations: (1) timing of leaf unfolding and May Shoot of a range of broadleaf and conifer tree species, (2) first appearance dates of a range of moth species, and (3) first arrival dates of a range of spring migrant birds. All three groups revealed a statistically significant (P<0.01 and P<0.001) advance in spring phenology that was driven by rising spring temperature (P<0.05; 0.45 °C /decade). However, the rate of advance was greater for moths (1.8 days/year), followed by birds (0.37 days/year) and trees (0.29 days/year). In addition, the length of time between (1) moth emergence and leaf unfolding and (2) moth emergence and bird arrival decreased significantly (P<0.05 and P<0.001, respectively), indicating a decrease in the timing between food supply and demand. These differing trophic level response rates demonstrate the potential for a mismatch in the timing of interdependent phenophases as temperatures rise. Even though these data were not specifically collected to examine climate warming impacts, we conclude that such data may be used as an early warning indicator and as a means to monitor the potential for future ecosystem disruption to occur as climate warms.
Access options
Buy single article
Instant access to the full article PDF.
USD 39.95
Price excludes VAT (USA)
Tax calculation will be finalised during checkout.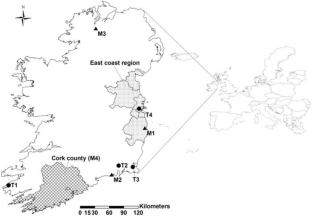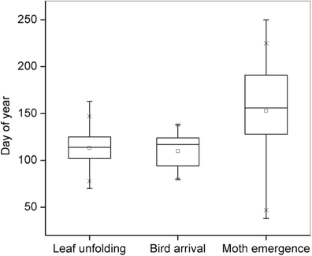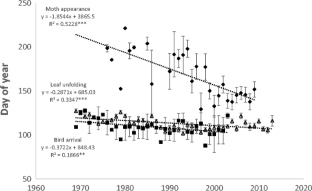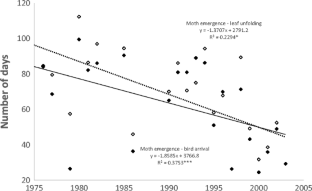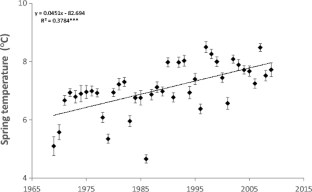 References
Both C, van Asch M, Bijksma RG, van den Burg AB, Visser ME (2009) Climate change and unequal phenological changes across four trophic levels: constraints or adaptations. J Anim Ecol 78:73–83

Caffarra A, Rinaldi MF, Eccel E, Rossi V, Pertot I (2012) Modelling the impact of climate change on the interaction between grapevine and its pests and pathogens: European grapevine moth and powdery mildew. Agric Ecosyst Environ 148:89–101

Charmantier A, McCleery RH, Cole LR, Perrins C, Kruuk LEB, Sheldon BC (2008) Adaptive phenotypic plasticity in response to climate change in a wild bird population. Science 320:800–803

Chen I-C, Hill JK, Ohlemüller R, Roy DB, Thomas CD (2011) Rapid range shifts of species associated with high levels of climate warming. Science 333:1024–1026

Donnelly A, Salamin N, Jones MB (2006) Changes in tree phenology: an indicator of spring warming in Ireland? Biol Environ 106B3:1–8

Donnelly A, Cooney T, Jennings E, Buscardo E, Jones MB (2009) Response of birds to climatic variability; evidence from the western fringe of Europe. Int J Biometeorol 53:211–220

Donnelly A, Caffarra A, O'Neill BF (2011) A review of climate-driven mismatches between interdependent phenophases in terrestrial and aquatic ecosystems. Int J Biometeorol 55:805–817

Ellwood ER, Temple SA, Primack RB, Bradley NL, Davis CC (2013) Record-breaking early flowering in the eastern United States. PLoS ONE 8:e53788

Gleeson E, Donnelly A, Ní Bhroin A, O'Neill BF, Semmler T, McGrath R (2013) Assessing the influence of a range of spring meteorological parameters on tree phenology. Biol Environ 113B:1–7

Hegland SJ, Nielsen A, Lázaro A, Bjerknes A, Totland Ø (2009) How does climate warming affect plant–pollinator interactions? Ecol Lett 12:184–195

Kudo G, Ida TY (2013) Early onset of spring increases the phenological mismatch between plants and pollinators. Ecology 94:2311–2320

Lehikoinen E, Sparks TH (2010) Changes in migration. In: Møller AP, Fiedler W, Berthold P (eds) Effects of climate change on birds. Oxford University Press, UK, pp 89–112

Libiseller C, Grimvall A (2002) Performance of Mann–Kendall test for trend detection in the presence of covariates. Environmetrics 13:71–84

Mac Nally R, Bennett AF, Thomson JR, Radford JQ, Unmack G, Horrocks G, Vesk PA (2009) Collapse of an avifauna: climate change appears to exacerbate habitat loss and degradation. Divers Distrib 15:720–730

McKinney AM, CaraDonna PJ, Inouye DW, Barr B, Berteisen CD, Waser NM (2012) Asynchronous changes in phenology of migrating broad-tailed hummingbirds and their early-season nectar resources. Ecology 93:1987–1993

Matthysen E, Adriaensen F, Dhondt AA (2011) Multiple responses to increasing spring temperatures in the breeding cycle of blue and great tits (Cyanistes caeruleus, Parus major). Glob Chang Biol 17:1–6

Menzel A, Sparks TH, Estrella N, Koch E, Aasa A, Ahas R, Alm-Kübler K, Bissolli P, Braslavská O, Briede A, Chmielewski FM, Crepinsek Z, Curnel Y, Dahl Å, Defila C, Donnelly A, Filella Y, Jatczak K, Måge F, Mestre A, Nordli Ø, Peñuelas J, Pirinen R, Remišová V, Scheifinger H, Striz M, Suskin A, van Vliet AJH, Wielgolaski FE, Zach S, Zust A (2006) European phenological response to climate change matches the warming pattern. Glob Chang Biol 12:1–8

Ockendon N, Baker DJ, Carr JA, White EC, Almond REA, Amano T, Bertram E, Bradbury RB, Bradley C, Butchart SHM, Doswald N, Foden W, Gill DJC, Green RE, Sutherland WJ, Tanner EVJ, Pearse-Higgins JW (2014) Mechanisms underpinning climatic impacts on natural populations: altered species interactions are more important than direct effects. Glob Chang Biol 20:2221–2229

O'Neill B, Bond K, Tyner A, Sheppard R, Bryant T, Chapman J, Bell J, Donnelly A (2012) Climatic warming advancing phenology of moth species in Ireland. Entomol Exp Appl 143:74–88

Parmesan C (2006) Ecological and evolutionary responses to recent climate change. Annu Rev Ecol Evol Syt 37:637–669

Reed TE, Jenouvrier S, Visser M (2013) Phenological mismatch strongly affects individual fitness but not population demography in a woodland passerine. J Anim Ecol 82:131–144

Richardson AD, Bailey AS, Denny EG, Martin CW, O'Keefe J (2006) A multi-site analysis of random error in tower-based measurements of carbon and energy fluxes. Agric Forest Meteorol 136:1–18

Root TL, Price JT, Schneider SH, Rosenzweig D, Pounds JA (2003) Fingerprints of global warming on wild animals and plants. Nature 421:57–60

Roy DB, Sparks TH (2000) Phenology of British butterflies and climate change. Glob Chang Biol 6:407–416

Stirnemann RL, O'Halloran J, Ridgway M, Donnelly A (2012) Temperature related increases in grass growth and greater competition for food drive earlier migrational departure of wintering whooper swan. Ibis 154:542–553

Strode PK (2003) Implications of climate change for North American wood warblers (Parulidae). Glob Chang Biol 9:1137–1144

Svensson L, Mullarney K, Zetterström D, Grant PJ (2009) Collins bird guide of Britain and Europe. HarperCollins, UK

Thackeray SJ, Sparks TH, Frederiksen M, Burthe S, Bacon PJ, Bell JR, Botham MS, Brereton TM, Bright PW, Caravalho L, Clutton-Brock T, Dawson A, Edwards M, Elliott JM, Harrington R, Johns D, Jones ID, Jones JT, Leech DI, Roy DB, Scott WA, Smith M, Smithers RJ, Winfield IJ, Wanless S (2010) Trophic level asynchrony in rates of phenological change for marine, freshwater and terrestrial ecosystems. Glob Chang Biol 16:3304–3313

Visser ME, van Noordwijk AJ, Tinbergen JM, Lessells CM (1998) Warmer springs lead to mistimed reproduction in great tits (Parus major). Proc R Soc B Biol Sci 265:1867–1870

Visser ME, Holleman LJM, Gienapp P (2006) Shifts in caterpillar biomass phenology due to climate change and its impacts on the breeding biology of an insectivorous bird. Oecologia 147:164–172

Visser ME, te Marvelde L, Lof ME (2012) Adaptive phenological mismatches of birds and their food in a warming world. J Ornithol 153:75–84

Wahlin K, Grimvall A (2010) Roadmap for assessing regional trends in groundwater quality. Environ Monit Assess 165:217–231

Waring P, Townsend M, Lewington R (2009) Field guide to the moths of Great Britain and Ireland. British Wildlife Publishing, UK
Acknowledgments
The authors are grateful to (1) Dr. Bridget O'Neill for providing the moth data, (2) Professor John O'Halloran for advice on bird phenology, and (3) Met Éireann for supplying the temperature data. In addition, we are particularly indebted to all participants in the various networks (Met Éireann (on behalf of the International Phenological Gardens); BirdWatch Ireland; Moths Ireland) for observing, collecting and making their phenological data available to us.
Additional information
This paper is dedicated to the memory of Caoimhe Muldoon, an outstanding ecologist.
About this article
Cite this article
Donnelly, A., Yu, R. & Liu, L. Trophic level responses differ as climate warms in Ireland. Int J Biometeorol 59, 1007–1017 (2015). https://doi.org/10.1007/s00484-014-0914-5
Received:

Revised:

Accepted:

Published:

Issue Date:

DOI: https://doi.org/10.1007/s00484-014-0914-5
Keywords
Phenology

Climate warming

Trophic level

Tree

Moth

Bird