Abstract
The effect of weather on sport events is not well studied. It requires special attention if the event is taking place at a time and place with extreme weather situations. For the world soccer championship in Qatar (Doha 2022), human biometeorological analysis has been performed in order to identify the time of the year that is most suitable in terms of thermal comfort for visitors attending the event. The analysis is based on thermal indices like Physiologically Equivalent Temperature (PET). The results show that this kind of event may be not appropriate for visitors, if it is placed during months with extreme conditions. For Doha, this is the period from May to September, when conditions during a large majority of hours of the day cause strong heat stress for the visitors. A more appropriate time would be the months November to February, when thermally comfortable conditions are much more frequent. The methods applied here can quantify the thermal conditions and show limitations and possibilities for specific events and locations.
Access options
Buy single article
Instant access to the full article PDF.
USD 39.95
Price excludes VAT (USA)
Tax calculation will be finalised during checkout.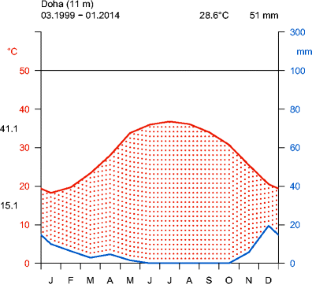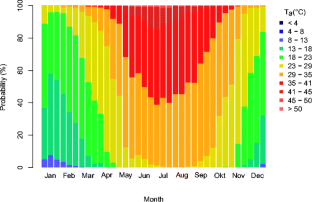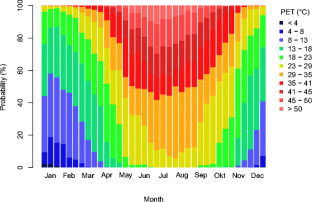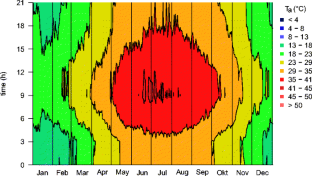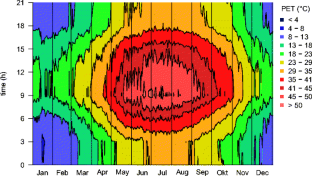 References
Cohen P, Potchter O, Matzarakis A (2013) Human thermal perception of Coastal Mediterranean outdoor urban environments. Appl Geogr 37:1–10

Fanger PO (1972) Thermal comfort. McGraw-Hill, New York

Herrmann J, Matzarakis A (2012) Mean radiant temperature in idealized urban canyons—examples from Freiburg, Germany. Int J Biometeorol 56:199–203

Höppe PR (1984) Die Energiebilanz des Menschen (Dissertation). Wissenschaftliche Mitteilungen des Meteorologischen Instituts der Universität München 49

Höppe PR (1993) Indoor Climate. Experientia 49:775–779

Höppe PR (1999) The physiological equivalent temperature—a universal index for the bioclimatological assessment of the thermal environment. Int J Biometeorol 43:71–75

Lin TP, Matzarakis A (2008) Tourism climate and thermal comfort in Sun Moon Lake, Taiwan. Int J Biometeorol 52:281–290

Lin TP, Matzarakis A, Hwand RL (2010) Shading effect on long-term outdoor thermal comfort. Build Environ 45:213–221

Matzarakis A (2013) The dilemma in thermal comfort estimations in urban areas. In: Georgiadis T, Lokoshchenko MA, Screti C, Vagnoli C (eds) Two hundred years of urban meteorology in the heart of Florence". Proceedings of the International Conference on Urban Climate and History of Meteorology, pp 3–11

Matzarakis A, Mayer H (1996) Another kind of environmental stress: thermal stress. WHO Newslett 18:7–10

Matzarakis A, Mayer H, Iziomon MG (1999) Applications of a universal thermal index: physiological equivalent temperature. Int J Biometeorol 43:76–84

Matzarakis A, Rutz F, Mayer H (2007) Modelling radiation fluxes in simple and complex environments—application of the RayMan model. Int J Biometeorol 51:323–334

Matzarakis A, De Rocco M, Najjar G (2009) Thermal bioclimate in Strasburg—the 2003 heat wave. Theor Appl Climatol 98:209–220

Matzarakis A, Rutz F, Mayer H (2010) Modelling Radiation fluxes in simple and complex environments: basics of the RayMan model. Int J Biometeorol 54:131–139

Mayer H, Höppe P (1987) Thermal comfort of man in different urban environments. Theor Appl Climatol 38:43–49

Nastos P, Matzarakis A (2012) The effect of air temperature and Physiologically Equivalent Temperature on mortality in Athens, Greece. Theor Appl Climatol 108:591–599

VDI (1998) Environmental meteorology, methods for the human-biometeorological evaluation of climate and air quality for the urban and regional planning at regional level. Part I. Climate. VDI / DIN - Handbuch Reinhaltung der Luft. Band 1b, Düsseldorf

Walter H, Lieth H (1960) Klimadiagram-Weltatlas. VEB Gustav Fischer Verlag, Jena (in German)

Wong P, Lai P-C, Hart M (2013) Microclimate variations between semienclosed and open sections of a marathon route. Adv Meteorol Article ID 287934: 10
About this article
Cite this article
Matzarakis, A., Fröhlich, D. Sport events and climate for visitors—the case of FIFA World Cup in Qatar 2022. Int J Biometeorol 59, 481–486 (2015). https://doi.org/10.1007/s00484-014-0886-5
Received:

Revised:

Accepted:

Published:

Issue Date:

DOI: https://doi.org/10.1007/s00484-014-0886-5
Keywords
Qatar 2022

Sport events

Physiologically Equivalent Temperature

Thermal stress

RayMan