Abstract
Sudden weather changes have long been thought to be associated with negative impacts on human health, but relatively few studies have attempted to quantify these relationships. We use large 6-h changes in atmospheric pressure as a proxy for sudden weather changes and evaluate their association with hospital admissions for cardiovascular diseases (CVD). Winter and summer seasons and positive and negative pressure changes are analysed separately, using data for the city of Prague (population 1.2 million) over a 16-year period (1994–2009). We found that sudden pressure drops in winter are associated with significant rise in hospital admissions. Increased CVD morbidity was observed neither for pressure drops in summer nor pressure increases in any season. Analysis of synoptic weather maps shows that large pressure drops in winter are associated with strong zonal flow and rapidly moving low-pressure systems with centres over northern Europe and atmospheric fronts affecting western and central Europe. Analysis of links between passages of strong atmospheric fronts and hospital admissions, however, shows that the links disappear if weather changes are characterised by frontal passages. Sudden pressure drops in winter are associated also with significant excess CVD mortality. As climate models project strengthening of zonal circulation in winter and increased frequency of windstorms, the negative effects of such weather phenomena and their possible changes in a warmer climate of the twenty-first century need to be better understood, particularly as their importance in inducing excess morbidity and mortality in winter may increase compared to cold spells.
Access options
Buy single article
Instant access to the full article PDF.
USD 39.95
Price excludes VAT (USA)
Tax calculation will be finalised during checkout.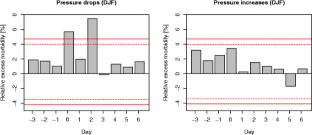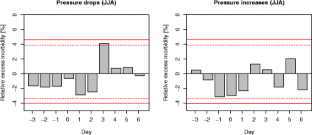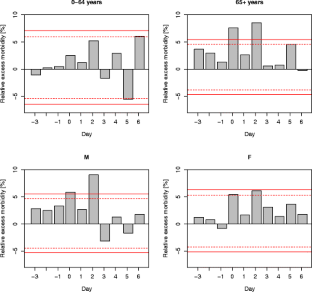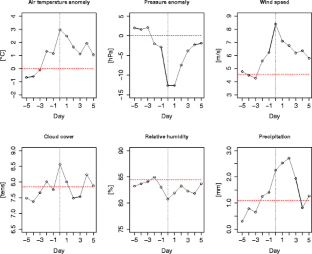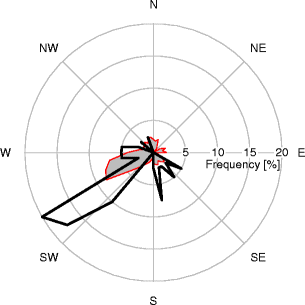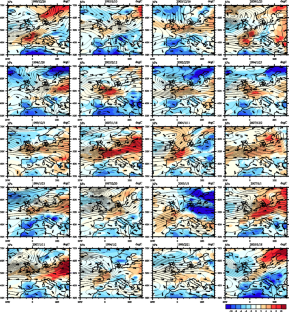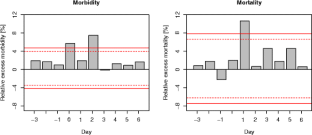 References
Allen MJ, Sheridan SC (2013) High-mortality days during the winter season: comparing meteorological conditions across 5 US cities. Int J Biometeorol. doi:10.1007/s00484-013-0640-4

Berz G (2005) Windstorm and storm surges in Europe: Loss trends and possible counter-actions from the viewpoint of an international reinsurer. Philos Trans A Math Phys Eng Sci 363(1831):1431–1440

Buxton N, Liu C, Dasic D, Moody P, Hope DT (2001) Relationship of aneurysmal subarachnoid hemorrhage to changes in atmospheric pressure: results of a prospective study. J Neurosurg 95(3):391–392

Danet S, Richard F, Montaye M, Beauchant S, Lemaire B, Graux C, Cottel D, Marécaux N, Amouyel P (1999) Unhealthy effects of atmospheric temperature and pressure on the occurrence of myocardial infarction and coronary deaths. A 10-year survey: the Lille-World Health Organization MONICA project (Monitoring trends and determinants in cardiovascular disease). Circulation 100(1):E1–E7

Dawson J, Weir C, Wright F, Bryden C, Aslanyan S, Lees K, Bird W, Walters M (2008) Associations between meteorological variables and acute stroke hospital admissions in the west of Scotland. Acta Neurol Scand 117(2):85–89

de Pablo F, Tomás C, Rivas Soriano L, Diego L (2009) Winter circulation weather types and hospital admissions for cardiovascular, respiratory and digestive diseases in Salamanca, Spain. Int J Climatol 29:1692–1703

Dee DP, Uppala SM, Simmons AJ, Berrisford P, Poli P, Kobayashi S et al (2011) The ERA-Interim reanalysis: configuration and performance of the data assimilation system. Q J R Meteorol Soc 137:553–597

Demuzere M, Werner M, van Lipzig NPM, Roeckner E (2009) An analysis of present and future ECHAM5 pressure fields using a classification of circulation patterns. Int J Climatol 29(12):1796–1810

Donat MG, Leckebusch GC, Pinto JG, Ulbrich U (2010) European storminess and associated circulation weather types: future changes deduced from a multi-model ensemble of GCM simulations. Clim Res 42(1):27–43

Feigin VL, Nikitin YP, Bots ML, Vinogradova TE, Grobbee DE (2000) A population-based study of the associations of stroke occurrence with weather parameters in Siberia, Russia (1982–92). Eur J Neurol 7:171–178

Fink AH, Brücher T, Ermert V, Krüger A, Pinto JG (2009) The European storm Kyrill in January 2007: synoptic evolution, meteorological impacts and some considerations with respect to climate change. Nat Hazards Earth Syst Sci 9:405–423

Głuszak A, Kocoń S, Zuk K, Aljabali P, Gluza A, Siwek K (2008) Episodes of atrial fibrillation and meteorological conditions. Kardiol Pol 66(9):958–963

Goggins WB, Woo J, Ho S, Chan EY, Chau PH (2012) Weather, season, and daily stroke admissions in Hong Kong. Int J Biometeorol 56(5):865–872

Gorjanc ML, Flanders WD, VanDerslice J, Hersh J, Malilay J (1999) Effects of temperature and snowfall on mortality in Pennsylvania. Am J Epidemiol 149:1152–1160

Gosling SN, Lowe JA, McGregor GR, Pelling M, Malamud BD (2009) Associations between elevated atmospheric temperature and human mortality: a critical review of the literature. Clim Change 92:299–341

Guest CS, Wilson K, Woodward A, Hennessy K, Kalkstein LS, Skinner C, McMichael AJ (1999) Climate and mortality in Australia: retrospective study, 1979–1990 and predicted impacts in five major cities in 2030. Clim Res 13:1–15

Hajat S, Kovats RS, Lachowycz K (2007) Heat-related and cold-related deaths in England and Wales: who is at risk? Occup Environ Med 64:93–100

Jimenez-Conde J, Ois A, Gomis M, Rodriguez-Campello A, Cuadrado-Godia E, Subirana I, Roquer J (2008) Weather as a trigger of stroke. Daily meteorological factors and incidence of stroke subtypes. Cerebrovasc Dis 26(4):348–354

Kenney WL, Munce TA (2003) Aging and human temperature regulation. J Appl Physiol 95:2598–2603

Květoň V (1991) Weather fronts and acute myocardial infarction. Int J Biometeorol 35:10–17

Kynčl J, Procházka B, Goddard NL, Havlíčková M, Částková J, Otavová M, Kříž B (2005) A study of excess mortality during influenza epidemics in the Czech Republic, 1982–2000. Eur J Epidemiol 20:365–371

Kyselý J (2004) Mortality and displaced mortality during heat waves in the Czech Republic. Int J Biometeorol 49:91–97

Kyselý J, Kříž B (2008) Decreased impacts of the 2003 heat waves on mortality in the Czech Republic: an improved response? Int J Biometeorol 52:733–745

Kyselý J, Pokorná L, Kynčl J, Kříž B (2009) Excess cardiovascular mortality associated with cold spells in the Czech Republic. BMC Publ Health 9:19. doi:10.1186/1471-2458-9-19

Leckebusch GC, Weimer A, Pinto JG, Reyers M, Speth P (2008) Extreme wind storms over Europe in present and future climate: a cluster analysis approach. Meteorol Z 17(1):67–82

Morabito M, Crisci A, Grifoni D, Orlandini S, Cecchi L, Bacci L, Modesti PA, Gensini GF, Maracchi G (2006) Winter air-mass-based synoptic climatological approach and hospital admissions for myocardial infarction in Florence, Italy. Environ Res 102(1):52–60

Pirard P, Vandentorren S, Pascal M, Laadi K, Le Tertre A, Cassadou S, Ledrans M (2005) Summary of the mortality impact assessment of the 2003 heat wave in France. Eur Surveil 10:153–156

Plavcová E, Kyselý J (2009) Effects of sudden air temperature and pressure changes on mortality in the Czech Republic. Epidemiol Mikrobiol Imunol 58(2):73–83

Plavcová E, Kyselý J (2010) Relationships between sudden weather changes in summer and mortality in the Czech Republic, 1986–2005. Int J Biometeorol 54(5):539–551

Plavcová E, Kyselý J (2013) Projected evolution of circulation types and their temperatures over Central Europe in climate models. Theor Appl Climatol. doi:10.1007/s00704-013-0874-4

Rusticucci M, Bettolli ML, Harris de los Angeles M (2002) Association between weather conditions and the number of patients at the emergency room in an Argentine hospital. Int J Biometeorol 46(1):42–51

Sheridan SC, Kalkstein LS (2004) Progress in heat watch-warning system technology. Bull Am Meteorol Soc 85:1931–1941

Smoyer KE, Kalkstein LS, Greene JS, Ye H (2000) The impacts of weather and pollution on human mortality in Birmingham, Alabama and Philadelphia, Pennsylvania. Int J Climatol 20:881–897

Töro K, Bartholy J, Pongrácz R, Kis Z, Keller E, Dunay G (2010) Evaluation of meteorological factors on sudden cardiovascular death. J Forensic Legal Med 17(5):236–242

Vaneckova P, Hart MA, Beggs PJ, de Dear RJ (2008) Synoptic analysis of heat-related mortality in Sydney, Australia, 1993–2001. Int J Biometeorol 52:439–451

Whitman S, Good G, Donoghue ER, Benbow N, Shou WY, Mou SX (1997) Mortality in Chicago attributed to the July 1995 heat wave. Am J Public Health 87:1515–1518

World Health Organization (2011) The top 10 causes of death. http://www.who.int/mediacentre/factsheets/fs310/en/
Acknowledgements
The data were provided by the Institute of Health Information and Statistics, the Czech Statistical Office, and the Czech Hydrometeorological Institute. Our special thanks for assistance with the data preparation and processing are due to B. Kříž and J. Kynčl, National Institute of Public Health, and H. Davídkovová, Institute of Atmospheric Physics AS CR. The study was supported by the Czech Science Foundation, project P209/11/1985.
About this article
Cite this article
Plavcová, E., Kyselý, J. Effects of sudden air pressure changes on hospital admissions for cardiovascular diseases in Prague, 1994–2009. Int J Biometeorol 58, 1327–1337 (2014). https://doi.org/10.1007/s00484-013-0735-y
Received:

Revised:

Accepted:

Published:

Issue Date:

DOI: https://doi.org/10.1007/s00484-013-0735-y
Keywords
Weather

Pressure change

Cardiovascular disease

Morbidity

Mortality

Central Europe