Abstract
The Murray dairy region produces approximately 1.85 billion litres of milk each year, representing about 20 % of Australia's total annual milk production. An ongoing production challenge in this region is the management of the impacts of heat stress during spring and summer. An increase in the frequency and severity of extreme temperature events due to climate change may result in additional heat stress and production losses. This paper assesses the changing nature of heat stress now, and into the future, using historical data and climate change projections for the region using the temperature humidity index (THI). Projected temperature and relative humidity changes from two global climate models (GCMs), CSIRO MK3.5 and CCR-MIROC-H, have been used to calculate THI values for 2025 and 2050, and summarized as mean occurrence of, and mean length of consecutive high heat stress periods. The future climate scenarios explored show that by 2025 an additional 12–15 days (compared to 1971 to 2000 baseline data) of moderate to severe heat stress are likely across much of the study region. By 2050, larger increases in severity and occurrence of heat stress are likely (i.e. an additional 31–42 moderate to severe heat stress days compared with baseline data). This increasing trend will have a negative impact on milk production among dairy cattle in the region. The results from this study provide useful insights on the trends in THI in the region. Dairy farmers and the dairy industry could use these results to devise and prioritise adaptation options to deal with projected increases in heat stress frequency and severity.
This is a preview of subscription content,
to check access.
Access this article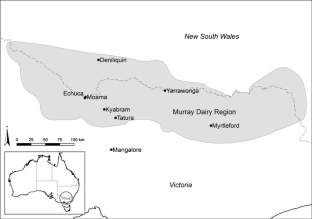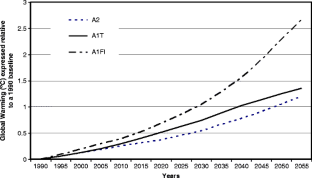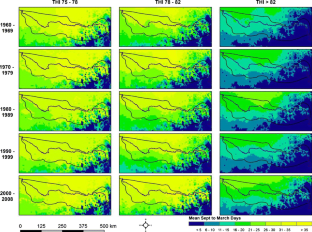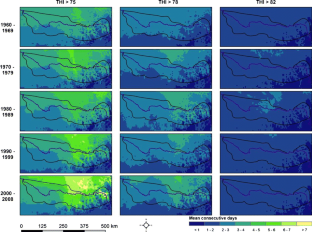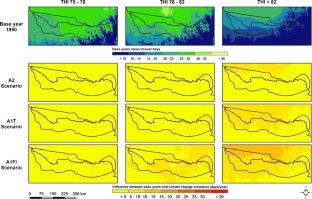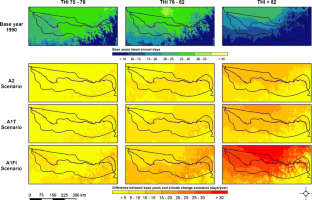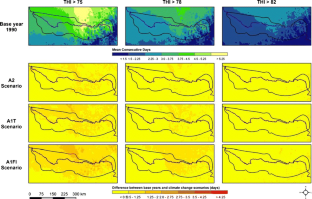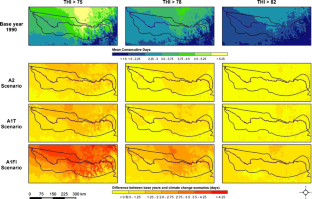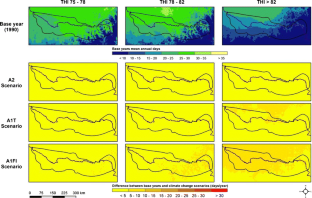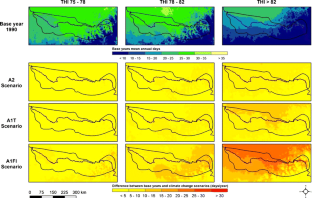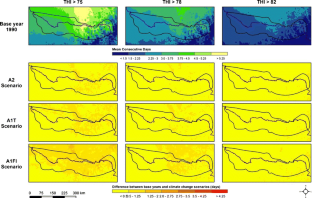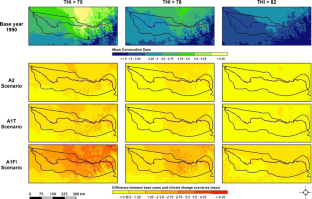 References
Armstrong DV (1994) Heat stress interaction with shade and cooling. J Dairy Sci 77:2044–2050

Barenbrug AWT (1974) Psychrometry and psychrometric charts. Cape and Transvaal Printers, Ltd, Capetown, SA

Beede DK, Collier RJ (1986) Potential nutritional strategies for intensively managed cattle during thermal stress. J Anim Sci 62:543–554

Beltrano MC, Esposito S, Primi V, Vitali A (2010) Livestock innovative Italian forecasting heat warning system. Paper presented at the ICID + 18 2nd International Conference: Climate, Sustainability and Development in Semi-arid Regions, Fortaleza–Ceará, Brazil, August 16–20, 2010

Bohmanova J, Misztal I, Cole J (2007) Temperature–humidity indices as indicators of milk production losses due to heat stress. J Dairy Sci 90:1947–1956. doi:10.3168/jds.2006-513

Bouraoui R, Lahmar M, Majdoub A, Djemali M, Belyea R (2002) The relationship of temperature-humidity index with milk production of dairy cows in a Mediterranean climate. Anim Res 51:479–491

Canadell J, Le Quéréc C, Raupach MR, Field CB, Buitenhuis ET, Ciais P, Conway TJ, Gillett NP, Houghton RA, Marland G (2008) Contributions to accelerating atmospheric CO2 growth from economic activity, carbon intensity, and efficiency of natural sinks. Proc Natl Acad Sci 104:18866–18870

Carter JO, Flood NF, Danaher T, Hugman P, Young R, others (1996) Development of data rasters for model inputs. Dev Natl Drought Alert Strateg Inf Syst 3

Chase LE (2006) Climate change impacts on dairy cattle. Climate change and agriculture: promoting practical and profitable responses. http://www.climateandfarming.org/pdfs/FactSheets/III.3Cattle.pdf. Accessed 15 July 2013

Coe R, Stern RD (2011) Assessing and addressing climate-induced risk in sub-Saharan rainfed agriculture: Lessons learned. Exp Agric 47(2):395–410

Dairy Australia (2012a) About the program. http://www.coolcows.com.au/about-the-program.htm. Accessed 14 August 2012

Dairy Australia (2012b) Temperature humidity index (THI). http://www.coolcows.com.au/Default.aspx?PageID=1230696&A=SearchResult&SearchID=5011087&ObjectID=1230696&ObjectType=1 Accessed 14 August 2012

Dikmen S, Hansen PJ (2009) Is the temperature-humidity index the best indicator of heat stress in lactating dairy cows in a subtropical environment? J Dairy Sci 92(1):109–116. doi:10.3168/jds.2008-1370

Espinoza J, Sanchez J, Gracia J, Sanchez J, Ortega R, Palacios A (2009) Thermoregulation differs in Chinampo (Bos taurus) and locally born dairy cattle. Turk J Vet Anim Sci 33(3):175–180. doi:10.3906/vet-0704-24

Fisher A, Roberts N, Bluett S, Verkerk G, Matthews L (2008) Effects of shade provision on the behaviour, body temperature and milk production of grazing dairy cows during a New Zealand summer. N Z J Agric Res 51:99–105

Flamenbaum I, Galon N (2010) Management of heat stress to improve fertility in dairy cows in Israel. J Reprod Dev 56(S):36–41

Gaughan JB, Goodwin PJ J, Schoorl TA, Young BA, Imbeah M, Mader TL, Hall A (1998) Shade preferences of lactating Holstein–Friesian cows. Aust J Exp Agric 38:17–21

Hahn GL (1981) Housing and management to reduce climatic impacts on livestock. J Anim Sci 52:175–186

Hahn GL (1985) Management and housing of farm animals in hot environments. In: Yousef M (ed) Stress physiology in livestock, vol 2. CRC Press, Boca Raton, pp 151–174

Hahn GL, Mader TL (1997) Heat waves in relation to thermoregulation, feeding behavior and mortality of feedlot cattle. Paper presented at the 5th International Livestock Environment Symposium, St. Joseph, MI

Hansen PJ, Arechiga CF (1999) Strategies for managing reproduction in the heat stressed dairy cow. J Anim Sci 77(2):36–50

Holt SM, Gaughan JB, Mader TL (2004) Feeding strategies for grain-fed cattle in a hot environment. Aust J Agric Res 55:719–725

Ingraham RH, Stanley RW, Wagner WC (1979) Seasonal effect of the tropical climate on shaded and nonshaded cows as measured by rectal temperature, adrenal cortex hormones, thyroid hormone, and milk production. Am J Vet Res 40:1792–1797

Jeffrey SJ, Carter JO, Moodie KB, Beswick AR (2001) Using spatial interpolation to construct a comprehensive archive of Australian climate data. Environ Model Softw 16:309–330

Johnson H (1965) Environmental temperature and lactation (with special reference to cattle). Int J Biometeorol 9(2):103–116. doi:10.1007/bf02188466

Johnson HD, Ragsdale AC, Berry IL, Shanklin MD (1962) Effects of various temperature-humidity combinations on milk production of Holstein cattle. Mo Agric Exp Station Res Bull 791:1–39

Kadzere CT, Murphy MR, Silanikove N, Maltz E (2002) Heat stress in lactating dairy cows: a review. Livest Prod Sci 77:59–91

Kendall P, Nielsen P, Webster J, Verkerk G, Littlejohn R, Matthews L (2006) The effects of providing shade to lactating dairy cows in a temperate climate. Livest Sci 103:148–157. doi:10.1016/j.livsci.2006.02.004

Klinedinst PL, Wilhite DA, Hahn GL, Hubbard KG (1993) The potential effects of climate change on summer season dairy cattle milk production and reproduction. Climate Change 23:21–36

Little S, Campbell J (2008) Cool cows: dealing with heat stress in Australian dairy herds. Dairy Australia

Manea A, Boronrant C, Ralita I, Dumitescu A (2009) Trends and other statistical characteristics of a temperature-humidity index (ITU) in the southern part of Romania. Geophys Res Abstr 11(EGU2009):4019

Mayer DG, Davison TM, McGowan MR, Young BA, Matschoss AL, Hall AB, Goodwin PJ, Jonsson NN, Gaughan JB (1999) Extent and economic effect of heat loads on dairy cattle production in Australia. Aust Vet J 77(12):804–808. doi:10.1111/j.1751-0813.1999.tb12950.x

McDowell RE, Hooven NW, Camoens JK (1976) Effects of climate on performance of Holsteins in first lactation. J Dairy Sci 59:965–973

Miller CJ, Howden SM, Jones RN (2010) Intensive livestock industries. In Adapting agriculture to climate change. In: Stokes C, Howden, M (ed) Adapting agriculture to climate change: Preparing Australian agriculture, forestry and fisheries for the future. CSIRO Publishing, pp 171–186

Murray Dairy (2010) Industry value. http://www.murraydairy.com.au/industry-value.html. http://www.murraydairy.com.au/industry-value.html. Accessed 12 March 2010

Nesamvuni E, Lekalakala R, Norris D, Ngambi JW (2012) Effects of climate change on dairy cattle, South Africa. Afr J Agric Res 7(26):3867–3872. doi:10.5897/AJAR11.1468

PCC (2001) "Third Assessment Report "Climate Change 2001". http://www.grida.no/publications/other/ipcc_tar/. Accessed 12 August 2012

Ravagnolo O, Misztal I, Hoogenboom G (2000) Genetic component of heat stress in dairy cattle, development of heat index function. J Dairy Sci 83(9):2120–2125

Ricketts JH, Page CM (2007) A web based version of OzClim for exploring climate change impacts and risks in the Australian region. MODSIM 2007 International Congress on Modelling and Simulation, Christchurch

Sanchez J, Misztal I, Aguilar I, Zumbach B, Rekaya R (2009) Genetic determination of the onset of heat stress on daily milk production in the US Holstein cattle. J Dairy Sci 92:4035–4045

Schulzweida U, Kornblueh L, Quast R (2009) Climate data operators, Version 1.4, Max-Planck-Institute for Meteorology.

Segnalini M, Nardone A, Bernabucci U, Vitali A, Ronchi B, Lacetera N (2011) Dynamics of the temperature-humidity index in the Mediterranean basin. Int J Biometeorol 55(2):253–263. doi:10.1007/s00484-010-0331-3

Segnalini M, Bernabucci U, Vitali A, Nardone A, Lacetera N (2013) Temperature humidity index scenarios in the Mediterranean basin. Int J Biometeorol 57(3):451–458. doi:10.1007/s00484-012-0571-5

St-Pierre N, Cobanov B, Schnitkey G (2003) Economic losses from heat stress by US livestock industries. J Dairy Sci 86:E52–E77

Suppiah R, Preston B, Whetton PH, McInnes KL, Jones RN, Macadam I, Bathols J, Kirono D (2006) Climate change under enhanced greenhouse conditions in South Australia Climate Impacts and Risk Group. CSIRO Marine and Atmospheric Research, Aspendale

Tucker CB, Rogers AR, Schutz KE (2008) Effect of solar radiation on dairy cattle behaviour, use of shade and body temperature in a pasture-based system. Appl Anim Behav Sci 109:141–154. doi:10.1016/j.applanim.2007.03.015

Verwoerd W, Wellby M, Barrell G (2006) Absence of a causal relationship between environmental and body temperature in dairy cows (Bos taurus) under moderate climatic conditions. J Therm Biol 31:533–540. doi:10.1016/j.therbio.2006.07.001

West JW (1999) Nutritional strategies for managing the heat-stressed dairy cow. J Anim Sci 77(2/J):21–35

West JW (2003) Effects of heat-stress on production in dairy cattle. J Dairy Sci 86(6):2131

Whetton PH, Hennessy KJ, Katzfey JJ, McGregor JL, Jones RN, Nguyen K (2001) Climate averages and variability based on a transient CO2 simulation, annual report. Department of Natural Resources and Environment, Victoria
Acknowledgments
We are grateful to Peter Briggs and Edward King (CSIRO Marine and Atmospheric Research) for access to SILO climate data files. John McIvor, Craig Miller, Roger Lawes and Cathy Phelps are thankfully acknowledged for their review of the earlier version of this manuscript. We thankfully acknowledge the funding provided by CSIRO Climate Adaptation Flagship and Dairy Australia. Thanks to the farmers from across the Murray dairy region who provided valuable feedback. We thank anonymous reviewers whose comments and suggestions have helped to significantly improve an earlier version of the manuscript.
About this article
Cite this article
Nidumolu, U., Crimp, S., Gobbett, D. et al. Spatio-temporal modelling of heat stress and climate change implications for the Murray dairy region, Australia. Int J Biometeorol 58, 1095–1108 (2014). https://doi.org/10.1007/s00484-013-0703-6
Received:

Revised:

Accepted:

Published:

Issue Date:

DOI: https://doi.org/10.1007/s00484-013-0703-6
Keywords