Abstract
In this study, the hypothesis is tested that continuous increases in ambient temperature (Ta) during daytime would give elevated core and skin temperatures, and consequently better thermal sensation and comfort. Rectal temperature (Tre), skin temperatures and regional dry heat losses at 7 sites were continuously measured for 10 Japanese male subjects in three thermal conditions: cond. 1, stepwise increases in Ta from 26 °C at 9 h00 to 30 °C at 18 h00; cond. 2, steady Ta at 28 °C from 9 h00 to 18 h00 and cond. 3, stepwise decreases in Ta from 30 °C at 9 h00 to 26 °C at 18 h00. Oxygen consumption was measured and thermal sensation and comfort votes were monitored at 15 min intervals. Body weight loss was measured at 1 h intervals. While Tre increased continuously in the morning period in any condition, it increased to a significantly greater (p < 0.05) 36.9 ± 0.3 °C at 18 h00 in cond. 1 relative to 36.7 ± 0.28 °C in Cond. 2 and 36.5 ± 0.37 °C in cond. 3. Better thermal comfort was observed in the afternoon and the evening in Cond.1 as compared with the other 2 conditions. Thus, a progressive and appropriate increase in Ta may induce optimal cycle in core temperature during daytime, particularly for a resting person.
Access options
Buy single article
Instant access to the full article PDF.
USD 39.95
Price excludes VAT (USA)
Tax calculation will be finalised during checkout.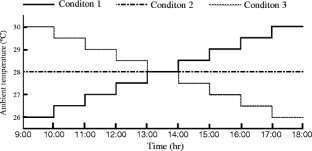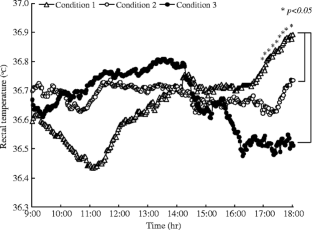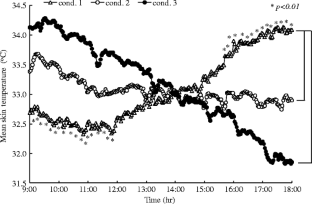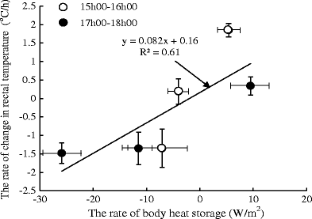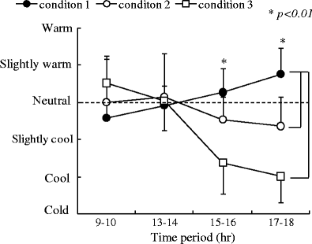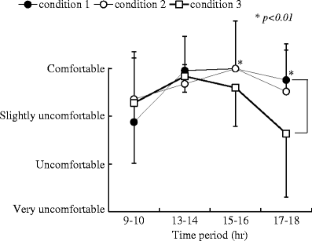 References
Aschoff J, Biebach H, Heise A, Schmidt T (1974) Day-night variation in heat balance. In: Monteith ML, London JL (eds) Heat loss from animals and man. Butterworths, London, pp 145–172

Bergland RG (2001) Thermal comfort. In: Baird J (ed) 2001 ASHERAE handbook fundamentals. American Soc. of Heating, refrigerating and Air-conditioning Eng., Inc, Atlanta, pp 8.1–8.29

Dewasmes G, Nicolas A, Rodriguez D, Salame P, Eschenlauer R, Jolu D, Muzet A (1994) Human core temperature minimum can be modified by ambient thermal transients. Neurosci Lett 173(1–2):151–154

Dewasmes G, Signoret P, Nicolas A, Ehhart J, Muzet A (1996) Advance of human core temperature minimum and maximal paradoxical sleep propensity by ambient thermal transients. Neurosci Lett 30:25–28

Fanger PO, Östberg O, McK. Micholl AG (1974) Thermal comfort conditions during day and night. Eur J Appl Physiol 33:255–263

Grivel F, Candas V (1991) Ambient temperatures preferred by young European males and females at rest. Ergonomics 34(3):365–378

Hardy JD, DuBois EF (1938) The technic of measuring radiation and convection. J Nutr 15:461–475

Kräuchi K, Wirz-Justice A (1994) Circadian rhythm of heat production, heart rate, and skin and core temperature under unmasking conditions in men. Am J Physiol 267:819–829

Kurazumi Y, Horikoshi T, Tsuchikawa T, Matsubara M (1994) A study on Japanese body surface area. J Japan Biometeology 31(1):5–29, Abstract in English

Rohles FH Jr, Nevins RG (1971) The nature of thermal comfort for sedentary man. ASHRAE Trans 77:239

Shanahan TL, Czeisler CA (1984) Light induces equivalent phase of the endogenous circadian rhythms of circulating plasma melatonin and core body temperature in men. J Clin Endocrinol Metab 73:227–235

Smolander J, Härmä M, Lindqvist A, Kolari P, Laitinen LA (1993) Circadian variation in peripheral blood flow in relation to core temperature at rest. Eur J Appl Physiol 67:192–196

Song GS, Lim JH, Ann TK (2012) Air conditioner operation behavior based on students' skin temperature in a classroom. Appl Ergon 43(1):211–216

Togo F, Aizawa S, Arai J, Yoshikawa S, Ishiwata T, Shephard RJ, Aoyagi Y (2007) Influence on human sleep patterns of lowering and delaying the minimum core body temperature by slow changes in the thermal environment. Sleep 30(6):797–802

Van Someren EJ (2003) Thermosensitivity of the circadian timing system. Sleep Biol Rhythm 1:55–64

Wakamura T, Tokura H (2002) Circadian rhythm of rectal temperature in humans under different ambient temperature cycles. J Therm Biol 27:439–447
Acknowledgments
This study was supported in part by Grant-in-Aid #15107005 for Scientific Research, Japan and the Hibi Science Foundation.
About this article
Cite this article
Kakitsuba, N., White, M.D. Effect of change in ambient temperature on core temperature during the daytime. Int J Biometeorol 58, 901–907 (2014). https://doi.org/10.1007/s00484-013-0673-8
Received:

Revised:

Accepted:

Published:

Issue Date:

DOI: https://doi.org/10.1007/s00484-013-0673-8
Keywords