Abstract
This year marks the tenth anniversary of the development of the revised Spatial Synoptic Classification, the "SSC", by Scott Sheridan. This daily weather-type classification scheme has become one of the key analytical tools implemented in a diverse range of climatological investigations, including analysis of air quality variability, human health, vegetation growth, precipitation and snowfall trends, and broader analyses of historical and future climatic variability and trends. The continued and expanding use of the SSC motivates a review and comparison of the system's research and geographic foci to date, with the goal of identifying promising areas for future efforts, particularly within the context of human health and climate change. This review also assesses how the SSC has complemented and compares with other current environmental epidemiological studies in weather and health.
Access options
Buy single article
Instant access to the full article PDF.
US$ 39.95
Tax calculation will be finalised during checkout.
Subscribe to journal
Immediate online access to all issues from 2019. Subscription will auto renew annually.
US$ 79
Tax calculation will be finalised during checkout.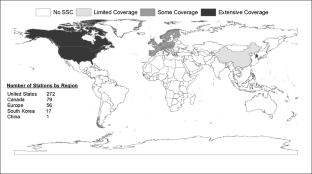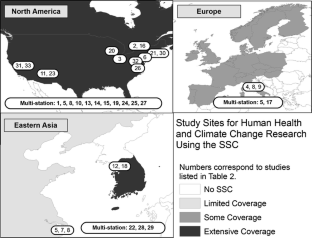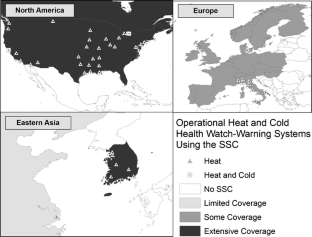 References
Anderson BG, Bell M (2009) Weather-related mortality: how heat, cold, and heat waves affect mortality in the United States. Epidemiology 20(2):205–213

Barnett AG, Tong S, Clements ACA (2010) What measure of temperature is the best predictor of mortality? Environ Res 110(6):604–611

Bassil KL, Cole DC, Moineddin R, Craig AM, Wendy Lou WY, Schwartz B, Rea E (2009) Temporal and spatial variation of heat-related illness using 911 medical dispatch data. Environ Res 109(5):600–606

Bergeron T (1930) Richtlinien einer dynamischen klimatologie. Meteorol Zeitung 47:246–262

Bower D, Hannah D, Sheridan SC (2007) Development of a spatial synoptic classification scheme for Western Europe. Int J Climatol 27(15):2017–2040

Braga AL, Zanobetti A, Schwartz J (2001) The lag structure between particulate air pollution and respiratory and cardiovascular deaths in 10 US cities. J Occup Environ Med 43(11):927–933

Brazel A, Gober P, Lee SJ, Grossman-Clarke S, Zehnder J, Hedquist B, Comparri B (2007) Determinants of changes in the regional urban heat island in metropolitan Phoenix (Arizona, USA) between 1990 and 2004. Clim Res 33(2):171–182

Bröde P, Krüger EL, Rossi FA, Fiala D (2012a) Predicting urban outdoor thermal comfort by the Universal Thermal Climate Index UTCI—a case study in Southern Brazil. Int J Biometeorol 56(3):478–480

Bröde P, Fiala D, Błażejczyk K, Holmér I, Jendritzky G, Kampmann B, Tinz B, Havenith G (2012b) Deriving the operational procedure for the Universal Thermal Climate Index (UTCI). Int J Biometeorol 56(3):481–494

Budd GM (2008) Wet-bulb globe temperature (WBGT)—its history and its limitations. J Sci Med Sport 11(1):20–32

Cheng SC, Kalkstein LS (1993) An evaluation of climate change in phoenix using an automated synoptic climatological approach. World Resour Rev 5:180–189

Cheng SC, Campbell M, Li Q, Li G, Auld H, Day N, Pengelly D, Gingrich S, Yap D (2007) A synoptic climatological approach to assess climatic impact on air quality in South-central Canada. Part I: historical analysis. Water Air Soil Pollut 182(1):131–148

Cheng S, Ye H, Kalkstein LS (1992) An evaluation of pollution concentration using an automated synoptic approach. Middle States Geogr 25:45–51

Davis RE, Kalkstein LS (1990) Development of an automated spatial synoptic climatological classification. Int J Climatol 10(8):769–794

Davis RE, Knappenberger PC, Michaels PJ, Novicoff WM (2003) Changing heat-related mortality in the United States. Environ Health Perspect 111(14):1712–1718

Davis RE, Rossier CE, Enfield KB (2012) The impact of weather on influenza and pneumonia mortality in New York City, 1975–2002: a retrospective study. Plos One 7(3):e3409

de'Donato FK, Michelozzi P, Accetta G, Fano V, D'Ovidio M, Kirchmayer U, Kalkstein LS et al (2004) Summer 2003 heat waves in Rome: impact on mortality and results of the heat/health watch/warning system. Epidemiology 15:S102–S103

Dessai S (2003) Heat stress and mortality in Lisbon part II. An assessment of the potential impacts of climate change. Int J Biometeorol 48:37–44

Diaz J, Garćıa R, Velázquez de Castro F, Hernandez E, López C, Otero A (2002a) Effects of extremely hot days on people older than 65 years in Seville (Spain) from 1986 to 1997. Int J Biometeorol 46:145–149

Diaz J, Jordan A, Garcıa R, Lopez C, Alberdi J, Hernandez E, Otero A (2002b) Heat waves in Madrid 1986–1997: effects on the health of the elderly. Int Arch Occup Environ Health 75:163–170

Díaz J, García R, López C, Linares C, Tobías A, Prieto L (2005) Mortality impact of extreme winter temperatures. Int J Biometeorol 49(3):179–183

Ebi KL, Teisberg TJ, Kalkstein LS, Robinson L, Weiher RF (2004) Heat watch/warning systems save lives: estimated costs and benefits for Philadelphia 1995–1998. B Am Meteorol Soc 85:1067–1073

Environment Canada (2012) "Weather Tools". Available at: http://www.ec.gc.ca/meteo-weather/default.asp?lang=En&n=E7CF04AB-1. Accessed 2 October 2012

Field CB, Mortsch LD, Brklacich M, Forbes DL, Kovacs P, Patz JA, Running SW, Scott MJ (2007) North America. Climate change 2007: impacts, adaptation and vulnerability. In: Parry ML, Canziani OF, Palutikof JP, van der Linden PJ, Hanson CE (eds) Contribution of working group II to the fourth assessment report of the intergovernmental panel on climate change. Cambridge University Press, Cambridge, pp 617–652

Gosling SN, Lowe JA, McGregor GR (2009a) Climate change and heat-related mortality in six cities part 2: climate model evaluation, sensitivity analysis, and estimation of future impacts. Int J Biometeorol 53:31–51

Gosling SN, Lowe JA, McGregor GR, Pelling M, Malamud BD (2009b) Associations between elevated atmospheric temperature and human mortality: a critical review of the literature. Clim Chang 92:299–341

Gosling SN, McGregor GR, Lowe JA (2012) The benefits of quantifying climate model uncertainty in climate change impacts assessment: an example with heat-related mortality change estimates. Clim Chang 112:217–231

Gosling SN, McGregor GR, Páldy A (2007) Climate change and heat-related mortality in six cities part 1: model construction and validation. Int J Biometeorol 51:525–540

Greene JS, Kalkstein LS (1996) Quantitative analysis of summer air masses in the eastern United States and an application to human mortality. Clim Res 7:48–53

Greene S, Kalkstein LS, Mills DM, Samenow J (2011) An examination of climate change on extreme heat events and climate–mortality relationships in large U.S. cities. Wea Climate Soc 3:281–292

Greene JS, Kalkstein LS, Ye H, Smoyer K (1999) Relationships between synoptic climatology and atmospheric pollution at 4 US cities. Theor Appl Climatol 62:163–174

Hajat S, Sheridan SC, Allen MJ, Pascal M, Laaidi K, Yagouti A, Bickis U, Tobias A, Bourque D, Armstrong BG, Kosatsky T (2010) Heat-health warning systems: a comparison of the predictive capacity of different approaches to identifying dangerously hot days. Am J Public Health 100(6):1137–1144

Hanna AF, Yeatts KB, Xiu A, Zhu Z, Smith RL, Davis NN, Talko K et al (2011) Associations between ozone and morbidity using the Spatial Synoptic Classification system. Environ Health 10:49

Harlan SL, Brazel AJ, Prashad L, Stefanov WL, Larsen L (2006) Neighborhood microclimates and vulnerability to heat stress. Soc Sci Med 63:2847–2863

Havenith G, Fiala D, Błazejczyk K, Richards M, Bröde P, Holmér I, Rintamaki H, Benshabat Y, Jendritzky G (2012) The UTCI-clothing model. Int J Biometeorol 56(3):461–470

Hayhoe K, Sheridan SC, Kalkstein LS, Greene JS (2010) Climate change, heat waves, and mortality projections for Chicago. J Great Lakes Res 36:65–73

Hondula DM, Davis RE, Knight DB, Sitka L, Enfield K, Gawtry SB, Stenger PJ, Deaton ML, Normile CP, Lee TR (2012) A respiratory alert model for the Shenandoah Valley, Virginia, USA. Int J Biometeorol. doi:10.1007/s00484-012-0537-7

Hondula DM, Davis RE (2011) Decline in wintertime air-mass transition frequencies in the USA. Climate Res 46(2):121–136

Hoppe P (1999) The physiological equivalent temperature – a universal index for the biometeorological assessment of the thermal environment. Int J Biometeorol 43(2):71–75

Huynen M, Martens P, Schram D, Weijenberg MP, Kunst AE (2001) The impact of cold spells and heat waves on mortality rates in the Dutch population. Environ Health Perspect 109:463–470

International Society of Biometeorology (2011) What is biometeorology? http://biometeorology.org/what_is_bm/index.cfm. Accessed 20 April 2012

Jamason PF, Kalkstein LS, Gergen J (1997) A synoptic evaluation of asthma hospital admissions in New York city. Am J Respir Crit Care 156:1–8

Jendritzky G, de Dear R, Havenith G (2012) UTCI – Why another thermal index? Int J Biometeorol 56(3):421–428

Kalkstein LS, Barthel CD, Greene JS, Nichols MC (1996) A new spatial synoptic classification: application to air mass analysis. Int J Climatol 16(9):983–1004

Kalkstein LS, Corrigan P (1986) A synoptic climatological approach for geographical analysis: assessment of sulfur dioxide concentrations. Ann Assoc Am Geogr 76(3):381–395

Kalkstein LS, Davis RE (1989) Weather and human mortality: an evaluation of demographic and interregional responses in the United States. Ann Assoc Am Geogr 79:44–64

Kalkstein LS, Dunne P, Vose R (1990) Detection of climatic change in the Western North American arctic using a synoptic climatological approach. J Climate 3(10):1153–1167

Kalkstein LS, Greene JS (1997) An evaluation of climate/mortality relationships in large U.S. cities and the possible impacts of a climate change. Environ Health Perspect 105:84–93

Kalkstein LS, Greene S, Mills DM, Perrin AD, Samenow J, Cohen JC (2008a) Analog European heat waves for U.S. cities to analyze impacts on heat-related mortality. B Am Meteorol Soc 9(1):75–85

Kalkstein LS, Greene JS, Mills D, Samenow J (2011a) An evaluation of the progress in reducing heat-related human mortality in major U.S. cities. Nat Hazards 56(1):113–129

Kalkstein LS, Sheridan SC (2011) Collaborative agreement between NIMR and applied climatologists: An improved heat/health system for Seoul and the development of winter relationships for large cities in the Republic of Korea. Available at: http://www.as.miami.edu/geography/research/climatology/KMA_final%20report_year4newest.pdf. Accessed 31 August 2012

Kalkstein LS, Sheridan SC, Au YC (2008b) A new generation of heat/health warning systems for Seoul and other major Korean cities. Meteorol Technol Policy 1:86–92

Kalkstein LS, Sheridan S, Kim KR, Lee D, Choi Y (2011b) The implementation of a national network of HEAT/HEALTH warning systems in the republic of Korea. Epidemiology 22:179–189

Kalkstein LS, Tan G, Skindlov JA (1987) An evaluation of three clustering procedures for use in synoptic climatological classification. J Appl Meteorol 26:717–730

Kalkstein LS, Webber SR (1990) A detailed evaluation of scenes air quality data in Northern Arizona using a three-dimensional synoptic approach. Publ Climatol 43(1):1–98

Keatinge W, Donaldson G (1995) Cardiovascular mortality in winter. Arctic Med Res 54(S2)

Kirchmayer U, Michelozzi P, de'Donato F, Kalkstein LS, Perucci CA (2004) A national system for the prevention of health effects of heat in Italy. Epidemiology 15:S100

Knight DB, Davis RE, Sheridan SC, Hondula DM, Sitka LJ, Deaton M, Lee TR et al (2008) Increasing frequencies of warm and humid air masses over the conterminous United States from 1948 to 2005. Geophys Res Lett 35:L10702

Koppe C, Jendritzky G (2005) Inclusion of short-term adaptation to thermal stresses in a heat load warning procedure. Meteorol Z 14(2):271–278

Kovats RS, Ebi KL (2006) Heat waves and public health in Europe. Eur J Public Health 16(6):592–599

Kyselý J, Huth R (2010) Relationships between summer air masses and mortality in Seoul: comparison of weather-type classifications. Phys Chem Earth Pt A 35(9–12):536–543

Lee DG, Choi YJ, Kim KR, Kalkstein LS, Sheridan SC (2011) Regional characteristics of heat-related deaths and the application of a heat-health warning system in Korea. Epidemiology 22:S180

Lee DG, Choi YJ, Kim KR, Byon JY, Kalkstein LS, Sheridan SC (2010) Development of a heat warning system based on regional properties between climate and human health. Clim Chang Res 1:109–120

Martin S, Cakmak S, Hebbern C, Avramescu ML, Tremblay N (2012) Climate change and future temperature-related mortality in 15 Canadian cities. Int J Biometeorol 56(4):605–619

Mather JR, Field RT, Kalkstein LS, Willmott CJ (1980) Climatology: the challenge for the eighties. Prof Geogr 32:285–292

McGeehin MA, Mirabelli M (2001) The potential impacts of climate variability and change on temperature-related morbidity and mortality in the United States. Environ Health Perspect 109(Suppl 2):185–189

McGregor GR (1999) Winter ischaemic heart disease deaths in Birmingham, United Kingdom: a synoptic climatological analysis. Clim Res 13(1):17–31

McGregor GR, Bessemoulin P, Ebi K, Menne B (eds) (2010) Heat waves and health: Guidance on warning system development. Report to the World Meteorological Organization and World Health Organization

Meehl GA, Tebaldi C (2004) More intense, more frequent, and longer lasting heat waves in the 21st century. Nature 305:994

Merrill RM, Shields EC, White GL Jr, Druce D (2005) Climate conditions and physical activity in the United States. Am J Health Behav 29:371–381

Metzger KB, Ito K, Matte TD (2010) Summer heat and mortality in New York City: how hot is too hot? Environ Health Perspect 118(1):80–86

Michelozzi P, de'Donato FK, Bargagli AM, D'Ippoliti D, De Sario M, Marino C, Schifano P et al (2010) Surveillance of summer mortality and preparedness to reduce the health impact of heat waves in Italy. Int J Environ Res Public Health 7(5):2256–2273

Muller RA (1977) A synoptic climatology for environmental baseline analysis: New Orleans. J Appl Meteorol 16:20–33

Naughton MP, Henderson A, Mirabelli MC, Kaiser R, Wilhelm JL, Kieszak SM, Rubin CH, McGeehin MA (2002) Heat-related mortality during a 1999 heat wave in Chicago. Am J Prev Med 22:221–227

Perera EM, Sanford T, White-Newson JL, Kalkstein LS, Vanos JK, Weir K (2012) Heat in the heartland: 60 years of warming in the Midwest. Union of Concerned Scientists, Cambridge, July 19th, 2012

Pope CA, Kalkstein LS (1996) Synoptic weather modelling and estimates of the exposure-response relationship between daily mortality and particulate air pollution. Environ Health Persp 104:414–420

Psikuta A, Fiala D, Laschewski G, Jendritzky G, Richards M, Błażejczyk K, Mekjavič I et al (2012) Validation of the Fiala multi-node thermophysiological model for UTCI application. Int J Biometeorol 56:443–460

Rainham DGC, Smoyer KE, Burnett RT (2001) Spatial synoptic classification of air pollution and human mortality associations in Toronto, Canada: past relationships and policy implications. Am J Epidemiol 153:1015

Rainham DGC, Smoyer-Tomic KE, Sheridan SC, Burnett RT (2005) Synoptic weather patterns and modification of the association between air pollution and human mortality. Int J Environ Res 15:347–360

Schreiber KV (2002) A synoptic climatological approach to assessment of visibility and pollutant source locations, Grand Canyon National Park Area. Publ Climatol 55(1):1–113

Schwartz J, Dockery DW (1992) Increased Mortality in Philadelphia Associated with Daily Air Pollution Concentrations. Am J Resp Crit Care Med 145(3):600–604

Semenza JC, Rubin CH, Falter KH, Selanikio JD, Flanders WD, Howe HL, Wilhelm JL (1996) Heat-related deaths during the July 1995 heat wave in Chicago. New Engl J Med 335:84–90

Sheridan SC (2002) The redevelopment of a weather-type classification scheme for North America. Int J Climatol 22(1):51–68

Sheridan SC, Dolney TJ (2003) Heat, mortality, and level of urbanization: measuring vulnerability across Ohio, USA. Clim Res 24(3):255–265

Sheridan SC, Kalkstein AJ (2010) Seasonal variability in heat-related mortality across the United States. Nat Hazards 55(2):291–305

Sheridan SC, Kalkstein AJ, Kalkstein LS (2009) Trends in heat-related mortality in the United States, 1975–2004. Nat Hazards 50(1):145–160

Sheridan SC, Kalkstein LS (2004a) A synoptic climatological approach to separate weather- and pollution-induced impacts on human mortality. Epidemiology 15(4):S40

Sheridan SC, Kalkstein LS (2004b) Progress in heat watch-warning system technology. B Am Meteorol Soc 85(12):1931–1942

Sheridan SC, Kalkstein LS, Scott JM (2000) An evaluation of the variability of air mass character between urban and rural areas. In: Biometeorology and Urban Climatology at the Turn of the Millennium, pp 487–490

Sheridan SC, Lee CC, Allen M, Kalkstein LS (2012a) Future heat vulnerability in California, part I: projecting future weather types and heat events. Clim Chang. doi:10.1007/s10584-012-0436-2

Sheridan SC, Allen M, Lee CC, Kalkstein LS (2012b) Future heat vulnerability in California, part II: projecting future heat-related mortality. Clim Chang. doi:10.1007/s10584-012-0437-1

Sheridan SC (2011) Synoptic Spatial Classification. http://sheridan.geog.kent.edu/ssc.html. Accessed 20 May 2012

Smoyer KE, Kalkstein LS, Greene JS, Ye H (2000) The impacts of weather and pollution on human mortality in Birmingham, Alabama and Philadelphia, Pennsylvania. Int J Climatol 20:881–897

Steadman RG (1979) The assessment of sultriness. Part I: a temperature-humidity index based on human physiology and clothing science. J Appl Met 18:861–873

Svoma BM, Brazel A (2010) Urban effects on the diurnal temperature cycle in Phoenix, Arizona. Clim Res 41(1):21–29

Tan J, Kalkstein L, Huang J, Lin S, Yin H, Shao D (2004) An operational heat/health warning system in Shanghai. Int J Biometeorol 48:157–162

Vaneckova P, Neville G, Tippett V, Aitken P, Fitzgerald G, Tong S (2011) Do biometeorological indices improve modeling outcomes of heat-related mortality? J Appl Meteor Climatol 50:1165–1176

Vanos JK, Warland JS, Gillespie TJ, Kenny NA (2010) Review of the physiology of human thermal comfort while exercising in urban landscapes and implications for bioclimatic design. Int J Biometeorol 54(4):319–334

Vanos JK, Warland JS, Gillespie TJ, Slater GA, Brown RD, Kenny NA (2012) Human energy budget modellng in urban parks in Toronto, ON, and applications to emergency heat stress preparedness. J Appl Meteorol Clim 51(9):1639–1653

Vose RS (1993) Development of a regional synoptic index for environmental analysis. MS Thesis, Department of Geography, University of Delaware, Newark, Delaware

Wheeler D (2011) Quantifying vulnerability to climate change: implications for adaptation assistance. Working paper 240. Center for Global Development, Washington, DC
Acknowledgments
Many thanks to Larry Kalkstein of the University of Miami and Scott Sheridan of Kent State University for their helpful suggestions throughout the manuscript's preparation, particularly with respect to the history of the SSC. David Hondula was supported by a Science to Achieve Results Graduate Research Fellowship from the U.S. Environmental Protection Agency (Grant No. FP-91733701-1).
About this article
Cite this article
Hondula, D.M., Vanos, J.K. & Gosling, S.N. The SSC: a decade of climate–health research and future directions. Int J Biometeorol 58, 109–120 (2014). https://doi.org/10.1007/s00484-012-0619-6
Received:

Revised:

Accepted:

Published:

Issue Date:
Keywords
Spatial synoptic classification

Human health

Climate change

Warning systems

Weather type

Biometeorology

Epidemiology