Abstract
Three well-known Australian beaches, Surfers Paradise Beach (Gold Coast), Narrowneck Beach (Gold Coast) and Bondi Beach (Sydney), were selected for analysis of beach user preferences for certain weather and ocean conditions. Regression methods were used to determine how the numbers of visitors to these beaches are affected by these conditions. Actual visitor numbers were counted at three times during the day over several months at each beach with the aid of web cameras. The corresponding weather and ocean conditions were obtained from the Australian Bureau of Meteorology and local government agencies. Weekly and seasonal factors were also considered. The conditions preferred by beach users, as found in this study, are: no precipitation, higher temperatures, light-to-moderate wind speed (less than 30 km/h) and low wave height (up to 1.25 m). This study, the first to provide an analysis of beach user preferences for both weather and ocean conditions, shows that ocean conditions play a significant role in explaining the demand for beach recreation in Australia. It is therefore necessary for tourism management authorities or local governments to provide accurate and timely weather and ocean information to local, domestic and international beach users.
Access options
Buy single article
Instant access to the full article PDF.
US$ 39.95
Tax calculation will be finalised during checkout.
Subscribe to journal
Immediate online access to all issues from 2019. Subscription will auto renew annually.
US$ 79
Tax calculation will be finalised during checkout.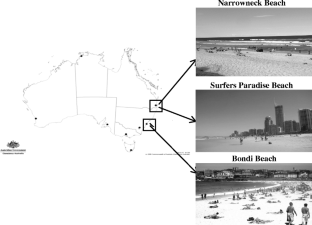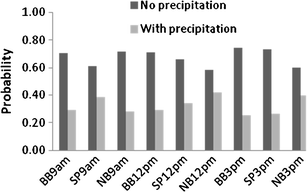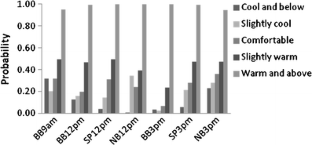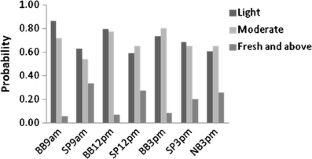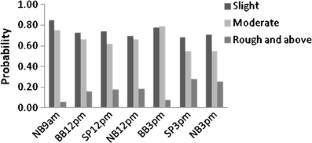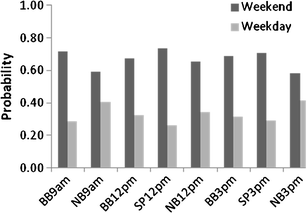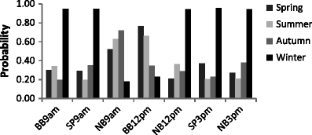 Notes
1.

In this paper, to make Eq. (1) valid, we assume that one beach does not draw visitors away from another.
References
Armstrong B, Sloan M (1989) Ordinal regression models for epidemiologic data. Am J Epidemiol 129:191–203

Baker WM, Olsson LE (1992) Tourism: a climate-sensitive industry. Ind Environ 15:9–16

Becker S (1998) Beach comfort index—a new approach to evaluate the thermal conditions of beach holiday resorts using a South African example. GeoJournal 44(4):299–307

de Freitas CR (1985) Assessment of human bioclimate based on thermal response. Int J Biometeorol 29:97–119

de Freitas CR (1990) Recreation climate assessment. Int J Climatol 10:89–103

de Freitas CR (2003) Tourism climatology: evaluating environmental information for decision making and business planning in the recreation and tourism sector. Int J Biometeorol 48:45–54

de Freitas CR, Scott D, McBoyle G (2008) A second generation climate index for tourism (CIT): specification and verification. Int J Biometeorol 52:399–407

Dwyer JF (1988) Predicting daily use of urban forest recreation sites. Landsc Urban Plan 15:127–138

Gomez-Martin B (2004) An evaluation of the tourist potential of the climate in Catalonia (Spain): a regional study. Geogr Ann 86:249–264

Gomez-Martin B (2006) Climate potential and tourist demand in Catalonia (Spain) during the summer season. Clim Res 32:163–173

Guillen J, Garcia-Olivares A, Ojeda E, Osorio A, Chic O, Gonzalez R (2008) Long-term quantification of beach users using video monitoring. J Coast Res 24:1612–1619

Gulyas A, Unger J, Matzarakis A (2006) Assessment of the microclimatic and human comfort conditions in a complex urban environment: modeling and measurements. Build Environ 41:1713–1722

Hamilton J, Maddison D, Tol RSJ (2005) Climate change and international tourism: a simulation study. Glob Environ Change 15:253–266

Hoppe P (1999) The physiological equivalent temperature ― a universal index for the biometeorological assessment of the thermal environment. Int J Biometeorol 43:71–75

Hosmer D, Lemeshow S (2000) Applied logistic regression, 2nd edn. Wiley, New York

Ibarra EM (2010) The use of webcam images to determine tourist-climate aptitude: favorable weather types for sun and beach tourism on the Alicante Coast (Spain). Int J Biometeorol 55:373–385

Jones B, Scott D (2006) Implications of climate change for visitation to Ontario's provincial parks. Leisure 30:233–261

Kammler M, Schernewski G (2004) Spatial and temporal analysis of beach tourism using webcam and aerial photographs. In: Schernewsk G, Loser N (eds) Managing the Baltic Sea. Coastline Reports 2, pp 121–128

Lin TP, Matzarakis A (2008) Tourism climate and thermal comfort in Sun Moon Lake, Taiwan. Int J Biometeorol 52:281–290

Lise W, Tol RSJ (2002) Impact of climate on tourism demand. Clim Chang 55:429–449

Lohmann M, Kaim E (1999) Weather and holiday destination preferences, image, attitude and experience. Tourist Rev 2:54–64

Matzarakis A, Mayer H, Iziomon MG (1999) Applications of a universal thermal index: physiological equivalent temperature. Int J Biometeorol 43:76–84

Matzarakis A, Rutz F, Mayer H (2007) Modeling radiation fluxes in simple and complex environments—application of the Rayman model. Int J Biometeorol 51:323–334

Menard WS (1995) Applied logistic regression analysis. Series: Quantitative applications in the social sciences, No. 106. Sage, Newbury Park, CA

Meyer D, Dewar K (1999) A new tool for investigating the effect of weather on visitor numbers. Tourism Anal 4:145–155

Mieczkowski Z (1985) The tourism climatic index: a method of evaluating world climates for tourism. Can Geogr 29:220–233

Moreno A (2007) The role of weather in beach recreation—a case study using webcam images. In: Matzarakis A, de Freitas CR, Scott D (eds) Developments in tourism climatology. Int Society of Biometeorol: Commission on Climate, Tourism and Recreation

Moreno A, Amelung B (2009) Climate change and coastal and marine tourism: review and analysis. In: Proceedings of the 10th International Coastal Symposium, Lisbon, Portugal. J Coast Res SI56: 1140–1144

Moreno A, Amelung B, Santamarta L (2008) Linking beach recreation to weather conditions: a case study in Zandvoort, Netherlands. Tourism Mar Environ 5(2–3):111–119

Morgan R, Gatell E, Junyent R, Micallef A, Ozhan E, Williams AT (2000) An improved user-based beach climate index. J Coast Conserv 6:41–50

Norusis MJ (2008) SPSS Statistics 17.0: Guide to data analysis. Prentice Hall, Upper Saddle River, NJ

Paul AH (1972) Weather and the daily use of outdoor recreation areas in Canada. In: Taylor JA (ed) Weather forecasting for agriculture and industry. David and Charles, Newton Abbot, pp 132–146

Scott D, McBoyle G, Schwartzentruber M (2004) Climate change and the distribution of climatic resources for tourism in North America. Clim Res 27:105–117

Scott D, Gossling S, de Freitas CR (2008) Preferred climates for tourism: case studies from Canada, New Zealand and Sweden. Clim Res 38:61–73

Smith K (1993) The influence of weather and climate on recreation and tourism. Weather 48:398–404

Spagnolo JC, de Dear RJ (2003) A human thermal climatology of subtropical Sydney. Int J Climatol 23:1383–1395

Timothy D, Groves D (2001) Research note: webcam images as potential data sources for tourism research. Tour Geogr 3:394–404

Tourism Research Australia (2011) The economic importance of tourism in Australia's regions. Australian Government Department of Resources, Energy and Tourism, Canberra
Acknowledgements
The authors would like to thank Professor Paulo Augusto Nunes and Professor Andreas Matzarakis for suggestions and useful guidance, Dr Peter McIntyre for editorial assistance, Professor Satish Chand for supervision, Mr Chris Lane from CoastalCOMS for data support and two anonymous referees for helpful comments and suggestions. F.Z. is grateful for financial assistance from the Chinese Scholarship Council and The University of New South Wales. This is a publication of the Sino-Australian Research Centre for Coastal Management, paper number 9.
About this article
Cite this article
Zhang, F., Wang, X.H. Assessing preferences of beach users for certain aspects of weather and ocean conditions: case studies from Australia. Int J Biometeorol 57, 337–347 (2013). https://doi.org/10.1007/s00484-012-0556-4
Received:

Revised:

Accepted:

Published:

Issue Date:
Keywords
Beach-user preferences

Weather conditions

Ocean conditions

Tourism climatology

Australia