Abstract
To date, phenological research has provided evidence that climate warming is impacting both animals and plants, evidenced by the altered timing of phenophases. Much of the evidence supporting these findings has been provided by analysis of historic records and present-day fieldwork; herbaria have been identified recently as an alternative source of phenological data. Here, we used Rubus specimens to evaluate herbaria as potential sources of phenological data for use in climate change research and to develop the methodology for using herbaria specimens in phenological studies. Data relevant to phenology (collection date) were recorded from the information cards of over 600 herbarium specimens at Ireland's National Herbarium in Dublin. Each specimen was assigned a score (0–5) corresponding to its phenophase. Temperature data for the study period (1852 – 2007) were obtained from the University of East Anglia's Climate Research Unit (CRU); relationships between temperature and the dates of first flower, full flower, first fruit and full fruit were assessed using weighted linear regression. Of the five species of Rubus examined in this study, specimens of only one (R. fruticosus) were sufficiently abundant to yield statistically significant relationships with temperature. The results revealed a trend towards earlier dates of first flower, full flower and first fruit phenophases with increasing temperature. Through its multi-phenophase approach, this research serves to extend the most recent work—which validated the use of herbaria through use of a single phenophase—to confirm herbarium-based research as a robust methodology for use in future phenological studies.
This is a preview of subscription content, log in to check access.
Access options
Buy single article
Instant access to the full article PDF.
US$ 39.95
Price includes VAT for USA
Subscribe to journal
Immediate online access to all issues from 2019. Subscription will auto renew annually.
US$ 99
This is the net price. Taxes to be calculated in checkout.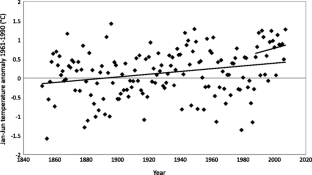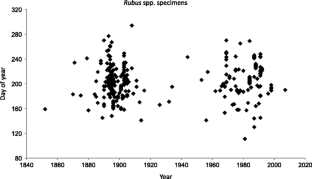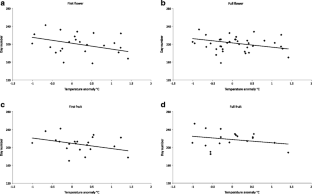 References
Alice LA, Campbell CS (1999) Phylogeny of Rubus (rosaceae) based on nuclear ribosomal DNA internal transcribed spacer region sequences. Am J Bot 86:81–97

Aono Y, Kazui K (2007) Phenological data series of cherry tree flowering in Kyoto, Japan, and its application to reconstruction of springtime temperatures since the 9th Century. Int J Climatol 28:905–914

Blackman RL, Eastop VF, Hills M (1977) Morphological and cytological separation of Amphorophora Buckton (Homoptera: Aphididae) feeding on European raspberry and blackberry (Rubus spp.). Bull Entomol Res 67:285–296

Bolmgren K, Lönnberg K (2005) Herbarium data reveal an association between fleshy fruit type and earlier flowering time. Int J Plant Sci 166:663–670

Borchert R (1996) Phenology and flowering periodicity of neotropical dry forest species: evidence from herbarium collections. J Trop Ecol 12:65–80

Carroll E, Sparks T, Donnelly A, Cooney T (2009) Irish phenological observations from the early 20th century reveal a strong response to temperature. Biol Environ Proc R Ir Acad 109:115–122

Cleland EE, Chuine I, Menzel A, Mooney HA, Schwartz MD (2007) Shifting plant phenology in response to global change. Trends Ecol Evol 22:357–365

Intergovernmental Panel on Climate Change (2007) IPCC Fourth Assessment Report. Climate change 2007: synthesis report http://www.ipcc.ch/publications_and_data/ar4/syr/en/main.html. Accessed 19 August 2010

Crawford PHC, Hoagland BW (2009) Can herbarium records be used to map alien species invasion and native species expansion over the past 100 years? J Biogeogr 36:651–661

Donnelly A, Salamin N, Jones MB (2006) Changes in tree phenology: an indicator of spring warming in Ireland? Biol Environ Proc R Ir Acad 106:49–56

Donnelly A, Cooney T, Jennings E, Buscardo E, Jones M (2009) Response of birds to climatic variability; evidence from the western fringe of Europe. Int J Biometeorol 53:211–220

Fitter AH, Fitter RSR (2002) Rapid changes in flowering time in British plants. Science 296:1689–1691

Fitter AH, Fitter RSR, Harris ITB, Williamson MH (1995) Relationships between first flowering date and temperature in the flora of a locality in central England. Funct Ecol 9:55–60

Gallagher RV, Hughes L, Leishman MR (2009) Phenological trends among Australian alpine species: using herbarium records to identify climate-change indicators. Aust J Bot 57:1–9

Harrington R, Woiwod I, Sparks T (1999) Climate change and trophic interactions. Trends Ecol Evol 14:146–150

Hart HC, Barrington RM (1892) Rediscovery of Rubus chamæmorus in Ireland. Ir Nat 1:124

Hedenäs L, Bisang I, Tehler A, Hamnede M, Jaederfelt K, Odelvik G (2002) A herbarium-based method for estimates of temporal frequency changes: mosses in Sweden. Biol Conserv 105:321–331

Hegland SJ, Nielsen A, Lázaro A, Bjerknes A-L, Totland Ø (2009) How does climate warming affect plant-pollinator interactions? Ecol Lett 12:184–195

International Plant Science Center (2010) Index herbariorum: a global directory of public herbaria and associated staff: background. http://sciweb.nybg.org/science2/IndexHerbariorum.asp. Accessed 19 August 2010

Jacobs JH, Clark SJ, Denholm I, Goulson D, Stoate C, Osborne JL (2009) Pollination biology of fruit-bearing hedgerow plants and the role of flower visiting insects in fruit-set. Ann Bot 104:1397–1404

Kraft T, Nybom H, Werlemark G (1996) DNA fingerprint variation in some blackberry species (Rubus subg. Rubus, Rosaceae). Plant Syst Evol 199:93–108

Lavoie C, Lachance D (2006) A new herbarium-based method for reconstructing the phenology of plant species across large areas. Am J Bot 93:512–516

Lawrence A (2009) The first cuckoo in winter; phenology, recording, credibility and meaning in Britain. Glob Environ Chang 19:173–179

Lebourgeois F, Pierrat J-C, Perez V, Piedallu C, Cecchini S, Ulrich E (2010) Simulating phenological shifts in French temperate forests under two climate change scenarios and four driving global circulation models. Int J Biometeorol 54:563–581

MacGillivray F, Hudson IL, Lowe AJ (2010) Herbarium collections and photographic images: alternative data sources. In: Hudson IL, Keatly MR (eds) Phenological research. Springer, London, pp 425–461

McElwain L, Sweeney J (2007) Key meteorological indicators of climate change in Ireland. Environmental Research Centre Report, EPA

McGrath R, Lynch P, Dunne S, Hanafin J, Nishimura E, Nolan P, Ratnam V, Semmler T, Sweeney C, Wang S (2008) Ireland in a warmer world. Scientific Predictions of the Irish Climate in the Twenty-First Century. Final Report of C4I, Dublin

Menzel A, Sparks TH, Estrella N, Koch E, Aasa A, Ahas R, Alm-Kübler K, Bissolli P, Braslavská O, Briede A, Chmielewski FM, Crepinsek Z, Curnel Y, Dahl Å, Defila C, Donnelly A, Filella Y, Jatczak K, Måge F, Mestre A, Nordli Ø, Peñuelas J, Pirinen P, Remišová V, Scheifinger H, Striz M, Susnik A, Van Vliet AJH, Wielgolaski F, Zach S, Zust A (2006) European phenological response to climate change matches the warming pattern. Glob Chang Biol 12:1969–1976

Miller-Rushing AJ, Primack RB, Primack D, Mukunda S (2006) Photographs and herbarium specimens as tools to document phenological changes in response to global warming. Am J Bot 93:1667–1674

Moussus JP, Julliard R, Jiguet F (2010) Featuring 10 phenological estimators using simulated data. Methods Ecol Evol 1:140–150

National Biodiversity Data Centre (2010) Rubus biodiversity maps. http://maps.biodiversityireland.ie. Accessed 20 August 2010

Nybom H, Kraft T (1995) Application of DNA fingerprinting to the taxonomy of European blackberry species. Electrophoresis 16:1731–1735

Parmesan C (2006) Ecological and evolutionary responses to recent climate change. Annu Rev Ecol Evol Syst 37:637–669

Parmesan C, Yohe G (2003) A globally coherent fingerprint of climate change impacts across natural systems. Nature 421:37–42

Prather LA, Alvarez-Fuentes O, Mayfield MH, Ferguson CJ (2004) The decline of plant collecting in the United States: a threat to the infrastructure of biodiversity studies. Syst Bot 29:15–28

Primack D, Imbres C, Primack RB, Miller-Rushing AJ, Del Tredici P (2004) Herbarium specimens demonstrate earlier flowering times in response to warming in Boston. Am J Bot 91:1260–1264

Robbirt KM, Davy AJ, Hutchings MJ, Roberts DJ (2011) Validation of biological collections as a sources of phenological data for use in climate change studies: a case study with the orchid Ophrys sphegodes. J Ecol 99:235–241

Root TL, Price JT, Hall KR, Schneider SH, Rosenzweig C, Pounds JA (2003) Fingerprints of global warming on wild animals and plants. Nature 421:57–60

Rumpff L, Coates F, Messina A, Morgan J (2008) Potential biological indicators of climate change: evidence from phenology records of plants along the Victorian Coast. Arthur Rylah Institute for Environmental Research, Technical Report No. 175. Publication of the Victorian Government Department of Sustainability and the Environment

Rutishauser T, Luterbacher J, Jeanneret F, Pfister C, Wanner H (2007) A phenology-based reconstruction of internannual changes in past spring seasons. J Geophys Res 112:15

Sagarin R, Pauchard A (2010) Observational approaches in ecology open new ground in a changing world. Front Ecol Environ 8:379–386. doi:10.1890/090001

Schmidt K, Höhn H, Graf B, Höpli H (2001) Phänologische entwicklungsstadien der Himbeere (Rubus idaeus L.). Forschung 8:215–222

Schreiner M, Bauer E-M, Kollmann J (2000) Reducing predation of conifer seeds by clear-cutting Rubus fruticosus agg. in two montane forest stands. For Ecol Manag 126:281–290

Sparks T (2007) Lateral thinking on data to identify climate impacts. Trends Ecol Evol 22:169–171

Sparks TH, Carey PD (1995) The response of species to climate over two centuries: an analysis of the Marsham phenological record, 1736-1947. J Ecol 83:321–329

Sparks T, Jeffree EP, Jeffree CE (2000) An examination of the relationship between flowering times and temperature at the national scale using long-term phenological records from the UK. Int J Biometeorol 44:82–87

Sutherst RW, Maywald GF, Bourne AS (2007) Including species interactions in risk assessments for global change. Glob Chang Biol 13:1843–1859

Thackeray SJ, Sparks TH, Frederiksen M, Burthe S, Bacon PJ, Bell JR, Botham MS, Brereton TM, Bright PW, Carvalho L, Clutton-Brock T, Dawson A, Edwards M, Elliott JM, Harrington R, Johns D, Jones ID, Jones JT, Leech DI, Roy DB, Scott WA, Smith M, Smithers RJ, Winfield IJ, Wanless S (2010) Trophic level asynchrony in rates of phenological change for marine, freshwater and terrestrial environments. Glob Chang Biol 16:3304–3313. doi: 10.1111/j.1365-2486.2010.02165.x

Wada S, Reed BM (2008) Morphological analysis of Rubus seed. Acta Hortic 782:67–84

Walther G, Post E, Convey P, Menzel A, Parmesan C, Beebee TJC, Fromentin J, Hoegh-Guldberg O, Bairlein F (2002) Ecological responses to recent climate change. Nature 416:389–395

Whitfeld J (2001) The budding amateurs. Nature 414:578–579
Acknowledgements
The authors would like to express their gratitude to the Irish Environmental Protection Agency (EPA) for providing financial assistance for this work, under the STRIVE programme, project number 2007-CCRP-2.4, Climate change impacts on phenology: implications for terrestrial ecosystems. We would also like to thank two anonymous reviewers for their useful comments on an earlier draft of this manuscript.
About this article
Cite this article
Diskin, E., Proctor, H., Jebb, M. et al. The phenology of Rubus fruticosus in Ireland: herbarium specimens provide evidence for the response of phenophases to temperature, with implications for climate warming. Int J Biometeorol 56, 1103–1111 (2012). https://doi.org/10.1007/s00484-012-0524-z
Received:

Revised:

Accepted:

Published:

Issue Date:
Keywords
Climate warming

Flowering

Fruiting

Herbarium specimen

Ireland

Phenology

Rubus