Abstract
This study demonstrates that phenological information included in digital herbarium archives can produce annual phenological estimates correlated to satellite-derived green wave phenology at a regional scale (R = 0.183, P = 0.03). Thus, such records may be utilized in a fashion similar to other annual phenological records and, due to their longer duration and ability to discriminate among the various components of the plant community, hold significant potential for use in future research to supplement the deficiencies of other data sources as well as address a wide array of important issues in ecology and bioclimatology that cannot be addressed easily using more traditional methods.
This is a preview of subscription content, log in to check access.
Access options
Buy single article
Instant access to the full article PDF.
US$ 39.95
Price includes VAT for USA
Subscribe to journal
Immediate online access to all issues from 2019. Subscription will auto renew annually.
US$ 99
This is the net price. Taxes to be calculated in checkout.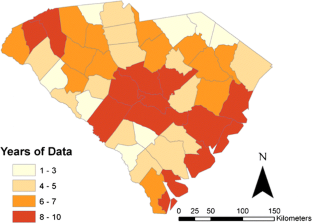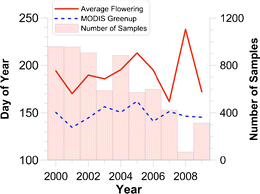 References
Abu-Asab MS, Peterson PM, Shetler SG, Orli SS (2001) Earlier plant flowering in spring as a response to global warming in the Washington, DC, area. Biodivers Conserv 10:597–612

Bolmgren K, Lunnberg K (2005) Herbarium data reveal an association between fleshy fruit type and earlier flowering time. Int J Plant Sci 166(4):663–670. doi:10.1086/430097

Boulter SL, Kitching RL, Howlett BG (2006) Family, visitors and the weather: patterns of flowering in tropical rainforests of northern Australia. J Ecol 94(2):369–382

Cook BI, Cook ER, Huth PC, Thompson JE, Forster A, Smiley D (2007) A cross-taxa phenological dataset from Mohonk Lake, NY and its relationship to climate. Int J Climatol 28:1369–1383

Gaira KS, Dhar U, Belwal OK (2011) Potential of herbarium records to sequence phenological pattern: a case study of Aconitum heterophyllum in the Himalaya. Biodivers Conserv 20(10):2201–2210

Gallagher RV, Hughes L, Leishman MR (2009) Ohenological trends among Australian alpine species: using herbarium records to identify climate-change indicators. Aust J Bot 57(1):1–9

Knyazikhin Y, Glassy J, Privette JL, Tian Y, Lotsch A, Zhang Y, Wang Y, Morisette JT, Votava P, Myneni RB, Nemani RR, Running SW (1999) MODIS leaf area index (LAI) and fraction of photosynthetically active radiation absorbed by vegetation (FPAR) product (MOD15) algorithm theoretical basis document. http://eospsogsfcnasagov/atbd/modistableshtml

Lavoie C, Lachance D (2006) A new herbarium-based method for reconstructing the phenology of plant species across large areas. Am J Bot 93(4):512–516

Loiselle BA, Jørgensen PM, Consiglio T, Jiménez I, Blake JG, Lohmann LG, Montiel OM (2007) Predicting species distributions from herbarium collections: does climate bias in collection sampling influence model outcomes? J Biogeogr 35(1):105–116

Miller-Rushing AJ, Primack RB, Primack D, Mukunda S (2006) Photographs and herbarium specimens as tools to document phenological changes in response to global warming. Am J Bot 93(11):1667–1674

Myneni RB, Hoffman S, Knyazikhin Y, Privette JL, Glassy J, Tian Y, Wang Y, Song X, Zhang Y, Smith GR, Lotsch A, Friedl M, Morisette JT, Votava P, Nemani RR, Running SW (2002) Global products of vegetation leaf area and fraction absorbed PAR from year one of MODIS data. Remote Sens Environ 83:214–231

Neil KL, Landrum L, Wu J (2010) Efftects of urbanization on flowering phenology in the metropolitan phoenix region of USA: findings from herbarium records. J Arid Environ 74(4):440–444

Primack D, Imbres C, Primack RB, Miller-Rushing AJ (2004) Herbarium specimens demonstrate earlier flowering times in response to warming in Boston. Am J Bot 91(8):1260–1264

Reed BC, Schwartz MD, Xiao X (2009) Remote sensing phenology: status and the way forward. In: Noormets A (ed) Phenology of ecosystem Processes: applications in global change. Springer, New York

Robbirt KM, Davy AJ, Hutchings MJ, Roberts DL (2011) Validation of biological collections as a source of phenological data for use in climate change studies: a case study with the orchid Ophrys sphegodes. J Ecol 99(1):235–241

Schwartz MD (ed) (2003) Phenology: an integrative environmental science. Kluwer, Boston

White MA, DeBeurs KM, Didan K, Inouye DW, Richardson AD, Jensen OP, O'Keefe J, Zhang G, Nemani RR, VanLeeuwen WJD, Brown JF, DeWit A, Schaepman M, Lin X, Dettinger M, Bailey AS, Kimball J, Schwartz MD, Baldocchi D, Lee JT, Lauenroth WK (2009) Intercomparison, interpretation, and assessment of spring phenology in North America estimated from remote sensing for 1982–2006. Glob Chang Biol 15(10):2335–2359

Zalamea P-C, Munoz F, Stevenson PR, Paine CET, Sarmiento C, Sabatier D, Heuret P (2011) Continental-scale patterns of Cecropia reproductive phenology: evidence from herbarium specimens. Proc R Soc London B 278(1717):2437–2445
Acknowledgments
I would like to acknowledge the contributions of Dixie Damrel of the Clemson University herbarium, John Nelson of the A.C. Moore Herbarium at the University of South Carolina, and Chris Oakley of the Robert K. Godfrey herbarium at Florida State University for access to their records, as well as Herrick Brown for assistance with herbarium database software, and Mark D. Schwartz, Dr. David Inouye, and an anonymous reviewer for advice that improved this manuscript.
About this article
Cite this article
Park, I.W. Digital herbarium archives as a spatially extensive, taxonomically discriminate phenological record; a comparison to MODIS satellite imagery. Int J Biometeorol 56, 1179–1182 (2012). https://doi.org/10.1007/s00484-012-0521-2
Received:

Revised:

Accepted:

Published:

Issue Date:
Keywords
Phenology

Plant ecology

Herbarium records

Remote sensing

Landscape ecology