Abstract
Plant phenology networks of citizen scientists have a long history and have recently contributed to our understanding of climate change effects on ecosystems. This paper describes the development of the Alberta and Canada PlantWatch programs, which coordinate networks of citizen scientists who track spring development timing for common plants. Tracking spring phenology is highly suited to volunteers and, with effective volunteer management, observers will stay loyal to a phenology program for many years. Over two decades beginning in 1987, Alberta PlantWatch volunteers reported 47,000 records, the majority contributed by observers who participated for more than 9 years. We present a quantitative analysis of factors that determine the quality of this phenological data and explore sources of variation. Our goal is to help those who wish to initiate new observer networks with an analysis of the effectiveness of program protocols including selected plant species and bloom stages.
Access options
Buy single article
Instant access to the full article PDF.
USD 39.95
Price excludes VAT (USA)
Tax calculation will be finalised during checkout.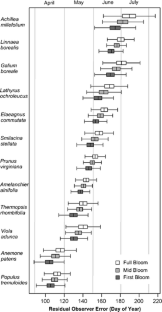 References
Beaubien EG (1991) Phenology of vascular plant flowering in Edmonton and across Alberta. MSc thesis. University of Alberta, Edmonton, Alberta

Beaubien EG, Freeland HJ (2000) Spring phenology trends in Alberta, Canada: links to ocean temperature. Int J Biometeorol 44:53–59

Beaubien EG, Hall-Beyer M (2003) Plant phenology in western Canada: trends and links to the view from space. Environ Monit Assess 88:419–429

Beaubien EG, Hamann A (2011) Spring flowering response to climate change between 1936 and 2006 in Alberta, Canada. Bioscience 61 (in press). doi:10.1525/bio.2011.61.7.6

Beaubien EG, Johnson DL (1994) Flowering plant phenology and weather in Alberta, Canada. Int J Biometeorol 38:23–27

Bird CD (1983) Alberta flowering dates. Alberta Nat 13(Suppl 1):1–4

Bonney R, Cooper C, Dickinson J, Kelling S, Phillips T, Shirk JL (2009) Citizen science: a developing tool for expanding science knowledge and scientific literacy. Bioscience 59:977–984

Delaney DG, Sperling CD, Adams CS, Leung B (2008) Marine invasive species: validation of citizen science and implications for national monitoring networks. Biol Invasions 10:117–128

Dickinson JL, Zuckerberg B, Bonter DN (2010) Citizen science as an ecological research tool: challenges and benefits. Annu Rev Ecol Evol Syst 41:49–172

Droege S (2007) Just because you paid them doesn't mean their data are better. Pages 13–26 in McEver C, Bonney R, Dickinson J, Kelling S, Rosenberg K, Shirk J, (eds) Citizen Science Toolkit Conference Proceedings. Cornell Lab of Ornithology, Ithaca, New York, June 20–23, 2007

Fitter AH, Fitter RSR (2002) Rapid changes in flowering time of British plants. Science 296:1689–1691

Jackson MT (1966) Effects of microclimate on spring flowering phenology. Ecology 47:407–415

Koch E (2010) Global framework for data collection-Data bases, data availability, future networks, online databases. In: Hudson IL, Keatley MR (eds) Phenological research, methods for environmental and climate change analysis. Springer, Dordrecht, pp 23–61

Kross A, Fernandes R, Seaquist J, Beaubien E (2011) The effect of the temporal resolution of NDVI data on season onset dates and trends across Canadian broadleaf forests. Remote Sens Environ 115:1564–1575

Leopold A, Jones SA (1947) A phenological record for Sauk and Dane counties, Wisconsin, 1935–1945. Ecol Monogr 17:81–122

Louv R (2008) Last child in the woods: saving our children from nature-deficit disorder. Algonquin, Chapel Hill, NC

Moss EH (1983) In: Packer JG (ed) Flora of Alberta, 2nd edn. University of Toronto Press, Toronto, ON

Natural Regions Committee (2006) Natural regions and Subregions of Alberta. Compiled by DJ Downing and WW Pettapiece. Edmonton. Pub. No. T/852. Alberta Environment, Government of Alberta, Edmonton, AB

R Development Core Team (2008) R: A language and environment for statistical computing. R foundation for statistical computing. Vienna, Austria. ISBN 3-900051-07-0, URL http://www.R-project.org

Ryan R, Kaplan R, Grese R (2001) Predicting volunteer commitment in environmental stewardship programmes. J Environ Plan Manag 44:629–648

SAS Institute (2008) SAS/STAT 9.2 User's guide. SAS Institute, Cary, NC

Schmeller DS, Henry PY, Julliard R, Gruber B, Clobert J et al (2009) Advantages of volunteer-based biodiversity monitoring in Europe. Conserv Biol 23:307–316

Schwartz MD, Beaubien EG (2003) Chapter 2.4. North America. In: Schwarz MD (ed) Phenology: an integrative environmental science. Kluwer, Dordrecht, pp 57–73

Vasseur L, Guscott RL, Mudie PJ (2001) Monitoring of spring flower phenology in Nova Scotia: comparison over the last century. Northeast Nat 8:393–402
Acknowledgements
Funding to carry out the analysis presented in this paper was provided by the NSERC Discovery Grant RGPIN-330527-07 and Alberta Ingenuity Grant #200500661. We thank all citizen scientists who contributed to the data collection and we appreciate their enthusiasm and continued support of this program. Comments on the manuscript were kindly provided by Dr. M. Hall-Beyer and we also thank L. Seale for editing.
About this article
Cite this article
Beaubien, E.G., Hamann, A. Plant phenology networks of citizen scientists: recommendations from two decades of experience in Canada. Int J Biometeorol 55, 833–841 (2011). https://doi.org/10.1007/s00484-011-0457-y
Received:

Revised:

Accepted:

Published:

Issue Date:

DOI: https://doi.org/10.1007/s00484-011-0457-y
Keywords