Abstract
Early leaf spot of peanut (Arachis hypogaea L.), a disease caused by Cercospora arachidicola S. Hori, is responsible for an annual crop loss of several million dollars in the southeastern United States alone. The development of early leaf spot on peanut and subsequent spread of the spores of C. arachidicola relies on favorable weather conditions. Accurate spatio-temporal weather information is crucial for monitoring the progression of favorable conditions and determining the potential threat of the disease. Therefore, the development of a prediction model for mitigating the risk of early leaf spot in peanut production is important. The specific objective of this study was to demonstrate the application of the high-resolution Weather Research and Forecasting (WRF) model for management of early leaf spot in peanut. We coupled high-resolution weather output of the WRF, i.e. relative humidity and temperature, with the Oklahoma peanut leaf spot advisory model in predicting favorable conditions for early leaf spot infection over Georgia in 2007. Results showed a more favorable infection condition in the southeastern coastline of Georgia where the infection threshold were met sooner compared to the southwestern and central part of Georgia where the disease risk was lower. A newly introduced infection threat index indicates that the leaf spot threat threshold was met sooner at Alma, GA, compared to Tifton and Cordele, GA. The short-term prediction of weather parameters and their use in the management of peanut diseases is a viable and promising technique, which could help growers make accurate management decisions, and lower disease impact through optimum timing of fungicide applications.
Access options
Buy single article
Instant access to the full article PDF.
US$ 39.95
Tax calculation will be finalised during checkout.
Subscribe to journal
Immediate online access to all issues from 2019. Subscription will auto renew annually.
US$ 79
Tax calculation will be finalised during checkout.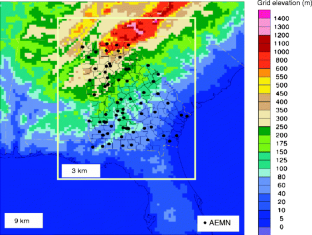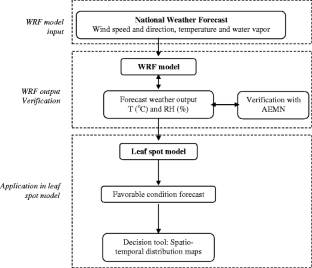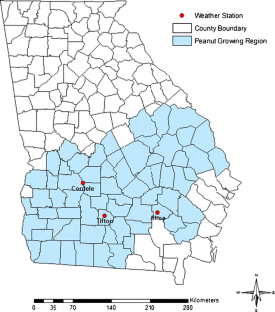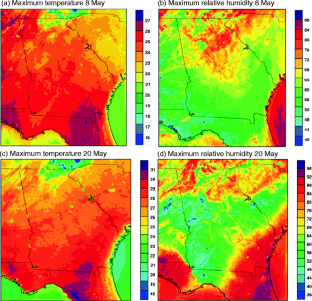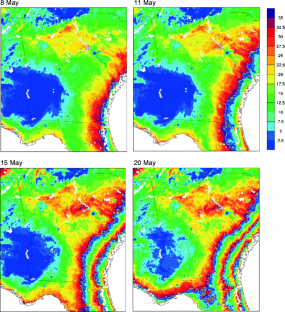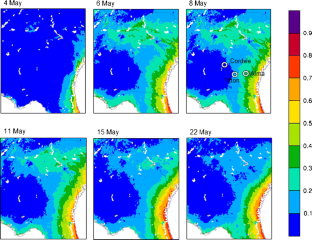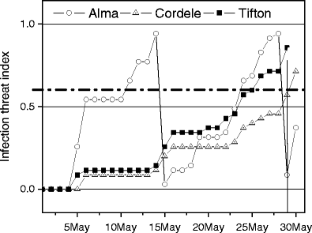 References
Alderman SC, Beute MK (1986) Influence of temperature and moisture on germination and germ tube elongation of Cercospora arachidicola. Phytopathology 76:715–719

Bailey JE, Johnson GL, Toth SJ (1994) Evolution of weather-based peanut leaf spot spray advisory in North Carolina. Plant Dis 78:530–535

Cantonwine EG, Culbreath AK, Stevenson KL, Kemerait RC Jr, Brenneman TB, Smith NB, Mullinix BG Jr (2006) Integrated disease management of leaf spot and spotted wilt of peanut. Plant Dis 90:493–500

Cantonwine EG, Culbreath AK, Holbrook CC, Gobert DW (2008) Disease progress of early leaf spot and components of resistance to Cercospora arachidicola and Cercosporidium personatum in runner-type peanut cultivars. Peanut Sci 35:1–10

Chen F, Dudhia J (2001a) Coupling an advanced land surface-hydrology model with the Penn State-NCAR MM5 modeling system: part I: model implementation and sensitivity. Mon Weather Rev 129:569–585

Chen F, Dudhia J (2001b) Coupling an advanced land surface-hydrology model with the Penn State-NCAR MM5 modeling system: part II: preliminary model validation. Mon Weather Rev 129:587–604

Cu RM, Phipps PM (1993) Development of a pathogen growth response model for the Virginia peanut leaf spot advisory program. Phytopathology 83:195–201

Culbreath AK, Stevenson KL, Brenneman TB (2002) Management of late leaf spot of peanut with benomyl and chlorothalonil: a study in preserving fungicide utility. Plant Dis 86:349–355

Damicone JP, Jackson KE, Sholar JR, Gregory MS (1994) Evaluation of a weather-based spray advisory for management of early leaf spot of peanut in Oklahoma. Peanut Sci 21:115–121

Davis DP, Jacobi JC, Backman PA (1993) Twenty-four hour rainfall, a simple environmental variable for predicting peanut leaf spot epidemics. Plant Dis 77:722–725

Grichar WJ, Jaks AJ, Besler BA (2005) Response of peanuts (Arachis hypogaea) to weather-based fungicide advisory sprays. Crop Prot 24:349–354

Hagan A, Weeks R (1998) Tomato Spotted Wilt Virus on Peanuts. Alabama Cooperative Extension System. Publication # ANR-0574, Revised April 1998

Hoogenboom G (2000) The Georgia automated environmental monitoring network 2000. Reprints 24th Conf. on agricultural and forest meteorology. American Meteorological Society, Boston, pp 24–25

Hoogenboom G (2001) Weather monitoring for management of water resources. In: Hatcher KJ (ed) Proceedings of the 2001 Georgia water resources conference. Institute of ecology. The University of Georgia, Athens, pp 778–781

Hoogenboom G, Coker DD, Edenfield JM, Evans DM, Fang C (2003) The Georgia Automated Environmental Monitoring Network: 10 years of weather information for water resources management. In: Hatcher KJ (ed) Proceedings of the 2003 Georgia Water Resources Conference. The University of Georgia, Athens, pp 896–900

Jacobi JC, Backman PA, Davis DP, Brannen PM (1995a) AU-Pnuts advisory II: modification of the rule-based leaf spot advisorysy stem for a partially resistant peanut cultivar. Plant Dis Rep 79:672–676

Jacobi JC, Backman PA, Davis DP, Brannen PM (1995b) AU-Puts advisory I: development of a rule-based system for scheduling peanut leaf spot fungicide applications. Plant Dis Rep 79:666–671

Jensen RE, Boyle LW (1965) The effect of temperature, relative humidity and precipitation on peanut leaf spot. Plant Dis Rep 49:810–814

Jensen RE, Boyle LW (1966) A technique for forecasting leafspot on peanut. Plant Dis Rep 50:810–814

Jewell EL (1987) Correlation of early leaf spot disease in peanut with a weather- dependent infection index. MS thesis, Virginia Polytechnic Institute and State University, Blacksburg

Kemerait RC (2006) Peanut. In: (2005) Georgia plant disease loss estimate, compiled by Alfredo Martinez. The University of Georgia, College of Agricultural and Environmental Sciences, Cooperative Extension Special Bulletin 41-08, 11

Linvill DE, Drye CE (1995) Assessment of peanut leaf spot disease control guidelines using climatological data. Plant Dis 79:876–879

Mesinger F, DiMego G, Kalnay E, Mitchell K, Shafran P, Ebisuzaki W, Jović D, Woolen J, Rogers E, Berbery EH, Ek MB, Fan Y, Grumbine R, Higgins W, Li H, Manikin G, Parish D, Shi W (2006) North American regional reanalysis. Bull Am Meteorol Soc 87:343–360

Miller IL, Norden AJ, Knauft DA, Gorbet DW (1990) Influence of maturity and fruit yield on susceptibility of peanut to Cercosporidium personatum (late leafspot pathogen). Peanut Sci 17:52–58

Nokes SE, Young JH (1991) Simulation of the temporal spread of leafspot and the effect on peanut growth. Trans ASAE 34:653–662

Olatinwo RO, Paz JO, Brown SL, Kemerait RC, Culbreath AK, Beasley JP Jr, Hoogenboom G (2008) A predictive model for spotted wilt epidemics in peanut based on local weather conditions and the tomato spotted wilt virus risk index. Phytopathology 98:1066–1074

Olatinwo RO, Prabha T, Paz JO, Riley DG, Hoogenboom G (2011) The weather research and forecasting (WRF) model: application in prediction of TSWV-vectors populations. J Appl Entomol 135:81–90

Parvin DW, Smith DH, Crosby FL (1974) Develoment and evaluation of a computerized forecasting method for Cercospora leaf spot of peanuts. Phytopathology 64:385–388

Prabha T, Hoogenboom G (2008) Evaluation of the weather research and forecasting model for two frost events. Comput Electron Agric 64:234–247

Prabha T, Hoogenboom G (2010) Evaluation of solar irradiance at the surface—inferences from in situ and satellite observations and a mesoscale model. Theor Appl Climatol 102:455–469. doi:10.1007/s00704-010-0329-0, Numbers 3-4

Shew BB, Beute MK, Wynne JC (1988) Effects of temperature and relative humidity on expression of resistance to Cercosporidium personatum in peanut. Phytopathology 78:493–498

Waliyar F, Shew BB, Sidahmed R, Beute MK (1995) Effects of host resistance on germination of Cercospora arachidicola on peanut leaf surfaces. Peanut Sci 22:154–157

Wharton PS, Kirk WW, Baker KM, Duynslager L (2008) A web-based interactive system for risk management of potato late blight in Michigan. Comput Electron Agric 61:136–148

Woodward JE, Brenneman TB, Kemerait RC Jr, Culbreath AK, Smith NB (2010) Management of peanut diseases with reduced input fungicide programs in fields with varying levels of disease risk. Crop Prot 29:222–229

Wu L, Damicone JP, Duthie JA, Melouk HA (1999) Effects of temperature and wetness duration on infection of peanut cultivars by Cercospora arachidicola. Phytopathology 89:653–659
Acknowledgements
This study was funded by a partnership with the USDA Risk Management Agency, by a Seed Grant from the College of Agricultural and Environmental Sciences of the University of Georgia, by grants from the National Peanut Board/Southeast Peanut Research Initiative, the US National Oceanic and Atmospheric Administration-Climate Program Office (NOAA-CPO) and USDA National Institute of Food and Agriculture (USDA-NIFA) and by State and Federal funds allocatedto Georgia Agricultural Experiment Stations Hatch project GEO01654. The computational support from the Computational and Information Systems Laboratory (CISL) of the National Center for Atmospheric Research (NCAR), Boulder, Colorado and the Research and Computing Center (RCC), University of Georgia, Athens, Georgia are acknowledged.
About this article
Cite this article
Olatinwo, R.O., Prabha, T.V., Paz, J.O. et al. Predicting favorable conditions for early leaf spot of peanut using output from the Weather Research and Forecasting (WRF) model. Int J Biometeorol 56, 259–268 (2012). https://doi.org/10.1007/s00484-011-0425-6
Received:

Revised:

Accepted:

Published:

Issue Date:
Keywords
Early warning

Leaf spot

Peanut

Plant disease

WRF