Abstract
Globularia alypum is a perennial shrub typical of western Mediterranean thermophilous shrublands. Nine populations of G. alypum located in different localities of Catalonia (NE Spain) were surveyed for flowering phenology. Flower-head buds were present in all the populations in July. Flowering time in the area spans from the late summer–early autumn to the next spring depending on the populations; there are two groups of populations, early and late flowering. Early populations grow mostly in coastal localities and flower from September to November, whereas late flowering populations grow in inland localities and flower from February to April. The flowering order of the populations correlated with minimum temperature of most months except the warmest ones, and correlated with maximum and mean temperatures of the coldest months. Correlations were similar when tested with annual climate. The flowering order also correlated with the thermic interval for most months except the coldest and with the index of continentality. Early populations alone did not present correlations with any variable, whereas late populations alone correlated similarly to all populations together. Flowering order did not correlate with precipitation. Late populations are proposed to be regulated by temperature according to our results whereas early populations could be regulated by timing in precipitation after summer drought, according to published results. We discuss the possibilities of the two flowering patterns, early and late, being due to phenotypic plasticity or to genetic adaptation to local climates. We also discuss the consequences at the plant and ecosystem level of climate warming causing shifts from late to early patterns, a possibility that is likely in the warmest of the late populations if flowering is modulated phenotypically.
Access options
Buy single article
Instant access to the full article PDF.
US$ 39.95
Tax calculation will be finalised during checkout.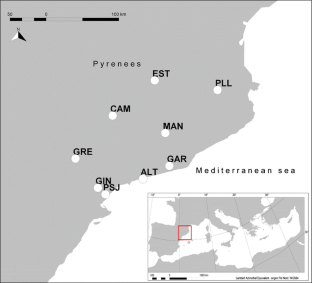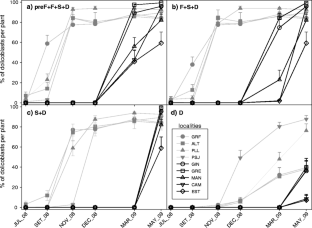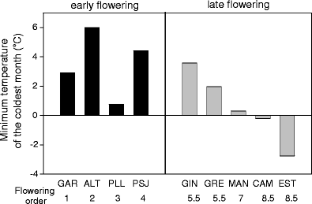 References
Carnicer J, Coll M, Ninyerola M, Pons X, Sánchez G, Peñuelas J (2011) Widespread crown condition decline, amplified tree mortality and large-scale food web disruption with increased climate-change-type drought. Proc Natl Acad Sci USA 108:1474-1478

Castro-Diez P, Montserrat-Marti G (1998) Phenological pattern of fifteen Mediterranean phanaerophytes from Quercus ilex communities of NE-Spain. Plant Ecol 139:103–112

Christensen JH, Hewitson B, Busuioc A, Chen A, Gao X, Held I, Jones R, Kolli RK, Kwon W-T, Laprise R, Magaña Rueda V, Mearns L, Menéndez CG, Räisänen J, Rinke A, Sarr A, Whetton P (2007) Regional Climate Projections. In: Solomon S, Qin D, Manning M, Chen Z, Marquis M, Averyt KB, Tignor M, Miller HL (eds) Climate Change 2007: The Physical Science Basis. Contribution of Working Group I to the Fourth Assessment Report of the Intergovernmental Panel on Climate Change. Cambridge University Press, Cambridge, United Kingdom and New York, NY, USA, pp 847–940

Chuine I (2010) Why does phenology drive species distribution? Philos Trans R Soc Lond B 365:3149–3160

De Bolòs O, Vigo J (1995) Flora dels Països Catalans, vol III. Editorial Barcino, Barcelona

Floret CH, Galan MJ, Le Floc'h E, Leprince F, Romane F (1989) France. In: Orshan G (ed) Plant pheno-morphological studies in Mediterranean type ecosystems. Kluwer, Dordrecht, pp 9–97

Gordo O, Sanz JJ (2009) Long-term temporal changes of plant phenology in the Western Mediterranean. Glob Change Biol 15:1930–1948

Kudo GG, Nishikawa Y, Kasagi T, Kosuge S (2004) Does seed production of spring ephemerals decrease when spring comes early? Ecol Res 19:255–259

Levin DA (2006) Flowering phenology in relation to adaptive radiation. Syst Bot 31:239–246

Llorens L, Peñuelas J (2005) Experimental evidence of future drier and warmer conditions affecting flowering of two co-occurring Mediterranean shrubs. Int J Plant Sci 166:235–245

Llorens L, Peñuelas J, Estiarte M (2003) Ecophysiological responses of two Mediterranean shrubs, Erica multiflora and Globularia alypum, to experimentally drier and warmer conditions. Physiol Plant 119:231–243

Llorens L, Pons M, Gil L, Boira H (2008) Seasonality of seed production and germination trends of Fumana ericoides (Cistaceae) in the west semiarid Mediterranean region. J Arid Environ 72:121–126

Lloret F, Peñuelas J, Estiarte M (2005) Effects of vegetation canopy and climate on seedling establishment in Mediterranean shrubland. J Veg Sci 16:67–76

Mitrakos K (1980) A theory for Mediterranean plant life. Oecol Plant 1:245–252

Montserrat-Marti G, Palacio S, Milla R (2004) Fenología y características funcionales de las plantas leñosas mediterráneas. In: Valladares F (ed) Ecología del bosque mediterráneo en un mundo cambiante. Ministerio de Medio Ambiente, EGRAF, S. A., Madrid, pp 129–162

Ninyerola M, Pons X, Roure JM (2005) Atlas Climático Digital de la Península Ibérica. Metodología y aplicaciones en bioclimatología y geobotánica. ISBN 932860-8-7. Universidad Autónoma de Barcelona, Bellaterra

Ogaya R, Peñuelas J (2003) Comparative field study of Quercus ilex and Phillyrea latifolia: photosynthetic response to experimental drought conditions. Environ Exp Bot 50:137–148

Ogaya R, Peñuelas J (2004) Phenological patterns of Quercus ilex, Phillyrea latifolia, and Arbutus unedo growing under a field experimental drought. Ecoscience 11:263–270

Peñuelas J, Filella I (2001) Responses to a warming world. Science 294:793–794

Peñuelas J, Filella I, Comas P (2002) Changed plant and animal life cycles from 1952 to 2000 in the Mediterranean region. Glob Change Biol 8:531–544

Prieto P, Peñuelas J, Ogaya R, Estiarte M (2008) Precipitation-dependent flowering of Globularia alypum and Erica multiflora in a Mediterranean shrubland under experimental drought and warming, and its inter-annual variability. Ann Bot 102:275–285

Prieto P, Peñuelas J, Llusià J, Asensio D, Estiarte M (2009) Effects of long-term experimental night-time warming and drought on photosynthesis, Fv/Fm and stomatal conductance in the dominant species of a Mediterranean shrubland. Acta Physiol Plant 31:729–739

Reeves PH, Coupland G (2000) Response of plant development to environment: control of flowering by daylength and temperature. Curr Opin Plant Biol 3:37–42

Rivas-Martínez S, Sánchez-Mata D, Costa M (1999) North American boreal and western temperate forest vegetation. Itinera Geobot 12:5–316

Santandreu M, Lloret F (1999) Effect of flowering phenology and habitat on pollen limitation in Erica multiflora. Can J Bot 77:734–743

Simpson GG, Gendall AR, Dean C (1999) When to switch to flowering. Annu Rev Cell Dev Biol 15:519–550
Acknowledgements
This research has been supported by the Spanish government projects CGL2006-04025/BOS and CGL2010-17172/BOS and the Consolider-Ingenio Montes (CSD2008-00040), the Catalan Government project SGR2009-458, and the Consejo Superior de Investigaciones Cientificas project Proyecto Intramural Especial 200730I030. We greatly acknowledge the support from Servei de Granges i Camps Experimentals at the Autonomus University of Barcelona and from Parc Natural del Garraf.
About this article
Cite this article
Estiarte, M., Puig, G. & Peñuelas, J. Large delay in flowering in continental versus coastal populations of a Mediterranean shrub, Globularia alypum . Int J Biometeorol 55, 855–865 (2011). https://doi.org/10.1007/s00484-011-0422-9
Received:

Revised:

Accepted:

Published:

Issue Date:
Keywords
Flowering

Phenology

Mediterranean ecosystems

Shrubs

Globularia alypum