Abstract
A study was conducted to assess the effect of combined stresses (thermal and nutritional) on endocrine and biochemical responses in Malpura ewes. Twenty eight adult Malpura ewes (average body weight 33.56 kg) were used in the present study. The ewes were divided into four groups viz., GI (n = 7; control), GII (n = 7; thermal stress), GIII (n = 7; nutritional stress) and GIV (n = 7; combined stress). The animals were stall fed with a diet consisting of 60% roughage and 40% concentrate. GI and GII ewes were provided with ad libitum feeding while GIII and GIV ewes were provided with restricted feed (30% intake of GI ewes) to induce nutritional stress. GII and GIV ewes were kept in climatic chamber at 40°C and 55% RH for 6 h a day between 1000 hours and 1600 hours to induce thermal stress. The study was conducted for a period of two estrus cycles. The parameters studied were Hb, PCV, glucose, total protein, total cholesterol, ACP, ALP, cortisol, T4, T3, and insulin. Combined stress significantly (P < 0.05) affected all parameters studied. Furthermore, the results revealed that, compared to thermal stress, nutritional stress had a less significant effect on the parameters studied. However, when both these stresses were coupled, they had a severe impact on all the parameters studied in these ewes. It can be concluded from this study that two stressors occurring simultaneously may impact severely on the biological functions necessary to maintain homeostasis in sheep.
Access options
Buy single article
Instant access to the full article PDF.
US$ 39.95
Tax calculation will be finalised during checkout.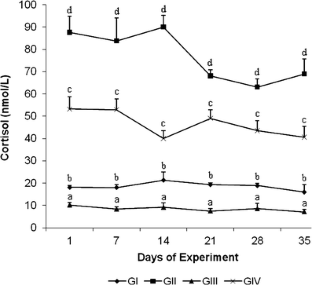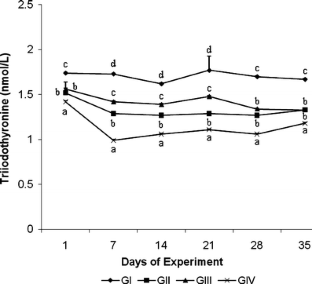 References
Abecia JA, Zuniga O, Forcada F (2001) Effect of melatonin treatment in spring and feed intake on wool growth and thyroxine secretion in Rasa Aragonesa ewes. Small Rumin Res 41:265–270

Abou-Zeina HAA, Hassan HG, Sabra HA, Hamam AM (2009) Trials for elevating adverse effect of heat stress in buffaloes with emphasis on metabolic status and fertility. Global Veterinaria 3(1):51–62

Al-Haidary AA (2004) Physiological responses of Naimey Sheep to heat stress challenge under semi-arid environments. Int J Agr Biol 2:307–309

Ali A, Hayder M (2008) Seasonal variation of reproductive performance, foetal development and progesterone concentrations of sheep in the subtropics. Reprod Domest Anim 43(6):730–734. doi:10.1111/j.1439-0531.2007.00980.x

Allain CC, Poon LS, Chan CSG, Richmond W, Fu PC (1974) Enzymatic determination of total serum cholesterol. Clin Chem 20:470–475

Alvarez MB, Johnson HD (1973) Environmental heat exposure on cattle plasma catecholamines and glucocorticoids. J Dairy Sci 56:189–194

Amstalden M, Garcia MR, Williams SW, Stanko RL, Nizielski SE, Morrison CD, Keisler DH, Williams GL (2000) Leptin gene expression, circulating leptin, and luteinizing hormone pulsatility are acutely responsive to short-term fasting in prepubertal heifers: relationships to circulating insulin and insulin-like growth factor I. Biol Reprod 63:127–133

Ashutosh, Dhanda OP, Kundu RL (2001) Eject of climate on the seasonal endocrine profile of native and crossbred sheep under semi-arid conditions. Trop Anim Health Prod 33:241–252

Balasubramaniam P, Malathi A (1992) Comparative study of hemoglobin estimated by Drabkin's and Sahli's methods. J Postgrad Med 38:8–9

Broucek J, Kisac P, Uhrincat M (2009) Effect of hot temperatures on the hematological parameters, health and performance of calves. Int J Biometeorol 53:201–208

Brown-Brandl TM, Nienaber JA, Eigenberg RA, Hahn GL, Freetly H (2003) Thermoregulatory responses of feeder cattle. J Therm Biol 28:149–157

Daader AH, Marai, IFM, Habeeb AA, Yousef HM (1989) Improvement of growth performance of Friesian calves under Egyptian sub-tropical conditions. 1. Internal cooling technique using diuretics and drinking cool water. In: Proceedings of the 3rd Egyptian British Conference on Animal, Fish and Poultry Production, Vol. 2, Alexandria, pp 595–605

Dickson WM (1993) Endocrine glands. In: Swenson MJ, Reece WO (eds) Dukes Physiology of domestic animal, 11th edn. Comstock, Ithaca, pp 629–664

Daramola JO, Adeloye AA (2009) Physiological adaptation to the humid tropics with special reference to the West African Dwarf (WAD) goat. Trop Anim Health Prod 41:1005–1016

El-Masry KA (1987) The role of thyroxine in improving productivity of heat-stressed animals with different techniques. Ph.D. Thesis, Faculty of Agriculture, Zagazig University, Zagazig

El-Masry KA, Habeeb AA (1989) Thyroid function in lactating Friesian cows and water buffalos under winter and summer Egyptian conditions. Proceedings of 3rd Egyptian British Conference on Animal, Fish and poultry production, Vol 2, Alexandria, pp 613–620

Gaughan JB, Mader TL, Holt SM, Sullivan ML, Hahn GL (2009) Assessing the heat tolerance of 17 beef cattle genotypes. Int J Biometeorol. doi:10.1007/s00484-009-0233-4

Gudev D, Popova-Ralcheva S, Moneva1 P, Aleksiev P, Peeva TZ, Penchev P, Ilieva I (2007) Physiological indices in buffaloes exposed to sun. Arch Zootechnica (10):127–132

Habeeb AA (1987) The role of insulin in improving productivity of heat-stressed farm animals with different techniques. PhD thesis. Faculty of Agriculture, Zagazig University, Zagazig, Egypt

Jain NC (1986) Schalm's veterinary haematology. Lea and Febiger, Philadelphia

Kamiya M, Kamiya Y, Tanaka M, Shioya S (2006) Milk protein production and plasma 3-methylhistidine concentration in lactating Holstein cows exposed to high ambient temperatures. Asian Austr J Anim Sci 19(8):1159–1163

Kannan G, Terrill TH, Kouakou B, Gazal OS, Gelaye S, Amoah EA, Samake S (2000) Transportation of goats: effects on physiological stress responses and live weight loss. J Anim Sci 78:1450–1457

Korde JP, Singh G, Varshney VP, Shukla DC (2007) Effects of long-term heat exposure on adaptive mechanism of blood acid-base in buffalo calves. Asian-Australas J Anim Sci 20(5):742–747

Mader TL, Gaughan JB, Johnson LJ, Hahn GL (2009) Tympanic temperature in confined beef cattle exposed to excessive heat load. Int J Biometeorol. doi:10.1007/s00484-009-0229-0

Marai IFM, Abdel-Samee AM, El-Gafaary MN (1991) Criteria of response and adaptation to high temperature for reproductive and growth traits in rabbits. Options Mediterraneennes Series A 17:127–134

Marai IFM, El-Darawany AA, Fadiel A, Abdel-Hafez MAM (2007) Physiological traits as affected by heat stress in sheep—a review. Small Rumin Res 71:1–12

Martin GB, Rogar J, Blache D (2004) Nutritional and environmental effects on reproduction in small ruminants. Reprod Fert Dev 16:491–501

Maurya VP, Naqvi SMK, Joshi A, Mittal JP (2007) Effect of high temperature stress on physiological responses of Malpura sheep. Indian J Anim Sci 77:1244–1247

McManus C, Paludo GR, Louvandini H, Gugel R, Sasaki LCB, Paiva SR (2009) Heat tolerance in Brazilian sheep: physiological and blood parameters. Trop Anim Health Prod 41:95–101

Moberg GP (2000) Biological responses to stress. Implications for animal welfare. In: Moberg GP, Mench JP (eds) Biology of animal stress. CAB International, Wallingford, pp 1–21

Mohebbi-Fani M, Nazifi S, Rowghani E, Bahrami S, Jamshid O (2009) Thyroid hormones and their correlations with serum glucose, beta hydroxybutyrate, nonesterified fatty acids, cholesterol, and lipoproteins of high-yielding dairy cows at different stages of lactation cycle. Comp Clin Pathol 18:211–216

More T, Sahni KL (1979) Some haematological changes during three months after birth of Chokla lambs under semi-arid conditions. Indian Vet J 56:646–649

More T, Sahni KL (1980) Certain biochemical responses of sheep and goat exposed to thermal stress. Indian J Anim Sci 50:1012–1014

Moss DW, Henderson AK (1994) Tietz textbook of clinical chemistry, 3rd edn. Saunders, Philadelphia

Nardone A, Ronchi B, Lacetera N, Bernabucci U (2006) Climatic effects on productive traits in livestock. Vet Res Commun 30(1):75–81

Naqvi SMK, Hooda OK (1991) Influence of thermal, nutritional and exercise stress on some blood parameters of native and crossbred sheep. Indian J Anim Sci 61:660–662

Naqvi SMK, Rai AK (1991) Influence of dietary energy level on sheep for mutton during winter: effect on cardio respiratory responses, rectal temperature, some blood metabolites, enzymes and thyroidal hormones. Indian J Anim Sci 61:1126–1131

Naqvi SMK, Joshi A, Das GK, Mittal JP (2001) Development and application of ovine reproductive technologies: an Indian experience. Small Rumin Res 39:199–208

Naqvi SMK, Sejian V (2010) Physiological adaptation of sheep to hot environmental conditions with special reference to climate change. In: Karim SA, Joshi A, Sankhyan SK, Shinde AK, Shakyawar DB, Naqvi SMK, Tripathi BN (eds) Climate change and stress management: sheep and goat production, 1st edn. Satish, Delhi, pp 259–282

Nazifi S, Saeb M, Rowghani E, Kaveh K (2003) The influence of thermal stress on serum biochemical parameters of Iranian fat-tailed sheep and their correlation with triiodothyronine (T3), thyroxine (T4) and cortisol concentrations. Comp Clin Pathol 12:135–139

Nienaber JA, Hahn GL, Eigenberg RA (1999) Quantifying livestock responses for heat stress management: a review. Int J Biometeorol 42:183–188

Pereira AMF, Baccari F Jr, Titto EAL, Almeida JAA (2008) Effect of thermal stress on physiological parameters, feed intake and plasma thyroid hormones concentration in Alentejana, Mertolenga, Frisian and Limousine cattle breeds. Int J Biometeorol 52:199–208

Rae MT, Rhind SM, Miller DW, Brooks AN (2002) Maternal undernutrition alters triiodothyronine concentrations and pituitary response to GnRH in fetal sheep. J Endocrinol 173:449–455

Rai AK, More T, Singh M (1983) Certain blood attributes in different genetic groups of sheep on feed lot ration. Indian Vet J 60:839–841

Rasooli A, Nouri M, Khadjeh GH, Rasekh A (2004) The influence of seasonal variations on thyroid activity and some biochemical parameters of cattle. Iranian J Vet Res 5(2):1383–1391

Riis PM, Madsen A (1985) Thyroxine concentration and secretion rates in relation to pregnancy, lactation and energy balance in goats. J Endocrinol 107:421–427

Saber APR, Jalali MT, Mohjeri D, Akhoole AA, Teymuourluei HZN, Nouri M, Garachorlo S (2009) The effect of ambient temperature on thyroid hormones concentration and histopthological changes of thyroid gland in cattle in Tabriz, Iran. Asian J Anim Vet Adv 4(1):28–33

Sano H, Takahashi K, Fujita M, Ambo K, Tsuda T (1979) Effect of environmental heat exposure on physiological responses, blood constituents and parameters of blood glucose metabolism in sheep. Tohoku J Agr Res 30(2):76–86

Sejian V, Srivastava RS, Varshney VP (2008a) Pineal-adrenal relationship: modulating effects of glucocorticoids on pineal function to ameliorate thermal-stress in goats. Asian Austr J Anim Sci 21:988–994

Sejian V, Sanyal S, Das PK, Ghosh PR, Sivakumar B, Pandiyan GDV (2008b) Effect of unilateral adrenalectomy on the blood biochemistry of Black Bengal goats (Capra hircus). Turk J Vet Anim Sci 32(4):249–254

Sejian V, Srivastava RS (2010) Effects of melatonin on adrenal cortical functions of Indian goats under thermal stress. Vet Med Int 2010:Article ID 348919, 6 pages, doi:10.4061/2010/348919

Sejian V, Srivastava RS, Varshney VP (2010a) Effect of short-term thermal stress on biochemical profile in Marwari goats. Indian Vet J 87(5):503

Sejian V, Srivastava RS, Varshney VP (2010b) Effect of thermal stress on endocrine profile and phagocytosis index in Marwari goats. Indian Vet J (in press)

Singh M, Rai AK, Karim SA (1983) Relative heat tolerance of Indian Nali and Soviet Merino x Nali halfbred sheep to continuous 35°C and 40°C temperature conditions. J Anim Physiol Anim Nutr 49:18–23

Snedecor GW, Cochran WG (1994) Statistical methods, 8th edn. Iowa State University Press, Ames

Spicer LJ, Crowe MA, Prendiville DJ, Goulding D, Enright WJ (1992) Systemic but not intraovarian concentrations of insulin-like growth factor-I are affected by short-term fasting. Biol Reprod 46:920–925

Tietz NW (1976) Clinical guide to laboratory tests. Saunders, Philadelphia

Tietz NW (1995) Clinical Guide to laboratory tests, 3rd edn. Saunders, Philadelphia

Todini I (2007) Thyroid hormones in small ruminants: effects of endogenous, environmental and nutritional factors. Animal 1:997–1008

Varley H (1980) Practical clinical biochemistry, vol 1, 5th edn. Heinemann, London

Wingfield AS, Kitaysky JC (2002) Endocrine responses to unpredictable environmental events: stress or anti-stress hormone. Integr Comp Biol 42:600–609

Yousef HM (1985) Studies on some environmental factors affecting production and reproduction in some farm animals. MSc thesis. Faculty of Agriculture, Zagazig University, Zagazig
Acknowledgments
The authors are highly thankful to the Director of the Institute for providing the research facilities, and to Shri K.C. Sharma for his technical help during the experiment.
Ethical standards
The study was conducted after obtaining approval from the institute ethical committee for subjecting the animal to both thermal and nutritional stresses.
About this article
Cite this article
Sejian, V., Maurya, V.P. & Naqvi, S.M.K. Adaptive capability as indicated by endocrine and biochemical responses of Malpura ewes subjected to combined stresses (thermal and nutritional) in a semi-arid tropical environment. Int J Biometeorol 54, 653–661 (2010). https://doi.org/10.1007/s00484-010-0341-1
Received:

Revised:

Accepted:

Published:

Issue Date:
Keywords
Malpura ewe

Thermal stress

Nutritional stress

Endocrine response

Biochemical parameter