Abstract
Health Resort Medicine, Balneology, Medical Hydrology and Climatology are not fully recognised as independent medical specialties at a global international level. Analysing the reasons, we can identify both external (from outside the field) and internal (from inside the field) factors. External arguments include, e.g. the lack of scientific evidence, the fact that Balneotherapy and Climatotherapy is not used in all countries, and the fact that Health Resort Medicine, Balneology, Medical Hydrology and Climatology focus only on single methods and do not have a comprehensive concept. Implicit barriers are the lack of international accepted terms in the field, the restriction of being allowed to practice the activities only in specific settings, and the trend to use Balneotherapy mainly for wellness concepts. Especially the implicit barriers should be subject to intense discussions among scientists and specialists. This paper suggests one option to tackle the problem of implicit barriers by making a proposal for a structure and description of the medical field, and to provide some commonly acceptable descriptions of content and terminology. The medical area can be defined as "medicine in health resorts" (or "health resort medicine"). Health resort medicine includes "all medical activities originated and derived in health resorts based on scientific evidence aiming at health promotion, prevention, therapy and rehabilitation". Core elements of health resort interventions in health resorts are balneotherapy, hydrotherapy, and climatotherapy. Health resort medicine can be used for health promotion, prevention, treatment, and rehabilitation. The use of natural mineral waters, gases and peloids in many countries is called balneotherapy, but other (equivalent) terms exist. Substances used for balneotherapy are medical mineral waters, medical peloids, and natural gases (bathing, drinking, inhalation, etc.). The use of plain water (tap water) for therapy is called hydrotherapy, and the use of climatic factors for therapy is called climatotherapy. Reflecting the effects of health resort medicine, it is important to take other environmental factors into account. These can be classified within the framework of the ICF (International Classification of Functioning, Disability and Health). Examples include receiving health care by specialised doctors, being well educated (ICF-domain: e355), having an environment supporting social contacts (family, peer groups) (cf. ICF-domains: d740, d760), facilities for recreation, cultural activities, leisure and sports (cf. ICF-domain: d920), access to a health-promoting atmosphere and an environment close to nature (cf. ICF-domain: e210). The scientific field dealing with health resort medicine is called health resort sciences. It includes the medical sciences, psychology, social sciences, technical sciences, chemistry, physics, geography, jurisprudence, etc. Finally, this paper proposes a systematic international discussion of descriptions in the field of Health Resort Medicine, Balneology, Medical Hydrology and Climatology, and discusses short descriptive terms with the goal of achieving internationally accepted distinct terms. This task should be done via a structured consensus process and is of major importance for the publication of scientific results as well as for systematic reviews and meta-analyses.
Access options
Buy single article
Instant access to the full article PDF.
USD 39.95
Price includes VAT (USA)
Tax calculation will be finalised during checkout.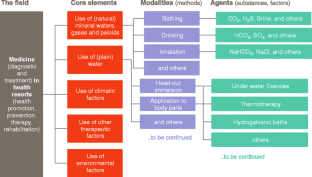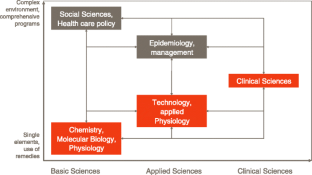 Notes
1.

This paper does not claim to cover all possible arguments or implicit barriers but aims to highlight the core arguments and to promote further discussion

2.

The often used argument that the use of Balneotherapy outside health resorts weakens the position of health resorts in the health care system is an economic and political argument and cannot be accepted as basis for the definition of a medical specialty or health strategy, respectively. Here, scientific definitions and facts have to be the leading arguments.

3.

May be summarised as "treatments complementary to balneotherapy")

4.

In these countries the term "Crenotherapy" is used for the use of natural remedies for therapy and is equivalent with the term "Balneology"
References
Ardic F, Ozgen M, Aybek H, Rota S, Cubukcu D, Gokgoz A (2007) Effects of balneotherapy on serum IL-1, PGE2 and LTB4 levels in fibromyalgia patients. Rheumatol Int 27:441–446

Armijo Valenzuela M (2006) Spa therapy in depresive status and undercover depressions (in Spanish). An R Acad Nac Med Madrid 123:673–684

Autio P, Komulainen P, Larni HM (2002) Heliotherapy in atopic dermatitis: a prospective study on climatotherapy using the SCORAD index. Acta Derm Venereol 82:436–440

Balint GP, Buchanan WW, Adam A, Ratko I, Poor L, Balint PV, Somos E, Tefner I, Bender T (2007) The effect of the thermal mineral water of Nagybaracska on patients with knee joint osteoarthritis—a double blind study. Clin Rheumatol 26:890–894

Bartels EM, Lund H, Hagen KB, Dagfinrud H, Christensen R, Danneskiold-Samsoe B (2007) Aquatic exercise for the treatment of knee and hip osteoarthritis. Cochrane Database Syst Rev 4:CD005523

Bellometti S, Gallotti C, Pacileo G, Rota A, Tenconi MT (2007) Evaluation of outcomes in SPA-treated osteoarthrosic patients. J Prev Med Hyg 48:1–4

Bender T, Karagülle Z, Bálint GP, Gutenbrunner Chr, Bálint PV, Sukenik S (2005) Hydrotherapy, balneotherapy, and spa treatment in pain management. Rheum Int 25:220–224

Bender T, Bariska J, Vaghy R, Gomez R, Kovacs I (2007) Effect of balneotherapy on the antioxidant system—a controlled pilot study. Arch Med Res 38:86–89

Braga PC, Sambataro G, Dal Sasso M, Culici M, Alfieri M, Nappi G (2008) Antioxidant effect of sulphurous thermal water on human neutrophil bursts: chemiluminescence evaluation. Respiration 75:193–201

Brefel-Courbon C, Desboeuf K, Thalamas C, Galitzky M, Senard JM, Rascol O, Montastruc JL (2003) Clinical and economic analysis of spa therapy in Parkinson's disease. Mov Disord 18:578–584

Brockow T, Schiener R, Franke A, Resch KL, Peter RU (2007a) A pragmatic randomized controlled trial on the effectiveness of highly concentrated saline spa water baths followed by UVB compared to UVB only in moderate to severe psoriasis. J Altern Complement Med 13:725–732

Brockow T, Schiener R, Franke A, Resch KL, Peter RU (2007b) A pragmatic randomized controlled trial on the effectiveness of low concentrated saline spa water baths followed by ultraviolet B (UVB) compared to UVB only in moderate to severe psoriasis. J Eur Acad Dermatol Venereol 21:1027–1037

Brockow T, Schiener R, Franke A, Resch KL, Peter RU (2007c) A pragmatic randomized controlled trial on the effectiveness of highly concentrated saline spa water baths followed by UVB compared to UVB only in moderate to severe psoriasis. J Altern Complement Med 13:725–732

Buskila D, Abu-Shakra M, Neumann L, Odes L, Shneider E, Flusser D, Sukenik S (2001) Balneotherapy for fibromyalgia at the Dead Sea. Rheumatol Int 20:105–108

Cantarini L, Leo G, Giannitti C, Cevenini G, Barberini P, Fioravanti A (2007) Therapeutic effect of spa therapy and short wave therapy in knee osteoarthritis: a randomized, single blind, controlled trial. Rheumatol Int 27:523–529

Carpentier PH, Satger B (2009) Randomized trial of balneotherapy associated with patient education in patients with advanced chronic venous insufficiency. J Vasc Surg 49:163–170

Coccheri S, Nappi G, Valenti M, Di Orio F, Altobelli E, De Luca S, Naiade Study Group (2002) Changes in the use of health resources by patients with chronic phlebopathies after thermal hydrotherapy. Report from the Naiade project, a nation-wide survey on thermal therapies in Italy. Int Angiol 21:196–200

Codish S, Dobrovinsky S, Abu Shakra M, Flusser D, Sukenik S (2005) Spa therapy for ankylosing spondylltis at the Dead Sea. Isr Med Assoc J 7:443–446

Cohen AD, Van-Dijk D, Naggan L, Vardy DA (2005) Effectiveness of climatotherapy at the Dead Sea for psoriasis vulgaris: a community-oriented study introducing the 'Beer Sheva Psoriasis Severity Score'. J Derm Treat 16:308–313

Cohen AD, Shapiro J, Michael D, Hodak E, Van-Dijk D, Naggan L, Vardy DA (2008) Outcome of "short-term" Dead Sea climatotherapy for psoriasis. Acta Derm Venereol 88:90–91

Costantino M, Lampa E (2005) Psoriasis and mud bath therapy: clinical-experimental study (in Italian). Clin Ter 156:145–149

Costantino M, Lampa E, Nappi G (2006) Effectiveness of sulphur spa therapy with politzer in the treatment of rhinogenic deafness. Acta Otorhinolaryngol Ital 26:7–13

Cutovic M, Jovic S, Konstantinovic L, Lazovic M, Jovanovic T, Vesovic V (2006) The effects of balneotherapy on knee osteoarthritis (Serbian). Med Pregl 59(Suppl 1):47–50

de Andrade SC, de Carvalho RF, Soares AS, de Abreu Freitas RP, de Medeiros Guerra LM, Vilar MJ (2008) Thalassotherapy for fibromyalgia: a randomized controlled trial comparing aquatic exercises in sea water and water pool. Rheumatol Int 29:147–152

Devereux K, Robertson D, Briffa NK (2005) Effects of a water-based program on women 65 years and over: a randomised controlled trial. Aust J Physiother 51:102–108

Dönmez A, Karagülle MZ, Tercan N, Dinler M, Issever H, Karagülle M, Turan M (2005) Spa therapy in fibromyalgia: a randomised controlled clinic study. Rheumatol Int 26:168–172

Epps H, Ginnelly L, Utley M, Southwood T, Gallivan S, Sculpher M, Woo P (2005) Is hydrotherapy cost-effective? A randomised controlled trial of combined hydrotherapy programmes compared with physiotherapy land techniques in children with juvenile idiopathic arthritis. Health Technol Assess (Winchester, England) 9:iii–iv, ix–x, 1–59

Evcik D, Kavuncu V, Yeter A, Yigit I (2007) The efficacy of balneotherapy and mud-pack therapy in patients with knee osteoarthritis. Jt Bone Spine: Revue du Rhumatisme 74:60–65

Eversden L, Maggs F, Nightingale P, Jobanputra P (2007) A pragmatic randomised controlled trial of hydrotherapy and land exercises on overall well being and quality of life in rheumatoid arthritis. BMC Musculoskelet Disord 8:23

Fink M, Heisler C, Candir F, Gehrke A, Gutenbrunner Chr (2001) Untersuchungen über die Wirkungen von CO2-Gasbädern von unterschiedlicher Temperatur und Feuchte auf Hautdurchblutung und transkutan gemessenen Sauerstoffpartialdruck. Phys Med Rehab Kuror 11:23–27

Fioravanti A, Bisogno S, Nerucci F, Cicero MR, Locunsolo S, Marcolongo R (2000) Evaluation of the efficacy and tolerance of radioactive fangotherapy in gonarthrosis. Comparative study versus short wave therapy (in Italian). Minerva Med 91:291–298

Fioravanti A, Valenti M, Altobelli E, Di Orio F, Nappi G, Crisanti A, Cantarini L, Marcolongo R (2003) Clinical efficacy and cost-effectiveness evidence of spa therapy in osteoarthritis. The results of "Naiade" Italian Project. Panminerva Med 45:211–217

Forestier R (2000) Magnitude and duration of the effects of two spa therapy courses on knee and hip osteoarthritis: an open prospective study in 51 consecutive patients. Joint Bone Spine: Revue du Rhumatisme 67:296–304

Forestier R, Francon A (2008) Crenobalneotherapy for limb osteoarthritis: systematic literature review and methodological analysis. Joint Bone Spine: Revue du Rhumatisme 75:138–148

Franke A, Reiner L, Pratzel HG, Franke T, Resch KL (2000) Long-term efficacy of radon spa therapy in rheumatoid arthritis—a randomized, sham-controlled study and follow-up. Rheumatology 39:894–902

Franke A, Reiner L, Resch KL (2007a) Long-term benefit of radon spa therapy in the rehabilitation of rheumatoid arthritis: a randomised, double-blinded trial. Rheumatol Int 27:703–713

Franke A, Reiner L, Resch KL (2007b) Long-term benefit of radon spa therapy in the rehabilitation of rheumatoid arthritis: a randomised, double-blinded trial. Rheumatol Int 27:703–713

Fransen M, Nairn L, Winstanley J, Lam P, Edmonds J (2007) Physical activity for osteoarthritis management: a randomized controlled clinical trial evaluating hydrotherapy or Tai Chi classes. Arthritis Rheum 57:407–414

Gaal J, Varga J, Szekanecz Z, Kurko J, Ficzere A, Bodolay E, Bender T (2008) Balneotherapy in elderly patients: effect on pain from degenerative knee and spine conditions and on quality of life. Isr Med Assoc J 10:365–369

Gambichler T (2007) Balneophototherapy for psoriasis using saltwater baths and UV-B irradiation, revisited. Arch Dermatol 143:647–649

Guillemin F, Virion JM, Escudier P, De Talance N, Weryha G (2001) Effect on osteoarthritis of spa therapy at Bourbonne-les-Bains. Joint Bone Spine: Revue du Rhumatisme 68:499–503

Gundermann G, Gutenbrunner Chr, Stütgen B, Hildebrandt G (1998) Trinkkuren bei orthostatischen Kreislaufregulationsstörungen—Untersuchungen mit einem Natrium-Hydrogencarbonat-Chlorid-Wasser. Z Allg Med 74:615–620

Gusi N, Tomas-Carus P, Hakkinen A, Hakkinen K, Ortega-Alonso A (2006) Exercise in waist-high warm water decreases pain and improves health-related quality of life and strength in the lower extremities in women with fibromyalgia. Arthritis Rheum 55:66–73

Gutenbruner Chr, Schreiber C, Beck K, Walter N, Ehlebracht-König I, v Pezold E, Gehrke A, Kniesch K, Thon B, Candir F (2002) Prospektive kontrollierte Studie über die Langzeitwirksamkeit stationärer Heilverfahren auf das kardiovaskuläre Risikoprofil. Phys Med Rehab Kuror 12:272–283

Gutenbrunner CHR (2006) Hat die Balneologie und Medizinische Klimatologie in der Therapie chronischer Erkrankungen mehr als nur historische Bedeutung? Wien Klin Wochenschr 118:251–252

Gutenbrunner Chr, Gundermann G (1998) Kontrollierte Studie über die abführende Wirkung eines sulfathaltigen Heilwassers. Z Allg Med 74:648–651

Gutenbrunner Chr, Hildebrandt G (1998) Handbuch der Balneologie und medizinischen Klimatologie. Springer, Berlin

Gutenbrunner Chr, Schuh A (2002) Begriffsdefinitionen Medizinische Balneologie – Medizinische Klimatologie – Kurortmedizin. Phys Med Rehab Kuror 12:M13–M14

Gutenbrunner Chr, Gunderman G, Wendt R, Grebe D, Gehrke A (1997) Vergleichende klinische Untersuchung über die Wirkung von kurörtlichen Trinkkuren mit einem Hydrogencarbonat-Heilwasser bei Patienten mit Hyperuricämie. Phys Med Rehab Kuror 7:257–259

Gutenbrunner Chr, Kopetzki K, Neues-Lahusen M, Gehrke A (1999a) Beeinflussung der Schmerzempfindlichkeit gesunder Versuchspersonen durch natürliche Schwefelbäder. Phys Med Rehabilmed Kurortmed 9:20–24

Gutenbrunner Chr, Kopetzki K, Neues-Lahusen M, Gehrke A (1999b) Wirkungen natürlicher thermoindifferenter Schwefelbäder auf Hautdurchblutung und Schmerzempfindlichkeit bei Gesunden und Patienten mit chronischer Polyarthritis. Akt Rheumatol 24:117–123

Gutenbrunner Chr, Englert G, Neues-Lahusen M, Gehrke A (2001a) Controlled study on analgetic effects of sulphur baths and cold chamber expositions on patients suffering from fibromyalgia. J J A Phys M Baln Clim 64:129–140

Gutenbrunner Chr, El-Cherid A, Gehrke A, Fink M (2001b) Circadian variations in the responsiveness of human gallbladder to sulfated mineral water. Chronobiol Int 18:1029–1039

Gutenbrunner C, Ward AB, Chamberlain MA (2007) White book on physical and rehabilitation medicine in Europe. J Rehabil Med 45(suppl 1):1–48 (Eura Medicophys 2006;42:287–332)

Hall J, Swinkels A, Briddon J, McCabe CS (2008) Does aquatic exercise relieve pain in adults with neurologic or musculoskeletal disease? A systematic review and meta-analysis of randomized controlled trials. Arch Phys Med Rehabil 89:873–883

Harari M, Novack L, Barth J, David M, Friger M, Moses SW (2007) The percentage of patients achieving PASI 75 after 1 month and remission time after climatotherapy at the Dead Sea. Int J Dermatol 46:1087–1091

Hernansanz AC (2001) Glosario de Hidrología Médica. Universidad Europea—CEES Ediciones. Serie "Manuales Universitarios" No 6, Madrid

Hodak E, Gottlieb AB, Segal T, Politi Y, Maron L, Sulkes J, David M (2003) Climatotherapy at the Dead Sea is a remittive therapy for psoriasis: combined effects on epidermal and immunologic activation. J Am Acad Dermatol 49:451–457

Ippolito E, De Luca S, Sommaruga S, Grassellino V, Nappi G (2008) Experimental-clinical study on the effects of hydromassage with Thermae Oasis's salsobromoiodine water in chronic venous stasis disease of the lower extremities. Minerva Cardioangiol 56:401–408

Jandova D, Bicikova M, Hill M, Hampl R (2008) Health resort treatment improved the neurosteroid profile in thyroidectomized women. Endocr Regul 42:17–22

Karagülle MZ, Karagülle M (2004) Balneotherapy and spa therapy of rheumatic diseases in Turkey: a systematic review (in German). Forsch Komplementärmed Klass Naturheilkd 11:33–41

Karagülle O, Smorag U, Candir F, Gunderman G, Jonas U, Becker AJ, Gehrke A, Gutenbrunner C (2007a) Clinical study on the effect of mineral waters containing bicarbonate on the risk of urinary stone formation in patients with multiple episodes of CaOx-urolithiasis. World J Urol 25:315–323

Karagülle M, Karagülle MZ, Karagülle O, Dönmez A, Turan M (2007b) A 10-day course of SPA therapy is beneficial for people with severe knee osteoarthritis. A 24-week randomised, controlled pilot study. Clin Rheumatol 26:2063–2071

Kazandjieva J, Grozdev I, Darlenski R, Tsankov N (2008a) Climatotherapy of psoriasis. Clin Dermatol 26:477–485

Kazandjieva J, Grozdev I, Darlenski R, Tsankov N (2008b) Climatotherapy of psoriasis. Clin Dermatol 26:477–485

Kirschner C (2005) Glossar des Europäischen Heilbäderverbandese (Glossary of the European Spas Association. Notamed, Melsungen

Klick J, Stratmann T (2008) Do spa visits improve health: evidence from German micro data. East Econ J EEA 0094-5056/08

Kovlen DV, Tishakov AY, Glotov OS, Moskalenko MV, Demin GS, Bitsadze AN, Chernyshev AV, Bratova NI, Ivashchenko TE, Obrezan AG, Ponomarenko GN (2007) Genetic determinants of the efficiency of climatotherapy in patients with chronic heart failure. Bull Exp Biol Med 143:26–31

Kragballe K, Avrach WW, Politi Y, Landau M, Brenner S (1996) Climatotherapy at the Dead Sea stimulates vitamin D3 metabolism. Acta Derm Venereol 76:324–325

Leaute-Labreze C, Saillour F, Chene G, Cazenave C, Luxey-Bellocq ML, Sanciaume C, Toussaint JF, Taieb A (2001) Saline spa water or combined water and UV-B for psoriasis vs conventional UV-B: lessons from the Salies de Bearn randomized study. Arch Dermatol 137:1035–1039

Lund H, Weile U, Christensen R, Rostock B, Downey A, Bartels EM, Danneskiold-Samsoe B, Bliddal H (2008) A randomized controlled trial of aquatic and land-based exercise in patients with knee osteoarthritis. J Rehabil Med 40:137–144

Mancini S Jr, Piccinetti A, Nappi G, Mancini S, Caniato A, Coccheri S (2003) Clinical, functional and quality of life changes after balneokinesis with sulphurous water in patients with varicose veins. Vasa 32:26–30

Matz H, Orion E, Wolf R (2003) Balneotherapy in dermatology. Dermatol Ther 16:132–140

Neumann L, Sukenik S, Bolotin A, Abu-Shakra M, Amir M, Flusser D, Buskila D (2001) The effect of balneotherapy at the Dead Sea on the quality of life of patients with fibromyalgia syndrome. Clin Rheumatol 20:15–19

Nissen JB, Avrach WW, Hansen ES, Stengaard-Pedersen K, Kragballe K (1998) Increased levels of enkephalin following natural sunlight (combined with salt water bathing at the Dead Sea) and ultraviolet A irradiation. Br J Dermatol 139:1012–1019

Odabasi E, Turan M, Erdem H, Tekbas F (2008) Does mud pack treatment have any chemical effect? A randomized controlled clinical study. J Altern Complement Med 14:559–565

Paran E, Neuman L, Sukenik S (1998) Blood pressure changes at the Dead Sea (a low altitude area). J Hum Hypertens 12:551–555

Petraccia L, Masciullo SG, Grassi M, Pace A, Lucchetta MC, Valenzi VI, Avino P, Fraioli A (2005) Spa and climate therapy in chronic obstructive pulmonary diseases (in Italian). Clin Ter 156:23–31

Pittler MH, Karagülle MZ, Karagülle M, Ernst E (2006) Spa therapy and balneotherapy for treating low back pain: meta-analysis of randomized trials. Rheumatology 45:880–884

Salamon R, Christine G, Olié JP, Dubois O (2008) Evaluation of the effectiveness of crenotherapy in treating generalized anxiety disorder (In French). Santé Publique 20:105–112

Schuh A (1993) Climatotherapy. Experientia 49:947–956

Shehata M, Schwarzmeier JD, Hilgarth M, Demirtas D, Richter D, Hubmann R, Boeck P, Leiner G, Falkenbach A (2006) Effect of combined spa-exercise therapy on circulating TGF-beta1 levels in patients with ankylosing spondylitis. Wien Klin Wochenschr 118:266–272

Silva LE, Valim V, Pessanha AP, Oliveira LM, Myamoto S, Jones A, Natour J (2008) Hydrotherapy versus conventional land-based exercise for the management of patients with osteoarthritis of the knee: a randomized clinical trial. Phys Ther 88:12–21

Strauss-Blasche G, Ekmekcioglu C, Klammer N, Marktl W (2000a) The change of well-being associated with spa therapy. Forsch Komplementärmed Klass Naturheilkd 7:269–274

Strauss-Blasche G, Ekmekcioglu C, Klammer N, Marktl W (2000b) The change of well-being associated with spa therapy. Forsch Komplementärmed Klass Naturheilkd 7:269–274

Stucki G, Reinhardt JD, Grimby G, Melvin J (2007) Developing "Human Functioning and Rehabilitation Research" from the comprehensive perspective. J Rehabil Med 39:665–671

Sukenik S (1998) Balneotherapy for rheumatic diseases at the Dead Sea. Int J Dermatol 37:717–718

Sukenik S, Neumann L, Buskila D, Kleiner-Baumgarten A, Zimlichman S, Horowitz J (1990a) Dead Sea bath salts for the treatment of rheumatoid arthritis. Clin Exp Rheumatol 8:353–357

Sukenik S, Buskila D, Neumann L, Kleiner-Baumgarten A, Zimlichman S, Horowitz J (1990b) Sulphur bath and mud pack treatment for rheumatoid arthritis at the Dead Sea area. Ann Rheum Dis 49:99–102

Sukenik S, Giryes H, Halevy S, Neumann L, Flusser D, Buskila D (1994) Treatment of psoriatic arthritis at the Dead Sea. J Rheumatol 21:1305–1309

Sukenik S, Neumann L, Flusser D, Kleiner-Baumgarten A, Buskila D (1995) Balneotherapy for rheumatoid arthritis at the Dead Sea. Isr J Med Sci 31:210–214

Tabolli S, Calza A, Di Pietro C, Sampogna F, Abeni D (2009) Quality of life of psoriasis patients before and after balneo- or balneophototherapy. Yonsei Med J 50:215–221

Tanizaki Y, Saitou K, Tada S, Harada M (1997) Psychological investigation on spa therapy in patients with bronchial asthma. Arerugi 46:511–519

Tomas-Carus P, Hakkinen A, Gusi N, Leal A, Hakkinen K, Ortega-Alonso A (2007) Aquatic training and detraining on fitness and quality of life in fibromyalgia. Med Sci Sports Exerc 39:1044–1050

Tomas-Carus P, Gusi N, Hakkinen A, Hakkinen K, Leal A, Ortega-Alonso A (2008) Eight months of physical training in warm water improves physical and mental health in women with fibromyalgia: a randomized controlled trial. J Rehabil Med 40:248–252

Tsankov NK (1998) High mountain climatotherapy. Clin Dermatol 16:699–707

Uosif MA, El-Taher A, Abbady AG (2008) Radiological significance of beach sand used for climatotherapy from Safaga, Egypt. Radiat Prot Dosim 131:331–339

Vaile J, Halson S, Gill N, Dawson B (2008) Effect of hydrotherapy on the signs and symptoms of delayed onset muscle soreness. Eur J Appl Physiol 102:447–455

van Tubergen A, Landewe R, van der Heijde D, Hidding A, Wolter N, Asscher M, Falkenbach A, Genth E, The HG, van der Linden S (2001) Combined spa-exercise therapy is effective in patients with ankylosing spondylitis: a randomized controlled trial. Arth Rheum 45:430–438

Van Tubergen A, Boonen A, Landewe R, Rutten-Van Molken M, Van Der Heijde D, Hidding A, Van Der Linden S (2002) Cost effectiveness of combined spa-exercise therapy in ankylosing spondylitis: a randomized controlled trial. Arthritis Rheum 47:459–467

Verhagen AP, Bierma-Zeinstra SM, Boers M, Cardoso JR, Lambeck J, de Bie RA, de Vet HC (2007) Balneotherapy for osteoarthritis. Cochrane Database Syst Rev 4:CD006864

Vu K, Mitsunobu F (2004) Spa Therapy for Bronchial Asthma: Studies at the Misasa Medical Center. Altern Complement Ther 10:144–150

Vu K, Mitsunobu F (2005) Spa therapy for chronic obstructive pulmonary disease: studies at the Misasa Medical Center. Altern Complement Ther 11:89–93

Wolf R, Orion E, Matz H (2003a) Climatotherapy: there is life in the Dead Sea. Isr Med Assoc J 5:124–125

Wolf R, Orion E, Matz H (2003b) Climatotherapy: there is life in the Dead Sea. Isr Med Assoc J 5:124–125

Zijlstra TR, Braakman-Jansen LM, Taal E, Rasker JJ, van de Laar MA (2007) Cost-effectiveness of Spa treatment for fibromyalgia: general health improvement is not for free. Rheumatology 46:1454–1459
About this article
Cite this article
Gutenbrunner, C., Bender, T., Cantista, P. et al. A proposal for a worldwide definition of health resort medicine, balneology, medical hydrology and climatology. Int J Biometeorol 54, 495–507 (2010). https://doi.org/10.1007/s00484-010-0321-5
Received:

Revised:

Accepted:

Published:

Issue Date:
Keywords
Health resort medicine

Balneology

Medical hydrology

Climatology

Definitions

Curriculum

Specialist training