Abstract
With global warming forecast to continue into the foreseeable future, heat waves are very likely to increase in both frequency and intensity. In urban regions, these future heat waves will be exacerbated by the urban heat island effect, and will have the potential to negatively influence the health and welfare of urban residents. In order to investigate the health effects of the urban heat island (UHI) in Shanghai, China, 30 years of meteorological records (1975–2004) were examined for 11 first- and second-order weather stations in and around Shanghai. Additionally, automatic weather observation data recorded in recent years as well as daily all-cause summer mortality counts in 11 urban, suburban, and exurban regions (1998–2004) in Shanghai have been used. The results show that different sites (city center or surroundings) have experienced different degrees of warming as a result of increasing urbanization. In turn, this has resulted in a more extensive urban heat island effect, causing additional hot days and heat waves in urban regions compared to rural locales. An examination of summer mortality rates in and around Shanghai yields heightened heat-related mortality in urban regions, and we conclude that the UHI is directly responsible, acting to worsen the adverse health effects from exposure to extreme thermal conditions.
Access options
Buy single article
Instant access to the full article PDF.
US$ 39.95
Tax calculation will be finalised during checkout.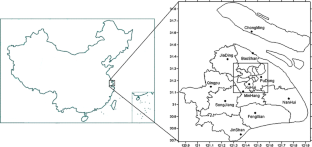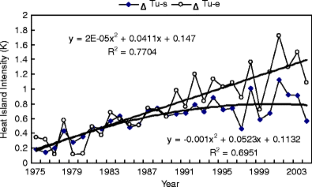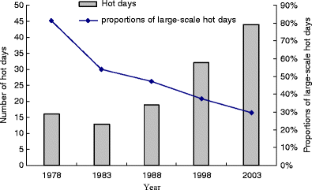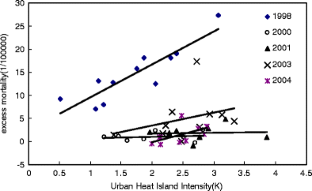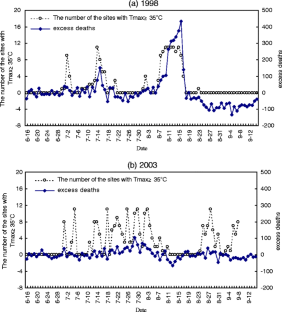 References
Anderson HR, Ponce de Leon A, Bland MJ et al (1996) Air pollution and daily mortality in London: 1987–92. Br Med J 312:665–669

Balling RC, Cerveny RS (1987) Long-term associations between wind speeds and urban heat island of Phoenix, Arizona. J Climatol Appl Meteorol 26:712–716

Basu R, Samet JM (2002) An exposure assessment study of ambient heat exposure in an elderly population in Baltimore, Maryland. Environ Health Perspect 110:1219–1224

Böhm R (1998) Urban bias in temperature time series - a case study for the city Vienna, Austria. Clim Change 38:113–128

Buechley RW, Van Bruggen J, Truppi LE (1972) Heat island equals death island? Environ Res 5(1):85–92

Clarke JF (1972) Some effects of the urban structure on heat mortality. Environ Res 5:93–104

Clarke JF, Bach W (1971) Comparison of the comfort conditions in different urban and suburban microenvironments. Int J Biometeorol 15(1):41–54

Conti S, Meli P, Minelli G et al (2005) Epidemiologic study of mortality during the Summer 2003 heat wave in Italy. Environ Res 98(3):390–399

de'Donato F, Stafoggia M, Rognoni M et al (2008) Airport and city-centre temperatures in the evaluation of the association between heat and mortality. Int J Biometeorol 52(4):301–310

Dessai S (2002) Heat stress and mortality in Lisbon part I. Model construction and validation. Int J Biometeorol 47:6–12

Dessai S (2003) Heat stress and mortality in Lisbon part II. An assessment of the potential impacts of climate change. Int J Biometeorol 48:37–44

Ding JC, Zhang ZK, Xi H et al (2002) A study of the high temperature distribution and the heat island effect in the summer of the Shanghai Area. Chin J Atmos Sci 26(3):412–420 (in Chinese)

Figuerola PI, Mazzeo N (1998) Urban-rural temperature differences in Buenos Aires. Int J Climatol 18:1709–1723

Gosling SN, McGregor GR, Paldy A (2007) Climate change and heat-related mortality in six cities part1: model construction and validation. Int J Biometeorol 51:525–540

Gosling SN, Lowe JA, McGregor GR (2009) Associations between elevated atmospheric temperature and human mortality: a critical review of the literature. Clim Change 92:299–341

Grize L, Huss A, Thommen O et al (2005) Heat wave 2003 and mortality in Switzerland. Swiss Med Wkly 135:200–205

Guest CS, Willson K, Woodward AJ et al (1999) Climate and mortality in Australia: retrospective study, 1979–1990, and predicted impacts in five major cities in 2030. Clim Res 13:1–15

Hajat S, Kovats RS, Atkinson RW et al (2002) Impact of hot temperatures on death in London: a time series approach. J Epidemiol Community Health 56:367–372

Henschel A, Burton LL, Margolies L et al (1969) An analysis of the heat deaths in St. Louis during July, 1966. Am J Public Health Nations Health 59:2232–2242

Huynen MMTE, Martens P, Schram D et al (2001) The impact of heat waves and cold spells on mortality rates in the Dutch population. Environ Health Perspect 109:463–470

IPCC (2007) Climate change 2007: the physical science basis. In: Alley R et al (eds) Fourth assessment report of working group I. Cambridge University Press, Cambridge

Johnson H, Kovats RS, McGregor G et al (2005) The impact of the 2003 heat wave on daily mortality in England and Wales and the use of rapid weekly mortality estimates. Eurosurveillance 10:168–171

Jones TS, Liang AP, Kilbourne EM et al (1982) Morbidity and mortality associated with the July 1980 heat wave in St. Louis and Kansas City, Mo. J Am Med Assoc 247:3327–3331

Kalkstein LS, Greene JS (1997) An evaluation of climate/mortality relationships in large U.S. cities and the possible impacts of a climate change. Environ Health Perspect 105:84–93

Katsoulis BD, Theoharatos GA (1985) Indications of the urban heat island in Athens, Greece. J Clim Appl Meteorol 24:1296–1302

Kim YH, Baik JJ (2002) Maximum urban heat island intensity in Seoul. J Appl Meteorol 41:651–659

Klysik K, Fortuniak K (1999) Temporal and spatial characteristics of the urban heat island of Łodz, Poland. Atmos Environ 33:3885–3895

Kunst AE, Looman CWN, Mackenbach JP (1993) Outdoor air temperature and mortality in the Netherlands: a time-series analysis. Am J Epidemiol 137:331–341

Lee D (1992) Urban warming? An analysis of recent trends in London's heat island. Weather 47:50–60

McMichael A, Haines A, Slooff R et al (1996) Climate change and human health. WHO, Geneva

Meehl GA, Zwiers F, Evans J et al (2001) Trends in extreme weather and climate events: issues related to modeling extremes in projections of future climate change. Bull Am Meteorol Soc 81:427–436

Oke TR (1973) City size and the urban heat island. Atmos Environ 7:769–779

Patz JA, Khaliq M (2002) Global climate change and health: challenges for future practitioners. J Am Med Assoc 287:2283–2284

Piver WT, Ando M, Ye F et al (1999) Temperature and air pollution as risk factors for heat stroke in Tokyo, July and August 1980–1995. Environ Health Perspect 107:911–916

Rooney C, McMichael AJ, Kovats RS (1998) Excess mortality in England and Wales, and in Greater London, during the 1995 heatwave. J Epidemiol Community Health 52:482–486

Rydman RJ, Rumoro DP, Silva JC et al (1999) The rate and risk of heat-related illness in hospital emergency departments during the 1995 Chicago heat disaster. J Med Syst 23:41–56

Saitoh TS, Shimada T, Hoshi H (1996) Modelling and simulation of the Tokyo urban heat island. Atmos Environ 30:3431–3442

Sheridan SC (2002) The redevelopment of a weather-type classification scheme for North America. Int J Climatol 22:51–68

Sheridan SC, Dolney TJ (2003) Heat, mortality, and level of urbanization: measuring vulnerability across Ohio, US. Clim Res 24:255–266

Sheridan SC, Kalkstein LS (2004) Progress in heat watch-warning system technology. Bull Am Meteorol Soc 85:1931–1941

Smoyer KE (1998) Putting risk in its place: methodological considerations for investigating extreme event health risk. Soc Sci Med 47:1809–1824

Smoyer KE, Rainham DGC, Hewko JN (2000) Heat-stress-related mortality in five cities in Southern Ontario:1980–1996. Int J Biometeorol 44:190–197

Song YL, Zhang SY (2003) The study on heat island effect in Beijing during last 40 years. Chin J Eco-Agric 11(4):126–129 (in Chinese)

Stedman JR (2004) The predicted number of air pollution related deaths in the UK during the August 2003 heatwave. Atmos Environ 38:1087–1090

Tan J, Kalkstein LS, Huang J et al (2004) An operational heat/health warning system in Shanghai. Int J Biometeorol 48:157–162

Tan J, Zheng Y, Song G et al (2007) Heat wave impacts on mortality in Shanghai, 1998 and 2003. Int J Biometeorol 51(3):193–200

Wilby RL (2003) Past and projected trends in London's urban island. Weather 58:251–260

Yamashita S (1996) Detailed structure of heat island phenomena from moving observations from electric tram-cars in metropolitan Tokyo. Atmos Environ 30:429–435

Zhang GZ, Xu XD, Wang JZ et al (2002) A study of characteristics and evolution of urban heat island over Beijing and its surrounding area. J Appl Meteorol Sci 13:43–49 (in Chinese)

Zhou HM, Ding JC, Xu YM et al (2002) The monitoring and evaluation of relation between heat island effect and greenbelt distribution in Shanghai urban area. Acta Agric Shanghai 18:83–88 (in Chinese)
Acknowledgements
This material is based upon work supported by The Natural Science Foundation of China (No. 30771846), Jiangsu Key Laboratory of Meteorological Disaster (No. KLME05005), National Scientific and Technical supporting Programs, Ministry of Science and Technology of China (No. 2006BAK13B06), and the Gong-Yi Program of China Meteorological Administration (No. GY200706019). Two anonymous reviewers are thanked for their comments on an earlier version of the manuscript.
About this article
Cite this article
Tan, J., Zheng, Y., Tang, X. et al. The urban heat island and its impact on heat waves and human health in Shanghai. Int J Biometeorol 54, 75–84 (2010). https://doi.org/10.1007/s00484-009-0256-x
Received:

Revised:

Accepted:

Published:

Issue Date:
Keywords
Global warming

Urban heat island

Heat wave

Human health