Abstract
While there was evidence on the relationship between extreme hot weather and the increase in mortality, particularly from ischaemic heart disease (IHD) and cerebrovascular disease (stroke), some researchers suggested that early warning systems might reduce mortality. In this study, the relationship between Very Hot Weather Warning (VHWW) and mortality was examined in the context of Hong Kong, which has a sub-tropical climate. An observational study was conducted on the daily number of deaths due to IHD and stroke in the Hong Kong elderly population (aged 65 or above) during summer (May–September) in 1997–2005. Totals of 4,281 deaths from IHD and 4,764 deaths from stroke occurred on days with maximum temperature reaching/exceeding 30.4°C. Multiple linear regression models were used to study the association between VHWW and the daily mortality rates from IHD and from stroke, respectively. Results showed that absence of VHWW was associated with an increase of about 1.23 (95% CI: 0.32, 2.14) deaths from IHD and 0.97 (95% CI: 0.02, 1.92) deaths from stroke among the elderly per day. Public education is required to inform the elderly to take appropriate preventive measures and to remind the public to pay more care and attention to the elderly on days which are not considered to be stressful to the general public. Warning systems tailored for the elderly could also be considered.
This is a preview of subscription content, log in to check access.
Access options
Buy single article
Instant access to the full article PDF.
US$ 39.95
Price includes VAT for USA
Subscribe to journal
Immediate online access to all issues from 2019. Subscription will auto renew annually.
US$ 99
This is the net price. Taxes to be calculated in checkout.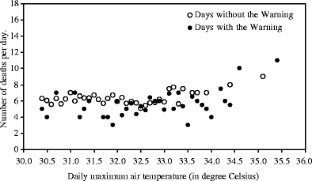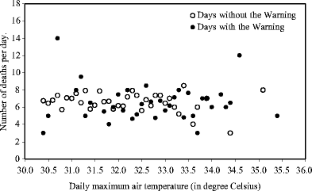 References
Ballester F, Corella D, Pérez-Hoyos S, Sáez M, Hervás A (1997) Mortality as a function of temperature. A study in Valencia, Spain, 1991–1993. Int J Epidemiol 26:551–561. doi:10.1093/ije/26.3.551

Barnett AG (2007) Temperature and cardiovascular deaths in the US elderly: changes over time. Epidemiology 18:369–372. doi:10.1097/01.ede.0000257515.34445.a0

Basu R, Samet JM (2002) Relation between elevated ambient temperature and mortality: a review of the epidemiologic evidence. Epidemiol Rev 24:190–202. doi:10.1093/epirev/mxf007

Department of Health of Hong Kong Special Administrative Region (2008) Press Release -- Public are Urged to Take Measures to Prevent Heatstroke. http://www.dh.gov.hk/english/press/2008/080722.html

Ebi KL, Teisberg TJ, Kalkstein LS, Robinson L, Weiher RF (2004) Heat watch/warning systems save lives: estimated costs and benefits for Philadelphia 1995–98. . Bull Am Meteorol Soc 85:1067–1073. doi:10.1175/BAMS-85-8-1067

Fouillet A, Rey G, Laurent F, Pavillon G, Bellec S, Guihenneuc-Jouyaux C, Clavel J, Jougla E, Hémon D (2006) Excess mortality related to the August 2003 heat wave in France. Int Arch Occup Environ Health 80:16–24. doi:10.1007/s00420-006-0089-4

Fouillet A, Rey G, Wagner V, Laaidi K, Empereur-Bissonnet P, Le Tertre A, Frayssinet P, Bessemoulin P, Laurent F, De Crouy-Chanel P, Jougla E, Hémon D (2008) Has the impact of heat waves on mortality changed in France since the European heat wave of summer 2003? A study of the 2006 heat wave. Int J Epidemiol 37:309–317. doi:10.1093/ije/dym253

Guest CS, Willson K, Woodward AJ, Hennessy K, Kalkstein LS, Skinner C, McMichael AJ (1999) Climate and mortality in Australia: retrospective study, 1979–1990, and predicted impacts in five major cities in 2030. Clim Res 13:1–15. doi:10.3354/cr013001

Home Affairs Department of Hong Kong Special Administrative Region (2009) Emergency Relief Services. http://www.had.gov.hk/en/public_services/emergency_services/emergency.htm#3

Hong Kong Observatory (2008a) Cold and Very Hot Weather Warnings. http://www.weather.gov.hk/wservice/warning/coldhot.htm

Hong Kong Observatory (2008b) HKO Warnings and Signals Database—Very Hot Weather Warning. http://www.hko.gov.hk/wxinfo/climat/warndb/warndb13_e.shtml

Hong Kong Observatory (2008c) Weather Information for Senior Citizens. http://www.hko.gov.hk/sports/socare.shtml

Intergovernmental Panel on Climate Change (2008) Climate change 2007- Synthesis Report. http://www.ipcc.ch/ipccreports/ar4-syr.htm

Jones TS, Liang AP, Kilbourne EM, Griffin MR, Patriarca PA, Wassilak SG, Mullan RJ, Herrick RF, Donnell HD Jr, Choi K, Thacker SB (1982) Morbidity and mortality associated with the July 1980 heat wave in St Louis and Kansas City, Mo. JAMA 247:3327–3331. doi:10.1001/jama.247.24.3327

Kalkstein LS, Greene JS (1997) An evaluation of climate/mortality relationships in large U.S. cities and the possible impacts of a climate change. Environ Health Perspect 105:84–93. doi:10.2307/3433067

Kalkstein LS, Jamason PF, Greene JS, Libby J, Robinson L (1996) The Philadelphia Hot Weather-Health Watch/Warning System: development and application, summer 1995. Bull Am Meteorol Soc 77:1519–1528. doi:10.1175/1520-0477(1996)077<1519:TPHWHW>2.0.CO;2

Keatinge WR (2003) Death in heat waves. BMJ 327:512–513. doi:10.1136/bmj.327.7414.512

Keatinge WR, Coleshaw SR, Easton JC, Cotter F, Mattock MB, Chelliah R (1986) Increased platelet and red cell counts, blood viscosity, and plasma cholesterol levels during heat stress, and mortality from coronary and cerebral thrombosis. Am J Med 81:795–800. doi:10.1016/0002-9343(86)90348-7

Kilbourne EM (1997) Heat waves and hot environments. In: Noji EK (ed) The Public health consequences of disasters. Oxford University Press, New York, pp 245–269

Kunst AE, Looman CWN, Mackenbach JP (1993) Outdoor air temperature and mortality in the Netherlands: a time-series analysis. Am J Epidemiol 137:331–341

Lam CY (2004) The weather aspect of disaster planning and preparedness in Hong Kong. Symposium on Planning and Preparedness for Weather-related Disasters, Hong Kong, China, 29–30 March 2004

Li PW, Chan ST (2000) Application of a weather stress index for alerting the public to stressful weather in Hong Kong. Meteorol Appl 7:369–375. doi:10.1017/S1350482700001602

Mak Z. Calls for help increase on hottest day of the year. South China Morning Post. 04-08-2007: CITY: CITY3.

Medina-Ramón M, Schwartz J (2007) Temperature, temperature extremes, and mortality: a study of acclimatization and effect modification in 50 United States cities. Occup Environ Med 64:827–833

Naughton MP, Henderson A, Mirabelli MC, Kaiser R, Wilhelm JL, Kieszak SM, Rubin CH, McGeehin MA (2002) Heat-related mortality during a 1999 heat wave in Chicago. Am J Prev Med 22:221–227. doi:10.1016/S0749-3797(02)00421-X

Pan WH, Li LA, Tsai MJ (1995) Temperature extremes and mortality from coronary heart disease and cerebral infarction in elderly Chinese. Lancet 345:353–355. doi:10.1016/S0140-6736(95)90341-0

Pascal M, Laaidi K, Ledrans M, Baffert E, Caserio-Schönemann C, Le Tertre A, Manach J, Medina S, Rudant J, Empereur-Bissonnet P (2006) France's heat health watch warning system. Int J Biometeorol 50:144–153. doi:10.1007/s00484-005-0003-x

Semenza JC, Rubin CH, Falter KH, Selanikio JD, Flanders WD, Howe HL, Wilhelm JL (1996) Heat-related deaths during the July 1995 heat wave in Chicago. N Engl J Med 335:84–90. doi:10.1056/NEJM199607113350203

Smoyer KE, Rainham DGC, Hewko JN (2000) Heat-stress-related mortality in five cities in Southern Ontario: 1980–1996. Int J Biometeorol 44:190–197. doi:10.1007/s004840000070

Tan J, Kalkstein LS, Huang J, Lin S, Yin H, Shao D (2004) An operational heat/health warning system in shanghai. Int J Biometeorol 48:157–162. doi:10.1007/s00484-003-0193-z

Tan J, Zheng Y, Song G, Kalkstein LS, Kalkstein AJ, Tang X (2007) Heat wave impacts on mortality in Shanghai, 1998 and 2003. Int J Biometeorol 51:193–200. doi:10.1007/s00484-006-0058-3

The World Health Organization Regional Office for Europe (2003) The health impacts of 2003 summer heat-waves. Briefing note for the delegations of the fifty-third session of the WHO Regional Committee for Europe. http://www.euro.who.int/document/Gch/HEAT-WAVES%20RC3.pdf

Vandentorren S, Bretin P, Zeghnoun A, Mandereau-Bruno L, Croisier A, Cochet C, Ribéron J, Siberan I, Declercq B, Ledrans M (2006) August 2003 heat wave in France: risk factors for death of elderly people living at home. Eur J Public Health 16:583–591. doi:10.1093/eurpub/ckl063

Whitman S, Good G, Donoghue ER, Benbow N, Shou W, Mou S (1997) Mortality in Chicago attributed to the July 1995 heat wave. Am J Public Health 87:1515–1518. doi:10.2105/AJPH.87.9.1515

World Health Organization (2005) Climate and Health—Fact Sheet. http://www.who.int/globalchange/news/fsclimandhealth/en/index.html

Yan YY (2000) The influence of weather on human mortality in Hong Kong. Soc Sci Med 50:419–427. doi:10.1016/S0277-9536(99)00301-9

Yip KM, Leung YK, Yeung KH (2007) Long-term trend in thermal index and its impact on mortality in Hong Kong. Hong Kong Observatory Reprint No. 710
Acknowledgement
This study is part of the project entitled "CADENZA: A Jockey Club Initiative for Seniors" funded by The Hong Kong Jockey Club Charities Trust.
About this article
Cite this article
Chau, P.H., Chan, K.C. & Woo, J. Hot weather warning might help to reduce elderly mortality in Hong Kong. Int J Biometeorol 53, 461 (2009). https://doi.org/10.1007/s00484-009-0232-5
Received:

Revised:

Accepted:

Published:
Keywords
Mortality

Hong Kong

Elderly

Temperature

Weather warning