Abstract
Exposure to excess heat is preventable yet it is the primary weather-related cause of mortality in the United States. In the Southwest United States, high temperatures are common and indoor environments often have cooling devices. In summer 2005, Maricopa County, Arizona experienced a 182% increase in reported heat-related deaths in comparison to 2000–2004. We examined at-risk populations and excess mortality. We characterized heat-related deaths using descriptive and multivariate time-series analyses of county vital record data from June–September 2000–2005. Dose-response relationships for heat-related mortality and heat index were evaluated using linear and quadratic splines. From June–September, 2000–2005, 136 heat-related deaths (0.68 per 100,000) were reported; 49 (36%) occurred in 2005. In July 2005, a 14-day heat wave resulted in 28 (57%) reported deaths—a 102% increase in comparison to the same time period in 2000–2004. Decedent demographics in 2005 did not differ from previous years. The mean age of all 136 deaths was 56 years (range: 7–92 years). Of those with discernable reported injury locations, 62 (66%) were identified outdoors. Forty-eight (77%) decedents identified outdoors were <65 years; conversely, 26 (82%) decedents who were found indoors were ≥65 years. A 6% (95% CI: 1.00–1.13) increase in mortality risk was observed for each degree (F) increase in heat index. Excess heat impacted a younger population in Maricopa County and many deaths occurred outdoors. Consecutive days of heat exposure—even among a heat-acclimated population—can increase mortality risk. Public health response activities guided by locally obtained data will better target those at risk.
Access options
Buy single article
Instant access to the full article PDF.
US$ 39.95
Tax calculation will be finalised during checkout.
Subscribe to journal
Immediate online access to all issues from 2019. Subscription will auto renew annually.
US$ 79
Tax calculation will be finalised during checkout.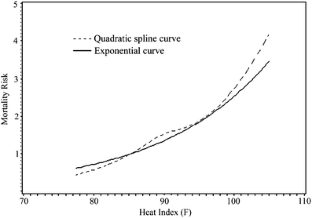 References
Basu R, Samet JM (2002) Relation between elevated ambient temperature and mortality: a review of the epidemiologic evidence. Epidemiol Rev 24:190–202 doi:10.1093/epirev/mxf007

Basu R, Dominici F, Samet JM (2005) Temperature and mortality among the elderly in the United States, a comparison of epidemiologic methods. Epidemiology 16:58–66 doi:10.1097/01.ede.0000147117.88386.fe

Basu R, Feng W, Ostro B (2008) Characterizing temperature and mortality in nine California counties. Epidemiology 19(1):138–145

Bernard SM, McGeehin MA (2004) Municipal heat wave response plans. Am J Public Health 94:1520–1522

Braga A, Zanobetti A, Schwartz J (2001) The time course of weather-related deaths. Epidemiology 12(6):662–667 doi:10.1097/00001648-200111000-00014

Centers for Disease Control and Prevention (CDC) (1982) Medical examiner summer mortality surveillance—United States, 1979–1981. MMWR 31:336–343

CDC (1994) Heat-related deaths—Philadelphia and United States, 1993–1994. MMWR 43:453–455

CDC (1995) Heat-related mortality—Chicago, July 1995. MMWR 44:577–579

CDC (2000) Heat-related illnesses, deaths, and risk factors–Cincinnati and Dayton, Ohio, 1999, and United States, 1979–1997. MMWR 49:470–473

CDC (2001) Heat-related deaths—Los Angeles County, California, 1999–2000, and United States, 1979–1998. MMWR 50:623–626

CDC (2003) Heat-Related daths—Chicago, Illinois, 1996–2001, and United States, 1979–1999. MMWR 52:610–613

CDC (2006) Heat-related deaths-United States, 1999–2003. MMWR 55:796–798

Curriero FC, Heiner KS, Samet JM, Zeger SL, Strug L, Patz JA (2002) Temperature and mortality in 11 cities of the eastern United States. Am J Epidemiol 155:80–87 doi:10.1093/aje/155.1.80

Ebi KL, Mearns LO, Nyenzi B (2003) Weather and climate: changing human exposures. In: McMichael AJ, Campbell-Lendrum DH, Corvalan CF, Ebi KL, Githeko A, Scherega JD et al (eds) Climate change and human health—risks and responses. WHO, Geneva, pp 18–42

Filleul L, Cassadou S, Medina S, Fabres P, Lefranc A, Eilstein D et al (2006) The relation between temperature, ozone, and mortality in nine French cities during the heat wave of 2003. Environ Health Perspect 114(9):1344–1347

Golden J (2004) The built environment induced urban health island effect in rapidly urbanizing arid regions—a sustainable urban engineering complexity. Environ Sci 1(4):321–349 doi:10.1080/15693430412331291698

Golden J, Hartz D, Brazel A, Luber G, Phelan P (2008) A biometeorology study of climate and heat-related morbidity in Phoenix from 2001 to 2006. Int J Biometerol (online Jan 2008) doi:10.1007/s00484-007-0142-3

Greenland S (1995) Dose-response and trend analysis in epidemiology: alternatives to categorical analysis. Epidemiology 6:356–365

Hajat S, Kovats RS, Atkinson RW, Haines A (2002) Impact of hot temperatures on death in London: a time series approach. J Epidemiol Community Health 56:367–372 doi:10.1136/jech.56.5.367

Harlan S, Brazel A, Prashad L, Stefanov W, Larsen L (2006) Neighborhood microclimates and vulnerability to heat stress. Soc Sci Med 63(11):2847–2863 doi:10.1016/j.socscimed.2006.07.030

Jones TS, Liang AP, Kilbourne EM, Griffin MR, Patriarca PA, Wassilak SG et al (1982) Morbidity and mortality associated with the July 1980 heat wave in St. Louis and Kansas City, MO. JAMA 25:3327–3331 doi:10.1001/jama.247.24.3327

Kaiser R, Rubin CH, Henderson AK, Wolfe MI, Kieszak S, Parrott CL et al (2001) Heat-related death and mental illness during the 2000 Cincinnati Heat Wave. Am J Forensic Med Pathol 22:3030–3307 doi:10.1097/00000433-200109000-00022

Kalkstein AJ, Kalkstein LS (2004) The development of an evaporative cooler warning system for Phoenix, Arizona. NOAA/NWS Office, Phoenix, AZ

Kalkstein AJ, Sheridan SC (2007) The social impacts of the heat-health watch/warning system in Phoenix, Arizona: assessing the perceived risk and response of the public. Int J Biometeorol 52:43–55 doi:10.1007/s00484-006-0073-4

Kiem SM, Mays MZ, Parks B, Pytlak E, Harris RM, Kent MA (2006) Heat fatalities in Pima County, Arizona. Health Place 10:1–5

McGeehin MA, Mirabelli M (2001) The potential impacts of climate variability and change on temperature-related morbidity and mortality in the United States. Environ Health Perspect 109:185–189 doi:10.2307/3435008

Meehl G, Tebaldi C (2004) More intense, more frequent, and longer lasting heat waves in the 21st century. Science 305:994–997 doi:10.1126/science.1098704

Mirchandani HG, McDonald G, Hood IC, Fonseca C (1996) Heat-related deaths in Philadelphia—1993. Am J Forensic Med Pathol 17:106–108 doi:10.1097/00000433-199606000-00004

National Oceanic and Atmospheric Administration (NOAA) (2006) US Natural Hazard Statistics. Available at: http://www.nws.noaa.gov/om/hazstats.shtml#. Last accessed October 2007

O'Neill M, Zanobetti A, Schwartz J (2003) Modifiers of the temperature and mortality association in seven US cities. Am J Epidemiol 157(12):1074–1082 doi:10.1093/aje/kwg096

Patz J, Campbell-Lendrum D, Holloway T, Foley J (2005) Impact of regional climate change on human health. Nature 438:310–317 doi:10.1038/nature04188

Pirard P, Vandentorren S, Pascal M, Laaidi K, Le Tertre A, Cassadou S et al (2005) Summary of the mortality impact assessment of the 2003 heat wave in France. Euro Surveill 10:153–156

Rainham D, Smoyer-Tomic K (2003) The role of air pollution in the relationship between a heat stress index and human mortality in Toronto. Environ Res 93:9–19 doi:10.1016/S0013-9351(03)00060-4

Ramlow JM, Kuller LH (1990) Effects of the summer heat wave of 1988 on daily mortality in Allegheny County, PA. Public Health Rep 105:283–289

Rooney C, McMichael AJ, Kovats RS, Coleman MP (1998) Excess mortality in England and Wales, and in Greater London, during the 1995 heatwave. J Epidemiol Community Health 52:482–486

Rothfusz LP (1990) The heat index "equation." National Weather Service Technical Attachment (SR 90–23)

Saez M, Sunyer J, Murillo C, Castellsague J, Anto J (1995) Relationship between weather temperature and mortality: a time series analysis approach in Barcelona. Int J Epidemiol 24:576–582 doi:10.1093/ije/24.3.576

Semenza JC, Rubin CH, Falter KH, Selanikio JD, Flanders WD, Howe HL et al (1996) Heat-related deaths during the July 1995 heat wave in Chicago. N Engl J Med 335:84–90 doi:10.1056/NEJM199607113350203

Tan J, Youfei Z, Song G, Kalkstein LS, Kalkstein AJ, Tang X (2007) Heat wave impacts on mortality in Shanghai, 1998 and 2003. Int J Biometeorol 51:193–200 doi:10.1007/s00484-006-0058-3

US Census Bureau (2006) Summary Tables using QuickFacts <www.quickfacts.census.gov>; Last accessed March 1, 2008

US Census Bureau (2007) "Arizona's Maricopa Leads Counties in Population Growth Since Census 2000" US Census Bureau News. http://www.census.gov/Press-Release/www/releases/archives/population/009756.html

Vandentorren S, Suzan F, Medina S, Pascal M, Maulpoix A, Cohen J-C et al (2004) Mortality in 13 French cities during the August 2003 heat wave. Am J Public Health 94:1518–1520

Voelker R (1995) Probe of heat wave deaths under way. JAMA 274:595–596 doi:10.1001/jama.274.8.595

Wainwright SH, Buchanan SD, Mainzer HM, Parrish RG, Sinks TH (1999) Cardiovascular mortality—the hidden peril of heat waves. Prehosp Disaster Med 14:222–231

Whitman S, Good G, Donoghue E, Benbow N, Shou W, Mou S (1997) Mortality in Chicago attributed to the July 1995 heat wave. Am J Public Health 87(9):1515–1518
Acknowledgments
We would like to thank Christopher Mrela, Don Herrington, Timothy Flood, Tony Haffer, Mare Schumacher, Sarah Santana, and Ben Davis for all of their invaluable assistance on this project.
About this article
Cite this article
Yip, F.Y., Flanders, W.D., Wolkin, A. et al. The impact of excess heat events in Maricopa County, Arizona: 2000–2005. Int J Biometeorol 52, 765–772 (2008). https://doi.org/10.1007/s00484-008-0169-0
Received:

Revised:

Accepted:

Published:

Issue Date:
Keywords
Heat wave

Mortality

Heat index

Temperature

Air pollution