Abstract
Heat waves kill more people in the United States than hurricanes, tornadoes, earthquakes, and floods combined. Recently, international attention focused on the linkages and impacts of human health vulnerability to urban climate when Western Europe experienced over 30,000 excess deaths during the heat waves of the summer of 2003—surpassing the 1995 heat wave in Chicago, Illinois, that killed 739. While Europe dealt with heat waves, in the United States, Phoenix, Arizona, established a new all-time high minimum temperature for the region on July 15, 2003. The low temperature of 35.5°C (96°F) was recorded, breaking the previous all-time high minimum temperature record of 33.8°C (93°F). While an extensive literature on heat-related mortality exists, greater understanding of influences of heat-related morbidity is required due to climate change and rapid urbanization influences. We undertook an analysis of 6 years (2001–2006) of heat-related dispatches through the Phoenix Fire Department regional dispatch center to examine temporal, climatic and other non-spatial influences contributing to high-heat-related medical dispatch events. The findings identified that there were no significant variations in day-of-week dispatch events. The greatest incidence of heat-related medical dispatches occurred between the times of peak solar irradiance and maximum diurnal temperature, and during times of elevated human comfort indices (combined temperature and relative humidity).
Access options
Buy single article
Instant access to the full article PDF.
USD 39.95
Price includes VAT (USA)
Tax calculation will be finalised during checkout.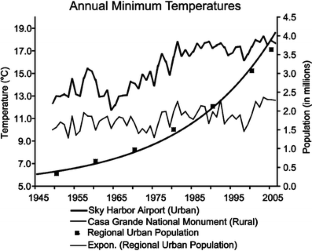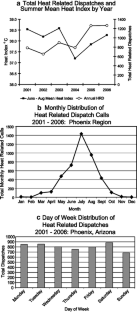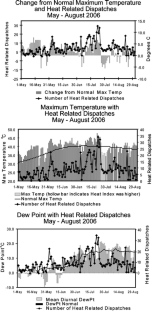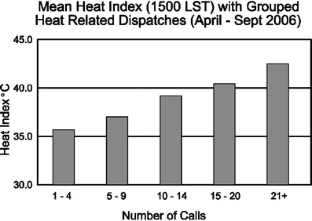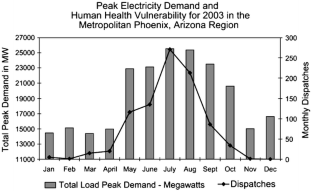 References
ADHS (2006) http://www.azdhs.gov/phs/oeh/pdf/heatplan606.pdf

Arizona Public Service (2004). https://www.aps.com/general_info/newsrelease/newsreleases/NewsRelease_265.html

Brazel A, Selover N, Vose R, Heiser G (2000) The tale of two climates-Baltimore and Phoenix urban LTER sites. Clim Res 15:123–135

Brown RD, Gillespie TJ (1995) Microclimatic Landscape Design. J. Wiley & Sons, New York

California Energy Commission (2007). Final staff forecast for 2008 peak demand. California Energy Commission, Sacramento, CA, CEC-200-2007-006SF

Centers for Disease Control and Prevention (1995). Heat-related mortality-Chicago, July 1995. Mor Mortal Wkly Rep 44:577–579

Centers for Disease Control and Prevention (2005) Heat-related mortality-Arizona, 1993–2002, and the United States 1979–2002. Morb Mort Wkly Rep 54(25):628–630, Department of Health and Human Services, July 1 2005

City of Phoenix (2006) http://www.mag.maricopa.gov/pdf/cms.resource/RESPONSE_PLAN_FOR_SUMMER_HEAT79908.pdf

Golden JS (2004) The built environment induced urban heat island effect in rapidly urbanizing arid regions - a sustainable urban engineering complexity. Environ Sci 1(4):321–349

Golden J, Brazel A, Salmond J, Laws D (2006) Energy and water sustainability - the role of urban climate change from metropolitan infrastructure. Engineering for Sustainable Development 1(1):55–70

Heisler GM, Wang Y (2002) Applications of a human thermal comfort model. Fourth Symposium on the Urban Environment. May 2002. Norfolk, VA (American meteorological Society)

Kalkstein LS, Greene JS (1997) An evaluation of climate/mortality relationships in large U.S. cities and the possible impacts of a climate change. Environ Health Perspect 105(1):84–93

Kalkstein LS, Jamason P, Greene J, Libby J, Robinsonet L (1996) The Philadelphia hot weather–health watch/warning system: development and application, summer 1995. Bull Am Meteorol Soc 77:1519–1528

Klineberg E (1999) Denaturalizing disaster: A social autopsy of the 1995 Chicago heat wave. Theory Soc 28(2):239–295

Kosatsky T (2005) The 2003 European heat waves. Eurosurveillance 10:148–149, #7–9, Jul-Sept 2005

Leonardi GS, Hajat S, Kovats RS, Smith GE, Cooper D, Gerard E (2006) Syndromic surveillance use to detect the early effects of heat-waves: an analysis of NHS direct data in England. Soz- PraÉventivmed 51(4):194–201

Mastrangelo G, Hajat S, Fadda E, Buja A, Fedeli U, Spolaore P (2006) Contrasting patterns of hospital admissions and mortality during heat waves: are deaths from circulatory excess or an artifact? Med Hypotheses 66(5):1025–1028

McGeehin M, Mirabelli M (2001) The potential impacts of climate variability and change on temperature-related morbidity and mortaility in the United States. Environ Health Perspect 109(Suppl 2):185–189

Michelozzi P, Accetta G, D'Ippoliti D, D'Ovidio M, Marino C, Perucci C, Ballester F, Bisanti L, Goodman P, Schindler C (2006) Short-term effects of apparent temperature on hospital admissions in European cities: Results from the PHEWE project. Epidemiology 17(6):S84

National Weather Service (2007a) http://www.nws.noaa.gov/om/heat/heat_wave.shtml

National Weather Service (2007b). http://www.crh.noaa.gov/pub/heat.php

North American Electric Reliability Council (2006). 2006 Long-Term Reliability Assessment. The Reliability of the Bulk Power Systems in North America.

Schwartz J, Samet JM, Patz JA (2004) Hospital admissions for heart disease: The effects of temperature and humidity. Epidemiology 15(6):755–761

Semenza JC, Rubin CH, Falter KH, Selanikio JD, Flanders WD, Howe HL, JL Wilhelm (1996) Heat-related deaths furin the July 1995 heat wave in Chicago. N Engl J Med 335:84–90

Sheridan SC (2006) A survey of public perception and response to heat warnings across four North American cities: an evaluation of municipal effectiveness. Int J Biometeorol

Shrader-Frechette KS (2002) Environmental justice: Creating equality, reclaiming democracy. Environmental ethics and science policy series. Oxford University Press, Oxford, New York

Steadman RG (1979) The assessment of sultriness, Part I: a temperature-humidity index based on human physiology and clothing science. J Appl Meteorol 18: 861–873

US Census (2007) 50 fastest growing metro areas concentrated in the west and south. http://www.census.gov/Press-Release/www/releases/archives/population/009865.html
Acknowledgements
This work was supported by the National Center for Environmental Health at the U.S. Centers for Disease Control and Prevention and the National Center of Excellence on SMART Innovations for Urban Climate and Energy at Arizona State University. This material was based in part on work supported by the National Science Foundation, while one of the authors (Patrick Phelan) was working at the Foundation. Any opinion, findings and conclusions or recommendations expressed in this material are those of the authors and do not necessarily reflect the views of the National Science Foundation and the sponsoring agencies. We thank Nancy Sellover, Arizona State Climatologist and the Phoenix Fire Department for their technical assistance.
About this article
Cite this article
Golden, J.S., Hartz, D., Brazel, A. et al. A biometeorology study of climate and heat-related morbidity in Phoenix from 2001 to 2006. Int J Biometeorol 52, 471–480 (2008). https://doi.org/10.1007/s00484-007-0142-3
Received:

Revised:

Accepted:

Published:

Issue Date:
Keywords
Health vulnerability

Heat Waves

Urban Climate

Morbidity

Emergency medical dispatch