Abstract
A simple heat alert system, based solely on predicted maximum and minimum daily temperatures, has been developed for the city of Melbourne in southeast Australia. The system is based upon a demonstration that, when mean daily temperature exceeds a threshold of 30°C (mean of today's maximum temperature and tonight's minimum temperature), the average daily mortality of people aged 65 years or more is about 15–17% greater than usual. Similar numbers of excess deaths also occur when daily minimum temperatures exceed 24°C (increases of 19–21% over expected death rate), so a heat alert system based solely on this widely available weather forecast variable is also feasible. No strong signal of excess heat-related deaths appears when the data are stratified using daily maximum temperatures. This may be because in Melbourne some days with very high maximum temperatures will be affected by the passage of cool changes and cold fronts in the afternoon, leading to a rapid drop in temperature (i.e., some days with high maximum temperatures will not continue to be hot throughout the day and into the evening). A single day with temperatures exceeding the thresholds noted above is sufficient to cause this increase in mortality, rather than requiring an extended heat wave. The increased daily mortality does not appear to represent a short-term advancement of mortality.
Access options
Buy single article
Instant access to the full article PDF.
US$ 39.95
Tax calculation will be finalised during checkout.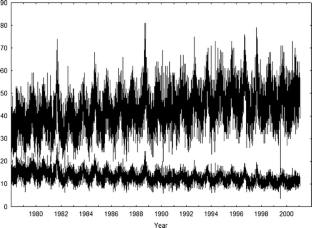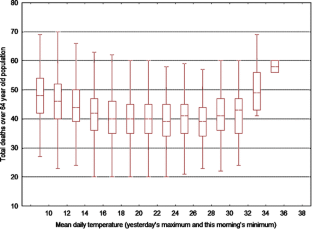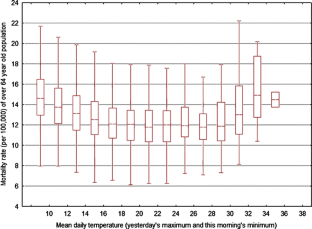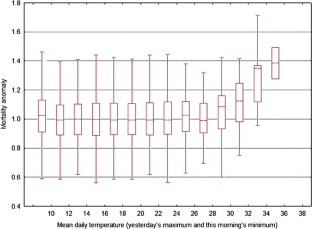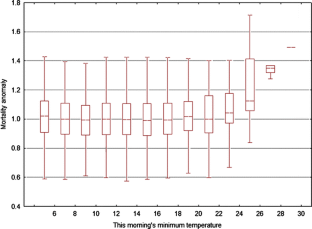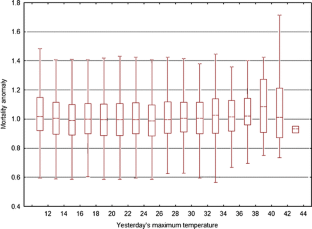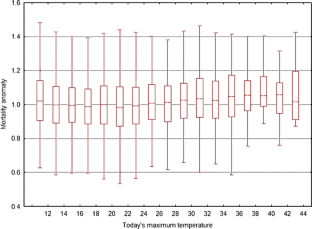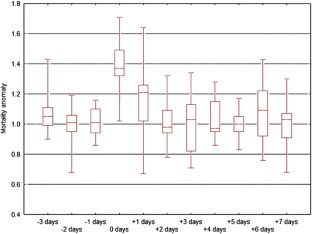 References
Ashcroft F (2001) Life at the extremes. The science of survival. Flamingo, London

Brücker G (2005) Vulnerable populations: lessons learnt from the summer 2003 heat waves in Europe. Eurosurveillance 10:147

Coutts A, Beringer J, Tapper N (2007a) Impact of increasing urban density on local climate: spatial and temporal variations in the surface energy balance in Melbourne, Australia. J Appl Met Climatol 46:477–493

Coutts A, Beringer J, Tapper N (2007b) Investigating the climatic impact of urban planning strategies through the use of regional climate modeling: a case study for Melbourne, Australia. Int J Climatol (in press)

Curriero FCX, Heiner KS, Samet JM, Zeger SL, Strug L, Patz JA (2000) Temperature and mortality in 11 cities of the eastern United States. Am J Epidemiol 155:80–87

Dear K, Ranmuthugala G, Kjellstrom T, Skinner C, Hanigan I (2005) Effects of temperature and ozone on daily mortality experienced in France during the August 2003 heat wave. Arch Env Occup Health 60:205–212

Diaz J, Linares C, Tobias A (2006a) A critical comment on heat wave response plans. Eur J Public Health 16:600

Diaz J, Linares C, Tobias A (2006b) Impact of extreme temperatures on daily mortality in Madrid (Spain) among the 45–64 age-group. Int J Biometeorol 50:342–348

Donaldson GC, Keatinge WR, Nayha S (2003) Changes in summer temperature and heat-related mortality since 1971 in North Carolina, South Finland, and southeast England. Environ Res 91:1–7

Filleul L, Cassadou S, Médina S, Fabres P, Lefranc A, Eilstein D, Le Tertre A, Pascal L, Chardon B, Blanchard M, Declerq C, Jusot J-F, Prouvost H, Ledrans M (2006) The relation between temperature, ozone, and mortality in nine French cities during the heat wave of 2003. Environ Health Perspect 114:1344–1347

Fischer PH, Brunekreef B, Lebret E (2004) Air pollution related deaths during the 2003 heat wave in the Netherlands. Atmos Environ 38:1083–1085

Flynn A, McGreevy C, Mulkerrin EC (2005) Why do older patients die in a heatwave? QJM 98:227–229

Fouillet A, Rey G, Laurent F, Pavillon G, Bellec S, Guihenneuc-Jouyaux C, Clavel J, Jougla E, Hémon D (2006) Excess mortality related to the August 2003 heat wave in France. Int Arch Occup Environ Health 80:16–24

Garssen J, Harmsen C, de Beer J (2005) The effect of the summer 2003 heat wave on mortality in the Netherlands. Eurosurveillance 10:165–167

Guest CS, Willson K, Woodward AJ, Hennessy K, Kalkstein LS, Skinner C, McMichael AJ (1999) Climate and mortality in Australia: retrospective study, 1979–1990, and predicted impacts in five major cities in 2030. Clim Res 13:1–15

Hajat S, Kovats RS, Atkinson RW, Haines A (2002) Impact of hot temperatures on death in London: a time series approach. J Epidemiol Community Health 56:367–372

Hajat S, Armstrong B, Baccini M, Biggeri A, Bisanti L, Russo A, Paldy A, Menne B, Kosatsky T (2006) Impact of high temperatures on Mortality. Is there an added heat wave effect? Epidemiology 17:632–638

IPCC (2007) Climate Change 2007: the physical science basis. Summary for policymakers. Intergovernmental Panel on Climate Change, Geneva

Johnson H, Kovats RS, McGregor G, Stedman J, Gibbs M, Walton H (2005) The impact of the 2003 heat wave on daily mortality in England and Wales and the use of rapid weekly mortality estimates. Eurosurveillance 10:168–171

Kalkstein LS, Jamason PF, Greene JS, Robinson I (1996) The Philadelphia hot weather-health watch/warning system: development and application, summer 1995. Bull Am Meteorol Soc 77:1519–1528

Keatinge WR (2003) Death in heat waves. Br Med J 327:512–513

Keatinge WR, Donaldson GC, Cordioli E, Martinelli M, Kunst AE, Mackenbach JP, Nayha S, Vuori I (2000) heat related mortality in warm and cold regions of Europe: observational study. Br Med J 321:670–673

Kosatsky T (2005) The 2003 European heat waves. Eurosurveillance 10:148–149

Kovats RS (2006) Heat waves and health protection. Focus on public health, social care, and building regulations. Br Med J 333:314–315

Kovats RS, Ebi KL (2006) Heatwaves and public health in Europe. Eur J Public Health 16:592–599

Le Tertre A, Lefranc A, Eilstein D, Declercq C, Medina S, Blanchard M, Chardon B, Fabre P, Filleul L, Jusot J-F, Pascal L, Prouvost H, Cassadou S, Ledrans M (2006) Impact of the 2003 heatwave on all-cause mortality in 9 French cities. Epidemiology 17:75–79

Mastrangelo G, Hajat S, Fadda E, Buja A, Fedeli U, Spolaore P (2006) Contrasting patterns of hospital admissions and mortality during heat waves: are deaths from circulatory disease a real excess or an artifact? Med Hypotheses 66:1025–1028

McMichael A, Woodruff R, Whetton P, Hennessy K, Nicholls N, Hales S, Woodward A, Kjellstrom T (2003) Human health and climate change in Oceania: a risk assessment. Commonwealth Department of Health and Ageing, Canberra

Michelozzi P, de'Donato F, Bisanti L, Russo A, Cadum E, DeMaria M, D'Ovidio M, Costa G, Perucci CA (2005) The impact of the summer 2003 heat waves on mortality in four Italian cities. Eurosurveillance 10:161–164

Nogueira PJ, Falcão JM, Contreiras MT, Paixão E, Brandão J, Batista I (2005) Mortality in Portugal associated with the heat wave of ugust 2003: early estimation of effect, using a rapid method. Eurosurveillance 10:150–153

Pascal M, Laaidi K, Ledrans M, Baffert E, Caserio-Schönemann C, Le Tertre A, Manach J, Medina S, Rudant J, Empereur-Bissonnet P (2006) France's heat health watch warning system. Int J Biometeorol 50:144–153

Pirard P, Vandentorren S, Pascal M, Laaidi K, Le Tertre A, Cassadou S, Ledrans M (2005) Summary of the mortality impact assessment of the 2003 heat wave in France. Eurosurveillance 10:153–156

Rankin DW (1959) Mortality associated with heat wave conditions in the Melbourne metropolitan area, January and February 1959. Aust Meteorol Mag 26:96–98

Rooney C, McMichael AJ, Kovats RS, Coleman MP (1998) Excess mortality in England and Wales during the 1995 heatwave. J Epidemiol Community Health 52:482–486

Semenza JC, Rubin CH, Falter KH (1996) Heat-related deaths during the July 1995 heatwave in Chicago. N Engl J Med 335:84–90

Simón F, Lopez-Abente G, Ballester E, Martínez F (2005) Mortality in Spain during the heat waves of summer 2003. Eurosurveillance 10:156–160

Smoyer KE (1998) Putting risk in its place: methodological considerations for investigating extreme event health risk. Soc Sci Med 47:1809–1824

Stedman JR (2004) The predicted number of air pollution related deaths in the UK during the August 2003 heatwave. Atmos Environ 38:1087–1090
Acknowledgements
The Victorian Department of Human Services initiated and provided some funding support for this study. We thank David Hogan, Julian Meagher and Marion Carey from the Department for their support and input.
About this article
Cite this article
Nicholls, N., Skinner, C., Loughnan, M. et al. A simple heat alert system for Melbourne, Australia. Int J Biometeorol 52, 375–384 (2008). https://doi.org/10.1007/s00484-007-0132-5
Received:

Revised:

Accepted:

Published:

Issue Date:
Keywords
Australia

Heatwave

Human health

Mortality

Climate change