Abstract
Airflow is an effective way to increase heat loss—an ongoing process during sleep and wakefulness in daily life. However, it is unclear whether airflow stimulates cutaneous sensation and disturbs sleep or reduces the heat load and facilitates sleep. In this study, 17 male subjects wearing short pyjamas slept on a bed with a cotton blanket under two of the following conditions: (1) air temperature (Ta) 26°C, relative humidity (RH) 50%, and air velocity (V) 0.2 m s−1; (2) Ta 32°C, RH 80%, V 1.7 m s−1; (3) Ta 32°C; RH 80%, V 0.2 m s−1 (hereafter referred to as 26/50, 32/80 with airflow, and 32/80 with still air, respectively). Electroencephalograms, electrooculograms, and mental electromyograms were obtained for all subjects. Rectal (Tre) and skin (Ts) temperatures were recorded continuously during the sleep session, and body-mass was measured before and after the sleep session. No significant differences were observed in the duration of sleep stages between subjects under the 26/50 and 32/80 with airflow conditions; however, the total duration of wakefulness decreased significantly in subjects under the 32/80 with airflow condition compared to that in subjects under the 32/80 with still air condition (P < 0.05). Tre, Tsk, Ts, and body-mass loss under the 32/80 with airflow condition were significantly higher compared to those under the 26/50 condition, and significantly lower than those under the 32/80 with still air condition (P < 0.05). An alleviated heat load due to increased airflow was considered to exist between the 32/80 with still air and the 26/50 conditions. Airflow reduces the duration of wakefulness by decreasing Tre, Tsk, Ts, and body-mass loss in a warm humid condition.
Access options
Buy single article
Instant access to the full article PDF.
USD 39.95
Price excludes VAT (USA)
Tax calculation will be finalised during checkout.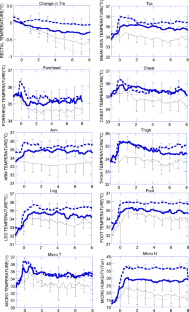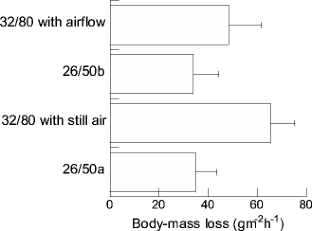 References
Adams WC, Mack GW, Langhans GW, Nadel ER (1992) Effects of varied air velocity on sweating and evaporative rates during exercise. J Appl Physiol 73:2668–2674

Alam MN, McGinty D, Szymusiak R (1995) Neuronal discharge of preoptic/anterior hypothalamic thermosensitive neurons: relation to NREM sleep. Am J Physiol 269:R1240–R1249

Amoros C, Sagot JC, Libert JP, Candas V (1986) Sweat gland response to local heating during sleep in man. J Physiol 81:209–215

Aschoff J (1972) Circadian rhythms of activity and of body temperature. In: Hardy JD, Gagge AP, Stolwijk JAJ (eds) Physiological and behavioral temperature regulation. Thomas, Springfield, IL, pp 905–919

Boulant JA, Bignall KE (1973) Hypothalamic neuronal responses to peripheral and deep-body temperatures. Am J Physiol 225:1371–1374

Candas V, Libert JP, Muzet A (1982) Heating and cooling stimulations during SWS and REM sleep in man. J Therm Biol 7:155–158

Egan GF, Johnson J, Farrell M, McAllen R, Zamarripa F, McKinley MJ, Lancaster J, Denton D, Fox PT (2005) Cortical, thalamic, and hypothalamic responses to cooling and warming the skin in awake humans: a positron-emission tomography study. Proc Natl Acad Sci USA 102:5262–5267

Gagge AP, Stolwijk JAJ, Nishi Y (1969) The prediction of thermal comfort when thermal equilibrium is maintained by sweating. ASHRAE Trans 75:108–125

Haskell EH, Palca JW, Walker JM, Berger RJ, Heller HC (1981) The effects of high and low ambient temperatures on human sleep stages. Electro Clin Neurophysiol 51:494–501

Horne JA, Ostberg OA (1976) Self-assessment questionnaire to determine morningness-eveningness in human circadian rhythms. Int J Chronobiol 4:97–110

Karacan I, Thornby JI, Anch AM, Williams RL, Perkins HM (1978) Effects of high ambient temperature on sleep in young men. Aviat Space Environ Med 49:855–860

Kräuchi K, Wirz-Justice A (1994) Circadian rhythm of heat production, heart rate, and skin and core temperature under unmasking conditions in men. Am J Pysiol 267:R819–R829

Kräuchi K, Wirz-Justice A (2001) Circadian clues to sleep onset mechanisms. Neuropsychopharmacology 5(Suppl):S92–S96

Kräuchi K, Cajochen C, Wirz-Justice A (1997) A relationship between heat loss and sleepiness: effects of postural change and melatonin administration. J Appl Physiol 83:134–139

Kräuchi K, Cajochen C, Werth E, Wirz-Justice A (1999) Warm feet promote the rapid onset of sleep. Nature 40:36–37

Kräuchi K, Cajochen C, Werth E, Wirz-Justice A (2000) Functional link between distal vasodilation and sleep-onset latency? Am J Physiol 278:R741–R748

Kubo H, Isoda N, Enomoto-Koshimizu H (1997) Cooling effects of preferred air velocity in muggy conditions. Build Environ 32:211–218

Libert JP, Vogt JJ, Candas V, Hoeft A (1975) Influence of hydrothermal ambient conditions on sweat evaporation efficiency. J Physiol 70:717–735

Libert JP, Nisi JD, Fukuda H, Muzet A, Ehrhart J, Amoros C (1988) Effect of continuous heat exposure on sleep stages in humans. Sleep 11:195–209

Nadel ER, Mitchell JW, Saltin B, Stolwijk JAJ (1971) Peripheral modifications to the central drive for sweating. J Appl Physiol 31:828–833

Ogawa T (1970) Local effect of skin temperature on threshold concentration of sudorific agents. J Appl Physiol 28:18–22

Okamoto-Mizuno K, Mizuno K, Michie S, Maeda A, Iizuka S (1999) Effects of humid heat exposure on human sleep stages and body temperature. Sleep 22:767–773

Parmeggiani PL (1987) Interaction between sleep and thermoregulation: an aspect of the control of behavioral states. Sleep 10:426–435

Ramanathan NI (1964) A new weighting system for mean surface temperature of the human body. J Appl Physiol 19:531–533

Raymann RJ, Van Someren EJ (2007) Time-on-task impairment of psychomotor vigilance is affected by mild skin warming and changes with aging and insomnia. Sleep 30:96–103

Raymann RJ, Swaab DF, Van Someren EJ (2005) Cutaneous warming promotes sleep onset. Am J Physiol Regul Integr Comp Physiol 288(6):R1589–R1597

Rechtschaffen A, Kales A (1968) A manual of standardised terminology, Technique and scoring system for sleep stages of human subjects. Public health service, US Government Printing Office

Sagot JC, Amoros C, Candas V, Libert JP (1987) Sweating responses and body temperatures during nocturnal sleep in humans. Am J Physiol 252:R462–R470

Sindrup JH, Kastrup J, Christensen H, Jorgensen B (1991) Nocturnal variations in peripheral blood flow, systemic blood pressure, and heart rate in humans. Am J Physiol 261:H982–H988

Tanabe S, Kimura K (1989) Importance of air movements on thermal comfort under hot and humid conditions. ASHRAE Far East:95–103

Tanabe M, Shido O (1994) Changes in body core temperatures and heat balance after an abrupt release of lower body negative pressure in humans. Int J Biometeorol 38:48–54

Tikuisis P, Ducharme MB (1996) The effect of postural changes on body temperatures and heat balance. Eur J Appl Physiol Occup Physiol 72:451–459

Tsuzuki K, Okamoto-Mizuno K (2006) Effects of thermal environment on sleep and thermoregulatory responses for elderly people in the actual living environment in three seasons. In: Proceedings of "Healthy Building 2006"

Tsuzuki K, Okamoto-Mizuno K, Mizuno K (2004) Effects of humid heat exposure on sleep, thermoregulation, melatonin, and microclimate. J Therm Biol 29:31–36

Van Someren EJ (2004) Sleep propensity is modulated by circadian and behavior-induced changes in cutaneous temperature. J Therm Biol 29:437–444

Van Someren EJ (2006) Mechanisms and functions of coupling between sleep and temperature rhythms. Prog Brain Res 153:309–324
Acknowledgment
This study was performed through Special Coordination Funds of the Ministry of Education, Culture, Sports, Science and Technology of the Japanese Government.
About this article
Cite this article
Tsuzuki, K., Okamoto-Mizuno, K., Mizuno, K. et al. Effects of airflow on body temperatures and sleep stages in a warm humid climate. Int J Biometeorol 52, 261–270 (2008). https://doi.org/10.1007/s00484-007-0120-9
Received:

Revised:

Accepted:

Published:

Issue Date:

DOI: https://doi.org/10.1007/s00484-007-0120-9
Keywords