Abstract
Recent climate changes have had distinct impacts on plant development in many parts of the world. Higher air temperatures, mainly since the end of the 1980s, have led to advanced timing of phenological phases and consequently to an extension of the general growing season. For this reason it is interesting to know how plants will respond to future climate change. In this study simple phenological models have been developed to estimate the impact of climate change on the natural vegetation in Saxony. The estimations are based on a regional climate scenario for the state of Saxony. The results indicate that changes in the timing of phenophases could continue in the future. Due to distinct temperature changes in winter and in summer, mainly the spring and summer phases will be advanced. Spring phenophases, such as leafing or flowering, show the strongest trends. Depending on the species, the average timing of these phenophases could be advanced by 3–27 days by 2050. Phenophases in autumn show relatively small changes. Thus, the annual growth period of individual trees will be further extended, mainly because of the shift of spring phases. Frequent droughts in summer and in autumn can compensate for the earlier leafing of trees, because in this case leaf colouring and leaf fall would start some weeks earlier. In such cases, the growing period would not be really extended, but shifted to the beginning of the year.
Access options
Buy single article
Instant access to the full article PDF.
US$ 39.95
Tax calculation will be finalised during checkout.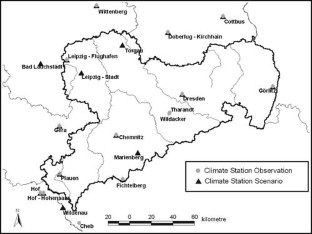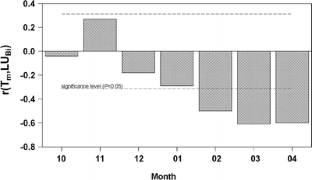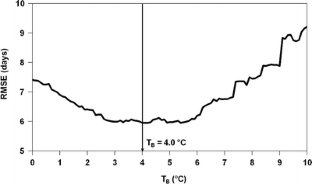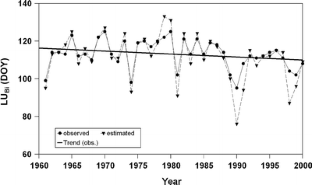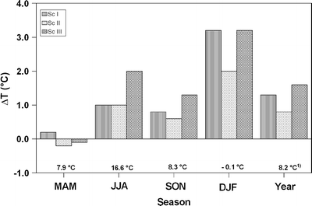 References
Ahas R (1999) Long-term phyto-, ornitho- and ichthyophenological time-series analyses in Estonia. Int J Biometeorol 44:119–123

BAHP (1991) Anleitung für die Beobachter des Deutschen Wetterdienstes (BAHP). Vorschriften und Betriebsunterlagen, vol 3, no. 17. Deutscher Wetterdienst, Offenbach a.M.

Beaubien EG, Freeland HJ (2000) Spring phenology trends in Alberta, Canada: links to ocean temperature. Int J Biometeorol 44:53–59

Bernhofer C, Goldberg V (2001) CLISAX I—Statistische Untersuchungen regionaler Klimatrends in Sachsen. Tharandt, Abschlussbericht zum Forschungs- und Entwicklungsvorhaben des Sächsischen Landesamtes für Umwelt und Geologie, AZ 3-8802.3521/48. Sächsischen Landesamtes für Umwelt und Geologie, Dresden

Bernhofer C, Goldberg V, Franke J (2002) CLISAX II—Assimilation von standardisierten und abgeleiteten Klimadaten für die Region Sachsen und Ausbau der Sächsischen Klimadatenbank. Abschlussbericht zum Forschungs- und Entwicklungsvorhaben des Sächsischen Landesamtes für Umwelt und Geologie AZ 13-8802.3521/50. Sächsischen Landesamtes für Umwelt und Geologie, Dresden

Burroughs WJ (2002) Gardening and climate change. Weather 5(27):151–157

Bradley NL, Leopold AC, Ross J, Huffaker W (1999) Phenological changes reflect climate change in Wisconsin. Proc Natl Acad Sci USA 96:9701–9704

Braslavska O, Kamensky L (1999) Leafing of forest trees and shrubs in the period 1986–1999 (in Czech). Atmos Storcia Org Ekosyst 21:67–71

Bruns E (2001) Phänologie im Deutschen Wetterdienst. Mitt DMG 1:1–2

Cannell MGR, Smith RI (1983) Thermal time, chill days and prediction of budburst in Picea sitchensis. J Appl Ecol 20:951–963

Cenci CA, Ceschia M. (2000) Forecasting of the flowering time for wild species observed at Guidonia, central Italy. Int J Biometeorol 44:88–96

Chmielewski FM, Müller A, Küchler W (2004a) Mögliche Auswirkungen klimatischer Veränderungen auf die Vegetationsentwicklung in Sachsen. Abschlussbericht zum Forschungs- und Entwicklungsvorhaben des Sächsischen Landesamtes für Umwelt und Geologie, HU-Projekt no. 2010–3102. Eigen, Berlin

Chmielewski FM, Müller A, Bruns E (2004b) Climate changes and trends in phenology of fruit trees and field crop in Germany, 1961–2000. Agric For Meteorol 121:69–78

Chmielewski FM, Rötzer T (2002) Annual and spatial variability of the beginning of growing season in Europe in relation to air temperature changes. Clim Res 19:257–264

Chmielewski FM, Rötzer T (2001) Response of tree phenology to climate change across Europe. Agric For Meteorol 108:101–112

Chuine I, Kramer K, Hänninen H (2003) Plant development models. In: Schwartz MD (ed) Phenology: an integrative environmental science. Kluwer, Boston, pp 217–235

Chuine I, Cour P, Rousseau DD (1999) Selecting models to predict the timing of flowering of temperate trees: implication for tree phenology modelling. Plant Cell Environ 22:1–13

Defila C (2004) Der Sommer und Herbst 2003 aus phänologischer Sicht. Schweiz Z Forstwes 155:142–145

Defila C, Clot B (2001) Phytophenological trends in Switzerland. Int J Biometeorol 45:203–207

Enke W (2003) Anwendung eines Verfahrens zur wetterlagenkonsistenten Projektion von Zeitreihen und deren Extreme mit Hilfe globaler Klimasimulationen—Sächsisches Landesamt für Umwelt und Geologie, Dresden, AZ 13-8802.3521/51. Sächsisches Landesamt für Umwelt und Geologie, Dresden

Enke W. Schneider F, Deutschländer T (2005a) A novel scheme to derive circulation pattern classification for downscaling and forecast purposes. Theor Appl Climatol, DOI: 10.1007/s00704-004-0116-x

Enke W, Deutschländer T, Schneider F (2005b) Results of five regional climate studies applying a weather pattern based downscaling method to ECHAM4 climate simulations. Meteorol Z 14:247–257

Estrella N (2000) On modelling of phenological autumn phases. In: Menzel (ed) Progress in phenology. Conference abstracts p 49

Hänninen H (1995) Effects on climate change on trees from cool and temperate regions: an ecophysiological approach to modelling the bud burst phenology. Can J Bot 73:183–199

Hänninen H (1990) Modelling bud dormancy release in trees from cool and temperate regions. Acta For Fenn 213:47

Häkkinen R, Linkosalo T, Hari P (1998) Effects of dormancy and environmental factors on timing of bud burst in Betula pendula. Tree Physiol 18:707–712

Houghton JT, Ding Y, Griggs DJ, Noguer M, van der Linden PJ, Xiaosu D (2001) Climate change 2001. The scientific basis. Contribution of Working Group I to the Third Assessment Report of the Intergovernmental Panel on Climate Change. IPCC

Kramer K, Leinonen I, Loustau D (2000) The importance of phenology for the evaluation of impact of climate change on growth of boreal, temperate and Mediterranean forest ecosystems: an overview. Int J Biometeorol 44:67–75

Kramer K (1996) Phenology and growth of European trees in relation to climate change. PhD thesis, Agricultural University Wageningen, Wageningen

Lechowicz MJ (1995) Seasonality of flowering and fruiting in temperature forest trees. Can J Bot 73:175–182

Leinonen I (1996a) Dependence of dormancy release on temperature in different origins of Pinus sylvestris and Betula pendula seedlings. Scand J For Res 11:122–128

Leinonen I (1996b) A simulation model for the annual frost hardiness and freeze damage of Scots pine. Ann Bot 78:687–693

Leinonen I, Kramer K (2002) Applications of phenological models to predict the future carbon sequestration potential of Boreal forests. Clim Change 55:99–113

Mayer U (ed) (1997) Growth stages of mono- and dicotyledonous plants. BBCH monograph. Blackwell, Berlin

Menzel A, Fabian P (1999) Growing season extended in Europe. Nature 397:659

Menzel A (1997) Phänologie von Waldbäumen unter sich ändernden Klimabedingungen. Forstl Forschungsber

Müller A (2002) Zeitliche und räumliche Variabilität der Phänologie landwirtschaftlicher und obstbaulicher Kulturen in Deutschland. Diplomarbeit, Humboldt-Universität Berlin, Berlin

Raspe S, Schulz C, Kroll F (2004) Wenn schon im Sommer tonnenweise Blätter fallen. Baumentwicklung und Streufall. LWF Aktuell 43:11–13

Robertson GW (1968) A biometeorological time scale for a cereal crop involving day and night temperatures and photoperiod. Int J Biometeorol 12:191–223

Roeckner E, Arpe K, Bengtsson L, Christoph M, Claussen M, Dümenil L, Esch M, Giorgetta M, Schlese U, Schulzweida U (1996) The atmospheric general circulation model ECHAM-4: model description and simulation of present-day climate. Report no. 218. Max-Planck-Institut für Meteorologie, Hamburg

Rötzer T, Grote R, Pretzsch H (2004) The timing of bud burst and its effect on tree growth. Int J Biometeorol 48:109–118

Rötzer T, Wittenzeller M, Haeckel H, Nekovar J (2000) Phenology in central Europe—differences and trends of spring phenophases in urban and rural areas. Int J Biometeorol 44:60–66

Sarvas R (1974) Investigations on the annual cycle of development of forest trees. II. Autumn dormancy and winter dormancy. Commun Inst For Fenn 84:1–101

Sarvas R (1972) Investigations on the annual cycle of development of forest trees. Active period. Commun Inst For Fenn 76:1–110

Schmerbach M (2000) Klimaerwärmung? Diskussion phänologischer und meteorologischer Trends zwischen 1961 und 1999 im Raum Schönbuch und Glemswald. Diplomarbeit, Universität Stuttgart, Stuttgart

Schönwiese CD, Walter A, Rapp J, Meyhöfer S, Denhard M (1998) Statistische Analyse der Klimavariabilität und anthropogene Klimasdignale in globaler und regionaler Betrachtung. Berichte des Instituts für Meteorologie und Geophysik der Universitat Frankfurt/M, no. 102. Eigen, Frankfurt/Main

Schwartz MD (1990) Deteting the Onset of Spring: A possible application of phenological models. Clim Res 1:23–29

Schwartz MD, Reiter BE (2000) Changes in North American spring. Int J of Biometeorol 20:929–932

Snyder RL, Spano D, Cesaraccio C, Duce P (1999) Determinino degree-day thresholds from field observations. Int J Biometeorol 42:177–182

Sparks TH, Jeffree EP, Jeffree CE (2000) An examination of the relationship between flowering times and temperature at the national scale using long-term phonological records from the UK. Int J Biometeorol 44:82–87

Wielgolaski FE (1999) Starting dates and basic temperatures in phenological observations of plants. Int J Biometeorol 42:158–168

Zang FC (1995) Effects of global warming on plant phenological events in China. Acta Geogr Sin 50:403–408
Acknowledgements
The investigation was funded by the State Department for Environment and Geology in Saxony (13-8802.3521/53). The authors thank the German Weather Service (DWD) for providing phenological data.
About this article
Cite this article
Chmielewski, F.M., Müller, A. & Küchler, W. Possible impacts of climate change on natural vegetation in Saxony (Germany). Int J Biometeorol 50, 96–104 (2005). https://doi.org/10.1007/s00484-005-0275-1
Received:

Revised:

Accepted:

Published:

Issue Date:
Keywords
Climate change

Climate scenario

Impacts

Tree phenology

Phenological models