Abstract
This study sought to investigate the effects of humid heat exposure in later sleep segments on sleep stages and body temperature in humans. The subjects were eight healthy males, from whom informed consent had been obtained. The experiments were carried out under three different sets of conditions: a control climate [air temperature (Ta)=26°C, relative humidity (RH)=50%] (C); a humid heat climate (Ta=32°C, RH=80%) (H); and a humid heat exposure in later sleep segments (C for the first 3 h 45 min, followed by a 30-min transition to H, which was then maintained for the last 3 h 45 min) (C–H). Electroencephalogram, EOG, and mental electromyogram, rectal temperature (Tre), and skin temperature (Tsk) were continuously measured. The total amount of wakefulness was significantly increased in H compared to C–H or C. Compared to C, wakefulness in C–H and H was significantly increased during later sleep segments. Tre and mean Tsk were significantly higher in H than in C–H or C. In C–H, Tsk and Tre increased to levels equal to those observed in H after Ta and RH increase. Whole body sweat loss was significantly lower in C–H and C than in H. These results suggest that humid heat exposure in the later sleep segment reduces thermal load as compared to full-night humid heat exposure. In daily life, the use of air conditioning in the initial sleep hours can protect sleep and thermoregulation.
Access options
Buy single article
Instant access to the full article PDF.
USD 39.95
Price includes VAT (USA)
Tax calculation will be finalised during checkout.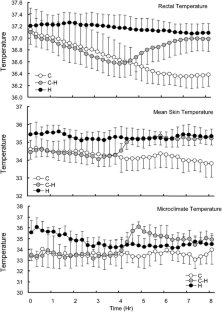 References
Bach V, Maingourd Y, Libert JP, Oudart H, Muzet A, Lenzi P, Johnson LC (1994) Effect of continuous heat exposure on sleep during partial sleep deprivation. Sleep 17:1–10

Bonegio RG, Driver HS, King LM, Laburn HP, Shapiro CM (1988) Circadian temperature rhythm blunting and sleep composition. Acta Physiol Scand [Suppl] 574:44–47

Economic and Social Research Institute (2003) Monthly consumer confidence survey summary. Economic and Social Research Institute, Cabinet Office, Government of Japan. Online at http://wwwesricaogojp/en/stat/menuhtml#shohi-m

Fletcher A, van den Heuvel C, Dawson D (1999) Sleeping with an electric blanket: effects on core temperature, sleep, and melatonin in young adults. Sleep 22:313–318

Gilbert SS, Burgess HJ, Kennaway DJ, Dawson D (2000) Attenuation of sleep propensity, core hypothermia, and peripheral heat loss after temazepam tolerance. Am J Physiol Integr Comp Physiol 279:R1980–R1987

Ha M, Tokura H, Yamashita Y (1995) Effects of two kinds of clothing made from hydrophobic and hydropholic fabrics on local sweating rates at an ambient temperature of 37°C. Ergonomics 38:1445–1455

Haskell EH, Palca JW, Walker JM, Berger RJ, Heller HC (1981) The effects of high and low ambient temperatures on human sleep stages. Electroencephalogr Clin Neurophysiol 51:494–501

Horne JA, Ostberg O (1976) A self-assessment questionnaire to determine morningness-eveningness in human circadian rhythms. Int J Chronobiol 4:97–110

How CK, Chern CH, Wang LM, Lee CH (2000) Heat stroke in a subtropical country. Am J Emerg Med 18:474–477

Iwase S, Cui J, Wallin BG, Kamiya A, Mano T (2002) Effects of increased ambient temperature on skin sympathetic nerve activity and core temperature in humans. Neurosci Lett 327:37–40

Jennings JR, Reynolds CF, Bryant DS, Berman SR, Buysse DJ, Dahl RE, Hoch CC, Monk TH (1993) Peripheral thermal responsivity to facial cooling during sleep. Psychophysiology 30:374–382

Karacan I, Thornby JI, Anch AM, Williams RL, Perkins HM (1978) Effects of high ambient temperature on sleep in young men. Aviat Space Environ Med 49:855–860

Kräuchi K, Wirz-Justice A (1994) Circadian rhythm of heat production, heart rate, and skin and core temperature under unmasking conditions in men. Am J Physiol 267:R819–R829

Lack L, Gradisar M (2002) Acute finger temperature changes preceding sleep onsets over a 45-h period. J Sleep Res 11:275–282

Libert JP, Di Nisi J, Fukuda H, Muzet A, Ehrhart J, Amoros C (1988) Effect of continuous heat exposure on sleep stages in humans. Sleep 11:195–209

McGeehin MA, Mirabelli M (2001) The potential impacts of climate variability and change on temperature-related morbidity and mortality in the United States. Environ Health Perspect 109 [Suppl 2]:185–189

Miyazawa M (1999) Air conditioning. In: Torii (ed) Sleep environment. Asakura Shoten, Tokyo, pp 157–163

Nakai S, Itoh T, Morimoto T (1999) Deaths from heat-stroke in Japan: 1968–1994. Int J Biometeorol 43:124–127

Obal F (1984) Thermoregulation and sleep. Exp Brain Res S8:156–172

Okamoto-Mizuno K, Mizuno K, Michie S, Maeda A, Iizuka S (1999) Effects of humid heat exposure on human sleep stages and body temperature. Sleep 22:767–773

Parmeggiani PL (1987) Interaction between sleep and thermoregulation: An aspect of the control of behavioral states. Sleep 10:426–435

Pierzga JM, Frymoyer A, Kenney WL (2003) Delayed distribution of active vasodilation and altered vascular conductance in aged skin. J Appl Physiol 94:1045–1053

Ramanathan NL (1964) A new weighting system for mean surface temperature of the human body. J Appl Physiol 19:531–533

Rechtschaffen A, Kales A (1968) A manual of standardised terminology, technique and scoring system for sleep stages of human subjects. Public Health Service, U.S. Government Printing Office, Washington, D.C.

Sakaguchi S, Glotzbach SF, Heller HC (1979) Influence of hypothalamic and ambient temperatures on sleep in kangaroo rats. Am J Physiol 237:R80–R88

Sassa N, Isoda N (2003) Study on the consciousness of energy-saving and life style - A case for the detached house of the newly-developed residential area in teh suburbs of Nara city. J Home Econ Jpn 54:935–943

Sugenoya J, Iwase S, Mano T, Sugiyama Y, Ogawa T, Nishiyama T, Nishimura N, Kimura T (1998) Vasodilator component in sympathetic nerve activity destined for the skin of the dorsal foot of mildly heated humans. J Physiol 507:603–610

Tanaka K, Hirata K, Kamata Y (2001) Heat of sorption induced by sweating affects thermoregulatory responses during heat load. Eur J Appl Physiol 84:69–77

Teramoto Y, Tokura H, Ioki I, Suho S, Inoshiri R, Masuda M (1998) The effects of room temperature on rectal temperature during night sleep. J Therm Biol 23:15–21

Tsuzuki K, Yokoyama K, Yokoi T, Ogi H, Taya H, Yoshioka M, Nakamura K (2001) Thermal environments and indoor air quality in the elderly houses in a rural area. Jpn J Biometeor 38:23–32

Van Someren EJ (2000) More than a marker: interaction between the circadian regulation of temperature and sleep, age-related changes, and treatment possibilities. Chronobiol Int 17:313–354
Acknowledgement
This study was performed with Special Coordination Funds of the Ministry of Education, Culture, Sports, Science and Technology, the Japanese Government
About this article
Cite this article
Okamoto-Mizuno, K., Tsuzuki, K. & Mizuno, K. Effects of humid heat exposure in later sleep segments on sleep stages and body temperature in humans. Int J Biometeorol 49, 232–237 (2005). https://doi.org/10.1007/s00484-004-0237-z
Received:

Revised:

Accepted:

Published:

Issue Date:
Key words
Humidity

Ambient temperature

Sleep stages

Body temperature