Abstract
The purpose of this study was to examine the effects of mild heat exposure on sleep stages and body temperature in older men. Ten healthy male volunteers with a mean age of 69.2 ± 1.35 years served as subjects. The experiments were carried out under two different sets of conditions: 26 °C 50% relative humidity (RH) and 32 °C 50% RH. The subjects slept from 2200 hours to 0600 hours with a cotton blanket and wearing short-sleeve pajamas and shorts on a bed covered by a sheet. Electroencephalogram, electro-occulogram and mental electromyogram recordings were made through the night. Rectal and skin temperatures were measured continuously. No significant differences were observed in sleep onset latency. In time spent in each sleep stage, wakefulness was significantly increased at 32 °C than at 26 °C. The total amount of wakefulness increased and rapid eye movement sleep (REM) decreased at 32 °C compared to 26 °C. The fall in rectal temperature was significantly suppressed and the mean skin temperature was significantly higher at 32 °C than at 26 °C. These results suggest that, for older men, even mild heat exposure during the nighttime sleep period may increase thermal load, suppress the decrease of rectal temperature, decrease REM, and increase wakefulness and whole-body sweat loss.
Access options
Buy single article
Instant access to the full article PDF.
USD 39.95
Price excludes VAT (USA)
Tax calculation will be finalised during checkout.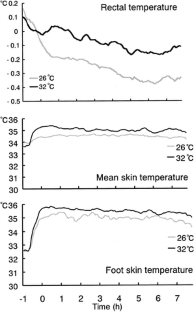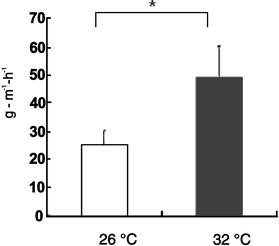 References
Armstrong CG, Kenney WL (1993) Effects of age and acclimation on responses to passive heat exposure. J Appl Physiol 5:2162–2167

Bach V, Maingourd Y, Libert JP, Oudart H, Muzet A, Lenzi P, Johnson, LC (1994) Effect of continuous heat exposure on sleep during partial sleep deprivation. Sleep 17:1–10

Bowersox SS, Dement WC, Glotzbach F (1988) The influence of ambient temperature on sleep characteristics in the aged cat. Brain Res 457:200–203

Burgess HJ, Holmes AL, Dawson D (2001) The relationship between slow-wave activity, body temperature, and cardiac activity during nighttime sleep. Sleep 24:343–349

Buysse DJ, Monk TH, Reynolds CF 3rd, Mesiano D, Houck, PR, Kupfer DJ (1993) Patterns of sleep episodes in young and elderly adults during a 36-hour constant routine. Sleep 16:632–637

Czeisler CA, Dumont M, Duffy JF, Steinberg JD, Richardson GS, Brown EN, Sanchez R, Rios CD, Ronda JM (1992) Association of sleep–wake habits in older people with changes in output of circadian pacemaker. Lancet 340:933–936

Dawson D, Rogers NL, Den Heuvel CJ van, Kennaway DJ, Lushington K (1998) Effect of sustained nocturnal transbuccal melatonin administration on sleep and temperature in elderly insomniacs. J Biol Rhythms 13:532–538

Dew MA, Hoch CC, Buysse DJ, Monk TH, Begley AE, Houck PR, Hall M, Kupfer DJ Reynolds CF 3rd (2003) Healthy older adults' sleep predicts all-cause mortality at 4 to 19 years of follow-up. Psychosom Med 65:63–73

Dijk DJ, Duffy JF, Riel E, Shanahan TL, Czeisler CA (1999) Ageing and the circadian and homeostatic regulation of human sleep during forced desynchrony of rest, melatonin and temperature rhythms. J Physiol 15:611–627

Dijk DJ, Duffy JF, Czeisler CA (2000) Contribution of circadian physiology and sleep homeostasis to age-related changes in human sleep. Chronobiol Int 17:285–311

Dinenno FA, Jones PP, Seals, DR, Tanaka H (1999) Limb blood flow and vascular conductance are reduced with age in healthy humans: relation to elevations in sympathetic nerve activity and declines in oxygen demand. Circulation 100:164–170

Dinenno FA, Seals DR, DeSouza CA Tanaka H (2001) Age-related decreases in basal limb blood flow in humans: time course, determinants and habitual exercise effects. J Physiol 531:573–9

Dorsey CM, Lukas SE, Teicher MH (1996) Effects of passive body heating on the sleep of older female insomniacs. J Geriatr Psychiatry Neurol 9:83–90

Drinkwater BL, Horvath SM (1979) Heat tolerance and aging. Med Sci Sports 11:49–55

Glotzbach SF, Heller HC (1999) Temperature regulation. In: Kryger MH, Roth T, Dement WC (eds) Principles and practice of sleep medicine. Saunders New York pp 289–304

Hardy JD, DuBois EF (1938) The technique of measuring radiation and convection. J Nutr 15:461–475

Haskell E, Palca JW, Walker JM, Berger RJ, Heller HC (1981) The effects of high and low ambient temperatures on human sleep stages. Electro Clin Neurophysiol 51:494–501

Havenith G, Inoue Y, Luttikholt V, Kenney WL (1995) Age predicts cardiovascular, but not thermoregulatory, responses to humid heat stress. Eur J Appl Physiol Occup Physiol 70:88–96

Hellon RF, Lind AR (1958) Observation on the activity of sweat glands with special reference to the influence of ageing. J Physiol 133:132–144

Horne JA, Ostberg OA (1976) Self-assessment questionnaire to determine morningness-eveningness in human circadian rhythms. Int J Chronobiol 4:97–110

Inoue Y (1996) Longitudinal effects of age on heat-activated sweat gland density and output in healthy active older men. Eur J Appl Physiol Occup Physiol 74:72–77

Inoue Y, Nakao M, Araki T, Murakami H (1991) Regional differences in the sweating responses of older and younger men. J Appl Physiol 71:2453–2459

Japan Meteorological Agency (2004) Weather information http://www.jma.go.jp/JMA_HP/jma/indexe.html

Karacan I, Thornby JI, Anch AM, Williams, RL, Perkins HM (1978) Effects of high ambient temperature on sleep in young men. Aviat Space Environ Med 49:855–860

Kenney WL (1988) Control of heat-induced cutaneous vasodilatation in relation to age. Eur J Appl Physiol Occup Physiol 57:120–125

Kenney WL (2001) Increased cutaneous vasodilation in aged skin: mechanisms, consequences and interventions. J Therm Biol 26:263–271

Kenney WL, Chiu P (2001) Influence of age on thirst and fluid intake. Med Sci Sports Exerc 33:1524–1532

Libert JP, Candas V, Muzet A, Ehrhart J (1982) Thermoregulatory adjustments to thermal transients during slow wave sleep and REM sleep in man. J Physiol (Paris) 78:251–257

Lushington K, Dawson D, Lack L (2000) Core body temperature is elevated during constant wakefulness in elderly poor sleepers. Sleep 23:504–510

Manabe K, Matsui T, Yamaya M, Sato-Nakagawa T, Okamura N, Arai H, Sasaki H (2000) Sleep patterns and mortality among elderly patients in a geriatric hospital. Gerontology 46:318–322

Miescher E, Fortney SM (1989) Responses to dehydration and rehydration during heat exposure in young and older men. Am J Physiol 257:R1050–1056

Monk TH, Reynolds CF 3rd, Buysse DJ, Hoch CC, Jarrett DB, Jennings JR, Kupfer DJ (1991) Circadian characteristics of healthy 80-year-olds and their relationship to objectively recorded sleep. J Gerontol 46:M171–175

Ohnaka T, Tochihara Y, Tsuzuki K, Nagai Y, Tokuda T, Kawashima Y (1993) Preferred temperature of the elderly after cold and heat exposures determined by individual self-selection of air temperature. J Thermal Biol 18:349–353

Okamoto-Mizuno K, Mizuno K, Michie S, Maeda A, Iizuka S (1999) Effects of humid heat exposure on human sleep stages and body temperature. Sleep 22:767–773

Parmeggiani PL (1987) Interaction between sleep and thermoregulation: an aspect of the control of behavioral states. Sleep 10:426–435

Rechtshaffen A, Kales A (1968) A manual of standardized terminology. Technique and scoring system for sleep stages of human subjects. Public Health Service, Government Printing Office, USA

Sagawa S, Shiraki K, Mohamed K, Miki K (1988) Sweating and cardiovascular responses of aged men to heat exposure. J Gerontol 43:M1–8

Sagot JC, Amoros C, Candas V, Libert JP (1987) Sweating responses and body temperatures during nocturnal sleep in humans. Am J Physiol 252:R462–R470

Sakaguchi S, Glotzbach SF, Heller HC (1979) Influence of hypothalamic and ambient temperatures on sleep in Kangaroo rats. Am J Physiol 237:80–88

Yousef MK, Dill DB, Vitez TS, Hillyard SD, Goldman AS (1984) Thermoregulatory responses to desert heat: age, race and sex. J Gerontol 39:406–414

Zepelin H, McDonald CS, Zammit GK (1984) Effects of age on auditory awakening thresholds. J Gerontol 39:294–300
Acknowledgements
This study was performed through Special Coordination Funds of the Ministry of Education, Culture, Sports, Science and Technology, the Japanese Government.
About this article
Cite this article
Okamoto-Mizuno, K., Tsuzuki, K. & Mizuno, K. Effects of mild heat exposure on sleep stages and body temperature in older men. Int J Biometeorol 49, 32–36 (2004). https://doi.org/10.1007/s00484-004-0209-3
Received:

Revised:

Accepted:

Published:

Issue Date:

DOI: https://doi.org/10.1007/s00484-004-0209-3
Keywords
Older men

Heat

Sleep

Body temperature