Zusammenfassung
Hintergrund
Ärztinnen und Ärzte, die Cannabisarzneimittel zulasten der gesetzlichen Krankenversicherung verschreiben, müssen an einer Begleiterhebung teilnehmen. Schmerz war die bisher am häufigsten in der Begleiterhebung übermittelte Diagnose, sodass eine Zwischenauswertung für die Indikation Schmerz möglich war.
Methoden
Patientenbezogene Daten wurden über ein Online-Portal an das Bundesinstitut für Arzneimittel und Medizinprodukte übermittelt. Neben demografischen Daten wurden Informationen zur behandelten Erkrankung bzw. Symptomatik, zu Therapieverlauf, Nebenwirkungen und Therapieerfolg ausgewertet.
Ergebnisse
Insgesamt wurden 3138 Datensätze zur Hauptdiagnose Schmerz ausgewertet. Dronabinol war das am häufigsten (64 %) verordnete Cannabisarzneimittel. Im Mittel waren die Patienten 57 Jahre alt, Frauen und Männer gleich häufig vertreten. Deutlich jünger (48 Jahre) waren Patienten, die mit Cannabisblüten behandelt wurden. Der Männeranteil in dieser Gruppe lag bei 68 %, in der Gruppe der 18- bis 40-Jährigen bei 83 %. Nach Einschätzung der behandelnden Ärzte wurden bei 35,5 % der Patienten die Schmerzen deutlich gebessert. Die häufigsten Nebenwirkungen (Müdigkeit, Schwindel, Übelkeit) entsprachen denen, die bereits aus den Fachinformationen der arzneimittelrechtlich zugelassenen Cannabisarzneimittel bekannt waren. Bei 1179 Patienten wurde die Therapie vor Ablauf eines Jahres beendet.
Diskussion
Ärzte sollten ihrer gesetzlichen Verpflichtung zur Teilnahme an der Begleiterhebung nachkommen. Schmerz ist die mit Abstand häufigste Diagnose, bei der Cannabisarzneimittel zur Anwendung kamen. Für etwa ein Drittel der Patienten gaben die Behandler eine deutliche Besserung der Schmerzsymptomatik an. Aufgrund der bisherigen Datenmenge sowie der Begrenzungen in der Begleiterhebung sollten die Ergebnisse bezüglich Wirksamkeit nicht überinterpretiert und immer in Beziehung zu vorliegenden Reviews gestellt werden. Auffällig waren das geringere Alter und der höhere Männeranteil bei Patienten, die mit Cannabisblüten behandelt wurden. Die Abbruchquote war insgesamt mit 37,6 % hoch. Die häufigsten Nebenwirkungen betrafen die Vigilanz und sind somit bezüglich Fahrtauglichkeit, Arbeitsfähigkeit und Sturzgefahr von hoher Relevanz. Für eine differenzierte Bewertung des Therapieerfolgs müssen mehr Daten vorliegen.
Abstract
Background
In Germany, physicians who prescribe cannabis-based medicines at the expense of the statutory health insurance are obliged to take part in an accompanying survey. Pain was the most commonly reported diagnosis, making an interim evaluation for the indication of pain feasible.
Methods
Patient-related data was transmitted to the German Federal Institute for Drugs and Medical Devices via an online portal. In addition to demographic data, information on the treated disease or symptoms, the course of therapy, adverse reactions and treatment success were evaluated.
Results
A total of 3138 data sets were evaluated for the main diagnosis of pain. Dronabinol was the most frequently (64%) prescribed cannabis-based drug. On average, patients were 57 years old and women and men were equally represented. Patients treated with cannabis flowers were significantly younger (48 years). The proportion of men in this group was 68% and 83% in the group of 18- to 40-year-olds. According to the assessment by treating physicians, pain was significantly improved in 35.5% of the patients. The most frequent side effects (fatigue, dizziness, nausea) corresponded to those already known from the product information of the cannabis-based medicinal products authorized under the pharmaceutical law. Treatment was discontinued in 1179 patients within 1 year.
Conclusion
Physicians should comply with their legal obligation to participate in the accompanying survey. Pain is by far the most common diagnosis in cannabis drugs. For about one third of these patients, physicians reported a clear improvement in pain. Due to the amount of data hitherto and the limitations in the accompanying survey, the results should not be overinterpreted in terms of efficacy and should always be related to existing reviews. The lower age and higher proportion of men among patients treated with cannabis flowers were remarkable. At 37.6%, the overall drop-out rate was high. The most frequent side effects related to vigilance and are therefore highly relevant in terms of driving ability, work ability and risk of falling. For a differentiated evaluation of treatment success, more data needs to be available.
Access options
Buy single article
Instant access to the full article PDF.
US$ 39.95
Tax calculation will be finalised during checkout.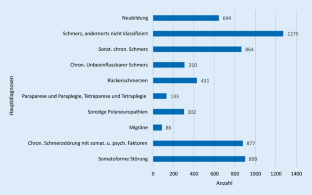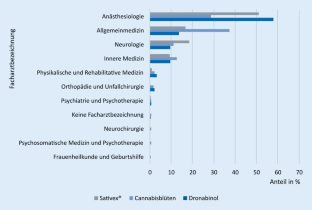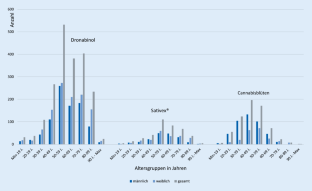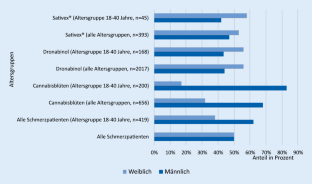 Literatur
1.

Boehnke KF, Gangopadhyay S, Clauw DJ, Haffajee RL (2019) Qualifying conditions of medical cannabis license holders in the United States. Health Aff (Millwood) 38(2):295–302. https://doi.org/10.1377/hlthaff.2018.05266

2.

Bundestag-Drucksache 18/8953 vom 28. Juni 2016

3.

Campbell G, Hall WD, Peacock A et al (2018) Effect of cannabis use in people with chronic non-cancer pain prescribed opioids: Findings from a 4‑year prospective cohort study. Lancet Public Health 3:e341–e350

4.

Canemes® (2016) Canemes® Fachinformation. https://portal.dimdi.de/amispb/doc/2016/09/20/2190890/O10b9242514ba4227b3cfdf75a446d23c.pdf. Zugegriffen: 12. Febr. 2019

5.

Gesetz zur Änderung betäubungsmittelrechtlicher und anderer Vorschriften vom 06. März 2017, BGBl I, S. 403

6.

Glaeske G, Sauer K (2018) Cannabis-Report. Ein Statusreport zur medizinischen Verordnung von Cannabis. https://www.tk.de/centaurus/servlet/contentblob/982396/Datei/88085/TK-Studienband-Cannabis-Report-2018.pdf. Zugegriffen: 12. Dez. 2018

7.

Häuser W, Fitzcharles MA, Radbruch L, Petzke F (2017) Cannabinoids in pain management and palliative medicine—An overview of systematic reviews and prospective observational studies. Dtsch Arztebl Int 114:627–634

8.

Hauser W, Finn DP, Kalso E et al (2018) European Pain Federation (EFIC) position paper on appropriate use of cannabis-based medicines and medical cannabis for chronic pain management. Eur J Pain 22(9):1547–1564

9.

Hazekamp A, Heerdink ER (2013) The prevalence and incidence of medicinal cannabis on prescription in The Netherlands. Eur J Clin Pharmacol 69:1575–1580

10.

Hoch E, Friemel CM, Schneider M (Hrsg) (2019) Cannabis: Potenzial und Risiko: Eine wissenschaftliche Bestandsaufnahme. Springer, Berlin, Heidelberg

11.

Horlemann J, Schürmann N, Horlemann C (2018) DGS-Praxisleitlinie Cannabis in der Schmerztherapie. https://dgs-praxisleitlinien.de/index.php/leitlinien/cannabis. Zugegriffen: 8. Apr. 2019

12.

Johnson JR, Burnell-Nugent M, Lossignol D et al (2010) Multicenter, double-blind, randomized, placebo-controlled, parallel-group study of the efficacy, safety, and tolerability of THC: CBD extract and THC extract in patients with intractable cancer-related pain. J Pain Symptom Manage 39:167–179

13.

Kraft B, Frickey NA, Rainer M et al (2008) Lack of analgesia by oral standardized cannabis extract on acute inflammatory pain and hyperalgesia in volunteers. Anesthesiology 109:101–110

14.

Lucas P, Baron EP, Jikomes N (2019) Medical cannabis patterns of use and substitution for opioids & other pharmaceutical drugs, alcohol, tobacco, and illicit substances; results from a cross-sectional survey of authorized patients. Harm Reduct J 16:9–11

15.

Marinol® (2017) Prescribing Information (U.S.). https://www.accessdata.fda.gov/drugsatfda_docs/label/2017/018651s029lbl.pdf. Zugegriffen: 12. Febr. 2019

16.

Marschall U, L'hoest H, Hennig B (2018) Heilsbringer Cannabis – wirklich ein Segen für die Schmerzmedizin? In: Repschläger U, Schulte C, Osterkamp N (Hrsg) Beiträge und Analysen BARMER Gesundheitswesen aktuell 2018, S 218–271

17.

Mücke M, Phillips T, Radbruch L, Petzke F, Hauser W (2018) Cannabis-based medicines for chronic neuropathic pain in adults. Cochrane Database Syst Rev 3:CD12182

18.

National Academies of Sciences, Engineering, and Medicine (2017) The health effects of cannabis and cannabinoids: The current state of evidence and recommendations for research. National Academies Press, Washington, DC

19.

Pinsger M, Schimetta W, Volc D et al (2006) Benefits of an add-on treatment with the synthetic cannabinomimetic nabilone on patients with chronic pain—A randomized controlled trial. Wien Klin Wochenschr 118(11–12):327–335

20.

Portenoy RK, Ganae-Motan ED, Allende S et al (2012) Nabiximols for opioid-treated cancer patients with poorly-controlled chronic pain: A randomized, placebo-controlled, graded-dose trial. J Pain 13(5):438–449

21.

Sativex® (2015) Fachinformation: Sativex® Spray zur Anwendung in der Mundhöhle. https://www.gelbe-liste.de/produkte/Sativex-Spray-zur-Anwendung-in-der-Mundhoehle_534377/fachinformation. Zugegriffen: 12. Febr. 2019

22.

Schmelz M, Häuser W, Hoch E et al (2019) Cannabisbasierte Arzneimittel. Schmerz 33:97. https://doi.org/10.1007/s00482-018-0349-8

23.

Sharon H, Goldway N, Goor-Aryeh I, Eisenberg E, Brill S (2018) Personal experience and attitudes of pain medicine specialists in Israel regarding the medical use of cannabis for chronic pain. J Pain Res 11:1411–1419

24.

Stockings E, Campbell G, Hall WD et al (2018) Cannabis and cannabinoids for the treatment of people with chronic noncancer pain conditions: A systematic review and meta-analysis of controlled and observational studies. Pain 159(10):1932–1954. https://doi.org/10.1097/j.pain.0000000000001293

25.

Verordnung über die Begleiterhebung nach § 31 Absatz 6 des Fünften Buches Sozialgesetzbuch (Cannabis-Begleiterhebungs-Verordnung – CanBV) vom 23. März 2017 (BGBl I S. 520)
Ethics declarations
Interessenkonflikt
P. Cremer-Schaeffer, G. Schmidt-Wolf und K. Broich geben an, dass kein Interessenkonflikt besteht.
Für diesen Beitrag wurden von den Autoren keine Studien an Menschen oder Tieren durchgeführt. Für die aufgeführten Studien gelten die jeweils dort angegebenen ethischen Richtlinien.
About this article
Cite this article
Cremer-Schaeffer, P., Schmidt-Wolf, G. & Broich, K. Cannabisarzneimittel in der Schmerztherapie. Schmerz 33, 415–423 (2019). https://doi.org/10.1007/s00482-019-00399-z
Schlüsselwörter
Begleiterhebung

Zwischenauswertung

Schmerzsymptomatik

Nebenwirkungen

Dronabinol
Keywords
Accompanying survey

Preliminary results

Pain symptoms

Adverse reactions

Dronabinol