Zusammenfassung
In der Erklärung der Genese von chronischen Schmerzen herrscht ein multidimensionales Schmerzmodell vor, das Funktions- und Regulationsstörungen auf biologische, psychische und soziale Aspekte zurückführt. Auf der biologischen Ebene spielen dabei neuronale, muskuloskeletale und (psycho-)biologische Prozesse eine Rolle, die durch körperliches Training oder psychosoziale Faktoren wie Stress beeinflusst werden. Diese Faktoren können mangelhafte Adaptationsmechanismen nach sich ziehen und somit zu negativen Langzeitveränderungen im peripheren und zentralen Nervensystem führen, was wiederum Chronifizierungsprozesse begünstigt. Ziel dieses Schwerpunktbeitrags ist es, einige Hypothesen zur Entstehung chronischer Schmerzen und deren Therapie zu diskutieren. Auf Basis ausgewählter Forschungsergebnisse werden durch Stress und körperliche Aktivität ausgelöste Adaptationsprozesse vorgestellt und in ihrer komplexen positiven wie negativen Wirkung auf die Entstehung und Therapie chronischer Schmerzen erörtert. Der Beitrag soll zur Diskussion über die die optimale Dosis-Wirkungs-Beziehung und Therapiekombination einzelner therapeutischer Konzepte anregen.
Abstract
The genesis of chronic pain is predominantly explained by a multidimensional pain model approach that is based on the dysfunctional influence of biological, psychological and social variables as key risk factors inducing aberrant long-term changes. Biological facets comprise adaptation processes on the neuronal, musculoskeletal and (psycho) biological level that can be influenced by physical training or psychosocial factors, such as stress. These factors can play a causative role in developing dysfunctional adaptation mechanisms, which in turn prepare the biological ground to facilitate negative long-term changes in the peripheral and central nervous systems. Hence, these processes can be assumed to be fundamentally involved in the transition from acute to chronic and persistent pain. The aim of this review article is to discuss hypotheses for the genesis of chronic pain and possible treatment strategies. Selected research results about maladaptive processes in chronic pain due to psychological stress and physical activity are presented in order to inspire discussions about the ideal dose-response relationship of physical activity and the combination of different therapeutic concepts.
Access options
Buy single article
Instant access to the full article PDF.
US$ 39.95
Tax calculation will be finalised during checkout.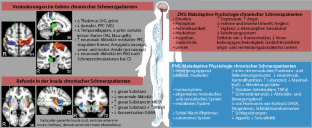 Literatur
1.

Schmidt CO, Fahland RA, Kohlmann T (2011) Epidemiologie und gesundheitsökonomische Aspekte des chronischen Schmerzes. In: Kröner-Herwig B, Frettlöh J, Klinger R, Nilges P (Hrsg) Schmerzpsychotherapie, 7. Aufl. Springer, Berlin, S 15–28

2.

Krankheitskosten in Mio. € für Deutschland. Ad-hoc-Tabelle [http://www.gbe-bund.de/]

3.

Standaert CJ, Weinstein SM, Rumpeltes J (2008) Evidence-informed management of chronic low back pain with lumbar stabilization exercises. Spine J 8(1):114–120

4.

Smallwood RF, Laird AR, Ramage AE, Parkinson AL, Lewis J, Clauw DJ, Williams DA, Schmidt-Wilcke T, Farrell MJ, Eickhoff SB et al (2013) Structural brain anomalies and chronic pain: A quantitative meta-analysis of gray matter volume. J Pain 14(7):663–675

5.

May A (2011) Experience-dependent structural plasticity in the adult human brain. Trends Cogn Sci (Regul Ed) 15(10):475–482

6.

Schmidt-Wilcke T, Leinisch E, Gänssbauer S, Draganski B, Bogdahn U, Altmeppen J, May A (2006) Affective components and intensity of pain correlate with structural differences in gray matter in chronic back pain patients. Pain 125(1):89–97

7.

Apkarian AV, Sosa Y, Sonty S, Levy RM, Harden RN, Parrish TB, Gitelman DR (2004) Chronic back pain is associated with decreased prefrontal and thalamic gray matter density. J Neurosci 24(46):10410–10415

8.

Kregel J, Meeus M, Malfliet A, Dolphens M, Danneels L, Nijs J, Cagnie B (2015) Structural and functional brain abnormalities in chronic low back pain: A systematic review. Semin Arthritis Rheum 45(2):229–237

9.

Baliki MN, Petre B, Torbey S, Herrmann KM, Huang L, Schnitzer TJ, Fields HL, Apkarian AV (2012) Corticostriatal functional connectivity predicts transition to chronic back pain. Nat Neurosci 15(8):1117–1119

10.

Franklin TR, Wetherill RR, Jagannathan K, Hager N, O'Brien CP, Childress AR (2014) Limitations of the use of the MP-RAGE to identify neural changes in the brain: Recent cigarette smoking alters gray matter indices in the striatum. Front Hum Neurosci 8(1):1052

11.

Baliki MN, Geha PY, Apkarian AV, Chialvo DR (2008) Beyond feeling: chronic pain hurts the brain, disrupting the default-mode network dynamics. J Neurosci 28(6):1398–1403

12.

Giesecke T, Gracely RH, Grant MA, Nachemson A, Petzke F, Williams DA, Clauw DJ (2004) Evidence of augmented central pain processing in idiopathic chronic low back pain. Arthritis Rheum 50(2):613–623

13.

Borghuis JA, Hof L, Lemmink KA (2008) The importance of sensory-motor control in providing core stability: Implications for measurement and training. Sports Med 38:893–916

14.

Radebold A, Cholewicki J, Panjabi MM, Patel TC (2000) Muscle response pattern to sudden trunk loading in healthy individuals and in patients with chronic low back pain. Spine 25(8):947–954 (Phila Pa 1976)

15.

Bayramoglu M, Akman MN, Klnç S, Çetin N, Yavuz N, Özker R (2001) Isokinetic measurement of trunk muscle strength in women with chronic low-back pain. Am J Phys Med Rehabil 80(9):650–655

16.

Hayden JA, van Tulder MW, Malmivaara A, Koes BW (2005) Exercise therapy for treatment of non-specific low back pain. Cochrane Database Syst Rev 1(3):CD000335

17.

Saragiotto BT, Maher CG, Yamato TP, Costa LO, Costa LC, Ostelo RW, Macedo LG (2016) Motor control exercise for chronic non-specific low back pain: cochrane review. Spine (Phila Pa 1976) doi:10.1097/brs.0000000000001645

18.

Chou R, Shekelle P (2010) Will this patient develop persistent disabling low back pain? JAMA 303(13):1295–1302

19.

Burciu RG, Fritsche N, Granert O, Schmitz L, Spönemann N, Konczak J, Theyson N, Gerwig M, van Eimeren T, Timmann D (2013) Brain changes associated with postural training in patients with cerebellar degeneration: A voxel-based morphometry study. J Neurosci 33(10):4594–4604

20.

Vivar C, Potter MC, van Praag H (2013) All about running: Synaptic plasticity, growth factors and adult hippocampal neurogenesis. Curr Top Behav Neurosci 15(1):189–210

21.

Erickson KI, Gildengers AG, Butters MA (2013) Physical activity and brain plasticity in late adulthood. Dialogues Clin Neurosci 15(1):99–108

22.

Edwards RR (2005) Individual differences in endogenous pain modulation as a risk factor for chronic pain. Neurology 65(3):437–443

23.

Riedl V, Valet M, Wöller A, Sorg C, Vogel D, Sprenger T, Boecker H, Wohlschläger AM, Tölle T (2011) Repeated pain induces adaptations of intrinsic brain activity to reflect past and predict future pain. Neuroimage 57(1):206–213

24.

Ellingson LD, Koltyn KF, Kim JS, Cook DB (2014) Does exercise induce hypoalgesia through conditioned pain modulation? Psychophysiology 51(3):267–276

25.

Villemure C, Bushnell MC (2009) Mood influences supraspinal pain processing separately from attention. J Neurosci 29(3):705–715

26.

Buhle JT, Stevens BL, Friedman JJ, Wager TD (2012) Distraction and placebo two separate routes to pain control. Psychol Sci 23(3):246–253

27.

Wippert PM, de Witt HJ, Klipker K, Gantz S, Schiltenwolf M, Mayer F (2015) Beschreibung und empirische Fundierung des verhaltenstherapeutischen Moduls der MiSpEx-Intervention. Schmerz 29(6):658–663

28.

McEwen BS (2007) Physiology and neurobiology of stress and adaptation: central role of the brain. Physiol Rev 87(3):873–904

29.

McEwen BS, Kalia M (2010) The role of corticosteroids and stress in chronic pain conditions. Metabolism 59(1):9–15

30.

Erez HB, Weller A, Vaisman N, Kreitler S (2012) The relationship of depression, anxiety and stress with low bone mineral density in post-menopausal women. Arch Osteoporos 7(1–2):247–255

31.

Jiao K, Niu L, Xu X, Liu Y, Li X, Tay FR, Wang H (2015) Norepinephrine regulates condylar bone loss via comorbid factors. J Dent Res 94(6):813–820

32.

Generaal E, Vogelzangs N, Macfarlane GJ, Geenen R, Smit JH, Penninx BW, Dekker J (2014) Reduced hypothalamic-pituitary-adrenal axis activity in chronic multi-site musculoskeletal pain: Partly masked by depressive and anxiety disorders. BMC Musculoskelet Disord 15(1):227

33.

Van Houdenhove B, Luyten P (2005) Beyond dualism: The role of life stress in chronic pain. Pain 113(1–2):238–247

34.

Mastorakos G, Pavlatou M, Diamanti-Kandarakis E, Chrousos GP (2005) Exercise and the stress system. Hormones (Athens) 4((2):73–89

35.

Cook DB, Stegner AJ, Ellingson LD (2010) Exercise alters pain sensitivity in Gulf War veterans with chronic musculoskeletal pain. J Pain 11(8):764–772

36.

Veehof MM, Oskam MJ, Schreurs KM, Bohlmeijer ET (2011) Acceptance-based interventions for the treatment of chronic pain: A systematic review and meta-analysis. Pain 152(3):533–542

37.

Wiebking C, Duncan NW, Tiret B, Hayes DJ, Marjaǹska M, Doyon J, Bajbouj M, Northoff G (2014) GABA in the insula – a predictor of the neural response to interoceptive awareness. Neuroimage 86(1):10–18

38.

Villemure C, Čeko M, Cotton VA, Bushnell MC (2014) Insular cortex mediates increased pain tolerance in yoga practitioners. Cereb Cortex 24(10):2732–2740

39.

Schmidt-Wilcke T (2015) Neuroimaging of chronic pain. Best Pract Res Clin Rheumatol 29(1):29–41
Ethics declarations
Interessenkonflikt
P.-M. Wippert und C. Wiebking geben an, dass kein Interessenkonflikt besteht.
Dieser Beitrag beinhaltet keine von den Autoren durchgeführten Studien an Menschen oder Tieren.
About this article
Cite this article
Wippert, PM., Wiebking, C. Adaptation an körperliche Aktivität und psychischen Stress im Kontext von Schmerz. Schmerz 30, 429–436 (2016). https://doi.org/10.1007/s00482-016-0147-0
Schlüsselwörter
Chronischer Schmerz

Neuroplastizität

Schmerztherapie

Zentrales Nervensystem

Peripheres Nervensystem
Keywords
Chronic pain

Neuronal plasticity

Pain management

Central nervous system

Peripheral nervous system