Zusammenfassung
Unter den klinisch relevanten Schmerzen sind Schmerzen im muskuloskeletalen System am häufigsten. Dieser Beitrag stellt umfangreiche epidemiologische Daten über Schmerzen im muskuloskeletalen System in Deutschland und weltweit vor. Da Rückenschmerzen am häufigsten sind, wird exemplarisch besonders auf die Diagnostik und den Versorgungsalgorithmus des akuten, rezidivierenden und chronischen Kreuzschmerzes in Deutschland eingegangen. Die Bedeutung der physiologisch-organischen, der kognitiv-emotionalen, der Verhaltens- und der sozialen Ebene in Diagnostik und Therapie wird herausgestellt. Auch der Arthroseschmerz wird hinsichtlich seiner epidemiologischen, klinischen und gesundheitspolitischen Bedeutung thematisiert. Der Beitrag benennt einige Gründe, weshalb gerade das Bewegungssystem häufig der Ort chronischer Schmerzen ist. Nach Auffassung der Autoren sind sie in den komplexen Strukturen des Bewegungsapparats, in der besonderen Empfindlichkeit des tiefen somatischen nozizeptiven Systems für lang anhaltende Sensibilisierungsprozesse, den dadurch ausgelösten Reaktionen des Nervensystems und in den Interaktionen zwischen Nervensystem und Immunsystem zu suchen. Der Beitrag gibt einen Einblick in die Forschung zu dieser Thematik in Deutschland.
Abstract
Among the clinically relevant pain conditions, pain in the musculoskeletal system is most frequent. This article reports extensive epidemiological data on musculoskeletal system pain in Germany and worldwide. Since back pain is most frequent, the diagnostics and therapeutic algorithms of acute, recurring, and chronic lower back pain in Germany will be particularly addressed. The importance of the physiologic-organic, the cognitive-emotional, the behavioral, and the social level to diagnostics and treatment will be discussed. We will also focus on osteoarthritic pain and address its epidemiology, clinical importance, and significance for the health care system. This article will list some reasons why the musculoskeletal system in particular is frequently the site of chronic pain. The authors believe that these reasons are to be sought in the complex structures of the musculoskeletal system; in the particular sensitivity of the deep somatic nociceptive system for long-term sensitization processes, as well as the ensuing nervous system reactions; and in the interactions between the nervous and immune systems. The article will give some insights into the research carried out on this topic in Germany.
Access options
Buy single article
Instant access to the full article PDF.
US$ 39.95
Tax calculation will be finalised during checkout.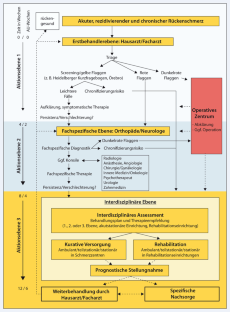 Literatur
1.

Airaksinen O, Brox JI, Cedraschi C et al (2006) Chapter 4. European guidelines for the management of chronic nonspecific low back pain. Eur Spine J 15(Suppl 2):S192–S300

2.

Arnold B, Brinkschmidt T, Casser HR et al (2009) Multimodale Schmerztherapie – Konzepte und Indikation. Schmerz 23:112–120

3.

Badley EM, Tennant A (1993) Impact of disablement due to rheumatic disorders in a British population: estimates of severity and prevalence from the Calderdale rheumatic disablement survey. Ann Rheum Dis 52:6–13

4.

Bertelsmann Experten Panel (2007) Website der Bertelsmann Stiftung, Gütersloh, (kostenloser Download). https://www.bertelsmann-stiftung.de. Zugegriffen: Juni 2007

5.

Beske F (2009) Auswirkungen der demographischen Entwicklung. Arzt Krankenh 10:302–306

6.

Böhni U, Lauper M, Locher H (2015) Manuelle Medizin 1. Fehlfunktionen und Schmerz am Bewegungsorgan verstehen und behandeln. Georg Thieme Verlag, Stuttgart

7.

Breivik H, Collet B, Ventafridda V et al (2006) Survey of chronic pain in Europe. Eur J Pain 10:287–333

8.

Brennan G, Fritz J, Hunter S et al (2006) Identifying subgroups of patients with acute/subacute "nonspecific" low back pain: Results of a randomized clinical trial. Spine 31:623–631

9.

Casser HR, Kaiser U (2013) Rückenschmerz. In: Baron R, Koppert W, Strumpf M, Willweber-Strumpf A (Hrsg) Praktische Schmerzmedizin, 3. Aufl. Springer, Berlin Heidelberg, S 313–337

10.

Casser HR, Arnold B, Gralow I et al (2013) Interdisziplinäres Assessment zur multimodalen Schmerztherapie. Indikation und Leistungsumfang. Schmerz 27:363–370

11.

Casser HR, Hüppe M, Kohlmann T et al (2012) Deutscher Schmerzfragebogen (DSF) und standardisierte Dokumentation mit KEDOQ-Schmerz. Schmerz 26:168–175

12.

Delitto A (2006) Patient outcomes and clinical performance: parallel paths or inextricable links? J Orthop Sports Phys Ther 36:548–549

13.

Deutsche Gesellschaft für Allgemeinmedizin und Familienmedizin (DEGAM) (2003) Kreuzschmerzen (DEGAM-Leitlinie Nr. 3). DEGAM, Düsseldorf. http://www.degam.de/leitlinien/3_kreuzschmerzen.html

14.

Deyo RA, Weinstein JN (2001) Low back pain. N Engl J Med 344:363–370

15.

Diener HC, Maier C (2003) Anamnese. In: Diener HC, Maier C (Hrsg) Das Schmerztherapiebuch, 2. Aufl. Urban & Schwarzenberg, München Wien Baltimore, S 13–17

16.

Engelhardt M (2003) Epidemiologie der Arthrose in Westeuropa. Dtsch Z Sportmed 54:171–175

17.

Fanuele JC, Birkmeyer NJ, Abdu WA et al (2000) The impact of spinal problems on the health status of patients: have we underestimated the affect? Spine 25:1509–1514

18.

Flor H, Turk DC (2013) Cognitive and learning aspects. In: McMahon SB, Tracey I, Koltzenburg M, Turk DC (Hrsg) Wall and Melzack´s Textbook of Pain, 6. Aufl. Elsevier Saunders, Philadelphia, S 256–272

19.

FPZ AG Köln (Hrsg) (2009) Integrierte Versorgung Rückenschmerz. Wissenschaftliche Dokumentation 2006–2008

20.

Guyatt GH, Oxman AD, Vist GE et al (2008) GRADE: an emerging consensus on rating quality of evidence and strength of recommendations. BMJ 336:924–926

21.

Hafenbrack K, Heinrich M, Müller G et al (2013) Effekte eines interdisziplinären Functional-restoration-Behandlungsprogramms mit kognitiv-behavioraler Therapie beim chronischen Rückenschmerz. Schmerz 27:566–576

22.

Häuser W, Schmutzer G, Henningsen P, Brähler E (2014) Chronische Schmerzen, Schmerzkrankheit und Zufriedenheit der Betroffenen mit der Schmerzbehandlung in Deutschland. Schmerz 28:483–492

23.

Hestbaek L, Leboeuf-Yde C, Manniche C (2003) Low back pain: what is the long-term course? A review of studies of general patient populations. Eur Spine J 12:149–165

24.

von Heymann W (2013) Differenzialdiagnostik und Therapie des akuten Kreuzschmerzes. Manuelle Med 51:77–88

25.

Jänig W (2006) The integrative action of the autonomic nervous system. Cambridge University Press, Cambridge

26.

Jensen LK (2008) Knee osteoarthritis: influence of work involving heavy lifting, kneeling, climbing stairs or ladders, or kneeling/squatting combined with heavy lifting. Occup Environ Med 65:72–89

27.

Koes BW, van Tulder MW, Thomas S (2006) Diagnosis and treatment of low back pain. BMJ 332:1430–1434

28.

von Korff M, Miglioretti DL (2005) A prognostic approach to defining chronic pain. Pain 17:304–313

29.

Marnitz U, Weh L, Müller G et al (2008) Multimodal integrated assessment and treatment of patients with back pain. Pain related results and ability to work. Schmerz 22:415–423

30.

Mense S (2005) Neurobiologie des unspezifischen Rückenschmerzes. In: Hildebrand J, Müller G, Pfingsten M (Hrsg) Lendenwirbelsäule. Ursache, Diagnostik und Therapie von Rückenschmerzen. Elsevier, Urban und Fischer, München

31.

Mense S (2013) Basic mechanisms of muscle pain. In: McMahon SB, Tracey I, Koltzenburg M, Turk DC (Hrsg) Wall and Melzack's Textbook of Pain, 6. Aufl. Elsevier Saunders, Philadelphia, S 620–628

32.

Merx H, Dreinhofer KE, Gunther KP (2007) Sozialmedizinische Bedeutung der Arthrose in Deutschland. Z Orthop Unfall 145:421–429

33.

Müller N, Doustdar S, Schiltenwolf M (2011) Schmerztherapie bei Arthritis und Arthrose. Angew Schmerzther Palliativmed 1:2–6

34.

Nagel B, Korb J (2009) Multimodale Therapie – nachhaltig wirksam und kosteneffektiv. Orthopäde 38:907–912

35.

Bundesärztekammer, Kassenärztliche Bundesvereinigung, Arbeitsgemeinschaft der Wissenschaftlichen Medizinischen Fachgesellschaften (2011). Nationale Versorgungsleitlinie Kreuzschmerz. Langfassung, Version 1.2. http://www.versorgungsleitlinien.de/themen/kreuzschmerz/pdf/nvl_kreuzschmerz_lang.pdf

36.

Nolte T, Mueller-Schwefe GH, Kletzko H et al (2010) IVR – A novel P4P treatment concept focusing on the back to work rate of patients suffering from subacute or chronic (low) back pain. IASP 13th World Congress on Pain (Abstract)

37.

Orth P, Madry H (2013) Konservative Therapie der Arthrose. Orthop Unfallchir up2date 8(2013):419–436

38.

Pengel LH, Herbert RD, Maher CG et al (2003) Acute low back pain: systematic review of its prognosis. BMJ 327:323

39.

Petzke F, Kohlmann T (2014) Die eine Zahl wird es nicht geben. Für eine differenzierende epidemiologische Erfassung chronischer Schmerzen. Schmerz 28:457–458

40.

Plass D, Vos T, Hornberg C et al (2014) Trends in disease burden in Germany – results, implications and limitations of the Global Burden of Disease Study. Dtsch Arztebl Int 111:629–638

41.

Pongratz G, Straub RH (2013) Role of peripheral nerve fibers in acute and chronic inflammation in arthritis. Nat Rev Rheumatol 9:117–126

42.

Rehart S, Lehnert H (2008) Aktuelle Aspekte zur Arthrose. Z Rheumatol 67:305–314

43.

Robert Koch-Institut (Hrsg) (2006) Gesundheit in Deutschland. Gesundheitsberichterstattung des Bundes. Robert Koch-Institut, Berlin

44.

Robert Koch-Institut (Hrsg) (2012) Daten und Fakten: Ergebnisse der Studie: "Gesundheit in Deutschland aktuell 2010". Beiträge zur Gesundheitsberichterstattung des Bundes. Robert Koch-Institut, Berlin

45.

Robert Koch-Institut (Hrsg) (2013) Gesundheitsberichterstattung des Bundes, Heft 54: Arthrose, Robert Koch-Institut, Berlin

46.

Roth-Isigkeit A, Raspe HH, Stoven H et al (2003) Schmerzen bei Kindern und Jugendlichen – Ergebnisse einer explorativen epidemiologischen Studie. Schmerz 17:171–178

47.

Schaible H-G (2013) Joint pain: basic mechanisms. In: McMahon SB, Tracey I, Koltzenburg M, Turk DC (Hrsg) Wall and Melzack´s Textbook of Pain, 6. Aufl. Elsevier Saunders, Philadelphia, S 609–619

48.

Schaible H-G (2014) Nociceptive neurons detect cytokines in arthritis. Arthritis Res Ther 16:470

49.

Sisignano M, Bennett DL, Geisslinger G et al (2014) TRP channels as key integrators of lipid pathways in nociceptive neurons. Prog Lipid Res 53:93–107

50.

Slaslett M, Aprill CN, McDonald B et al (2005) Diagnosis of sacroiliac joint pain: validity of individual provocation tests and composites of tests. Man Ther 10:207–218

51.

Stein C, Machelska H (2011) Modulation of peripheral sensory neurons by the immune system: implications for pain therapy. Pharmacol Rev 63:860–881

52.

Wenig CM, Schmidt CO, Kohlmann TH et al (2009) Costs of back pain in Gemany. Eur J Pain 13:280–286

53.

Wirtz DC (2009) Hüftrevisionsendoprothetik. Immer häufiger – immer wichtiger. Orthopade 38:665–666

54.

Yang X, Vezeridis PS, Nicholas B et al (2006) Differential expression of type X collagen in a mechanically active 3-D chondrocyte culture system: a quantitative study. J Orthop Surg 1:15
Ethics declarations
Interessenkonflikt
H.-R. Casser und H.-G. Schaible geben an, dass kein Interessenkonflikt besteht.
Dieser Beitrag beinhaltet keine Studien an Menschen oder Tieren.
About this article
Cite this article
Casser, HR., Schaible, HG. Muskuloskeletaler Schmerz. Schmerz 29, 486–495 (2015). https://doi.org/10.1007/s00482-015-0046-9
Schlüsselwörter
Kreuzschmerz

Arthrose

Bewegungsapparat

Immunsystem

Deutschland
Keywords
Lower back pain

Osteoarthritis

Musculoskeletal system

Immune system

Germany