Zusammenfassung
Hintergrund
Im Sinne des lebenslangen Lernens wird von allen in der Medizin tätigen Berufsgruppen eine kontinuierliche Weiterbildung erwartet. Dies nahmen die Autoren zum Anlass, den wichtigsten nationalen Kongress im Bereich der Schmerzmedizin aus medizindidaktischer Perspektive zu untersuchen.
Material und Methoden
Die Teilnehmer des 37. Deutschen Schmerzkongresses der Deutschen Schmerzgesellschaft (17.–20. Oktober 2012 in Mannheim) wurden mit einem 5-seitigen Fragebogen zu Kongressinhalten und Veranstaltungsformaten befragt. Um die Gewichtung der angebotenen Veranstaltungen bezüglich der unterschiedlichen ärztlichen Kompetenzen zu erfassen, wurde das Programm des Kongresses auf die im Rahmenmodell CanMEDS definierten Arztrollen hin untersucht.
Ergebnisse
Die Qualität der bisherigen Fortbildungsangebote des Deutschen Schmerzkongresses schätzten die Teilnehmer als gut ein. Die Posterausstellung wurde nach den Symposien als zweitwichtigste Lehrveranstaltung angesehen. Die Teilnehmer äußerten die meisten inhaltlichen Wünsche für zukünftige Kongresse mit Bezug auf die interprofessionellen Partner der Pflege sowie der Psychotherapie. Die Arztrollen des Managers, Kommunikators, Gesundheitsberaters und professionellen Vorbilds sind im untersuchten Kongressprogramm unterrepräsentiert.
Schlussfolgerungen
Das Kongressdesign könnte durch ein erweitertes Angebot an Praktikerseminaren didaktisch, inhaltlich und in Bezug auf die Zielgruppen aufgewertet werden. Inhaltlich wird von den Teilnehmern eine noch umfänglichere Berücksichtigung der interprofessionellen Partner gewünscht. Dies könnte zusammen mit einer ausgewogeneren Verteilung der einzelnen Arztrollen im Programm die Attraktivität der Veranstaltung zusätzlich steigern.
Abstract
Background
Professionals in the medical field are expected to participate in continuing medical education in the sense of lifelong learning. The authors took this occasion to evaluate the most important national convention in pain medicine concerning its role in medical education.
Material and methods
The participants of the 37th German Pain Congress (17–20 October 2012 in Mannheim) were asked to complete a questionnaire concerning content and design of the convention. The aim of this study was to analyze the distribution of different physician competencies in the program. For this purpose the congress program was analyzed with respect to the various medical role models as defined in the Canadian medical education directions for specialists (CanMEDS) framework.
Results
The participants considered the quality of the different sessions of the German Pain Congress to be good. The poster sessions were considered to be the second most important educational format in the congress following the live sessions. Concerning the content of the congress the participants wished more emphasis on the role of interprofessional partners, such as nursing and psychotherapy. The CanMEDS physician roles of manager, communicator, health advisor and professional paragon were underrepresented in the congress program in this study.
Conclusion
Regarding content and educational value, the congress design could benefit from additional Praktikerseminaren (practical seminars). The role of interprofessional partners should be more emphasized. In addition the program could become more attractive through a more balanced distribution of the CanMEDS roles.
This is a preview of subscription content, log in to check access.
Access options
Buy single article
Instant access to the full article PDF.
US$ 39.95
Tax calculation will be finalised during checkout.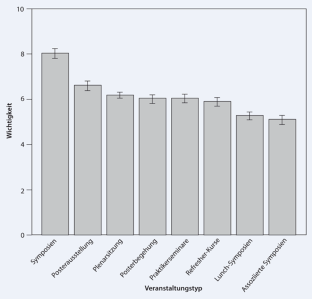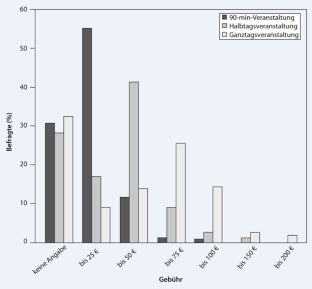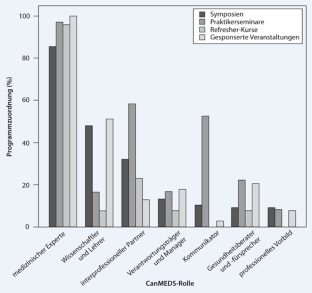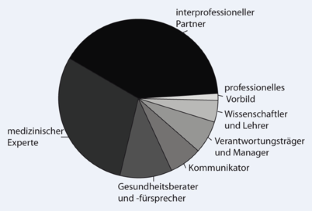 Literatur
1.

Shannon S (2003) Needs assessment for CME. Lancet 361:974

2.

Shannon S (2003) Educational objectives for CME programmes. Lancet 361:1308

3.

Davis DA, Thomson MA, Oxman AD, Haynes RB (1995) Changing physician performance. A systematic review of the effect of continuing medical education strategies. JAMA 274:700–705

4.

Grant J (2002) Learning needs assessment: assessing the need. BMJ 324:156–159

5.

Shannon S (2003) Evidence-based programme design for CME. Lancet 361:1752

6.

Mazmanian PE, Davis DA (2002) Continuing medical education and the physician as a learner: guide to the evidence. JAMA 288:1057–1060

7.

Smits PB, Verbeek JH, Buisonje CD de (2002) Problem based learning in continuing medical education: a review of controlled evaluation studies. BMJ 324:153–156

8.

Shannon S (2004) Facilitating learning groups in CME. Lancet 363:826

9.

Rourke J, Frank JR (2005) Implementing the CanMEDS physician roles in rural specialist education: the multi-specialty community training network. Educ Health (Abingdon) 18:368–378

10.

Adams S (2009) Use of evidence-based practice in school nursing: survey of school nurses at a national conference. J Sch Nurs 25:302–313

11.

Siebig S, Schacherer D, Scholmerich J, Klebl F (2009) Congress of the German Society of Internal Medicine 2009: evaluation of the poster exhibition. Med Klin (Munich) 104:689–693

12.

Porst R (2001) Wie man die Rücklaufquote bei postalischen Befragungen erhöht. ZUMA How-to-Reihe 9:1–12

13.

Fragemann K, Meyer N, Graf BM, Wiese CH (2012) Interprofessional education in pain management: development strategies for an interprofessional core curriculum for health professionals in German-speaking countries. Schmerz 26:369–374

14.

Irajpour A (2006) Interprofessional education: a facilitator to enhance pain management? J Interprof Care 20:675–678

15.

Pogatzki-Zahn EM, Englbrecht JS, Schug SA (2009) Acute pain management in patients with fibromyalgia and other diffuse chronic pain syndromes. Curr Opin Anaesthesiol 22:627–633

16.

International Association for the Study of Pain (IASP) Education Initiatives Working Group, 09/2010. http://www.iasp-pain.org

17.

McGaghie WC, Miller GE, Sajid AW, Telder TV (1978) Competency-based curriculum development on medical education: an introduction. Public Health Pap:11–91

18.

Ringsted C, Hansen TL, Davis D, Scherpbier A (2006) Are some of the challenging aspects of the CanMEDS roles valid outside Canada? Med Educ 40:807–815

19.

Rademakers JJ, Rooy N de, Ten Cate OT (2007) Senior medical students' appraisal of CanMEDS competencies. Med Educ 41:990–994

20.

Ten Cate O, Scheele F (2007) Competency-based postgraduate training: can we bridge the gap between theory and clinical practice? Acad Med 82:542–547

21.

Warren AE, Allen VM, Bergin F et al (2014) Understanding, teaching and assessing the elements of the CanMEDS Professional Role: Canadian program directors' views. Med Teach 36:390–402

22.

Cooper NA (2006) Training doctors in the new English NHS. Political correctness or evidence based education? BMJ 333:99

23.

Leung WC (2002) Competency based medical training: review. BMJ 325:693–696

24.

Kumagai AK (2014) From competencies to human interests: ways of knowing and understanding in medical education. Acad Med 89:978–983

25.

Lee N van der, Fokkema JP, Westerman M et al (2013) The CanMEDS framework: relevant but not quite the whole story. Med Teach 35:949–955
Danksagung
Bedanken möchten wir uns bei den Mitgliedern des Programmkomitees, insbesondere bei den Kollegen Dr. Paul Nilges, Dr. Charly Gaul und Dr. Tim Jürgens, für die wertvollen Anregungen zum Design des Fragebogens. Für die Unterstützung bei der Durchführung der Befragung möchten wir Herrn Thomas Isenberg, Geschäftsführer der Deutschen Schmerzgesellschaft, danken.
Einhaltung ethischer Richtlinien
Interessenkonflikt. M. Dusch, A.-K. Bräscher, A. Kopf, R.D. Treede und J. Benrath geben an, dass kein Interessenkonflikt besteht.
Dieser Beitrag beinhaltet keine Studien an Menschen oder Tieren.
Additional information
M. Dusch und A.-K. Bräscher haben zu gleichen Teilen zu diesem Manuskript beigetragen.
About this article
Cite this article
Dusch, M., Bräscher, AK., Kopf, A. et al. Deutscher Schmerzkongress 2012 aus medizindidaktischer Sicht. Schmerz 28, 520–527 (2014). https://doi.org/10.1007/s00482-014-1480-9
Schlüsselwörter
Kongresse

Evaluation

Interprofessionelle Zusammenarbeit

Fragebogen

Kontinuierliche Weiterbildung
Keywords
Congresses

Evaluation

Interprofessional relations

Questionnaire

Continuing medical education