Zusammenfassung
Burnout ist keine medizinische Diagnose, sondern eine Fehlentwicklung, die mit dem Risiko psychischer und somatischer Folgekrankheiten einhergeht. Sie lässt sich anhand des Erschöpfungsprozesses mit Stresssymptomen sowie der gesellschaftlich bedingten Stressoren und der antreibenden Stressverstärker erfassen. Im psychischen Stresszirkel zeigt sich Burnout als eine durch hohe Anforderungen angetriebene Beschleunigungsspirale. Das therapeutische Stressmanagement umfasst die Verbesserung von Lebensbalance, kognitiver Informationsverarbeitung und Funktionalität der Verhaltensmuster sowie die Entschleunigung des Stresszirkels. Burnout ist zudem eine Lebenssinnkrise, ausgelöst durch Einengung auf Leistung und Erfolg. Der anthropologische Therapieansatz zielt auf eine Erweiterung von Selbstverständnis und Lebensführung. Zum Therapieangebot bei Burnout gehören zudem Pharmakotherapie, Coaching und Betriebsberatung sowie die stationäre Behandlung.
Abstract
Burnout is not a medical diagnosis but a developmental aberration which is associated with the risk of subsequent mental and somatic diseases. It can be summarized under a fatigue process with stress symptoms, societal-linked stressors and a driving force stress intensifier. In the mental stress circle, burnout presents as an accelerated vicious spiral driven by high demands. Therapeutic stress management encompasses improvement in life balance, cognitive information processing and functionality of the behavioral pattern as well as deceleration of the stress spiral. Burnout is also a meaning of life crisis, triggered by the narrowing of performance and success. The anthropological therapeutic approach targets an enhancement of self-conception and lifestyle. Other available therapy approaches for burnout include pharmacotherapy, coaching, management consulting and inpatient treatment.
Access options
Buy single article
Instant access to the full article PDF.
US$ 39.95
Tax calculation will be finalised during checkout.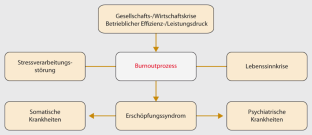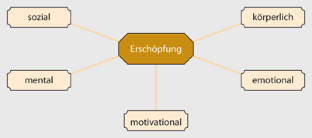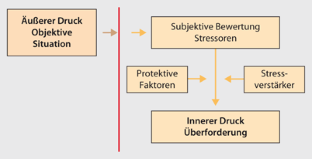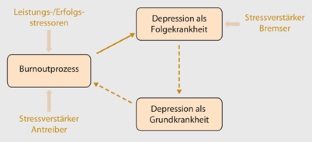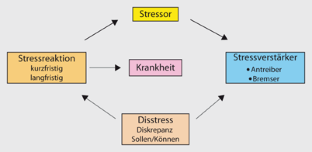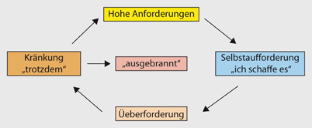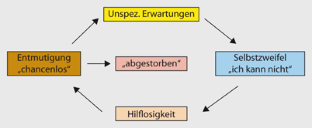 Literatur
1.

Deutsche Gesellschaft für Psychiatrie, Psychotherapie und Nervenheilkunde (DGPPN) (2012) Positionspapier der Deutschen Gesellschaft für Psychiatrie, Psychotherapie und Nervenheilkunde (DGPPN) zum Thema Burnout. http://www.dgppn.de

2.

Korczak D, Kister C, Huber B (2010) Differentialdiagnostik des Burnout-Syndroms. DIMDI, Köln

3.

Burisch M (2010) Das Burnout-Syndrom. Springer, Berlin, S 25

4.

Egloff N, Hirschi A, Känel R von (2012) Schmerzstörungen bei Traumatisierten – neurophysiologische Aspekte und klinische Phänomenologie. Praxis 101:87–97

5.

Brühlmann T (2010) Burnout und Depression – Überschneidung und Abgrenzung. Schweiz Med Forum 10:148–151

6.

Antonovsky A (1997) Salutogenese. Zur Entmystifizierung der Gesundheit. dgvt-Verlag, Tübingen

7.

Häfliger J (2012) Kurs Burnout. http://www.psychonline.ch

8.

Kabat-Zinn J (2007) Gesund durch Meditation, 2. Aufl. Fischer, Frankfurt/Main

9.

Beck A (1999) Kognitive Therapie der Depression. Beltz, Weinheim

10.

Seligmann M (2000) Erlernte Hilflosigkeit. Beltz, Weinheim

11.

Roediger E (2008) Praxis der Schematherapie. Schattauer, Stuttgart

12.

Grawe K (2004) Neuropsychotherapie. Hofgrefe, Göttingen

13.

Zaudig M, Götz B, Konermann J (2012) Persönlichkeit und Burnout – eine Übersicht. Persönlichkeitsstörungen, Heft 2, Schattauer, Stuttgart

14.

Brühlmann T (2011) Begegnung mit dem Fremden. Zur Psychotherapie, Philosophie und Spiritualität menschlichen Wachsens. Kohlhammer, Stuttgart

15.

Noyon A, Heidenreich T (2012) Existentielle Perspektiven in Psychotherapie und Beratung. Beltz, Weinheim

16.

Yalom I (2000) Existentielle Psychotherapie. Edition Humanistische Psychologie, Köln

17.

Kernen H, Meier G (2008) Achtung Burnout! Leistungsfähig und gesund durch Ressourcenmanagement. Haupt, Bern
Interessenkonflikt
Der korrespondierende Autor gibt an, dass kein Interessenkonflikt besteht.
About this article
Cite this article
Brühlmann, T. Burnout. Schmerz 27, 521–533 (2013). https://doi.org/10.1007/s00482-013-1312-3
Schlüsselwörter
Stresstheorie

Stressfolgekrankheiten

Sinnkrise

Existenzielle Psychotherapie

Stressmanagement
Keywords
Stress theory

Stress sequelae

Meaning of life crisis

Existential psychotherapy

Stress management