Zusammenfassung
Die "cortical spreading depression" (CSD) ist eine transiente (60–120 s) Depolarisation der Nerven- und Gliazellen der Hirnrinde (Verschiebung des kortikalen Gleichspannungspotenzials um 20–35 mV), die sich mit 3–5 mm/min über die Kortexhemisphäre ausbreitet. Während der CSD kommt es zu massiven Umverteilungen von Ionen zwischen dem Extra- und Intrazellulärraum sowie einem Wassereinstrom in die Zellen. Die extrazelluläre Kaliumionenkonzentration kann dabei bis auf 60 mM/l ansteigen. Kaliumionen und die exzitatorische Aminosäure Glutamat sind wesentlich an der Entstehung und Ausbreitung der CSD beteiligt. Sowohl die Depolarisation als auch die temporäre Störung der ionalen Homöostase sind regenerativ und verbrauchen bei der Restitution Energie, schädigen aber normal perfundiertes Hirngewebe nicht. Die gleiche Ausbreitungsgeschwindigkeit von CSD und Skotomen in der Migräneaura hat seit langem die Meinung gestützt, dass die CSD das Korrelat der Migräneaura sein soll. Seit der Beobachtung von CSD-ähnlichen Vorgängen bei Patienten während der Migräneaura im Magnetenzephalogramm (MEG) ist dieser Zusammenhang sehr wahrscheinlich geworden. Die Rolle der CSD als Verursacher des Migränekopfschmerzes ist dagegen umstritten.
Abstract
Cortical spreading depression (CSD) is a transient (60–120 s) and at 3–5 mm/min propagating depolarization wave of cortical neurons and glial cells and is characterized by a DC shift of 20–35 mV. It is accompanied by massive redistribution of ions between extracellular and intracellular compartments and by a water influx into the cells. Extracellular potassium ion concentration increases up to 60 mM/l. Potassium ions and the excitatory neurotransmitter glutamate essentially contribute to the initiation and propagation of CSD. Both depolarization and disturbance of brain ion homeostasis regenerate within a few minutes while enhancing energy metabolism, but do not cause damage to normally perfused brain tissue. The similar propagation velocity of CSD and visual scotoma during migraine aura led to the assumption that CSD could be the underlying mechanism of migraine aura. The observation of CSD waves in migraine aura patients with the magnet encephalogram (MEG) technique confirmed this theory. Although many data support the relationship between CSD and aura phase in migraine, the role of CSD in migraine headache is still disputed.
Access options
Buy single article
Instant access to the full article PDF.
USD 39.95
Price excludes VAT (USA)
Tax calculation will be finalised during checkout.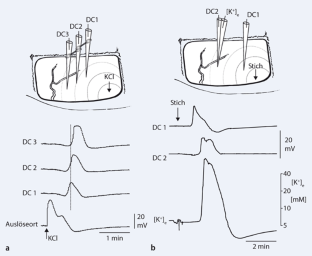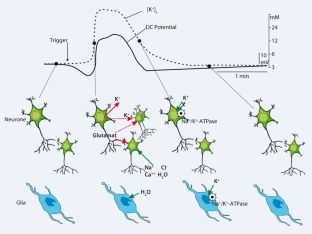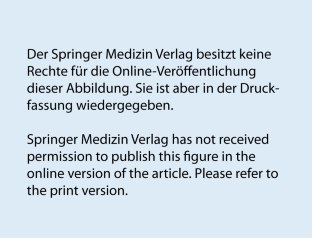 Literatur
Ambrosini A, Schoenen J (2003) The electrophysiology of migraine. Curr Opin Neurol 16: 327–331

Antal A, Temme J, Nitsche MA et al. (2005) Altered motion perception in migraineurs: evidence for interictal cortical hyperexcitability. Cephalalgia 25: 788–794

Aurora SK, Ahmad BK, Welch KM et al. (1998)Transcranial magnetic stimulation confirms hyperexcitability of occipital cortex in migraine. Neurology 50: 1111–1114

Ayata C, Shimizu-Sasamata M, Lo EH et al. (2000) Impaired neurotransmitter release and elevated threshold for cortical spreading depression in mice with mutations in the alpha1A subunit of P/Q type calcium channels. Neuroscience 95: 639–645

Bahra A, Matharu MS, Buchel C et al. (2001) Brainstem activation specific to migraine headache. Lancet 357: 1016–1017

Bolay H, Reuter U, Dunn AK et al. (2002) Intrinsic brain activity triggers trigeminal meningeal afferents in a migraine model. Nat Med 8: 136–142

Bowyer SM, Aurora KS, Moran JE et al. (2001) Magnetoencephalographic fields from patients with spontaneous and induced migraine aura. Ann Neurol 50: 582–587

Bureš J, Burešova O, Křivanek J (eds) (1974) The mechanism and applications of Leão's spreading depression of electroencephalographic activity. Academia, Prague

Cairns BE (2007) The influence of gender and sex steroids on craniofacial nociception. Headache 47: 319–324

Colonna DM, Meng W, Deal DD, Busija DW (1994) Calcitonin gene-related peptide promotes cerebrovascular dilation during cortical spreading depression in rabbits. Am J Physiol 266: H1095–H1102

Cutrer FM, Huerter K (2007) Migraine aura. Neurologist 13: 118–125

Diener HC, Limmroth V (2005) Migränetherapie. Internist (Berl) 46: 1087–1095

Diener HC, May A (1996) New aspects of migraine pathophysiology: lessons learned from positron emission tomography. Curr Opin Neurol 9: 199–201

Dreier JP, Woitzik J, Fabricius M et al. (2006) Delayed ischaemic neurological deficits after subarachnoid haemorrhage are associated with clusters of spreading depolarizations. Brain 129: 3224–3237

Ebersberger A, Schaible HG, Averbeck B, Richter F (2001) Is there a correlation between spreading depression, neurogenic inflammation, and nociception that might cause migraine headache? Ann Neurol 49: 7–13

Fabricius M, Lauritzen M (1994) Examination of the role of nitric oxide for the hypercapnic rise of cerebral blood flow in rats. Am J Physiol 266: H1457–H1464

Fabricius M, Fuhr S, Bhatia R et al. (2006) Cortical spreading depression and peri-infarct depolarization in acutely injured human cerebral cortex. Brain 129: 778–790

Gardner-Medwin AR (1981) Possible roles of vertebral neuroglia in potassium dynamics, spreading depression and migraine. J Exp Biol 95: 111–127

Goadsby PJ (2006) Recent advances in the diagnosis and management of migraine. BMJ 332: 25–29

Gold L, Back T, Arnold G et al. (1998) Cortical spreading depression-associated hyperemia in rats: involvement of serotonin. Brain Res 783: 188–193

Grafstein B (1956) Mechanism of spreading cortical depression. J Neurophysiol 19: 154–171

Hadjikhani N, Sanchez Del Rio M, Wu O et al. (2001) Mechanisms of migraine aura revealed by functional MRI in human visual cortex. Proc Natl Acad Sci U S A 98: 4687–4692

Hoffmann J, Reuter U (2007) Aktuelle Therapie der Migräne. Dtsch Med Wochenschr 132: 2153–2158

IHCD (2004) The International Classification of Headache Disorders, 2nd edn. Cephalalgia 24: 1–160

James MF, Smith MI, Bockhorst KH et al. (1999) Cortical spreading depression in the gyrencephalic feline brain studied by magnetic resonance imaging. J Physiol 519: 415–425

Kager H, Wadman WJ, Somjen GG (2000) Simulated seizures and spreading depression in a neuron model incorporating interstitial space and ion concentrations. J Neurophysiol 84: 495–512

Kaube H, Herzog J, Käufer T et al. (2000) Aura in some patients with familial hemiplegic migraine can be stopped by intranasal ketamine. Neurology 55: 139–141

Kirchmann M (2006) Migraine with aura: new understanding from clinical epidemiologic studies. Curr Opin Neurol 19: 286–293

Kraig RP, Nicholson C (1978) Extracellular ionic variations during spreading depression. Neuroscience 3: 1045–1059

Lambert GA, Michalicek J, Storer RJ, Zagami AS (1999) Effect of cortical spreading depression on activity of trigeminovascular sensory neurons. Cephalalgia 19: 631–638

Lashley KS (1941) Patterns of cerebral integration indicated by the scotomas of migraine. Arch Neurol Psychiatry 46: 331–339

Lauritzen M, Olsen TS, Lassen NA, Paulson OB (1983) Regulation of regional cerebral blood flow during and between migraine attacks. Ann Neurol 14: 569–572

Lauritzen M (1991) Links between cortical spreading depression and migraine: clinical and experimental aspects. In: Olesen J (ed) Migraine and other headaches. Raven Press, New York, pp 143–151

Lauritzen M (1994) Pathophysiology of the migraine aura. The spreading depression theory. Brain 117: 199–210

Leão AAP (1944) Spreading depression of activity in the cerebral cortex. J Neurophysiol 7: 359–390

Leão AAP (1947) Further observations on the spreading depression of activity in the cerebral cortex. J Neurophysiol 10: 409–419

Lehmenkühler A, Zidek W, Staschen M, Caspers H (1981) Cortical pH and pCa in relation to DC potential shifts during spreading depression and asphyxiation. In: Sykova E, Hnik P, Vyklicky L (eds) Ion-selective microelectrodes and their use in excitable tissues. Plenum Press, New York, pp 225–229

Lehmenkühler A (1990) Spreading depression-Reaktionen an der Hirnrinde: Störungen des extrazellulären Mikromilieus. Z EEG-EMG Elektroenzephalogr Elektromyogr Verwandte Geb 21: 1–6

Lehmenkühler A, Grotemeyer KH, Tegtmeier F (eds) (1993) Migraine: basic mechanisms and treatment. Urban & Schwarzenberg, München Berlin Wien

Lehmenkühler A, Richter F (1993) Distribution of spreading depression in upper and lower depths of the rat cerebral cortex and its possible implications on the type of human migraine. In: Lehmenkühler A, Grotemeyer KH, Tegtmeier F (eds) (1993) Migraine: basic mechanisms and treatment. Urban & Schwarzenberg, München Berlin Wien, pp 267–278

Marrannes R, Willems R, De Prins E, Wauquier A (1988) Evidence for a role of the N-methyl-D-aspartate (NMDA) receptor in cortical spreading depression in the rat. Brain Res 457: 226–240

Mayevsky A, Doron A, Manor T et al. (1996) Cortical spreading depression recorded from the human brain using a multiparametric monitoring system. Brain Res 740: 268–274

Mazel T, Richter F, Vargova L, Sykova E (2002) Changes in extracellular space volume and geometry induced by cortical spreading depression in immature and adult rats. Physiol Res 51 [suppl 1]: S85–S93

Milner PM (1958) Note on a possible correspondence between the scotomas of migraine and spreading depression of Leão. Electroencephalogr Clin Neurophysiol 10: 705

Moskowitz MA (1990) Basic mechanisms in vascular headache. Neurol Clin 8: 801–815

Read SJ, Hirst WD, Upton N, Parsons AA (2001) Cortical spreading depression produces increased cGMP levels in cortex and brain stem that is inhibited by tonabersat (SB-220453) but not sumatriptan. Brain Res 891: 69–77

Richter F, Ebersberger A, Schaible HG (2002) Blockade of voltage-gated calcium channels in rat inhibits repetitive cortical spreading depression. Neurosci Lett 334: 123–126

Sachs M, Pape HC, Speckmann EJ, Gorji A (2007) The effect of estrogen and progesterone on spreading depression in rat neocortical tissues. Neurobiol Dis 25: 27–34

Somjen GG, Aitken PG, Czeh GL et al. (1992) Mechanism of spreading depression: a review of recent findings and a hypothesis. Can J Physiol Pharmacol 70 [suppl]: S248–S254

Somjen GG (2001) Mechanisms of spreading depression and hypoxic spreading depression-like depolarization. Physiol Rev 81: 1065–1096

Sramka M, Brozek G, Bures J, Nadvornik P (1977–1978) Functional ablation by spreading depression: possible use in human stereotactic neurosurgery. Appl Neurophysiol 40: 48–61

Strong AJ, Fabricius M, Boutelle MG et al. (2002) Spreading and synchronous depressions of cortical activity in acutely injured human brain. Stroke 33: 2738–2743

Strong AJ, Dardis R (2005) Depolarisation phenomena in traumatic and ischaemic brain injury. Adv Tech Stand Neurosurg 30: 3–49

Strong AJ, Hartings JA, Dreier JP (2007) Cortical spreading depression: an adverse but treatable factor in intensive care? Curr Opin Crit Care 13: 126–133

Umegaki M, Sanada Y, Waerzeggers Y et al. (2005) Peri-infarct depolarizations reveal penumbra-like conditions in striatum. J Neurosci 25: 1387–1394

Van Harreveld A (1959) Compounds in brain extracts causing spreading depression of cerebral cortical activity and contraction of crustacean muscle. J Neurochem 3: 300–315

Wahl F, Obrenovitch TP, Hardy AM et al. (1994) Extracellular glutamate during focal cerebral ischaemia in rats: time course and calcium dependency. J Neurochem 63: 1003–1011

Weiller C, May A, Limmroth V et al. (1995) Brain stem activation in spontaneous human migraine attacks. Nat Med 1: 658–660

Wolff HG (1963) Headache and other head pain, 2nd edn. Oxford Univ. Press, New York
Interessenkonflikt
Der korrespondierende Autor gibt an, dass kein Interessenkonflikt besteht.
About this article
Cite this article
Richter, F., Lehmenkühler, A. Cortical spreading depression (CSD). Schmerz 22, 544–550 (2008). https://doi.org/10.1007/s00482-008-0653-9
Published:

Issue Date:

DOI: https://doi.org/10.1007/s00482-008-0653-9
Schlüsselwörter
Cortical spreading depression

Migräne

Aura

Triptane

COSBID
Keywords
Cortical spreading depression

Migraine

Aura

Triptans

COSBID