Zusammenfassung
Der Einsatz von Cannabinoiden oder Cannabis in der Medizin wird kontrovers diskutiert. Derzeit sind nur Einzelsubstanzen (Dronabinol, Nabilone®) zur Symptomkontrolle in der Palliativmedizin zugelassen.
Das physiologische Cannabinoidsystem mit den spezifischen Rezeptoren CB1 und CB2 und seinen endogenen Liganden moduliert u.a. Appetit, Schmerzverarbeitung und immunologische Prozesse. Die befürchtete Immunsuppression durch Cannabinoide ließ sich beim Menschen bisher jedoch nicht sicher nachweisen. Lediglich Marijuanarauchen verminderte die bakteriziden Funktionen humaner Alveolarmakrophagen.
Nur im Tierversuch kam es zu verringerter zellulärer Immunität mit stärkerem Tumorwachstum und gehäuften Virusinfekten. In-vitro-Studien zeigten eine Suppression aller Immunzellen, jedoch nur bei Cannabinoidkonzentrationen weit oberhalb pharmakologischer Plasmaspiegel. Zusammenfassend ist eine klinisch relevante Immunsuppression bei der Therapie mit den verfügbaren oralen Cannabinoiden nicht wahrscheinlich, bei anderen Applikationsformen (Inhalation) könnten durchaus lokal immunsuppressive Effekte auftreten.
Abstract
The medical use of cannabis or cannabinoid compounds is controversial. Cannabinoids like the Δ9-THC (tetrahydrocannabinol) or the synthetic derivative Nabilone are available against cancer- and HIV-associated cachexia, nausea and vomiting. Over the last 20 years, the cannabinoid receptors CB1 and CB2 and their endogenous ligands have been found. The involvement of this endogenous cannabinoid signalling system in feeding, appetite, pain perception and immunomodulation could be demonstrated using animal and in vitro studies. Thus, the concern about immunosuppressive effects in humans using medical cannabinoid preparations grew. However, up to now most human studies have failed to demonstrate a well-defined and reproducible immunosuppressive cannabinoid-effect. Only the smoking of marijuana showed a significant local immunosuppression of the bactericidal activity of human alveolar macrophages.
In animal studies, cannabinoids were identified as potent modulators of cytokine production, causing a shift from Th1 to Th2 cytokines. In consequence, a compromised cellular immunity was observed in these animals, resulting in enhanced tumor growth and reduced immunity to viral infections. In vitro, immunosuppressive effects were shown in all immune cells, but only at high micromolar cannabinoid concentrations not reached under normal clinical conditions. In conclusion, there is no evidence that cannabinoids induce a serious, relevant immunosuppression in humans, with the exception of marijuana-smoking which may affect local brocho-alveolar immunity.
Access options
Buy single article
Instant access to the full article PDF.
USD 39.95
Price excludes VAT (USA)
Tax calculation will be finalised during checkout.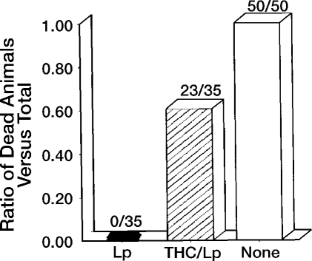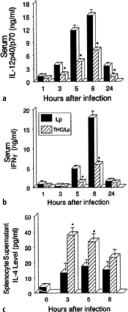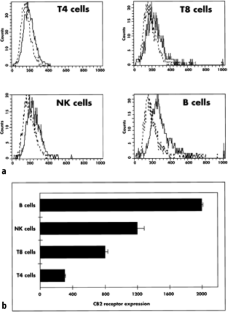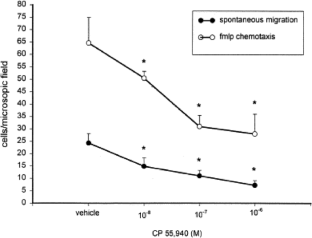 Literatur
Baldwin GC, Tashkin DP, Buckley DM et al. (1997) Habitual smoking of marijuana and cocaine impairs alveolar macrophage function and cytokine production. J Resp Crit Care Med 156: 1606–1613

Baczynsky WO, Zimmerman AM (1983) Effects of delta 9-tetrahydrocannabinol, cannabinol and cannabidiol on the immune system in mice. I. In vivo investigation of the primary and secondary immune response. Pharmacology 26: 1–11

Berdyshev EV (2000) Cannabinoid receptors and the regulation of immune response. Chem Phys Lipids 108: 169–190

Bredt BM, Higuera-Alhino D, Shade SB, et al. (2002) Short-term effects of cannabinoids on immune phenotype and function in HIV-1-infected patients. J Clin Pharmacol 42: 82–89

Bouaboula M, Rinaldi M, Carayon P et al. (1993) Cannabinoid-receptor expression in human leukocytes. Eur J Biochem 214: 173–180

Cabral GA, Lockmuller JC, Mishkin LM (1986) Delta 9-tetrahydrocannabinol decreases alpha/beta interferon response to herpes simplex virus type 2 in the B6C3F1 mouse. Proc Soc Exp Biol Med 181: 305–311

Carayon P, Marchand J, Dussossoy D et al. (1998) Modulation and Functional Involvement of CB2 Peripheral Cannabinoid Receptors During B-Cell Differentiation. Blood 92: 3605–3615

Carlisle SJ, Marciano-Cabral F, Staab A, Ludwick C, Cabral GA (2002) Differential expression of the CB2 cannabinoid receptor by rodent macrophages and macrophage-like cells in relation to cell activation. Int Immunopharmacol 2: 69–82

Chang YH, Lee ST, Lin WW (2001) Effects of cannabinoids on LPS-stimulated inflammatory mediator release from macrophages: involvement of eicosanoids. J Cell Biochem 81: 715–723

Condie R, Herring A, Koh WS, Lee M, Kaminski NE (1996) Cannabinoid inhibition of adenylate cyclase-mediated signal transduction and interleukin 2 (IL-2) expression in the murine T-cell line, EL4.IL-2. J Biol Chem 271: 13175–13183

Derocq JM, Segui M, Marchand J, Le Fur G, Casellas P (1995) Cannabinoids enhance human B-cell growth at low nanomolar concentrations. FEBS Lett 369: 177–182

Djeu JY, Wand M, Friedmann H (1991) Adverse effect of Δ9-tetrahydrocannabinol on human neutrophil function. Adv Exp Med Biol 288: 57–62

Friedmann H, Klein TW, Newton C, Daaka Y (1995) Marijuana, receptors and immunomodulation. Adv Exp Med Biol 373: 103–113

Gupta S, Grieco MH, Cushman P (1974) Impairment of rosette-forming T lymphocytes in chronic marijuana smokers. New Engl J Med 291: 874–876

Juel-Jensen BE (1972) Cannabis and recurrent herpes simplex. BMJ 835: 296

Klein TW, Friedman H (1990) Modulation of murine immune cell function by marijuana components. In: RR Watson (ed) Drugs of abuse and immune function. CRC Press, Boca Raton, pp 87–111

Klein TW, Newton C, Widen R, Friedmann H (1993) Δ9-Tetrahydrocannabinol injection induces cytokine-mediated mortality of mice infected with Legionella pneumophila. J Pharmacol Exp Ther 267: 451–466

Klein TW, Newton C, Friedmann H (1998) Cannabinoid receptors and immunity. Immunol Today 18: 373–381

Klein TW, Lane B, Newton CA, Friedmann H (2000) The cannabinoid system and the cytokine network. Proc Soc Exp Biol Med 225: 1–8

Kraft B, Wintersberger W, Kress HG (2003) Cannabinoid receptor-independent suppression of the superoxide generation of human neutrophils (PMN) by CP55 940, but not by anandamide. (Submitted)

Massi P, Fuzio D, Vigano D, Sacerdote P, Parolaro D (2000) Relative involvement of cannabinoid CB(1) and CB(2) receptors in the Delta(9)-tetrahydrocannabinol-induced inhibition of natural killer cell activity. Eur J Pharmacol 387: 343–347

Mishkin EM, Cabral GA (1985) Delta9-Tetrahydrocannabinol decreases host resistance to Herpes simplex virus type 2 vaginal infection in the B6C3F1 mouse. J Gen Virol 66: 2539–2549

Morahan PS, Klykken PC, Smith SH, Harris LS, Munson AE (1979) Effects of cannabinoids on host resistance to Listeria monocytogenes and Herpes simplex virus. Infect Immun 23: 670–674

Nahas GG, Suciu-Foca N, Armand J-P, Morishima A (1974) Inhibition of cellular mediated immunity in marijuana smokers. Science 183: 419–420

Nakano Y, Pross S, Friedman H (1993a) Contrasting effect of delta-9-tetrahydrocannabinol on IL-2 activity in spleen and lymph node cells of mice of different ages. Life Sci 52: 41–51

Newton C, Klein TW, Friedman H (1998) The role of macrophages in THC-induced alteration of the cytokine network. Adv Exp Med Biol 437: 207–214

Newton CA, Klein TW, Friedmann H (1994) Secondary immunity to Legionella pneumophila and TH1 activity are suppressed by Δ9-tetrahydrocannabinol-injection. Infect Immun 62: 4015–4020

Rachelefski GS, Opelz G, Mickey MR et al. (1976) Intact humoral and cell-mediated immunity in chronic marijuana smoking. J Allergy Clin Immunol 58: 483–490

Sacerdote P, Massi P, Panerai AE, Parolaro D (2000) In: vivo and in vitro treatment with the synthetic cannabinoid CP55, 940 decreases the in vitro migration of macrophages in the rat: involvement of both CB1 and CB2 receptors. J Neuroimmunol 109: 155–163

Sanchez C, Velasco G, Guzman M (1997) Metabolic stimulation of mouse spleen lymphocytes by low doses of delta 9-tetrahydrocannabinol. Life Sci 60: 1709–1717

Shrivastava MD, Shrivastava BI, Brouhard B (1998) Delta9 tetrahydrocannabinol and cannabidiol alter cytokine production by human immune cells. Immunopharmacology 40: 179–185

Specter S, Lancz G, Goodfellow D (1991) Suppression of human macrophage function by Δ9-tetrahydrocannabinol. J Leukocyte Biol 50: 423–426

Specter S, Lancz G (1991) Effects of marijuana on natural killer cell activity. In: Friedman H, Specter S, Klein TW (Eds) Drugs of Abuse Immunity and Immunodeficiency. Plenum, New York, pp 47–56

Specter S, Rivenbark M, Newton C, Kawakami Y, Lancz G (1989) Prevention and reversal of delta-9-tetrahydrocannabinol induced depression of natural killer cell activity by interleukin-2. Int J Immunopharmacol 11: 63–69

Tashkin DP, Baldwin GC, Sarafian T, Dubinett S, Roth MD (2002) Respiratory and immunologic consequences of marijuana smoking. J Clin Pharmacol 42: 71–81

Wallace JM, Tashkin DP, Oishi JS, Barbers RG (1988) Peripheral blood lymphocyte subpopulations and mitogen responsiveness in tobacco and marijuana smokers. J Psychoactive Drugs 20: 9–14

West JP, Lysle DP, Dykstra LA (1997) Tolerance development to morphine-induced alterations of immune status. Drug Alcohol Depend 46: 147–157

White SC, Brin SC, Janicki BW (1975) Mitogen-induced blastogenic responses of lymphocytes from marijuana smokers. Science 188: 71–72

Yea SS, Yang KH, Kaminski NE (2000) Role of nuclear factor of activated T-cells and activator protein-1 in the inhibition of interleukin-2 gene transcription by cannabinol in EL4 T-cells. J Pharmacol Exp Ther 292: 597–605

Zhu LX, Sharma S, Stolina M et al. (2000) Delta-9-tetrahydrocannabinol inhibits anti-tumor immunity by a CB2 receptor mediated, cytokine dependent pathway. J Immunol 165: 373–380
About this article
Cite this article
Kraft, B., Kress, H.G. Cannabinoide und Immunsystem. Schmerz 18, 203–210 (2004). https://doi.org/10.1007/s00482-003-0245-7
Issue Date:

DOI: https://doi.org/10.1007/s00482-003-0245-7
Schlüsselwörter
Cannabinoide

Immunsystem

Immunsuppression
Keywords
Cannabinoids

Immune system

Immunosuppression