Abstract
Fire is one of the most notorious hazards in Australia, with important economic impacts and damage to ecosystems. There is a concern of worsening fire conditions under climate variability, but there is little understanding of the variability in fire occurrence related to climate patterns. We present a statistical decomposition for spatio-temporal analysis of changes in fire occurrence in Australia and its association with climate factors. We found evidence of variability in the trend results for fire occurrence, and also some evidence that this variation is related to climate patterns. Our approach has applicability to other climate-related issues, providing a useful tool to identify possible changes in the intensity of occurrence over time, capturing long-term changes, and also seasonal and cyclical effects.
Access options
Buy single article
Instant access to the full article PDF.
US$ 39.95
Tax calculation will be finalised during checkout.
Subscribe to journal
Immediate online access to all issues from 2019. Subscription will auto renew annually.
US$ 119
Tax calculation will be finalised during checkout.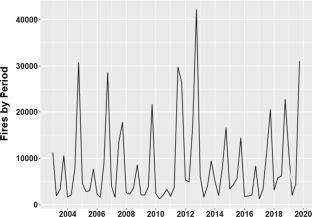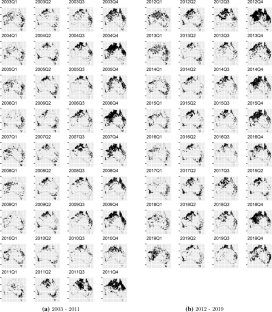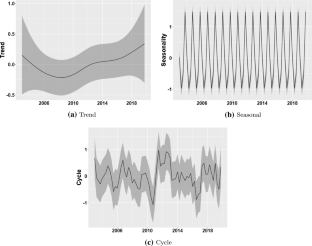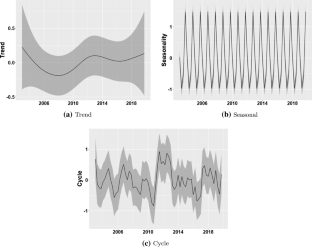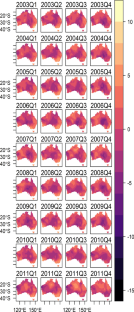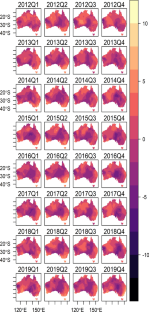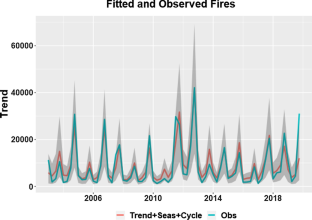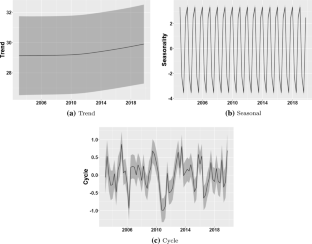 References
Abatzoglou JT, Williams AP (2016) Impact of anthropogenic climate change on wildfire across western US forests. Proc Nat Acad Sci 113(42):11770–11775

Aldersley A, Murray SJ, Cornell SE (2011) Global and regional analysis of climate and human drivers of wildfire. Sci Total Environ 409(18):3472–3481

Alexander LV, Hope P, Collins D, Trewin B, Lynch A, Nicholls N (2007) Trends in Australia's climate means and extremes: a global context. Aust Meteorol Mag 56(1):1–18

Andela N, Morton D, Giglio L, Chen Y, Van Der Werf G, Kasibhatla P, DeFries R, Collatz G, Hantson S, Kloster S et al (2017) A human-driven decline in global burned area. Science 356(6345):1356–1362

Bloomfield P (1992) Trends in global temperature. Clim Change 21(1):1–16

Bradstock RA (2010) A biogeographic model of fire regimes in Australia: current and future implications. Glob Ecol Biogeogr 19(2):145–158

Chen X (2007) Spatial pattern of wildfire occurrences in Alabama, USA. Int J Environ Stud 64(2):229–242

Clarke H, Lucas C, Smith P (2013) Changes in Australian fire weather between 1973 and 2010. Int J Climatol 33(4):931–944

Dowdy AJ (2018) Climatological variability of fire weather in Australia. J Appl Meteorol Climatol 57(2):221–234

Dowdy AJ, Field RD, Spessa AC (2016) Seasonal forecasting of fire weather based on a new global fire weather database. In: of Wildland Fire IA (ed) Proceedings for the 5th international fire behaviour and fuels conference, International Association of Wildland Fire

Dutta R, Das A, Aryal J (2016) Big data integration shows Australian bush-fire frequency is increasing significantly. R. Soc. Open Sci. 3(2):150241

Earl N, Simmonds I (2017) Variability, trends, and drivers of regional fluctuations in Australian fire activity. J. Geophys. Res. Atmos. 122(14):7445–7460

Earl N, Simmonds I (2018) Spatial and temporal variability and trends in 2001–2016 global fire activity. J. Geophys. Res. Atmos. 123(5):2524–2536

Estrada F, Perron P, Martínez-López B (2013) Statistically derived contributions of diverse human influences to twentieth-century temperature changes. Nat Geosci 6(12):1050–1055

Gallant AJ, Hennessy KJ, Risbey J (2007) Trends in rainfall indices for six Australian regions: 1910–2005. Aust Meteorol Mag 56(4):223–241

Gedalof Z (2011) Climate and spatial patterns of wildfire in North America. The landscape ecology of fire. Springer, New York, pp 89–115

Giglio L, Justice C (2015) MOD14A2 MODIS/Terra thermal anomalies/fire 8-day L3 global 1km SIN grid v006 [data set]. NASA EOSDIS Land Processes DAAC

Giglio L, Randerson JT, Van Der Werf GR (2013) Analysis of daily, monthly, and annual burned area using the fourth-generation global fire emissions database (GFED4). J Geophys Res Biogeosci 118(1):317–328

Gillett N, Weaver A, Zwiers F, Flannigan M (2004) Detecting the effect of climate change on Canadian forest fires. Geophys Res Lett 31(18)

Griffiths GM, Chambers LE, Haylock M, Manton MJ, Nicholls N, Baek HJ, Choi Y, Della-Marta PM, Gosai A, Iga N et al (2005) Change in mean temperature as a predictor of extreme temperature change in the Asia-Pacific region. Int J Climatol J R Meteorol Soc 25(10):1301–1330

Harris S, Lucas C (2019) Understanding the variability of Australian fire weather between 1973 and 2017. PLoS ONE 14(9):e0222328

Harvey AC (1990) Forecasting, structural time series models and the Kalman filter. Cambridge University Press, Cambridge

Hendon HH, Thompson DW, Wheeler MC (2007) Australian rainfall and surface temperature variations associated with the Southern Hemisphere annular mode. J Clim 20(11):2452–2467

Hughes L (2003) Climate change and Australia: trends, projections and impacts. Austral Ecol 28(4):423–443

Laurini M (2019) A spatio-temporal approach to estimate patterns of climate change. Environmetrics 30(1):e2542

Le Goff H, Flannigan MD, Bergeron Y (2009) Potential changes in monthly fire risk in the eastern Canadian boreal forest under future climate change. Can J For Res 39(12):2369–2380

Lindgren F, Rue H, Lindström J (2011) An explicit link between Gaussian fields and Gaussian Markov random fields: the stochastic partial differential equation approach. J R Stat Soc Ser B Stat Methodol 73(4):423–498

Lozano OM, Salis M, Ager AA, Arca B, Alcasena FJ, Monteiro AT, Finney MA, Del Giudice L, Scoccimarro E, Spano D (2017) Assessing climate change impacts on wildfire exposure in Mediterranean areas. Risk Anal 37(10):1898–1916

Mariani M, Fletcher MS, Holz A, Nyman P (2016) ENSO controls interannual fire activity in southeast Australia. Geophys Res Lett 43(20):10–891

Moritz MA, Batllori E, Bradstock RA, Gill AM, Handmer J, Hessburg PF, Leonard J, McCaffrey S, Odion DC, Schoennagel T et al (2014) Learning to coexist with wildfire. Nature 515(7525):58–66

Murphy BP, Bradstock RA, Boer MM, Carter J, Cary GJ, Cochrane MA, Fensham RJ, Russell-Smith J, Williamson GJ, Bowman DM (2013) Fire regimes of Australia: a pyrogeographic model system. J Biogeogr 40(6):1048–1058

Pitman A, Narisma G, McAneney J (2007) The impact of climate change on the risk of forest and grassland fires in Australia. Clim Change 84(3–4):383–401

Rahman S, Chang HC, Magill C, Tomkins K, Hehir W (2018) Forest fire occurrence and modeling in Southeastern Australia. In: Forest fire, InTechOpen

Reinhard M, Rebetez M, Schlaepfer R (2005) Recent climate change: rethinking drought in the context of forest fire research in Ticino, South of Switzerland. Theoret Appl Climatol 82(1–2):17–25

Risbey JS, Pook MJ, McIntosh PC, Wheeler MC, Hendon HH (2009) On the remote drivers of rainfall variability in Australia. Mon Weather Rev 137(10):3233–3253

Rue H, Martino S, Chopin N (2009) Approximate Bayesian inference for latent Gaussian models by using integrated nested Laplace approximations. J R Stat Soc Ser b Stat Methodol 71(2):319–392

Russell-Smith J, Yates CP, Whitehead PJ, Smith R, Craig R, Allan GE, Thackway R, Frakes I, Cridland S, Meyer MC et al (2007) Bushfires down under: patterns and implications of contemporary Australian landscape burning. Int J Wildland Fire 16(4):361–377

Simpson D, Illian JB, Lindgren F, Sørbye SH, Rue H (2016) Going off grid: computationally efficient inference for log-Gaussian Cox processes. Biometrika 103(1):49–70

Timbal B, Arblaster JM, Power S (2006) Attribution of the late-twentieth-century rainfall decline in southwest Australia. J Clim 19(10):2046–2062

Valente F, Laurini M (2020) Tornado occurrences in the united states: a spatio-temporal point process approach. Econometrics 8(2):25

Van Dijk AI, Beck HE, Crosbie RS, de Jeu RA, Liu YY, Podger GM, Timbal B, Viney NR (2013) The millennium drought in southeast Australia (2001–2009): natural and human causes and implications for water resources, ecosystems, economy, and society. Water Resour Res 49(2):1040–1057

Verdon DC, Kiem AS, Franks SW (2004) Multi-decadal variability of forest fire risk-Eastern Australia. Int J Wildland Fire 13(2):165–171

Westerling AL, Hidalgo HG, Cayan DR, Swetnam TW (2006) Warming and earlier spring increase western US forest wildfire activity. Science 313(5789):940–943

Williams AA, Karoly DJ, Tapper N (2001) The sensitivity of Australian fire danger to climate change. Clim Change 49(1–2):171–191

Williamson GJ, Prior LD, Jolly WM, Cochrane MA, Murphy BP, Bowman DM (2016) Measurement of inter-and intra-annual variability of landscape fire activity at a continental scale: the Australian case. Environ Res Lett 11(3):035003

Wotton BM, Nock CA, Flannigan MD (2010) Forest fire occurrence and climate change in Canada. Int J Wildland Fire 19(3):253–271
Acknowledgements
The authors acknowledge funding from CNPq (306023/2018-0), FAPESP (2018/04654-9), Coordenação de Aperfeiçoamento de Pessoal de Nível Superior (CAPES) - Finance Code 001 and Instituto Escolhas. We are also grateful for the excellent suggestions and criticisms of two anonymous referees.
Ethics declarations
Conflict of interest
The authors declare that they have no conflict of interest.
Additional information
Publisher's Note
Springer Nature remains neutral with regard to jurisdictional claims in published maps and institutional affiliations.
Supplementary information
Below is the link to the electronic supplementary material.
About this article
Cite this article
Valente, F., Laurini, M. Spatio-temporal analysis of fire occurrence in Australia. Stoch Environ Res Risk Assess 35, 1759–1770 (2021). https://doi.org/10.1007/s00477-021-02043-8
Accepted:

Published:

Issue Date:
Keywords
Australia

Climate variability

Fire occurrence

Spatio-temporal models

Trend-cycle decomposition