Abstract
Although mammography screening programs aim to diagnose breast cancer at an early stage, not all tumours are detected during the regular screening examination. This study examines the influence of various characteristics, including geographical residence, on the survival between screen- and interval-detected breast cancers among participants of a public population-based breast screening program in Queensland, Australia. The investigation was performed using the linked population-based datasets from BreastScreen Queensland and the Queensland Cancer Registry for the period of 1997–2008 for women aged 40–89 years at diagnosis. A Bayesian spatial relative survival modelling approach that accommodates rare outcomes in small geographic regions was adopted, with the use of Markov chain Monte Carlo computation, to evaluate the relative excess risk of breast cancer. In the multivariate Bayesian spatial model, higher relative excess risk of mortality was observed in interval-detected cancer (RER = 1.59, 95 % credible interval = [1.33, 1.89]) compared to screen-detected cancer. Higher cancer survival among the study cohort was also observed among younger women (40–59 years), those of non-Indigenous ethnicity, with localised (stage I) tumour stage as well as those not in the work force. There was no independent association with marital status. Moreover, there was no substantive evidence of either measured geographical or latent random spatial inequalities in survival among screening participants across Queensland, meaning the higher survival for screen-detected breast cancer patients compared to interval-detected women was consistent across the state. These results provide suggestive evidence supporting the effectiveness of the BreastScreen Queensland screening program in reaching socio-economically disadvantaged women as well as those living in rural and remote areas of the state, but also highlights the need for any interval cancer awareness programs to be geographically widespread.
This is a preview of subscription content, log in to check access.
Access options
Buy single article
Instant access to the full article PDF.
US$ 39.95
Tax calculation will be finalised during checkout.
Subscribe to journal
Immediate online access to all issues from 2019. Subscription will auto renew annually.
US$ 119
Tax calculation will be finalised during checkout.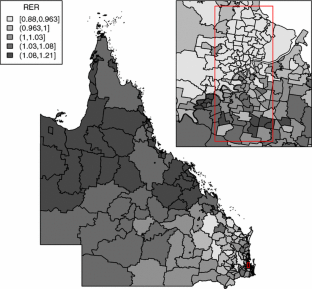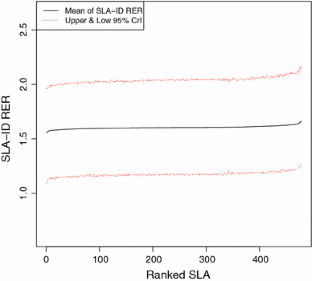 References
Australian Bureau of Statistics (2008) Census of Population and Housing: Socio-Economic Indexes for Areas (SEIFA), Australia, 2006. Cat. No. 2033.0.55.001, ABS, Canberra

Australian Institute of Health and Welfare (2004) Rural, regional and remote health: a guide to remoteness classifications. Cat. No. PHE 53, AIHW, Canberra

Australian Institute of Health and Welfare (2013) BreastScreen Australia monitoring report 2010–2011. Cancer series no. 77. Cat. no. CAN 74, AIHW, Canberra

Australian Institute of Health and Welfare, Cancer Australia and Australasian Association of Cancer Registries (2008) Cancer survival and prevalence in Australia: cancers diagnosed from 1982 to 2004. Cancer series no.55. Cat.no. CAN 51, AIHW, Canberra

Baade P, Turrell G, Aitken J (2011) Geographic remoteness, area-level socio-economic disadvantage and advanced breast cancer: a cross-sectional, multilevel study. J Epidemiol Community Health 65:1037–1043

Berry D, Cronin K, Plevritis S, Fryback D, Clarke L, Zelen M, Mandelblatt J, Yakovlev A, Habbema J, Feuer E (2005) Effect of screening and adjuvant therapy on mortality from breast cancer. N Engl J Med 353(17):1784–1792

Besag J, York J, Mollie A (1991) Bayesian image restoration, with two applications in spatial statistics. Ann Inst Stat Math 43(1):1–20

Bordas P, Jonsson H, Nystrm L, Lenner P (2007) Survival from invasive breast cancer among interval cases in the mammography screening programmes of northern Sweden. Breast 16(1):47–54

Brekelmans C, Peeters P, Deurenberg J, Collette H (1995) Survival in interval breast cancer in the DOM screening programme. Eur J Cancer 31:1830–1835

Brekelmans CT, van Gorp JM, Peeters PH, Collette HJ (1996) Histopathology and growth rate of interval breast carcinoma: characterization of different subgroups. Cancer 78:1220–1228

Brenner H, Hakulinen T (2002) Up-to-date long-term survival curves of patients with cancer by period analysis. J Clin Oncol 20(3):826–832

Coleman MP, Forman D, Bryant H, Butler J, Rachet B, Maringe C, Nur U, Tracey E, Coory M, Hatcher J, McGahan CE, Turner D, nad M L Gjerstorff LM, Johannesen TB, Adolfsson J, Lambe M, Lawrence G, Meechan D, Morris EJ, Middleton R, Steward J, Richards MA, (2011) Cancer survival in Australia, Canada, Denmark, Norway, Sweden, and the UK, 1995–2007 (the International Cancer Benchmarking Partnership): an analysis of population-based cancer registry data. Lancet 377:127–138

Coughlin SS, Thompson TD, Hall HI, Logan P, Uhler RJ (2002) Breast and cervical carcinoma screening practices among women in rural and nonrural areas of the United States, 1998–1999. Cancer 94(11):2801–2812

Cramb SM, Mengersen KL, Baade PD (2011) Developing the atlas of cancer in Queensland: methodological issues. Int J Health Geogr 10:9. doi:10.1186/1476-072X-10-9

Cramb SM, Mengersen KL, Turrell G, Baade PD (2012) Spatial inequalities in colorectal and breast cancer survival: premature deaths and associated factors. Health Place 18:1412–1421

Dahlui M, Ng C, Sadat NA, Ismail S, Bulgiba A (2011) Is breast self examination (BSE) still relevant? A study on BSE performance among female staff of University of Malaya. Asian Pac J Cancer Prev 12:369–372

Dasgupta P, Baade P, Aitken J, Turrell G (2012) Multilevel determinants of breast cancer survival: association with geographic remoteness and area-level socioeconomic disadvantage. Breast Cancer Res Treat 132(2):701–710

Davies EA, Renshaw C, Dixon S, Mller H, Coupland VH (2013) Socioeconomic and ethnic inequalities in screen-detected breast cancer in London. J Public Health 1–9. doi:10.1093/pubmed/fdt002

Dickman P, Sloggett A, Hills M, Hakulinen T (2004) Regression models for relative survival. Stat Med 23(1):51–64

Eberly LE, Carlin BP (2000) Identifiability and convergence issues for Markov chain Monte Carlo fitting of spatial models. Stat Med 19:2279–2294

Ederer F, Heise H (1959) Instructions to IBM 650 programmers in processing survival computations (No. 10) p Methodological note, End Results Evaluation Section, National Cancer Institute, Bethesda, MD

Ellison LF, Gibbons L (2006) Survival from cancer-up-to-date predictions using period analysis. Health Rep 17(2):19–30

Eriksson L, Czene K, Rosenberg LU, Trnberg S, Humphreys K, Hall P (2013) Mammographic density and survival in interval breast cancers. Breast Cancer Res 15:R48. doi:10.1186/bcr3440

Fairley L, Forman D, West R, Manda S (2008) Spatial variation in prostate cancer survival in the Northern and Yorkshire region of England using Bayesian relative survival smoothing. Br J Cancer 99(11):1786–1793

Gelman A, Rubin D (1992) Inference from iterative simulation using multiple sequences. Stat Sci 7(4):457–472

Gelman A, Carlin J, Stern H, Rubin D (2014) Bayesian data analysis, 2nd edn. Chapman & Hall/CRC, London

Gilliland FD, Joste N, Stauber PM, Hunt WC, Rosenberg R, Redlich G, Key CR (2000) Biologic characteristics of interval and screen-detected breast cancers. J Natl Cancer Inst 92(9):743–749

Goovaerts P (2006) Geostatistical analysis of disease data: accounting for spatial support and population density in the isopleth mapping of cancer mortality risk using area-to-point Poisson kriging. Int J Health Geogr 5(52):31

Haining R, Law J, Maheswaran R, Pearson T, Brindley P (2007) Bayesian modelling of environmental risk: example using a small area ecological study of coronary heart disease mortality in relation to modelled outdoor nitrogen oxide levels. Stoch Environ Res Risk Assess 21:501–509

Hofvind S, Geller B, Skaane P (2008) Mammographic features and histopathological findings of interval breast cancers. Acta Radiol 49(9):975–981

Hsieh JCF, Cramb SM, McGree JM, Baade PD, Dunn NAM, Mengersen KL (2014) Bayesian spatial analysis for the evaluation of breast cancer detection method. Aust N Z J Stat 55:351–367

Kavanagh A, Amos AF, Mark GM (1999) The Ascertainment and reporting of interval cancers within the breast screen Australian program. NHMRC NBCC, Sydney

Liao YL, Wang JF, Wu JL, Wang JJ, Zheng XY (2011) A comparison of methods for spatial relative risk mapping of human neural tube defects. Stoch Environ Res Risk Assess 25:99–106

Lunn D, Thomas A, Best N, Spiegelhalter D (2000) WinBUGS—a Bayesian modelling framework: concepts, structure, and extensibility. Stat Comput 10:325–337

Lustria MLA, Kazmer MM, Glueckauf RL, Hawkins RP, Randeree E, Rosario IB, McLaughlin C, Redmond S (2010) Participatory design of a health informatics system for rural health practitioners and disadvantaged women. J Assoc Inf Sci Technol 61(11):2243–2255

Ma I, Dueck A, Gray R, Wasif N, Giurescu M, Lorans R, Pizzitola V, Pockaj B (2012) Clinical and self breast examination remain important in the Era of modern screening. Ann Surg Oncol 19:1484–1490

McKenzie F, Ives A, Jeffreys M (2012) Socio-economic inequalities in survival from screen-detected breast cancer in South West England: population-based cohort study. Eur J Public Health 22:418–422

McLafferty S, Wang F, Luo L, Butler J (2011) Rural—urban inequalities in late-stage breast cancer: spatial and social dimensions of risk and access. Environ Plann B Plann Des 38(4):724–740

Mook S, Veer LV, Rutgers E, Ravdin P, van de Velde A, van Leeuwen F, Visser O, Schmidt M (2011) Independent prognostic value of screen detection in invasive breast cancer. J Natl Cancer Inst 103(7):585–597

Nagtegaal I, Allgood P, Duffy S, Kearins O, Sullivan E, Tappenden N, Wallis M, Lawrence G (2011) Prognosis and pathology of screen detected carcinomas. Cancer 117:1360–1368

Nelson AL (2013) Controversies regarding mammography, breast self-examination, and clinical breast examination. Obstet Gynecol Clin North Am 40:413–427

Pohar M, Stare J (2006) Relative survival analysis in R. Comput Methods Programs Biomed 81:272–278

Porter PL, El-Bastawissi AY, Mandelson MT, Lin MG, Khalid N, Watney EA, Cousens L, White D, Taplin S, White E (1999) Breast tumor characteristics as predictors of mammographic detection: comparison of interval- and screen-detected cancers. J Natl Cancer Inst 91:2020–2028

Puigpins-Riera R, Mar-Dell'Olmo M, Gotsens M, Borrell C, Serral G, Ascaso C, Calvo M, Daponte A, Domnguez-Berjn F, Esnaola S (2011) Cancer mortality inequalities in urban areas: a Bayesian small area analysis in Spanish cities. Int J Health Geogr 10(1):6

R Development Core Team (2011) R: a language and environment for statistical computing. R Foundation for Statistical Computing, Vienna, Austria, http://www.R-project.org/

Rayson D, Payne JI, Abdolell M, Barnes PJ, MacIntosh RF, Foley T, Younis T, Burns A, Caines J (2011) Comparison of clinical-pathologic characteristics and outcomes of true interval and screen-detected invasive breast cancer among participants of a canadian breast screening program: a nested case-control study. Clin Breast Cancer 11(1):27–32

Saez M, Barcel M, Martos C, Saurina C, Marcos-Gragera R, Renart G, Ocaa-Riola R, Feja C, Alcal T (2012) Spatial variability in relative survival from female breast cancer. J R Stat Soc Ser A Stat Soc 175:107–134

Shen Y, Yang Y, Inoue L, Munsell M, Miller A, Berry D (2005) Role of detection method in predicting breast cancer survival: analysis of randomized screening trials. J Natl Cancer Inst 97(16):1195–1203

StataCorp (2013) Stata Statistical Software: Release 13. StataCorp LP, College Station, TX

Tango T (2000) A test for spatial disease clustering adjusted for multiple testing. Stat Med 19:191–204

Ugarte MD, Ibez B, Militino AF (2005) Detection of spatial variation in risk when using CAR models for smoothing relative risks. Stoch Environ Res Risk Assess 19:33–40

Wakefield J (2007) Disease mapping and spatial regression with count data. Biostatistics 8(2):158–183

Warren R, Duffy S (2000) Interval cancers as an indicator of perfomance in breast screening. Breast Cancer 7:9–18

Wilke LG, Broadwater G, Rabiner S, Owens E, Yoon S, Ghate S, Scott V, Walsh R, Baker J, Soo MS, Ibarra-Drendall C, Stouder A, Robertson S, Barron A, Seewaldt V (2009) Breast self-examination: defining a cohort still in need. Am J Surg 198:575–579

Wu J, Anttila A, Yen A, Hakama M, Saarenmaa I, Sarkeala T, Malila N, Auvinen A, Chiu S, Chen T (2010) Evaluation of breast cancer service screening programme with a Bayesian approach: mortality analysis in a Finnish region. Breast Cancer Res Treat 121(3):671–678

Youlden D, Cramb S, Baade P (2009) Current status of female breast cancer in Queensland, 1982–2006. Viertel Centre for Research in Cancer Control, Cancer Council Queensland
Acknowledgments
This study was supported by an Australian Research Council (ARC) Linkage Project between Queensland University of Technology, Cancer Council Queensland and BreastScreen Queensland (LP100100570). Peter Baade is funded by a National Health and Medical Research (NHMRC) Career development Fellowship (Level 2) (1005334).
About this article
Cite this article
Hsieh, J.CF., Cramb, S.M., McGree, J.M. et al. Does geographic location impact the survival differential between screen- and interval-detected breast cancers?. Stoch Environ Res Risk Assess 30, 155–165 (2016). https://doi.org/10.1007/s00477-015-1050-4
Keywords
Bayesian modelling

Breast cancer

Mammography screening

Interval-detected

Relative survival

Spatial survival inequalities