Abstract
With climate change and the rapid increase in water demand, droughts, whose intensity, duration and frequency have shown an increasing trend in China over the past decades, are increasingly becoming a critical constraint to China's sustainable socio-economic development, especially in Northern China, even more so. Therefore, it is essential to develop an appropriate drought assessment approach in China. To propose a suitable drought index for drought assessment, the Luanhe river basin in the northern China was selected as a case study site. Based on the Principal Component Analysis of precipitation, evapotranspiration, soil moisture and runoff, the three latter variables of which were obtained by using the Variable Infiltration Capacity land surface macro-scale hydrology model, a new multivariate drought index (MDI) was formulated, and its thresholds were determined by use of cumulative distribution function. To test the applicability of the newly developed index, the MDI, the standardized precipitation index (SPI) and the palmer drought severity index (PDSI) time series on a monthly scale were computed and compared during 1962–1963, 1968 and 1972 drought events. The results show that the MDI exhibited certain advantages over the PDSI and the SPI, i.e. better assessing drought severity and better reflecting drought evolution. The MDI formulated by this paper could provide a scientific basis for drought mitigation and management, and references for drought assessment elsewhere in China.
Access options
Buy single article
Instant access to the full article PDF.
US$ 39.95
Tax calculation will be finalised during checkout.
Subscribe to journal
Immediate online access to all issues from 2019. Subscription will auto renew annually.
US$ 119
Tax calculation will be finalised during checkout.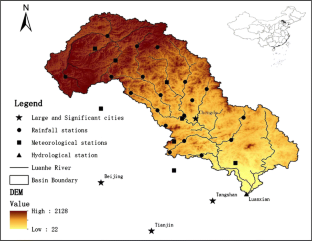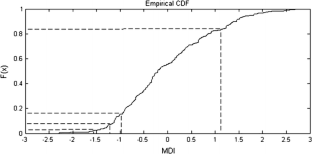 References
Agboma CO, Yirdaw SZ, Snelgrove KR (2009) Intercomparison of the total storage deficit index (TSDI) over two Canadian Prairie catchments. J Hydrol 374:351–359. doi:10.1016/j.jhydrol.2009.06.034

Alley WM (1984) The palmer drought severity index: limitations and assumptions. J Clim Appl Meteorol 23:1100–1109

Andreadis KM, Lettenmaier DP (2006) Trends in twentieth century drought over the continental United States. Geophys Res Lett. doi:10.1029/2006GL025711

Andreadis KM, Clark EA, Wood AW, Hamlet AF, Lettenmaier DP (2005) Twentieth-century drought in the conterminous United States. J Hydrometeorol 6:985–1001. doi:10.1175/JHM450.1

Bao Z, Zhang J, Liu J, Wang G, Fu G, He R, Yan X (2013) Estimation of baseflow parameters in variable infiltration capacity model using soil properties. Adv Water Sci 24:169–175 (in Chinese)

Beven K (2006) A manifesto for the equifinality thesis. J Hydrol 320:18–36

Bohn TJ, Livneh B, Oyler JW, Running SW, Nijssen B, Lettenmaier DP (2013) Global evaluation of MTCLIM and related algorithms for forcing of ecological and hydrological models. Agric For Meteorol 176:38–49. doi:10.1016/j.agrformet.2013.03.003

Brown JF, Wardlow BD, Tadesse T, Hayes MJ, Reed BC (2008) The vegetation drought response index (VegDRI): a new integrated approach for monitoring drought stress in vegetation. GISci Remote Sens 45:16–46

Cattell RB (1952) Factor analysis: an introduction and manual for the Psychologist and Social Scientist, 462 pp. Greenport Press, Westport

Dai A (2011) Drought under global warming: a review. Wiley Interdiscip Rev 2:45–65

Dai A, Trenberth KE, Qian T (2004) A global dataset of palmer drought severity index for 1870–2002: relationship with soil moisture and effects of surface warming. J Hydrometeorol 5:1117–1130. doi:10.1175/JHM-386.1

FEMA (1995) National mitigation strategy: partnerships for building safer communities. Federal Emergency Management Agency, Washington, DC 26 pp

Giraldo OJD, García GSG (2012) Non-stationary analysis of dry spells in monsoon season of Senegal River Basin using data from regional climate models (RCMs). J Hydrol 450:82–92

Gu Y, Liu J, Lin J (2010) Characteristics of drought disasters in China in nearly 60 years. Water Resour Hydropower Eng 41:71–74 (in Chinese)

Hannaford J, Lloyd-Hughes B, Keef C, Parry S, Prudhomme C (2011) Examining the large-scale spatial coherence of European drought using regional indicators of precipitation and streamflow deficit. Hydrol Process 25:1146–1162. doi:10.1002/hyp.7725

Hansen MC, Defries RS, Townshend JRG, Sohlberg R (2000) Global land cover classification at 1 km spatial resolution using a classification tree approach. Int J Remote Sens 21:1331–1364. doi:10.1080/014311600210209

Hao Z, AghaKouchak A (2013) multivariate standardized drought index: a parametric multi-index model. Adv Water Resour 57:12–18

Heim RR (2002) A review of twentieth-century drought indices used in the United States. Bull Am Meteorol Soc 83:1149–1165

Hisdal H, Tallaksen LM (2003) Estimation of regional meteorological and hydrological drought characteristics: a case study for Denmark. J Hydrol 281:230–247. doi:10.1016/s0022-1694(03)00233-6

Jain SK, Keshri R, Goswami A, Sarkar A (2010) Application of meteorological and vegetation indices for evaluation of drought impact: a case study for Rajasthan, India. Nat Hazards 54:643–656. doi:10.1007/s11069-009-9493-x

Keyantash J, Dracup JA (2002) The quantification of drought: an evaluation of drought indices. Bull Am Meteorol Soc 83:1167–1180

Keyantash JA, Dracup JA (2004) An aggregate drought index: assessing drought severity based on fluctuations in the hydrologic cycle and surface water storage. Water Resour Res. doi:10.1029/2003WR002610

Li L, Zheng H (2000) Characteristics and driving forces of annual runoff changes for rivers in North China—a case study in the Chaobaihe River. Acta Geogr Sin 55:309–316 (in Chinese)

Li H, Li Q, Li P (2011) An analysis of social impact of drought in history of North China. J Hohai Univ (Philosophy and Social Sciences) 13:63–66 (in Chinese)

Liang X, Xie Z (2001) A new surface runoff parameterization with subgrid-scale soil heterogeneity for land surface models. Adv Water Resour 24:1173–1193

Liang X, Lettenmaier DP, Wood EF, Burges SJ (1994) A simple hydrologically based model of land surface water and energy fluxes for general circulation models. J Geophys Res. doi:10.1029/94JD00483

Liang E, Liu X, Yuan Y, Qin N, Fang X et al (2006) The 1920s drought recorded by tree rings and historical documents in the semi-arid and arid areas of Northern China. Clim Chang 79:403–432

McKee TB, Doesken NJ, Kleist J (1993) The relationship of drought frequency and duration to time scales. In: Proceedings of the 8th conference on applied climatology vol 22. B Am Meteorol Soc 17:179–183

Mishra AK, Singh VP (2010) A review of drought concepts. J Hydrol 391:202–216. doi:10.1016/j.jhydrol.2010.07.012

Mishra AK, Singh VP (2011) Drought modeling: a review. J Hydrol 403:157–175. doi:10.1016/j.jhydrol.2011.03.049

Mu Q, Zhao M, Kimball JS, McDowell NG, Running SW (2013) A remotely sensed global terrestrial drought severity index. Bull Am Meteorol Soc 94:83–98

Narasimhan B, Srinivasan R (2005) Development and evaluation of soil moisture deficit index (SMDI) and evapotranspiration deficit index (ETDI) for agricultural drought monitoring. Agric For Meteorol 133:69–88. doi:10.1016/j.agrformet.2005.07.012

Nijssen B, Schnur R, Lettenmaier DP (2001) Global retrospective estimation of soil moisture using the variable infiltration capacity land surface model, 1980–93. J Clim 14:1790–1808

Palmer WC (1965) Meteorologic drought. US Department of Commerce, Weather Bureau, Research Paper No. 45, p 58

Qian W, Shan X, Zhu Y (2011) Ranking regional drought events in China for 1960–2009. Adv Atmos Sci 28:310–321. doi:10.1007/s00376-009-9239-4

Reynolds CA, Jackson TJ, Rawls WJ (2000) Estimating soil water-holding capacities by linking the Food and Agriculture Organization soil map of the world with global pedon databases and continuous pedotransfer functions. Water Resour Res 36:3653–3662. doi:10.1029/2000WR900130

Romm J (2011) The next dust bowl. Nature 478:450–451. doi:10.1038/478450a

Sheffield J, Goteti G, Wen F, Wood EF (2004) A simulated soil moisture based drought analysis for the United States. J Geophys Res. doi:10.1029/2004JD00518

Sohrabiz MM, Ryu JH, Abatzoglou J, Tracy J (2013) Climate extreme and its linkage to regional drought over Idaho, USA. Nat Hazards 65:653–681. doi:10.1007/s11069-012-0384-1

Svoboda MD, Hayes M, Heim RR et al (2002) The drought monitor. Bull Am Meteorol Soc 83:1181–1190

Tang C, Piechota TC (2009) Spatial and temporal soil moisture and drought variability in the Upper Colorado River Basin. J Hydrol 379:122–135

Todisco F, Mannocchi F, Vergni L (2013) Severity–duration–frequency curves in the mitigation of drought impact: an agricultural case study. Nat Hazards 65:1863–1881. doi:10.1007/s11069-012-0446-4

Triola MF (1995) Elementary statistics (6th edition). Addison-Wesley, Reading

Wang G, Zhang J, Jin J et al (2012a) Assessing water resources in China using PRECIS projections and a VIC model. Hydrol Earth Syst Sci 16:231–240. doi:10.5194/hess-16-231-2012

Wang L, Wen H, Yang C, Cheng B, Li Q, Shi Z, Li P (2012b) Comparison of three drought indices in Beijing area. Water Resour Power 30:5–7 (in Chinese)

Wilhite DA (2000) Drought as a natural hazard: concepts and definitions. In: Wilhite DA (ed) Drought: a global assessment. Routledge, New York, pp 3–18

Wilhite D, Svoboda M, Hayes M (2007) Understanding the complex impacts of drought: a key to enhancing drought mitigation and preparedness. Water Resour Manag 21:763–774. doi:10.1007/s11269-006-9076-5

Wu Z, Lu G, Wen L, Lin C, Zhang J, Yang Y (2007) Thirty-five year (1971–2005) simulation of daily soil moisture using the variable infiltration capacity model over China. Atmos Ocean 45:37–45. doi:10.3137/ao.v450103

Wu Z, Lu G, Wen L, Lin C (2011) Reconstructing and analyzing China's fifty-nine year (1951–2009) drought history using hydrological model simulation. Hydrol Earth Syst Sci 15:2881–2894. doi:10.5194/hess-15-2881-2011

Xie Z, Su F, Liang X, Zeng Q, Hao Z, Guo F (2003) Applications of a surface runoff model with Horton and Dunne runoff for VIC. Adv Atmos Sci 20:165–172

Yu M, Li Q, Hayes MJ, Svoboda MD, Heim RR (2014) Are droughts becoming more frequent or severe in China based on the standardized precipitation evapotranspiration index: 1951–2010? Int J Climatol 34:545–558. doi:10.1002/joc.3701

Yuan F, Xie Z, Liu Q, Xia J (2005) Simulating hydrologic changes with climate change scenarios in the Haihe River Basin. Pedosphere 15:595–600

Zhai P, Zou X (2005) Changes in temperature and precipitation and their impacts on drought in China during 1951–2003. Adv Clim Chang Res 1:16–18 (in Chinese)

Zhang Q (2003) Drought and its impacts, in China Climate Impact Assessment. China Meteorological Press, Beijing

Zhang A, Jia G (2013) Monitoring meteorological drought in semiarid regions using multi-sensor microwave remote sensing data. Remote Sens Environ 134:12–23

Zhang J, Su Y, Song D, Zhang Y, Song H, Gu Y (2009) The historical droughts in China: 1949–2000. Hohai University Press, Nanjing (in Chinese)

Zhang BQ, Wu PT, Zhao XN, Wang YB, Wang JW, Shi YG (2012) Drought variation trends in different subregions of the Chinese Loess Plateau over the past four decades. Agric Water Manag 115:167–177. doi:10.1016/j.agwat.2012.09.004

Zhang Q, Xiao M, Singh VP, Chen X (2013) Copula-based risk evaluation of hydrological droughts in the East River basin, China. Stoch Environ Res Risk Assess 27:1397–1406

Zou X, Zhai P, Zhang Q (2005) Variations in droughts over China: 1951–2003. Geophys Res Lett. doi:10.1029/2004GL021853

Zou X, Ren G, Zhang Q (2010) Droughts variations in China based on a compound index of meteorological drought. Clim Environ Res 15:371–378 (in Chinese)
Acknowledgments
Financial support is gratefully acknowledged from the National Science Foundation Commission under Grant No. 41171220, China, the project (2012BAB03B03) sponsored by the Ministry of Sciences and Technology, China, the project (200901045) sponsored by the Ministry of Water Resources, China and the "111" Project under Grant B08048.
About this article
Cite this article
Li, Q., Li, P., Li, H. et al. Drought assessment using a multivariate drought index in the Luanhe River basin of Northern China. Stoch Environ Res Risk Assess 29, 1509–1520 (2015). https://doi.org/10.1007/s00477-014-0982-4
Keywords
Luanhe river basin

Variable infiltration capacity model

Drought assessment

Principal component analysis

Multivariate drought index

Standardized precipitation index

Palmer drought severity index