Abstract
The influences of climate drivers (SOI, DMI and Niño3.4) on South Australian (SA) rainfall are investigated in this study. Recent records of monthly rainfall and climate driver index values from 1981 to 2010 were analysed for 53 rainfall stations, located across eight SA natural resources management (NRM) regions. The Pearson, Kendall and Spearman correlation tests were applied between rainfall and climate drivers and between the climate drivers themselves. Both SA summer (December to February) and autumn (March to May) rainfalls were found not significantly influenced by climate indices. Winter rainfall in the south and east parts of SA was found strongly influenced by both SOI and DMI, particularly in July and August. Both SOI and DMI are inter-correlated in winter. Spring rainfall was found significantly influenced by DMI in the south and east parts of SA, particularly in September and October. In terms of ENSO phenomena, whilst both SOI and Niño3.4 are correlated, SOI was found more to be influential than Niño3.4 for SA winter and spring rainfall. Outcomes of the study are useful for stochastic rainfall generation and for developing downscaling techniques to generate rainfall projections in the region.
Access options
Buy single article
Instant access to the full article PDF.
US$ 39.95
Tax calculation will be finalised during checkout.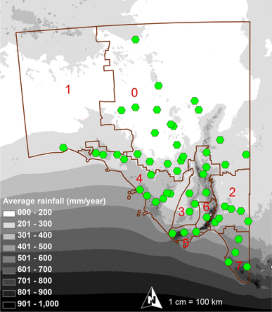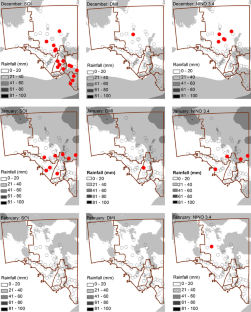 References
Ashok K, Guan ZY, Yamagata T (2003) Influence of the Indian Ocean Dipole on the Australian winter rainfall. Geophys Res Lett 30:1821. doi:10.1029/2003GL017926

Beecham S, Chowdhury RK (2010) Temporal characteristics and variability of point rainfall: a statistical and wavelet analysis. Int J Climatol 34(3):458–473

Cai W, Rensch PV, Cowan T, Hendon HH (2011) Teleconnection pathways of ENSO and the IOD and the mechanisms for impacts on Australian rainfall. J Clim 24:3910–3923

Chambers LE (2003) South Australian rainfall variability and trends. BMRC Research Report No. 92, Australian Bureau of Meteorology

Cheng KS, Hsu HW, Tsai MH, Chang KC Lee RH (2004) Test and analysis of trend existence in rainfall data. Proc Asia Pacific Assoc Hydrol Water Resour 5–8 July 2004, Singapore, Paper No.56

Chowdhury RK (2011) Assessment of observed rainfall variability and its implications for WSUD in Australia. PhD thesis, School of Natural and Built Environments, University of South Australia, Australia

Chowdhury RK, Beecham S (2010) Australian rainfall trends and their relation to the southern oscillation index. Hydrol Process 24(4):504–514

Donald A, Meinke H, Power B, Maia AHN, Wheeler MC, White N, Stone RC, Ribbe J (2006) Near global impact of the Madden-Julian oscillation on rainfall. Geophys Res Lett 33:L09704. doi:10.1029/2005GL025155

Drosdowsky W (2005) The latitude of the subtropical ridge over eastern Australia: the L index revisited. Int J Climatol 25:1291–1299

England MH, Ummenhofer CC, Santoso A (2006) Interannual rainfall extremes over southwest western Australia linked to Indian Ocean climate variability. J Clim 19:1948–1969

Evans AD, Bennett JM, Ewenz CM (2009) South Australian rainfall variability and climate extremes. Clim Dyn 33(4):477–493

Grimm AM (2011) Interannual climate variability in South America: impacts on seasonal precipitation, extreme events, and possible effects of climate change. Stoch Environ Res Risk Assess 25(4):537–554

Hasan MM, Dunn PK (2011) Understanding the effect of climatology on monthly rainfall amounts in Australia using Tweedie GLMs. Int J Climatol. doi:10.1002/joc.2332

Hendon HH, Thompson DWJ, Wheeler MC (2007) Australian rainfall and surface temperature variations associated with the southern hemisphere annular mode. J Clim 20:2452–2467

Hirsch RM, Helsel DR, Cohn TA Gilroy EJ (1993) Statistical analysis of hydrologic data, In: Maidment DR (ed) Handbook of hydrology, McGraw-Hill, Inc. USA, pp. 17.1–17.55

Hope PK, Drosdowsky W, Nicholls N (2006) Shifts in the synoptic systems influencing southwest Western Australia. Clim Dyn 26:751–764

Kim TW, Yoo C, Ahn JH (2008) Influence of climate variation on seasonal precipitation in the Colorado River Basin. Stoch Environ Res Risk Assess 22(3):411–420

Kwon HH, Lall U, Obeysekera J (2009) Simulation of daily rainfall scenarios with interannual and multidecadal climate cycles for South Florida. Stoch Environ Res Risk Assess 23(7):879–896

Lavery B, Kariko A, Nicholls N (1992) A historical rainfall data set for Australia. Aust Meteorol Mag 40:33–39

Marsh N (2004) Time series analysis module: river analysis package. Cooperative Research Centre for Catchment Hydrology, Australia

McBride JL, Nicholls N (1983) Seasonal relationships between Australian rainfall and the southern oscillation. Mon Weather Rev 111:1998–2004

Meneghini B, Simmonds I, Smith IN (2007) Association between Australian rainfall and the southern annular mode. Int J Climatol 27:109–121

Murphy BF, Timbal B (2008) A review of recent climate variability and climate change in southeastern Australia. Int J Climatol 28:859–879

Niu J (2012) Precipitation in the Pearl River basin, South China: scaling, regional patterns, and influence of large-scale climate anomalies. Stoch Environ Res Risk Assess. doi:10.1007/s00477-012-0661-2

Rauch, W. and S. DeToffol, 2006: Climate change induced trends in high resolution rainfall. Proc. 7th International Workshop on Precipitation in Urban Areas: Extreme Precipitation, Multi source Data Measurement and Uncertainty, 7-10 December, 2006, St. Moritz, Switzerland, 119-123

Rio SD, Penas A, Fraile R (2005) Analysis of recent climatic variations in Castile and Leon (Spain). J Atmos Res 73:69–85

Saji NH, Goswami BN, Vinayachandran PN, Yamagata T (1999) A dipole mode in the tropical Indian Ocean. Nature 401:360–363

Simmonds I, Hope P (1997) Persistence characteristics of Australian rainfall anomalies. Int J Climatol 17:597–613

Smith IN, Mcintose P, Ansell TJ, Reason CJC, Mcinnes K (2000) Southwest western Australian winter rainfall and its association with Indian Ocean climate variability. Int J Climatol 20:1913–1930

Ummenhofer CC, Sen-Gupta A, Pook M, England MH (2008) Anomalous rainfall over southwest western Australia forced by Indian Ocean sea surface temperatures. J Clim 21:5113–5134

Ventura F, Pisa PR, Ardizzoni E (2002) Temperature and precipitation trends in Bolonga (Italy) from 1952 to 1999. Atmos Res 61:203–214
Acknowledgments
This research was funded by the Goyder Institute for Water Research as part of the project: Development of an agreed set of climate projections for South Australia (http://www.goyderinstitute.org/programs/climate/index.php). We acknowledge the comments and suggestions of the two anonymous reviewers.
About this article
Cite this article
Chowdhury, R.K., Beecham, S. Influence of SOI, DMI and Niño3.4 on South Australian rainfall. Stoch Environ Res Risk Assess 27, 1909–1920 (2013). https://doi.org/10.1007/s00477-013-0726-x
Keywords
Climate driver

Rainfall

Correlation

SOI

DMI and Niño3.4