Abstract
Southeast Australia is currently in a prolonged drought. The ongoing drought has placed immense pressure on the limited water resources and a perception that this may be the start of a persistent change from historical conditions. Several studies have suggested that part of the current drought could be associated with global warming, and many global climate model projections for southeast Australia are for a drier future on average. However, it is difficult, if not impossible, to separate a global warming signal from the high natural variability observed over the last two centuries and revealed in palaeo-climate records.
Historically, water resources planning have considered past climate variability over different timescales together with impacts of other drivers of water availability. Currently, projections of future climate are highly uncertain and they are best treated as multiple plausible futures. In the future, improved hydroclimate projections, with reliable probabilistic quantification of uncertainties, would help make more informed risk-based water sharing and management decisions. Given the current prolonged drought and predictions of a generally drier future in southeast Australia, it is prudent to plan for conditions that will be drier than those experienced in the long-term historical climate. For short-term and medium-term planning, the recent climate should be considered as one possible scenario because there is a need to manage the drought and there is every possibility that the drought will continue for some time yet (either under climate change or as part of long-term natural variability).
Access options
Buy single article
Instant access to the full article PDF.
USD 39.95
Price excludes VAT (USA)
Tax calculation will be finalised during checkout.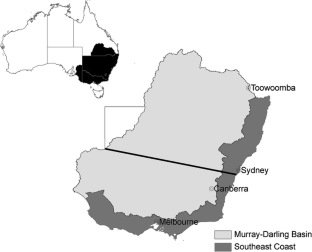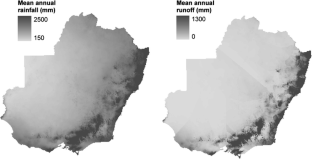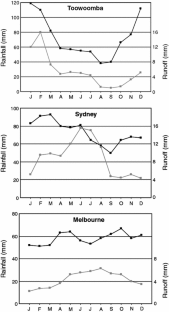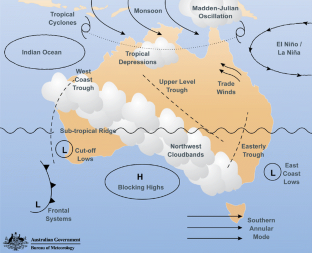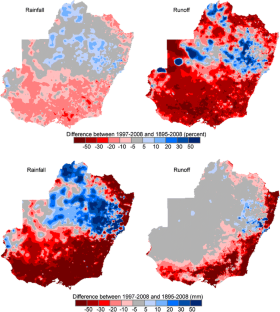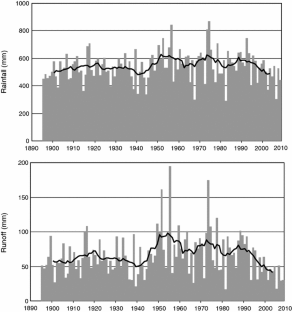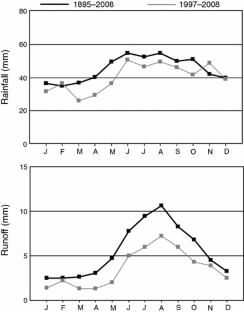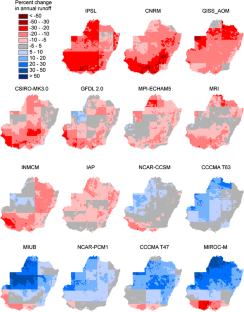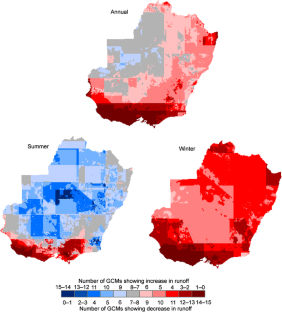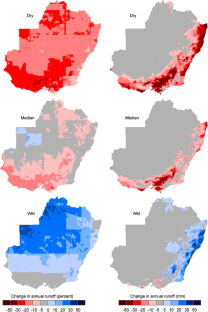 References
Cai W, Cowan T (2006) The SAM and regional rainfall in IPCC AR4 models: an anthropogenic forcing account for southwest Western Australia rainfall reduction. Geophys Res Lett 33:L24708. doi:10/1029/2006GL028037

Cai W, Cowan T (2008a) Dynamics of late autumn rainfall reduction over south eastern Australia. Geophys Res Lett 35:L09708. doi:10.1029/2008GL033727

Cai W, Cowan T (2008b) Evidence of impacts from rising temperature on inflows to the Murray-Darling Basin. Geophys Res Lett 35:L07701. doi:10.1029/2008GL033390

Cai W, Cowan T, Sullivan A (2009) Recent unprecedented skewness towards positive Indian Ocean Dipole occurrences and their impact on Australian rainfall. Geophys Res Lett 36:L11705. doi:10/1029/2009GL037604

Chiew FHS (2006) Estimation of rainfall elasticity of streamflow in Australia. Hydrol Sci J 51:613–625

Chiew FHS, McMahon TA (2002) Global ENSO-streamflow teleconnection, streamflow forecasting and interannual variability. Hydrol Sci J 47:505–522

Chiew FHS, Peel MC, Western AW (2002) Application and testing of the simple rainfall-runoff model SIMHYD. In: Singh VP, Frevert DK (eds) Mathematical models of small watershed hydrology and applications. Water Resources Publication, Littleton, CO, pp 335–367

Chiew FHS, Vaze J, Viney NR et al. (2008) Rainfall-runoff modelling across the Murray-Darling Basin. A report to the Australian Government from the CSIRO Murray-Darling Basin Sustainable Yields Project. http://www.clw.csiro.au/publications/waterforahealthycountry/mdbsy/technical/C-Rainfall-runoffModelling.pdf

Chiew FHS, Teng J, Vaze J, Post DA, Perraud JM, Kirono DGC, Viney NR (2009) Estimating climate change impact on runoff across south-east Australia: method, results and implications of modelling method. Water Resour Res 45:W10414. doi:10.1029/2008WR007338

Cook ER, Bird T, Peterson M et al (1991) Climatic change in Tasmania inferred from a 1089-year tree-ring chronology of subalpine Huon pine. Science 253:1266–1268

CSIRO (Australian Commonwealth Scientific and Industrial Research Organisation) and BoM (Australian Bureau of Meteorology) (2007) Climate change in Australia. Technical Report. http://www.climatechangeinaustralia.gov.au

Drosdowsky W (2002) SST phases and Australian rainfall. Aust Met Mag 51:1–12

Drosdowsky W (2005) The latitude of the subtropical ridge over eastern Australia: the L index revisited. Int J Climatol 25:1291–1299

Franks SW, Kuczera G (2002) Flood frequency analysis: evidence and implications of secular climate variability, New South Wales. Water Resour Res 38:1062. doi:10.1029/2001WR000232

Hendon HH, Thompson DWJ, Wheeler MC (2007) Australian rainfall and temperature variations associated with the Southern Hemisphere Annular Mode. J Climate 20:2452–2467

Hope P, Timbal B, Fawcett R (2009) Associations between rainfall variability in the southwest and southeast of Australia and their evolution through time. Int J Climatol. doi:10.1002/joc.1964

IPCC (2007) Climate change 2007: the physical basis. Contributions of Working Group 1 to the fourth assessment report of the Intergovernmental Panel on Climate Change. Cambridge University Press, Cambridge. www.ipcc.ch

Kingsford RT, Fairweather PG, Geddes MC et al. (2010) Engineering a crisis in a Ramsar wetland: the Coorong, Lower Lakes and Murray Mouth, Australia. Mar Freshw Res (in press)

Lu J, Vecchi GA, Reichler T (2007) Expansion of the Hadley cell under global warming. Geophys Res Lett 34:L06805

McBride JL, Nicholls N (1983) Seasonal relationship between Australian rainfall and the Southern Oscillation. Mon Wea Rev 111:1998–2004

Meyer G, McIntosh P, Pigot L, Pook M (2007) The years of El Niño, La Niña, and interactions with the tropical Indian Ocean. J Climate 20:2872–2880

Milly PCD, Betancourt J, Falkenmark M et al (2008) Stationarity is dead: whither water management? Science 319:573–574

Murphy BF, Timbal B (2007) A review of recent climate variability and climate change in southeastern Australia. Int J Climatol. doi:10.1002/joc.1627

Murray-Darling Basin Commission (2003) Preliminary investigations into observed River Red Gum decline along the River Murray below Euston. Technical Report 03/03. Murray-Darling Basin Commission, Canberra

NationalWater Commission (2007) Australian water resources 2005. National Water Commission, Canberra, Australia

Nicholls N (1989) Sea surface temperatures and Australian winter rainfall. J Climate 2:965–973

Nicholls N. (2009) Local and remote causes of the southern Australian autumn-winter rainfall decline 1958–2007. Clim Dyn. doi:10.1007/s00382-009-0527-6

Peel MC, McMahon TA, Finlayson BL (2004) Continental differences in the variability of annual runoff–update and reassessment. J Hydrol 295:185–197

Potter NJ, Chiew FHS (2009) Statistical characterisation and attribution of recent rainfall and runoff in the Murray Darling Basin. MODSIM 2009 international congress on modelling and simulation, Cairns, July 2009

Potter NJ, Chiew FHS, Frost AJ (2010) An assessment of the severity of recent reductions in rainfall and runoff in the Murray-Darling Basin. J Hydrol 381:52–64. doi:10.16/j.jhydrol.2009.11.025

Power SB, Smith IN (2007) Weakening of the Walker Circulation and apparent dominance of El Niño, both reach record levels but has ENSO really changed? Geophys Res Lett 34:L18702. doi:10/1029/2007GL030854

Power S, Casey T, Folland C, Colma A, Mehta V (1999) Inter-decadal modulation of the impact of ENSO on Australia. Clim Dyn 15:244–319

SEACI (2009) South Eastern Australian climate Initiative factsheets. http://www.mdbc.gov.au/subs/seaci/publications_factsheets.html

Seidel DJ, Randel RJ (2007) Recent widening of the tropical belt: evidence of tropopause observations. J Geophys Res 112:D20133

Smith IN (1994) Indian Ocean sea-surface temperature patterns and Australian winter rainfall. Int J Climatol 14:205–287

Timbal B (2009) The continuing decline in south-east Australian rainfall—update to May 2009. Centre for Australian Weather and Climate Research. http://www.cawcr.gov.au/publications/researchletters.php

Timbal B, Murphy B, Braganza, Hendon H, Wheeler M, Rakich C (2007) Compare documented climate changes with those attributable to specific causes. South Eastern Australian Climate Initiative (SEACI), final report, project 1.1.2. http://www.mdbc.gov.au/subs/seaci/docs/reports/M112_FR07.pdf

Ummenhofer CC, England MH, McIntosh PC et al (2009) What causes southeast Australia's worst droughts? Geophys Res Lett 36:L04706. doi:10.1029/2008GL036801

Verdon DC, Franks SW (2005) Indian Ocean sea surface temperature variability and winter rainfall: Eastern Australia. Water Resour Res 41:W09413. doi:10.1029/2004WR003845

Verdon DC, Franks SW (2006) Long-term behaviour of ENSO: interactions with the PDO over the past 400 years inferred from paleoclimate records. Geophys Res Lett 33:L07612. doi:10.1029/2005GL025052

Verdon DC, Wyatt AM, Kiem AS, Franks SW (2004) Multidecadal variability of rainfall and streamflow: Eastern Australia. Water Resour Res 40:W10201. doi:10.1029/2004WR2003234

Verdon-Kidd DC, Kiem AS (2009) On the relationship between large-scale climate modes and regional synoptic patterns that drive Victorian rainfall. Hydrol Earth Syst Sci 13:467–479. www.hydrol-earth-syst-sci.net/13/467/2009/
Acknowledgments
Much of the material in this article comes from research in the CSIRO Water for a Healthy Country Research Flagship through the South Eastern Australian Climate Initiative and the Murray-Darling Basin Sustainable Yields Project. The authors acknowledge the contributions from the large project teams and the funding from various partners, especially the National Water Commission, Murray-Darling Basin Authority, Victorian Department of Sustainability and Environment, Department of Climate Change and Land and Water Australia. The authors would like to thank Lu Zhang and Nick Potter and the two SERRA journal reviewers for reviewing and providing constructive comments on the article.
About this article
Cite this article
Chiew, F.H.S., Young, W.J., Cai, W. et al. Current drought and future hydroclimate projections in southeast Australia and implications for water resources management. Stoch Environ Res Risk Assess 25, 601–612 (2011). https://doi.org/10.1007/s00477-010-0424-x
Published:

Issue Date:

DOI: https://doi.org/10.1007/s00477-010-0424-x
Keywords
Southeast Australia

Rainfall

Runoff

Drought

Climate change

Water resources

Planning and management