Abstract
Recent climate change projections suggest that negative impacts on flood control and water supply functions and on existing and future ecosystem restoration projects in south Florida are possible. An analysis of historical rainfall and temperature data of the Florida peninsula indicates that there were no discernible trends in both the long-term record and during the more recent period (1950–2007). A comparison of General Circulation Model (GCM) results for the 20th century with the historical data shows that many of the GCMs do not capture the statistical characteristics of regional rainfall and temperature regimes in south Florida. Investigation of historical sea level data at Key West finds evidence for an increase in the occurrence and variance of maximum sea level events for the period 1961–2008 in relation to 1913–1960, along with a shift of energy from shorter to longer timescales. In order to understand the vulnerability of the water management system in south Florida in response to changing precipitation and evapotranspiration forcing, a sensitivity analysis using a regional-scale hydrologic and water management model is conducted. Model results suggest that projected climate change has potential to reduce the effectiveness of water supply and flood control operations for all water sectors. These findings emphasize that questions on the potential impacts of climate change need to be investigated with particular attention paid to the uncertainties of such projections.
Access options
Buy single article
Instant access to the full article PDF.
USD 39.95
Price includes VAT (USA)
Tax calculation will be finalised during checkout.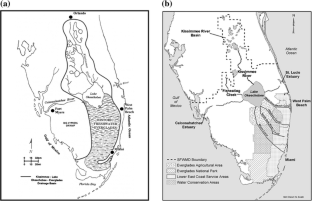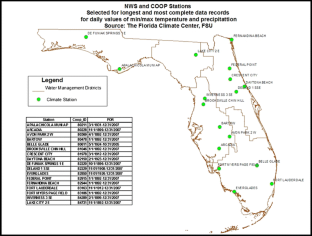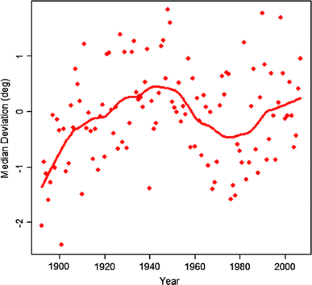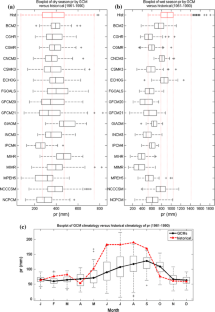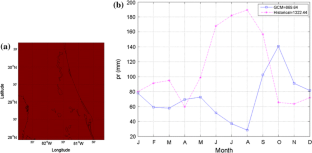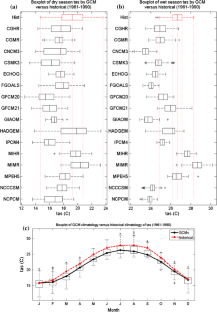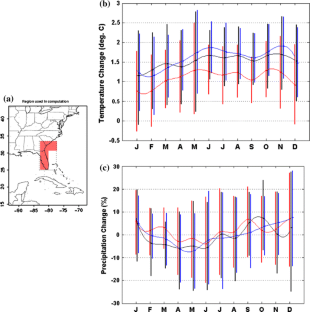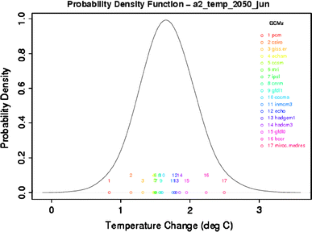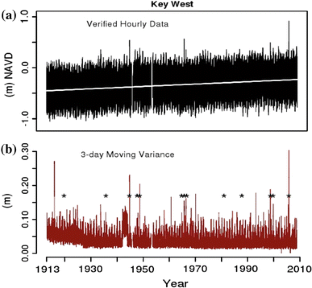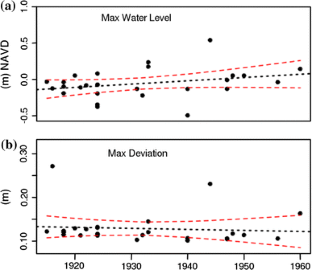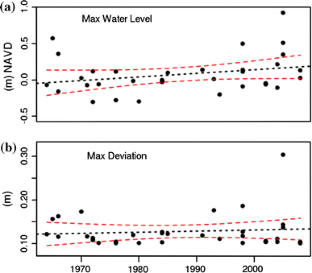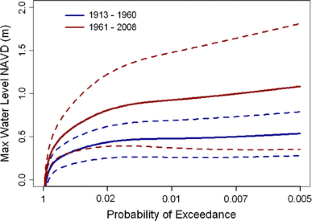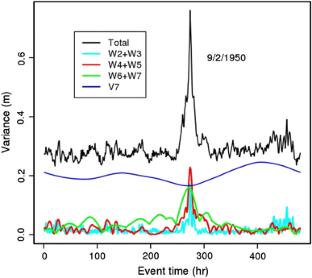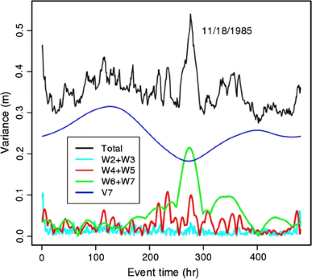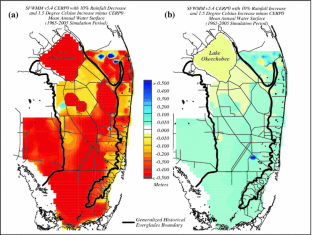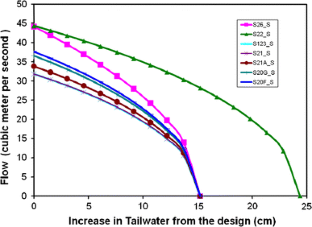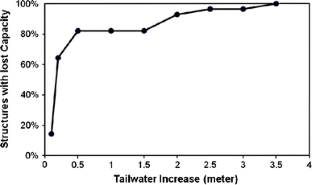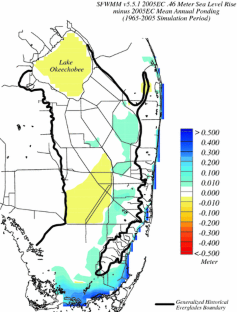 References
Brekke LD, Dettinger MD, Maurer EP, Anderson M (2008) Significance of model credibility in estimating climate projection distributions for regional hydroclimatological risk assessments. Clim Change 89:371–394. doi:10.1007/s10584-007-9388-3

Brekke LD, Kiang JE, Olsen JR, Pulwarty RS, Raff DA, Turnipseed DP, Webb RS, White KD (2009a) Climate change and water resources management—a federal perspective. US Geol Surv Circ 1331. http://pubs.usgs.gov/circ/1331/

Brekke LD, Maurer EP, Anderson JD, Dettinger MD, Townsley ES, Harrison A, Pruitt T (2009b) Assessing reservoir operations risk under climate change. Water Resour Res 45:W04411. doi:10.1029/2008ER006941

Coles S (2001) An introduction to statistical modeling of extreme values. Springer-Verlag, London. ISBN: 1-85233-459-2

Enfield DB, Mestas-Nuñez AM, Trimble PJ (2001) The Atlantic multidecadal oscillation and its relation to rainfall and river flows in the continental US. Geophys Res Lett 28:2077–2080. doi:10.1029/2000GL012745

Giorgi F, Mearns LO (2002) Calculation of average, uncertainty range, and reliability of regional climate changes from AOGCM simulations via the "reliability ensemble averaging" (REA) method. J Clim 15:1141–1158. doi:10.1175/1520-0442(2002)015<1141:COAURA>2.0.CO;2

Groves D, Yates D, Tebaldi C (2008) Developing and applying uncertain global climate change, projections for regional water management planning. J Water Resour Res 44:W12413. doi:10.1029/2008WR006964

Hanson K, Maul GA (1991) Florida precipitation and the Pacific El Niño, 1895–1989. Fla Sci 54:161–168

Hewitson BC, Crane RG (1996) Climate downscaling: techniques and applications. Clim Res 7:85–95. doi:10.3354/cr007085

Hofstadter R, Bidegain M (1997) Performance of general circulation models in southeastern South America. Clim Res 9:101–105. doi:10.3354/cr009101

Holgate SJ, Woodworth PL (2005) Evidence for enhanced coastal sea level rise during the 1990s. Geophys Res Lett 31:L07305. doi:10.1029/2004GL019626

IPCC (2007a) Climate change 2007—the physical science basis, contribution of working group I to the fourth assessment report of the IPCC. Cambridge University Press

IPCC (2007b) Chapter 5. Observations: oceanic climate change and sea level. In: Solomon et al (ed) Climate change 2007: the physical science basis. Contribution of working group I to the fourth assessment report of the intergovernmental panel on climate change. Cambridge University Press, Cambridge, UK, New York, USA

IPCC (2007c) Chapter 8. Climate models and their evaluation. In: Solomon et al (ed) Climate Change 2007—the physical science basis. contribution of working group I to the fourth assessment report of the intergovernmental panel on climate change. Cambridge University Press, Cambridge, UK, New York, USA

Jevrejeva S, Grinsted A, Moore JC, Holgate S (2006) Nonlinear trends and multiyear cycles in sea level records. J Geophys Res 111:C09012. doi:10.1029/2005JC003229

Jevrejeva S, Moore JC, Grinsted A, Woodworth PL (2008) Recent global sea level acceleration started over 200 years ago? Geophys Res Lett 35:L08715. doi:10.1029/2008GL033611

Katz RW, Parlange MB, Naveau P (2002) Statistics of extremes in hydrology. Adv Water Resour 25:1287–1304. doi:10.1016/S0309-1708(02)00056-8

Keller CF (2009) Global warming: a review of this mostly settled issue. Stoch Environ Res Risk Assess. doi:10.1007/s00477-8-0253-3

Kukla G, Karl TR (1993) Nighttime warming and the greenhouse effect. Environ Sci Technol 27(8):1468–1474. doi:10.1021/es00045a001

Kwon H-H, Lall U, Obeysekera J (2009) Simulation of daily rainfall scenarios with interannual and multidecadal climate cycles for south Florida. Stoch Environ Res Risk Assess. doi:10.2007/s00477-008-0270-2

Maurer EP, Hidalgo HG (2008) Utility of daily vs. monthly large-scale climate data: an intercomparison of two statistical downscaling methods. Hydrol Earth Syst Sci 12:551–563

Maurer EP, Brekke L, Pruitt T, Duffy PB (2007) Fine-resolution climate projections enhance regional climate change impact studies. Eos Trans AGU 88(47):504. doi:10.1029/EO470006

Meehl GA, Covey C, Delworth T, Latif M, McAvaney B, Mitchell JFB, Stouffer RJ, Taylor KE (2007) The WCRP CMIP3 multi-model dataset: a new era in climate change research. Bull Am Meteorol Soc 88:1383–1394

Mestas-Nuñez AM, Enfield DB (2003) Investigation of intra-seasonal to multi-decadal variability in south Florida rainfall. NOAA Atlantic Oceanographic and Meteorological Laboratory, pp 83. http://www.aoml.noaa.gov/phod/docs/Mestas_Enfield_FR_2003.pdf

Miami-Dade County Climate Change Advisory Task Force (2008) Second report and initial recommendations presented to the Miami-Dade Board of County Commissioners, April 2008. http://www.miamidade.gov/derm/library/08-10-04_CCATF_BCC_Package.pdf. Accessed 15 Mar 2009

Milly PCD, Bettencourt J, Falkenmark M, Hirsch RM, Kundezewicz ZW, Lettenmaier DP, Stouffer RJ (2008) Stationarity is dead-Whither water management. Science 319:573–574. doi:10.1126/science.1151915

Mitchell TD, Jones PD (2005) An improved method of constructing a database of monthly climate observations and associated high resolution grids. Int J Climatol 25:693–712. doi:10.1002/joc.1181

Murphy JM, Sexton DMH, Barnett DN, Jones GS, Webb MJ, Collins M, Stainforth DA (2004) Quantification of modelling uncertainties in a large ensemble of climate change simulations. Nature 430:768–772. doi:10.1038/nature02771

National Climatic Data Center (NCDC) (2008) U.S.A. Divisional Climate Data. http://www.wrcc.dri.edu/spi/divplot1map.html. Accessed 19 June 2008

National Oceanic and Atmospheric Administration (NOAA) National Ocean Service (NOS) Center for Operational Oceanographic Products and Services (CO-OPS). http://tidesandcurrents.noaa.gov/data_menu.shtml?stn=8724580%20Key%20West,%20FL&type=Data+Inventory. Accessed 16 Mar 2009

Nguyen VTV, Nguyen TD (2008) A spatial-temporal statistical downscaling approach to estimation of extreme precipitations for climate-related impact studies at a local site. In: Proceedings of the ASCE world environmental and water resources congress 2008—Ahupua'A

Percival DB, Walden AT (2006) Wavelet methods for time series analysis. Cambridge University Press, New York

Pielke RA Sr et al (2007) Unresolved issues with the assessment of multidecadal global land surface temperature trends. J Geophys Res 112:D24S08. doi:10.1029/2006JD008229

SFWMD (2005) Documentation of the South Florida Water Management Model, Version, 5.5. https://my.sfwmd.gov/pls/portal/docs/PAGE/PG_GRP_SFWMD_HESM/PORTLET_SFWMM/PORTLET_SUBTAB_SFWMM/TAB1354042/SFWMM_FINAL_121605.PDF

SFWMD (2009) Chapter 2. Hydrology of the south Florida environment. In: 2009 south Florida environmental report (SFER) volume I—the south Florida environment. South Florida Water Management District, West Palm Beach, FL, USA

Stephenson A, Gilleland E (2006) Software for the analysis of extreme events: the current state and future directions. Extremes 8:87–109. doi:10.1007/s10687-006-7962-0

Tebaldi C, Smith RL, Nychka D, Mearns LO (2005) Quantifying uncertainty in projections of regional climate change: a Bayesian approach to the analysis of multimodel ensembles. J Clim 18(10):1524–1540. doi:10.1175/JCLI3363.1

The R Foundation for Statistical Computing (2008) R version 2.7.2 (2008-08-25). ISBN: 3-900051-07-0

Trimble PJ, Obeysekera TB, Cadavid LG, Santee ER (2006) Applications of climate outlooks for water management in south Florida. In: Garbrecht JD, Piechota TC (ed) Climate variations, climate change, and water resources engineering. ASCE/EWRI, Reston, VA

U.S. Climate Change Science Program (USCCSP) (2008) Climate models—an assessment of strengths and limitations. Synthesis and Assessment Product 3.1. http://www.climatescience.gov/Library/sap/sap3-1/final-report/sap3-1-final-all.pdf

USACE & SFWMD (1999) The central and southern Florida flood control project comprehensive review study final integrated feasibility report and programmatic impact statement (PEIS). South Florida Water Management District, West Palm Beach, FL. http://www.evergladesplan.org/pub/restudy_eis.cfm#mainreport

Walton TL (2007) Projected sea level rise in Florida. Ocean Eng 34:1832–1840. doi:10.1016/j.oceaneng.2007.02.003

White NJ, Church JA, Gregory JM (2005) Coastal, global averaged sea level rise for 1950 to 2000. Geophys Res Lett 32:L01601. doi:10.1029/2004GL021391

Winsberg MD, Simmons M (2009) An analysis of the beginning, end, length, and strength of Florida's hot season, Center for Ocean-Atmospheric Prediction Studies, Florida State University, Tallahassee, Florida. http://coaps.fsu.edu/climate_center/docs/flhotseason.php

Woodworth PL, Blackman DL (2004) Evidence for systematic changes in extreme high waters since the mid-1970s. J Clim 17:1190–1197. doi:10.1175/1520-0442(2004)017<1190:EFSCIE>2.0
Acknowledgments
We acknowledge the modeling groups, the Program for Climate Model Diagnosis and Intercomparison (PCMDI) and the WCRP's Working Group on Coupled Modelling (WGCM) for their roles in making available the WCRP CMIP3 multi-model dataset. Support of this dataset is provided by the Office of Science, U.S. Department of Energy. Assistance provided by Seth McGinnis at the National Center for Atmospheric Research (NCAR) in obtaining probabilistic results of the multi-model ensembles of GCMs is also acknowledged. Authors are also grateful to the contributions from Paul Trimble and Winnie Said at the South Florida Water Management District.
About this article
Cite this article
Obeysekera, J., Irizarry, M., Park, J. et al. Climate change and its implications for water resources management in south Florida. Stoch Environ Res Risk Assess 25, 495–516 (2011). https://doi.org/10.1007/s00477-010-0418-8
Keywords
Climate change

Water resources management

Sea level rise

Historical trends

South Florida