Abstract
Key Message
Short-term exposure to high temperatures modulates the aromatic cytokinin profile of radiata pine embryonal masses when measured 8 weeks after initiation.
Abstract Recent research has demonstrated that cytokinins could be involved in abiotic stress responses. However, little research has been published about the role of endogenous aromatic cytokinins during these processes. Therefore, in this study, different temperature and incubation periods (23 ºC, 8 weeks; 40 ºC, 4 h; 50 ºC, 30 min; 60 ºC, 5 min) were applied during induction of radiata pine somatic embryogenesis and the aromatic cytokinin content of the resulting embryonal masses was measured. Results indicated that temperature during induction had a significant effect on the profile of most of the aromatic cytokinins detected. All tested higher temperatures than control provoked a decline in some free bases, including N6-benzyladenine, ortho-Topolin and para-Topolin. On the other hand, the values of N6-benzyladenine nucleotides, ribosides and irreversible metabolites (9G), as well as para-Topolin ribosides, increased in embryonal masses originating from 40 ºC treatment. These results suggest that despite not being traditionally considered part of the stress response machinery, aromatic cytokinins might be involved in heat-stress responses during early stages of somatic embryogenesis in radiata pine.
Access options
Buy single article
Instant access to the full article PDF.
USD 39.95
Price excludes VAT (USA)
Tax calculation will be finalised during checkout.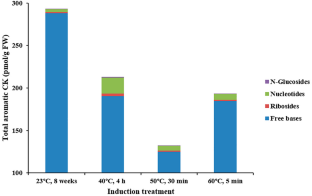 Abbreviations
CK:

Cytokinins

SE:

Somatic embryogenesis

EM:

Embryonal mass

ECL:

Established cell line

BA:

N6-Benzyladenine

BAR:

N6-Benzyladenosine

BARMP:

N6-Benzyladenosine-5′monophosphate

BA7G:

N6-Benzyladenine-7-glucoside

BA9G:

N6-Benzyladenine-9-glucoside

oT:

ortho-Topolin

oTR:

ortho-Topolin riboside

oT7G:

ortho-Topolin-7-glucoside

oT9G:

ortho-Topolin-9-glucoside

mT:

meta-Topolin

mTR:

meta-Topolin riboside

mT7G:

meta-Topolin-7-glucoside

mT9G:

meta-Topolin-9-glucoside

pT:

para-Topolin

pTR:

para-Topolin riboside

pT7G:

para-Topolin-7-glucoside

pT9G:

para-Topolin-9-glucoside

K:

Kinetin

KR:

Kinetin riboside

K9G:

Kinetin-9-glucoside
References
Ahanger MA, Mir RA, Alyemeni MN, Ahmad P (2020) Combined effects of brassinosteroid and kinetin mitigates salinity stress in tomato through the modulation of antioxidant and osmolyte metabolism. Plant Physiol Biochem 147:31–42. https://doi.org/10.1016/j.plaphy.2019.12.007

Alvarez S, Marsh EL, Schroeder SG, Schachtman DP (2008) Metabolomic and proteomic changes in the xylem sap of maize under drought. Plant Cell Environ 31:325–340. https://doi.org/10.1111/j.1365-3040.2007.01770.x

Bielach A, Hrtyan M, Tognetti VB (2017) Plants under stress: involvement of auxin and cytokinin. Int J Mol Sci 18:1427. https://doi.org/10.3390/ijms18071427

Casati S, Ottria R, Baldoli E, Lopez E, Maier JAM, Ciuffreda P (2011) Effects of cytokinins, cytokinin ribosides and their analogs on the viability of normal and neoplastic human cells. Anticancer Res 31:3401–3406

Castander-Olarieta A, Montalbán IA, De Medeiros OE et al (2019) Effect of thermal stress on tissue ultrastructure and metabolite profiles during initiation of radiata pine somatic embryogenesis. Front Plant Sci 9:1–16. https://doi.org/10.3389/fpls.2018.02004

Castander-Olarieta A, Moncaleán P, Pereira C et al (2020) Cytokinins are involved in drought tolerance of Pinus radiata plants originating from embryonal masses induced at high temperatures. Tree Physiol. https://doi.org/10.1093/treephys/tpaa055

Černý M, Jedelský PL, Novák J, Schlosser A, Brzobohatý B (2014) Cytokinin modulates proteomic, transcriptomic and growth responses to temperature shocks in Arabidopsis. Plant Cell Environ 37:1641–1655. https://doi.org/10.1111/pce.12270

Chhabra ML, Dhawan A, Sangwan N, Dhawan K, Singh D (2009) Phytohormones induced amelioration of high temperature stress in Brassica juncea (L.) Czern and Coss. In: Proceedings of 16th Australian Research Assembly on Brassicans, Ballarat, 10–14 September

Cuesta C, Novák O, Ordás RJ, Fernández B, Strnad M, Doležal K, Rodríguez A (2012) Endogenous cytokinin profiles and their relationships to between-family differences during adventitious caulogenesis in Pinus pinea cotyledons. J Plant Physiol 169:1830–1837. https://doi.org/10.1016/j.jplph.2012.08.012

De Diego N, Saiz-Fernández I, Rodríguez JL, Pérez-Alfocea P, Sampedro MC, Barrio RJ, Lacuesta M, Moncaleán P (2015) Metabolites and hormones are involved in the intraspecific variability of drought hardening in radiata pine. J Plant Physiol 188:64–71. https://doi.org/10.1016/j.jplph.2015.08.006

Dobra J, Motyka V, Dobrev P et al (2010) Comparison of hormonal responses to heat, drought and combined stress in tobacco plants with elevated proline content. J Plant Physiol 167:1360–1370. https://doi.org/10.1016/j.jplph.2010.05.013

Escandón M, Cañal MJ, Pascual J, Pinto G, Correia B, Amaral J, Meijón M (2016) Integrated physiological and hormonal profile of heat-induced thermotolerance in Pinus radiata. Tree Physiol 36:63–77. https://doi.org/10.1093/treephys/tpv127

Gautier F, Label P, Eliášová K et al (2019) Cytological, biochemical and molecular events of the embryogenic state in Douglas-fir (Pseudotsuga menziesii [Mirb.]). Front Plant Sci 10:118. https://doi.org/10.3389/fpls.2019.00118

Ghafari H, Hassanpour H, Jafari M, Besharat S (2020) Physiological, biochemical and gene-expressional responses to water deficit in apple subjected to partial root-zone drying (PRD). Plant Physiol Biochem 148:333–346. https://doi.org/10.1016/j.plaphy.2020.01.034

Ishii Y, Sakai S, Honma Y (2003) Cytokinin-induced differentiation of human myeloid leukemia HL-60 cells is associated with the formation of nucleotides, but not with incorporation into DNA or RNA. Biochim Biophys Acta 1643:11–24. https://doi.org/10.1016/j.bbamcr.2003.08.004

Lubovská Z, Dobrá J, Štorchová H, Wilhelmová N, Vanková R (2014) Cytokinin oxidase/dehydrogenase overexpression modifies antioxidant defense against heat, drought and their combination in Nicotiana tabacum plants. J Plant Physiol 171:1625–1633. https://doi.org/10.1016/j.jplph.2014.06.021

Moncaleán P, Alonso P, Centeno ML, Cortizo M, Rodríguez A, Fernández B, Ordás RJ (2005) Organogenic responses of Pinus pinea cotyledons to hormonal treatments: BA metabolism and cytokinin content. Tree Physiol 25:1–9. https://doi.org/10.1093/treephys/25.1.1

Moncaleán P, García-Mendiguren O, Novák O, Strnad M, Goicoa T, Ugarte MD, Montalbán IA (2018) Temperature and water availability during maturation affect the cytokinins and auxins profile of radiata pine somatic embryos. Front Plant Sci 9:1–13. https://doi.org/10.3389/fpls.2018.01898

Montalbán IA, De Diego N, Moncaleán P (2012) Enhancing initiation and proliferation in radiata pine (Pinus radiata D. Don) somatic embryogenesis through seed family screening, zygotic embryo staging and media adjustments. Acta Physiol Plant 34:451–460. https://doi.org/10.1007/s11738-011-0841-6

Montalbán IA, Novák O, Rolčik J, Strnad M, Moncaleán P (2013) Endogenous cytokinin and auxin profiles during in vitro organogenesis from vegetative buds of Pinus radiata adult trees. Physiol Plant 148:214–231. https://doi.org/10.1111/j.1399-3054.2012.01709.x

Prerostova S, Dobrev PI, Kramna B, Gaudinova A, Knirsch V, Spichal L, Zatloukal M, Vankova R (2020) Heat acclimation and inhibition of cytokinin degradation positively affect heat stress tolerance of Arabidopsis. Front Plant Sci 11:1–14. https://doi.org/10.3389/fpls.2020.00087

Stirk WA, Novák O, Žižková E, Motyka V, Strnad M, Van Staden J (2012) Comparison of endogenous cytokinins and cytokinin oxidase/dehydrogenase activity in germinating and thermoinhibited Tagetes minuta achenes. J Plant Physiol 169:696–703. https://doi.org/10.1016/j.jplph.2012.01.013

Strnad M (1997) The aromatic cytokinins. Physiol Plant 101:674–688. https://doi.org/10.1111/j.1399-3054.1997.tb01052.x

Svačinová J, Novák O, Plačková L, Lenobel R, Holík J, Strnad M, Doležal K (2012) A new approach for cytokinin isolation from Arabidopsis tissues using miniaturized purification: pipette tip solid-phase extraction. Plant Methods 8:1–14. https://doi.org/10.1186/1746-4811-8-17

Vondrakova Z, Dobrev PI, Pesek B, Fischerova L, Vagner M, Motyka V (2018) Profiles of endogenous phytohormones over the course of Norway spruce somatic embryogenesis. Front Plant Sci 9:1–13. https://doi.org/10.3389/fpls.2018.01283

Walter C, Find JI, Grace LJ (2005) Somatic embryogenesis and genetic transformation in Pinus radiate. In: Jain SM, Gupta PK (eds) Protocols for somatic embryogenesis in woody plants, vol 77. Springer, Dordrecht, pp 491–504

Wang L, Cheng J, Lin F, Liu SX, Pan H, Li M, Li SS, Li N, Li WP (2019) Ortho-topolin riboside induced differentiation through inhibition of STAT3 signaling in acute myeloid leukemia HL-60 cells. Turk J Hematol 36:162–168. https://doi.org/10.4274/tjh.galenos.2019.2019.0020

Wani SH, Kumar V, Shriram V, Sah SK (2016) Phytohormones and their metabolic engineering for abiotic stress tolerance in crop plants. Crop J 4:162–176. https://doi.org/10.1016/j.cj.2016.01.010

Żur I, Dubas E, Krzewska M, Waligórski P, Dziurka M, Janowiak F (2015) Hormonal requirements for effective induction of microspore embryogenesis in triticale (× Triticosecale Wittm.) anther cultures. Plant Cell Rep 34:47–62. https://doi.org/10.1007/s00299-014-1686-4
Funding
This research was funded by MINECO project (AGL2016-76143-C4-3R), CYTED (P117RT0522), DECO (Basque government) and MULTIFOREVER project, supported under the umbrella of ERA-NET Cofund ForestValue by ANR (FR), FNR (DE), MINCyT (AR), MINECO-AEI (ES), MMM (FI) and VINNOVA (SE). ForestValue has received funding from the European Union's Horizon 2020 research and innovation programme under Grant Agreement No. 773324. This work was also supported by the Internal Grant Agency of Palacký University (IGA_PrF_2020_021) and from European Regional Development Fund-Project "Plants as a tool for sustainable global development" (No. CZ.02.1.01/0.0/0.0/16_019/0000827).
Ethics declarations
Conflict of interest
The authors declare that the research was conducted in the absence of any commercial or financial relationships that could be construed as a potential conflict of interest.
Additional information
Communicated by Klimaszewska.
Publisher's Note
Springer Nature remains neutral with regard to jurisdictional claims in published maps and institutional affiliations.
About this article
Cite this article
Castander-Olarieta, A., Pereira, C., Montalbán, I.A. et al. Quantification of endogenous aromatic cytokinins in Pinus radiata embryonal masses after application of heat stress during initiation of somatic embryogenesis. Trees 35, 1075–1080 (2021). https://doi.org/10.1007/s00468-020-02047-x
Received:

Accepted:

Published:

Issue Date:

DOI: https://doi.org/10.1007/s00468-020-02047-x
Keywords