Abstract
Key message
Black spruce ecotypes exhibit temperature-adapted bud burst, while bud set is independent of temperature. Warmer conditions could advance bud burst, but no direct effect is expected for bud set
Abstract
Phenological adjustment is a key adaptive trait closely associated with the environment. Species spreading over a wide geographical range can evolve ecotypes that are able to grow and reproduce under particular local conditions. We compared the thermal conditions during bud phenology in black spruce [Picea mariana (Mill.) BSP] populations to assess the differences among ecotypes. The phases of bud burst and bud set were monitored weekly during 2015, 2017 and 2018 in saplings growing in a common garden, and originating from a latitudinal range across the whole closed boreal forest of Quebec, Canada. Provenances from the northern sites exhibited both earlier bud burst and bud set, with differences of 8 and 11 days, respectively, between the northern and southern provenances. Bud burst occurred under colder temperatures in provenances from the northern sites. The phase of open bud occurred at 4 °C in the northernmost provenance, compared to 8 °C in the southernmost one. Bud set occurred in summer, when temperatures still exceeded 20 °C, and no difference was observed between provenances. Black spruce populations exhibit a clear clinal differentiation in ecotypes showing temperature-adapted bud burst of the apical meristem. The need to complete formation of the winter bud and hardening before autumn leads bud set to being independent of the air temperature. Warmer conditions can affect the timings of spring phenology by anticipating bud burst in black spruce, although no direct effect may be expected for bud set.
Access options
Buy single article
Instant access to the full article PDF.
USD 39.95
Price includes VAT (USA)
Tax calculation will be finalised during checkout.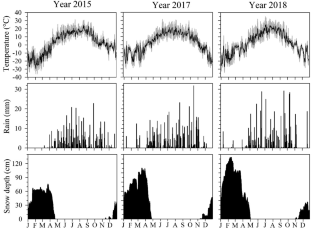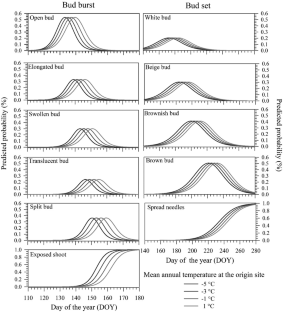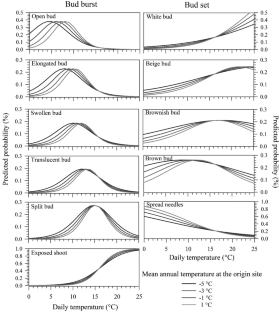 References
Aitken SN, Yeaman S, Holliday JA, Wang T, Curtis-McLane S (2008) Adaptation, migration or extirpation: climate change outcomes for tree populations. Evol Appl 1:95–111. https://doi.org/10.1111/j.1752-4571.2007.00013.x

Andalo C, Beaulieu J, Bousquet J (2005) The impact of climate change on growth of local white spruce populations in Québec, Canada. For Ecol Manage 205:169–182. https://doi.org/10.1016/j.foreco.2004.10.045

Antonucci S, Rossi S, Deslauriers A, Lombardi F, Marchetti M, Tognetti R (2015) Synchronisms and correlations of spring phenology between apical and lateral meristems in two boreal conifers. Tree Physiol 35:1086–1094. https://doi.org/10.1093/treephys/tpv077

Bailey JD, Harrington CA (2006) Temperature regulation of bud-burst phenology within and among years in a young Douglas-fir (Pseudotsuga menziesii) plantation in western Washington, USA. Tree Physiol 26:421–430. https://doi.org/10.1093/treephys/26.4.421

Beaulieu J, Perron M, Bousquet J (2004) Multivariate patterns of adaptive genetic variation and seed source transfer in Picea mariana. Can J For Res 34:531–545. https://doi.org/10.1139/x03-224

Bertin RI (2008) Plant phenology and distribution in relation to recent climate change. J Torrey Bot Soc 135:126–147. https://doi.org/10.3159/07-rp-035r.1

Blum BM (1988) Variation in the phenology of bud flushing in white and red spruce. Can J For Res 18:315–319. https://doi.org/10.1139/x88-048

Boulouf Lugo J, Deslauriers A, Rossi S (2012) Duration of xylogenesis in black spruce lengthened between 1950 and 2010. Ann Bot 110:1099–1108. https://doi.org/10.1093/aob/mcs175

Charrier G, Ngao J, Saudreau M, Améglio T (2015) Effects of environmental factors and management practices on microclimate, winter physiology, and frost resistance in trees. Front Plant Sci 6:259. https://doi.org/10.3389/fpls.2015.00259

Chen L, Huang JG, Ma Q, Hänninen H, Rossi S, Piao S, Bergeron Y (2018) Spring phenology at different altitudes is becoming more uniform under global warming in Europe. Glob Chang Biol 24:3969–3975. https://doi.org/10.1111/gcb.14288

Chuine I (2010) Why does phenology drive species distribution? Philos Trans R Soc B Biol Sci 365:3149–3160. https://doi.org/10.1098/rstb.2010.0142

Chuine I, Beaubien EG (2001) Phenology is a major determinant of tree species range. Ecol Lett 4:500–510. https://doi.org/10.1046/j.1461-0248.2001.00261.x

Cooke JEK, Eriksson ME, Juntilla O (2012) The dynamic nature of bud dormancy in trees: environmental control and molecular mechanisms. Plant Cell Environ 35:1707–1728. https://doi.org/10.1111/j.1365-3040.2012.02552.x

Cuny HE, Rathgeber CBK, Frank D, Fonti P, Makinen H, Prislan P, Rossi S, Del Castillo EM, Campelo F, Vavrčík H, Camarero JJ, Bryukhanova MV, Jyske T, Gricar J, Gryc V, De Luis M, Vieira J, Cufar K, Kirdyanov AV, Oberhuber W, Treml V, Huang JG, Li X, Swidrak I, Deslauriers A, Liang E, Nojd P, Gruber A, Nabais C, Morin H, Krause C, King G, Fournier M (2015) Woody biomass production lags stem-girth increase by over one month in coniferous forests. Nat Plants 1:15160. https://doi.org/10.1038/nplants.2015.160

Dewan S, Vander Mijnsbrugge K, Steenackers M, De Frenne P, Michiels B, Verheyen K (2018) Maternal temperature during seed maturation affects seed germination and timing of bud set in seedlings of European black poplar. For Ecol Manage 410:126–135. https://doi.org/10.1016/j.foreco.2018.01.002

Dhont P, Sylvestre P, Gros-Louis M-C, Isabel N (2010) Field guide for identifying apical bud break and bud formation stages in white spruce. Natural Resources Canada, Québec (ISBN: 978-1-100-93942-1)

Flynn DFB, Wolkovich EM (2018) Temperature and photoperiod drive spring phenology across all species in a temperate forest community. New Phytol 219:1353–1362. https://doi.org/10.1111/nph.15232

Fu YH, Zhao H, Piao S, Peaucelle M, Peng S, Zhou G, Ciais P, Huang M, Menzel A, Peñuelas J, Song Y, Vitasse Y, Zeng Z, Janssens IA (2015) Declining global warming effects on the phenology of spring leaf unfolding. Nature 526:104. https://doi.org/10.1038/nature15402

Gerst KL, Rossington NL, Mazer SJ (2017) Phenological responsiveness to climate differs among four species of Quercus in North America. J Ecol 105:1610–1622. https://doi.org/10.1111/1365-2745.12774

Gordo O, Sanz JJ (2010) Impact of climate change on plant phenology in Mediterranean ecosystems. Glob Chang Biol 16:1082–1106. https://doi.org/10.1111/j.1365-2486.2009.02084.x

Hänninen H (1990) Modelling bud dormancy release in trees from cool and temperate regions. Acta For Fenn 213:1–47. https://doi.org/10.14214/aff.7660

Hänninen H, Kramer K, Tanino K et al (2019) Experiments are necessary in process-based tree phenology modelling. Trends Plant Sci 24:199–209. https://doi.org/10.1016/J.TPLANTS.2018.11.006

Johnsen Ø, Fossdal CG, Nagy N, Jø Mølmann, Dæhlen OG, Skrøppa T (2005) Climatic adaptation in Picea abies progenies is affected by the temperature during zygotic embryogenesis and seed maturation. Plant Cell Environ 28:1090–1102. https://doi.org/10.1111/j.1365-3040.2005.01356.x

Körner C (2012) Alpine treelines: functional ecology of the global high elevation tree limits. Springer Basel, Springer Science and Business Media, Basel

Körner C, Basler D (2010) Phenology under global warming. Science 327:1461–1462. https://doi.org/10.1126/science.1186473

Ma Q, Huang JG, Hänninen H, Berninger F (2019) Divergent trends in the risk of spring frost damage to trees in Europe with recent warming. Glob Chang Biol 25:351–360. https://doi.org/10.1111/gcb.14479

Parmesan C (2006) Ecological and evolutionary responses to recent climate change. Annu Rev Ecol Evol Syst 37:637–669. https://doi.org/10.1146/annurev.ecolsys.37.091305.110100

Pearson RG, Dawson TP (2003) Predicting the impacts of climate change on the distribution of species: are bioclimate envelope models useful? Glob Ecol Biogeogr 12:361–371. https://doi.org/10.1046/j.1466-822X.2003.00042.x

Quinn GP, Keough MJ (2002) Experimental design and data analysis for biologists. Cambridge University Press, Cambridge

Rossi S, Bousquet J (2014) The bud break process and its variation among local populations of boreal black spruce. Front Plant Sci 5:574. https://doi.org/10.3389/fpls.2014.00574

Rossi S, Isabel N (2017) Bud break responds more strongly to daytime than night-time temperature under asymmetric experimental warming. Glob Chang Biol 23:446–454. https://doi.org/10.1111/gcb.13360

Rossi S, Deslauriers A, Anfodillo T, Carrer M (2008) Age-dependent xylogenesis in timberline conifers. New Phytol 177:199–208. https://doi.org/10.1111/j.1469-8137.2007.02235.x

Rossi S, Anfodillo T, Čufar K, Cuny HE, Deslauriers A, Fonti P, Frank D, Gričar J, Gruber A, Huang JG, Jyske T, Kašpar J, King G, Krause C, Liang E, Mäkinen H, Morin H, Nöjd P, Oberhuber W, Prislan P, Rathgeber CBK, Saracino A, Swidrak I, Treml V (2016) Pattern of xylem phenology in conifers of cold ecosystems at the Northern Hemisphere. Glob Change Biol 22:3804–3813. https://doi.org/10.1111/gcb.13317

Salminen H, Jalkanen R (2005) Modelling the effect of temperature on height increment of Scots pine at high latitudes. Silva Fenn 39:497–508. https://doi.org/10.14214/sf.362

Silvestro R, Rossi S, Zhang S, Froment I, Huang JG, Saracino A (2019) From phenology to forest management: ecotypes selection can avoid early or late frosts, but not both. For Ecol Manage 436:21–26. https://doi.org/10.1016/J.FORECO.2019.01.005

Singh RK, Svystun T, AlDahmash B, Jönsson AM, Bhalerao RP (2017) Photoperiod-and temperature-mediated control of phenology in trees—a molecular perspective. New Phytol 213:511–524. https://doi.org/10.1111/nph.14346

Sitch S, Smith B, Prentice IC, Arneth A, Bondeau A, Cramer W, Kaplan JO, Levis S, Lucht W, Sykes MT, Thonicke K, Venevsky S (2003) Evaluation of ecosystem dynamics, plant geography and terrestrial carbon cycling in the LPJ dynamic global vegetation model. Glob Chang Biol 9:161–185. https://doi.org/10.1046/j.1365-2486.2003.00569.x

Webber J, Ott P, Owens J, Binder W (2005) Elevated temperature during reproductive development affects cone traits and progeny performance in Picea glauca × engelmannii complex. Tree Physiol 25:1219–1227. https://doi.org/10.1093/treephys/25.10.1219

Wolkovich EM, Cook BI, Allen JM, Crimmins TM, Betancourt JL, Travers SE, Pau S, Regetz J, Davies TJ, Kraft NJB, Ault TR, Bolmgren K, Mazer SJ, McCabe GJ, McGill BJ, Parmesan C, Salamin N, Schwartz MD, Cleland EE (2012) Warming experiments underpredict plant phenological responses to climate change. Nature 485:494. https://doi.org/10.1038/nature11014

Yakovlev IA, Carneros E, Lee YK, Olsen JE, Fossdal CG (2016) Transcriptional profiling of epigenetic regulators in somatic embryos during temperature induced formation of an epigenetic memory in Norway spruce. Planta 243:1237–1249. https://doi.org/10.1007/s00425-016-2484-8

Zohner CM, Benito BM, Svenning JC, Renner SS (2016) Day length unlikely to constrain climate-driven shifts in leaf-out times of northern woody plants. Nat Clim Chang 6:1120. https://doi.org/10.1038/nclimate3138
Acknowledgements
This work was funded by the Ministère des Forêts, de la Faune et des Parcs du Québec, Forêt d'Enseignement et de Recherche Simoncouche, and the Fondation de l'Université du Québec à Chicoutimi. A. Usmani received a scholarship from the Chinese Academy of Sciences. This work was also funded by the National Natural Science Foundation of China (41861124001, 41661144007), the International Collaborative Key Project of the Chinese Academy of Sciences (CAS) (GJHZ1752), and CAS President's International Fellowship Initiative (Grant no. 2019VBA0049) and Key Special Project for Introduced Talents Team of Southern Marine Science and Engineering Guangdong Laboratory (Guangzhou) (GML2019ZD0408). The authors thank I. Allie, I. Froment, V. Néron, L. Balducci for technical support, H. Husnain Nawaz for reading the manuscript, and A. Garside for editing the English text.
Ethics declarations
Conflict of interest
The authors declare that this work has no potential conflict of interest.
Additional information
Publisher's Note
Springer Nature remains neutral with regard to jurisdictional claims in published maps and institutional affiliations.
Communicated by T. Rötzer.
Electronic supplementary material
Below is the link to the electronic supplementary material.
About this article
Cite this article
Usmani, A., Silvestro, R., Zhang, S. et al. Ecotypic differentiation of black spruce populations: temperature triggers bud burst but not bud set. Trees 34, 1313–1321 (2020). https://doi.org/10.1007/s00468-020-01999-4
Received:

Accepted:

Published:

Issue Date:
Keywords
Bud phenology

Climate change

Picea mariana

Boreal forest

Clinal variation

Meristem