Abstract
Key message
Root grafting occurs in 15-year-old hybrid poplar clones; and tree proximity, tree and root sizes are key factors enhancing its frequency.
Abstract
Root grafting in trees is a well-recognized phenomenon allowing nutrient and photosynthate redistribution between connected trees. This study assessed the influence of tree spacing on root graft formation in a 15-year-old hybrid poplar plantation with two clones (747215: Populus balsamifera × Populus trichocarpa and 915319: Populus maximowiczii × Populus balsamifera) planted and two spacings (1 × 1 m, 3 × 3 m) in Amos, Quebec, Canada. Root graft occurrence was characterized and tree growth metrics including tree diameter and height, number of roots, root cross-sectional area and root age were measured after hydraulic excavation of root systems. We showed that root grafts were present between trees distant of 1 m but not between trees planted at the 3 × 3 m spacing. An average of 38% of excavated trees was grafted in the 1 × 1 m plots with a mean of 1.14 grafts per tree, and 86% of the grafted trees were located in the exterior part of plots (the border rows), where the trees had grown larger. Root grafts were relatively young (1–6 years) and most had not yet completed, preventing us from determining the effect of root grafting on tree growth. Root grafts were more prevalent in clone 915319, and in trees that had greater above and belowground growth. These results strengthen the postulate that tree proximity enhances the frequency of root grafting.
Access options
Buy single article
Instant access to the full article PDF.
US$ 39.95
Tax calculation will be finalised during checkout.
Subscribe to journal
Immediate online access to all issues from 2019. Subscription will auto renew annually.
US$ 119
Tax calculation will be finalised during checkout.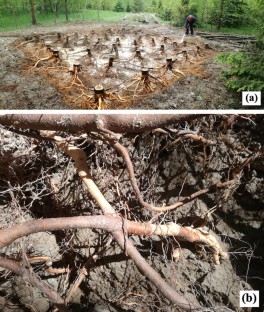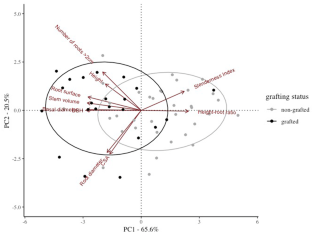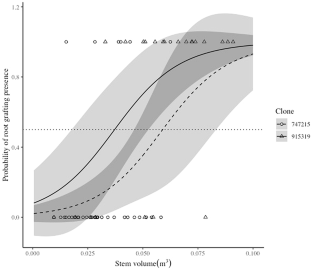 References
Adonsou KE, DesRochers A, Tremblay F, Thomas BR, Isabel N (2016a) The clonal root system of balsam poplar in upland sites of Quebec and Alberta. Ecol Evolut 6:6846–6854. https://doi.org/10.1002/ece3.2441

Adonsou KE, Drobyshev I, DesRochers A, Tremblay F (2016b) Root connections affect radial growth of balsam poplar trees. Trees 30:1775–1783. https://doi.org/10.1007/s00468-016-1409-2

Armson KA, van den Driessche R (1959) Natural root grafts in red pine (Pinus resinosa Ait.). For Chronicle 35:232–241

Bader MK, Leuzinger S (2019) Hydraulic coupling of a leafless kauri tree remnant to conspecific hosts. iScience 19:1238–1247. https://doi.org/10.1016/j.isci.2019.05.009

Basnet K, Scatena FN, Likens GE, Lugo AE (1993) Ecological consequences of root grafting in Tabonuco (Dacryodes excelsa) trees in the Luquillo Experimental Forest, Puerto Rico. Biotropica 25:28–35

Benomar L, DesRochers A, Larocque GR (2012) The effects of spacing on growth, morphology and biomass production and allocation in two hybrid poplar clones growing in the boreal region of Canada. Trees 26:939–949. https://doi.org/10.1007/s00468-011-0671-6

Bertness MD, Callaway R (1994) Positive interactions in communities. Trends Ecol Evolut 9:191–193. https://doi.org/10.1016/0169-5347(94)90088-4

Bilodeau-Gauthier S, Paré D, Messier C, Bélanger N (2013) Root production of hybrid poplars and nitrogen mineralization improve following mounding of boreal Podzols. Can J For Res 43:1092–1103. https://doi.org/10.1139/cjfr-2013-0338

Bormann FH, Graham BF (1959) The occurrence of natural root grafting in eastern white pine, Pinus strobus L., and its ecological implications. Ecology 40:677–691

Burnham KP, Anderson DR (2004) Multimodel inference: understanding AIC and BIC in model selection. Sociol Methods Res 33:261–304. https://doi.org/10.1177/0049124104268644

Cook DB, Welch DS (1957) Backflash damage to residual stands incident to chemi-peeling. J For 55:265–267

Domenicano S, Coll L, Messier C, Berninger F (2011) Nitrogen forms affect root structure and water uptake in the hybrid poplar. New For 42:347–362. https://doi.org/10.1007/s11056-011-9256-x

Eis S (1972) Root grafts and their silvicultural implications. Can J For Res 2:111–120

Environment and Natural Resources Canada (2018) Canadian climate normals 1981–2010 station data. https://climat.meteo.gc.ca/climate_normals/results_1981_2010_f.html?searchType=stnName&txtStationName=amos&searchMethod=contains&txtCentralLatMin=0&txtCentralLatSec=0&txtCentralLongMin=0&txtCentralLongSec=0&stnID=6019&dispBack=1. Accessed 18 Feb 2019

Fraser EC, Lieffers VJ, Landhäusser SM (2005) Age, stand density, and tree size as factors in root and basal grafting of lodgepole pine. Can J Bot 83:983–988. https://doi.org/10.1139/B05-048

Fraser EC, Lieffers VJ, Landhäusser SM (2006) Carbohydrate transfer through root grafts to support shaded trees. Tree Physiol 26:1019–1023

Gleason ML, Mueller D (2005) Sustainable urban landscapes: Oak Wilt, Identification and Management. Iowa State University, University Extension, p 8

Graham BF, Bormann FH (1966) Natural root grafts. Bot Rev 32:255–292

Guillemette T, DesRochers A (2008) Early growth and nutrition of hybrid poplars fertilized at planting in the boreal forest of western Quebec. For Ecol Manag 255:2981–2989. https://doi.org/10.1016/j.foreco.2008.02.004

Jelínková H, Tremblay F, DesRochers A (2009) Molecular and dendrochronological analysis of ratural root grafting in Populus tremuloides (Salicaceae). Am J Bot 96:1500–1505. https://doi.org/10.3732/ajb.0800177

Keeley JE (1988) Population variation in root grafting and hypothesis. Oikos 52:364–366

Kosmidis I (2007) brglm: bias reduction in binary-response GLMs. R package version 0.5-4. R Foundation for Statistical Computation Vienna. https://CRAN.R-project.org/package=brglm

Krause C, Morin H (2005) Adventive-root development in mature black spruce and balsam fir in the boreal forests of Quebec, Canada. Can J For Res 35:2642–2654. https://doi.org/10.1139/x05-171

Külla T, Lõhmus K (1999) Influence of cultivation method on root grafting in Norway spruce (Picea abies (L.) Karst.). Plant Soil 217:91–100

Langton S (1990) Avoiding edge effects in agroforestry experiments; the use of neighbour-balanced designs and guard areas. Agrofor Syst 12:173–185

Lev-Yadun S (2011) Why should trees have natural root grafts? Tree Physiol 31:575–578. https://doi.org/10.1093/treephys/tpr061

Loehle C, Jones RH (1990) Adaptive significance of root grafting in trees. Funct Ecol 4:268–271

McIntire EJ, Fajardo A (2014) Facilitation as a ubiquitous driver of biodiversity. New Phytol 201:403–416. https://doi.org/10.1111/nph.12478

McIvor IR, Douglas GB, Hurst SE, Hussain Z, Foote AG (2008) Structural root growth of young Veronese poplars on erodible slopes in the southern North Island, New Zealand. Agrofor Syst 72:75–86. https://doi.org/10.1007/s10457-007-9090-5

Pekár S, Brabec M (2016) Modern analysis of biological data: generalized linear models in R. Masarykova Univerzita, p 226

Perron J (1996) Inventaire forestier. Manuel de foresterie, Ordre des ingénieurs forestiers du Québec edn. Les Presses de l'Université, Ste-Foy, Quebec, pp 390–473

R Core Team (2019) R: a language and environment for statistical computing. R Foundation for Statistical Computing, Vienna

Reynolds KM, Bloomberg WJ (1982) Estimating probability of intertree root contact in second-growth Douglas-fir. Can J For Res 12:493–498

Ruel J-C, Larouche C, Achim A (2003) Changes in root morphology after precommercial thinning in balsam fir stands. Can J For Res 33:2452–2459. https://doi.org/10.1139/x03-178

Salomón RL, Tarroux E, DesRochers A (2016) Natural root grafting in Picea mariana to cope with spruce budworm outbreaks. Can J For Res 46:1059–1066. https://doi.org/10.1139/cjfr-2016-0121

Schultz RP, Woods FW (1967) The frequency and implications of intraspecific root-grafting in loblolly pine. For Sci 13:226–239. https://doi.org/10.1093/forestscience/13.3.226

Stone JE, Stone EL (1975) The communal root system of red pine: water conduction through root grafts. For Sci 21:255–261. https://doi.org/10.1093/forestscience/21.3.255

Tarroux E, DesRochers A (2010) Frequency of root grafting in naturally and artificially regenerated stands of Pinus banksiana: influence of site characteristics. Can J For Res 40:861–871. https://doi.org/10.1139/x10-038

Tarroux E, DesRochers A (2011) Effect of natural root grafting on growth response of jack pine (Pinus banksiana; Pinaceae). Am J Bot 98:967–974. https://doi.org/10.3732/ajb.1000261

Tarroux E, DesRochers A, Krause C (2010) Effect of natural root grafting on growth response of jack pine (Pinus banksiana) after commercial thinning. For Ecol Manag 260:526–535. https://doi.org/10.1016/j.foreco.2010.05.008

Wang Y, Titus SJ, LeMay VM (1998) Relationships between tree slenderness coefficients and tree or stand characteristics for major species in boreal mixedwood forests. Can J For Res 28:1171–1183

West PW (2009) Tree and forest measurement. Springer, Heidelberg

York RA, Battles JJ, Heald RC (2003) Edge effects in mixed conifer group selection openings: tree height response to resource gradients. For Ecol Manag 179:107–121. https://doi.org/10.1016/s0378-1127(02)00487-5
Acknowledgements
The research was funded by a Natural Sciences and Engineering Research Council discovery grant to AD. We are grateful to Elizabeth Turcotte and Ludovic Bouliane for their assistance with data collection and fieldwork.
Ethics declarations
Conflict of interest
The authors declare that they have no conflict of interest.
Additional information
Publisher's Note
Springer Nature remains neutral with regard to jurisdictional claims in published maps and institutional affiliations.
Communicated by R. Guy.
Electronic supplementary material
Below is the link to the electronic supplementary material.
About this article
Cite this article
Gaspard, D.T., DesRochers, A. Natural root grafting in hybrid poplar clones. Trees 34, 881–890 (2020). https://doi.org/10.1007/s00468-020-01966-z
Received:

Accepted:

Published:

Issue Date:
Keywords
Root grafting

Clone

Fast-growing plantation

Roots

Hybrid poplar