Abstract
Key message
Cambial activity of ~100-year-old Qilian juniper trees initiated before the middle of May at an elevation of 3200 m a.s.l.; June and July were the main stem radial increment period. Around the middle of August, all xylem cell differentiation periods are completed. Precipitation or relative humidity is the main limiting factor for tree radial growth on the northeastern Tibetan Plateau.
Abstract
Previous studies have found that annual tree-ring width series of Qilian juniper (Sabina przewalskii Kom.) in the northeastern Tibetan Plateau (TP) are mostly moisture controlled, irrespective of site elevation. Knowing precisely the cambial growth dynamics during a vegetation period can lead to a better understanding of the climatic factors driving regional tree growth patterns. We observed wood formation with micro-cores taken at weekly intervals from late April to early October 2013, and monitored daily stem radial changes with high-resolution electronic point dendrometers in 30-min intervals. Dormant cambium contained 5–6 cell layers in the cambium zone. Cambial activity initiated before the middle of May in all the monitored trees. About three quarters of the total cell production or radial growth formed during June and July. Lignification of secondary walls of new xylem cells continued from end of May to middle of August. After the middle of August, the cambium entered into the inactive period. Dendrometer measurements confirmed that June and July were the main stem radial increment period. Nonparametric Kendall's Tau correlations indicate that daily relative humidity and precipitation significantly influence stem growth in May. No obvious relationships were detected in June. In July, significant negative influences of maximum temperature and positive effects of relative humidity prevailed. Overall, growing season precipitation or associated relative humidity is the limiting factor for tree stem radial increments on the intra-annual scale. Our results present a thorough understanding of Qilian juniper xylogenesis and its climate forcing within the whole growing season on the northeastern TP.
Access options
Buy single article
Instant access to the full article PDF.
USD 39.95
Price excludes VAT (USA)
Tax calculation will be finalised during checkout.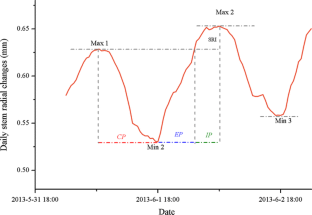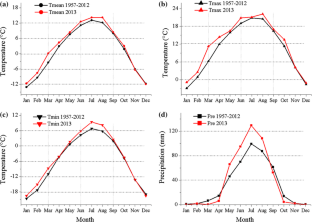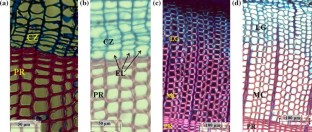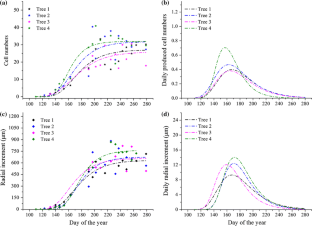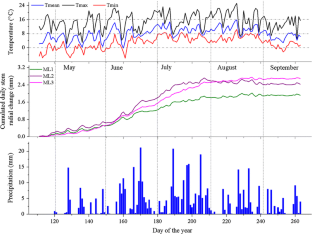 References
Abe H, Nakai T, Utsumi Y, Kagawa A (2003) Temporal water deficit and wood formation in Cryptomeria japonica. Tree Physiol 23:859–863

Arend M, Fromm J (2007) Seasonal change in the drought response of wood cell development in poplar. Tree Physiol 27:985–992

Bäucker E, Bues C, Vogel M (1998) Radial growth dynamics of spruce (Picea abies) measured by micro-cores. IAWA J 19:301–309

Belien E, Rossi S, Morin H, Deslauriers A (2012) Xylogenesis in black spruce subjected to rain exclusion in the field. Can J For Res 42:1306–1315

Belien E, Rossi S, Morin H, Deslauriers A (2014) High-resolution analysis of stem radius variations in black spruce [Picea mariana (Mill.) BSP] subjected to rain exclusion for three summers. Trees 28:1257–1265

Biondi F, Hartsough P (2010) Using automated point dendrometers to analyze tropical treeline stem growth at Nevado de Colima, Mexico. Sensors (Basel) 10:5827–5844

Bräuning A, Volland-Voigt F, Burchardt I, Ganzhi O, Nauss T et al (2009) Climatic control of radial growth of Cedrela montana in a humid mountain rain forest in southern Ecuador. Erdkunde 63:337–345

Briffa KR, Melvin TM, Osborn TJ, Hantemirov RM, Kirdyanov AV, Mazepa VS, Shiyatov SG, Esper J (2013) Reassessing the evidence for tree-growth and inferred temperature change during the Common Era in Yamalia, northwest Siberia. Quat Sci Rev 72:83–107

Büntgen U, Tegel W, Nicolussi K, McCormick M, Frank D, Trouet V, Kaplan JO, Herzig F, Heussner KU, Wanner H, Luterbacher J, Esper J (2011) 2500 years of European climate variability and human susceptibility. Science 331:578–582

Camarero JJ, Olano JM, Parras A (2010) Plastic bimodal xylogenesis in conifers from continental Mediterranean climates. New Phytol 185:471–480

Chan T, Holtta T, Berninger F, Makinen H, Nöjd P, Mencuccini M, Nikinmaa E (2015) Separating water-potential induced swelling and shrinking from measured radial stem variations reveals a cambial growth and osmotic concentration signal. Plant Cell Environ. doi:10.1111/pce.12541

Chaves MM, Pereira JS, Maroco J, Rodrigues ML, Ricardo CPP, Osorio ML, Carvalho I, Faria T, Pinheiro C (2002) How plants cope with water stress in the field? Photosynthesis and growth. Ann Bot 89:907–916

Cook ER, Anchukaitis KJ, Buckley BM, D'Arrigo RD, Jacoby GC, Wright WE (2010) Asian monsoon failure and megadrought during the last millennium. Science 328:486–489

Deslauriers A, Morin H, Urbinati C, Carrer M (2003) Daily weather response of balsam fir (Abies balsamea (L.) Mill.) stem radius increment from dendrometer analysis in the boreal forests of Québec (Canada). Trees 17:477–484

Deslauriers A, Rossi S, Anfodillo T (2007) Dendrometer and intra-annual tree growth: what kind of information can be inferred? Dendrochronologia 25:113–124

Deslauriers A, Rossi S, Anfodillo T, Saracino A (2008) Cambial phenology, wood formation and temperature thresholds in two contrasting years at high altitude in southern Italy. Tree Physiol 28:863–871

Deslauriers A, Giovannelli A, Rossi S, Castro G, Fragnelli G, Traversi L (2009) Intra-annual cambial activity and carbon availability in stem of poplar. Tree Physiol 29:1223–1235

Deslauriers A, Beaulieu M, Balducci L, Giovannelli A, Gagnon MJ, Rossi S (2014) Impact of warming and drought on carbon balance related to wood formation in black spruce. Ann Bot 114:335–345

Downes G, Beadle C, Worledge D (1999) Daily stem growth patterns in irrigated Eucalyptus globulus and E. nitens in relation to climate. Trees 14:102–111

Duchesne L, Houle D (2011) Modeling day-to-day stem diameter variation and annual growth of balsam fir (Abies balsamea (L.) Mill.) from daily climate. For Ecol and Manag 262:863–872

Eckstein D, Schweingruber F (2009) Dendrochronologia—a mirror for 25 years of tree-ring research and a sensor for promising topics. Dendrochronologia 27:7–13

Fritts HC (1976) Tree rings and climate. Academic Press, London

Gou XH, Deng Y, Gao LL, Chen FH, Cook ER, Yang MX, Zhang F (2014) Millennium tree-ring reconstruction of drought variability in the eastern Qilian Mountains, northwest China. Clim Dyn. doi:10.1007/s00382-014-2431-y

Gruber A, Strobl S, Veit B, Oberhuber W (2010) Impact of drought on the temporal dynamics of wood formation in Pinus sylvestris. Tree Physiol 30:490–501

Jiang Y, Wang BQ, Dong MY, Huang YM, Wang MC, Wang B (2014) Response of daily stem radial growth of Platycladus orientalis to environmental factors in a semi-arid area of North China. Trees 29(1):87–96

King G, Fonti P, Nievergelt D, Büntgen U, Frank D (2013) Climatic drivers of hourly to yearly tree radius variations along a 6°C natural warming gradient. Agr Forest Meteorol 168:36–46

Köcher P, Horna V, Leuschner C (2012) Environmental control of daily stem growth patterns in five temperate broad-leaved tree species. Tree Physiol 32:1021–1032

Krepkowski J, Bräuning A, Gebrekirstos A, Strobl S (2011) Cambial growth dynamics and climatic control of different tree life forms in tropical mountain forest in Ethiopia. Trees 25:59–70

Krepkowski J, Gebrekirstos A, Shibistova O, Brauning A (2013) Stable carbon isotope labeling reveals different carry-over effects between functional types of tropical trees in an Ethiopian mountain forest. New Phytol 199:441–451

Lenz A, Hoch G, Körner C (2013) Early season temperature controls cambial activity and total tree ring width at the alpine treeline. Plant Ecol Divers 6:365–375

Li X, Liang E, Gricar J, Prislan P, Rossi S, Čufar K (2013) Age dependence of xylogenesis and its climatic sensitivity in Smith fir on the south-eastern Tibetan Plateau. Tree Physiol 33:48–56

Liang EY, Eckstein D, Shao XM (2009) Seasonal cambial activity of relict Chinese pine at the northern limit of its natural distribution in north China-exploratory results. IAWA J 30:371–378

Lupi C, Morin H, Deslauriers A, Rossi S (2012) Xylogenesis in black spruce: does soil temperature matter? Tree Physiol 32:74–82

Mäkinen H, Nöjd P, Saranpää P (2003) Seasonal changes in stem radius and production of new tracheids in Norway spruce. Tree Physiol 23:959–968

Mäkinen H, Seo J-W, Nöjd P, Schmitt U, Jalkanen R (2008) Seasonal dynamics of wood formation: a comparison between pinning, microcoring and dendrometer measurements. Eur J Forest Res 127:235–245

Oberhuber W, Gruber A, Kofler W, Swidrak I (2014) Radial stem growth in response to microclimate and soil moisture in a drought-prone mixed coniferous forest at an inner Alpine site. Eur J For Res 133:467–479

Oladi R, Pourtahmasi K, Eckstein D, Bräuning A (2011) Seasonal dynamics of wood formation in Oriental beech (Fagus orientalis Lipsky) along an altitudinal gradient in the Hyrcanian forest. Iran. Trees 25:425–433

Oribe Y, Funada R, Kubo T (2003) Relationships between cambial activity, cell differentiation and the localization of starch in storage tissues around the cambium in locally heated stems of Abies sachalinensis (Schmidt) Masters. Trees 17:185–192

Pantin F, Fanciullino AL, Massonnet C, Dauzat M, Simonneau T, Muller B (2013) Buffering growth variations against water deficits through timely carbon usage. Front Plant Sci 4:483

Pasho E, Julio Camarero J, Vicente-Serrano SM (2012) Climatic impacts and drought control of radial growth and seasonal wood formation in Pinus halepensis. Trees 26:1875–1886

Qin C, Yang B, Melvin TM, Fan ZX, Zhao Y, Briffa KR (2013) Radial growth of Qilian Juniper on the northeast Tibetan Plateau and potential climate associations. PLoS One 8(11):e79362

Ren P, Rossi S, Gričar J, Liang EY, Čufar K (2015) Is precipitation a trigger of the onset of xylogenesis in Juniperus przewalskii on the northeastern Tibetan Plateau? Ann Bot 115(4):629–639

Rossi S, Deslauriers A, Morin H (2003) Application of the Gompertz equation for the study of xylem cell development. Dendrochronologia 21:33–39

Rossi S, Deslauriers A, Anfodillo T (2006) Assessment of cambial activity and xylogenesis by microsampling tree species: an example at the alpine timberline. IAWA J 27:383–394

Rossi S, Deslauriers A, Gričar J, Seo J-W, Rathgeber CBK, Anfodillo T, Morin H, Levanic T, Oven P, Jalkanen R (2008a) Critical temperatures for xylogenesis in conifers of cold climates. Global Ecol Biogeogr 17:696–707

Rossi S, Deslauriers A, Anfodillo T, Carrer M (2008b) Age-dependent xylogenesis in timberline conifers. New Phytol 177:199–208

Rossi S, Simard S, Rathgeber CBK, Deslauriers A, Zan C (2008c) Effects of a 20-day-long dry period on cambial and apical meristem growth in Abies balsamea seedlings. Trees 23:85–93

Rossi S, Morin H, Deslauriers A, Plourde P-Y (2011) Predicting xylem phenology in black spruce under climate warming. Global Change Biol 17:614–625

Saderi SM, Pourtahmasi K, Oladi R, Rathgeber CBK (2013) Wood formation in Juniperus excelsa ssp. polycarpos in the high mountains of north-east Iran. J Trop For Sci 25:421–428

Seo JW, Eckstein D, Jalkanen R, Schmitt U (2011) Climatic control of intra- and inter-annual wood-formation dynamics of Scots pine in northern Finland. Environ Exp Bot 72:422–431

Sheppard PR, Tarasov PE, Graumlich LJ, Heussner KU, Wagner M, Österle H, Thompson LG (2004) Annual precipitation since 515 BC reconstructed from living and fossil juniper growth of northeastern Qinghai Province, China. Clim Dyn 23(7–8):869–881

Steppe K, De Pauw DJ, Lemeur R, Vanrolleghem PA (2006) A mathematical model linking tree sap flow dynamics to daily stem diameter fluctuations and radial stem growth. Tree Physiol 26:257–273

Swidrak I, Gruber A, Oberhuber W (2014) Xylem and phloem phenology in co-occurring conifers exposed to drought. Trees 28(4):1161–1171

Turcotte A, Morin H, Krause C, Deslauriers A, Thibeault-Martel M (2009) The timing of spring rehydration and its relation with the onset of wood formation in black spruce. Agr Forest Meteorol 149:1403–1409

Urrutia-Jalabert R, Rossi S, Deslauriers A, Malhi Y, Lara A (2015) Environmental correlates of stem radius change in the endangered Fitzroya cupressoides forests of southern Chile. Agr Forest Meteorol 200:209–221

Van der Werf G, Sass-Klaassen UG, Mohren G (2007) The impact of the 2003 summer drought on the intra-annual growth pattern of beech (Fagus sylvatica L.) and oak (Quercus robur L.) on a dry site in the Netherlands. Dendrochronologia 25:103–112

Vieira J, Rossi S, Campelo F, Freitas H, Nabais C (2014) Xylogenesis of Pinus pinaster under a Mediterranean climate. Ann For Sci 71:71–80

Vitas A (2011) Seasonal growth variations of pine, spruce, and birch recorded by band dendrometers in NE Lithuania. Balt For 17:197–204

Wang ZY, Yang B, Deslauriers A, Qin C, He MH, Shi F, Liu JJ (2012) Two phases of seasonal stem radius variations of Sabina przewalskii Kom. in northwestern China inferred from sub-diurnal shrinkage and expansion patterns. Trees 26:1747–1757

Wang ZY, Yang B, Deslauriers A, Bräuning A (2014) Intra-annual stem radial increment response of Qilian juniper to temperature and precipitation along an altitudinal gradient in northwestern China. Trees 29(1):25–34

Yang B, Qin C, Wang JL, He MH, Melvin TM, Osborn TJ, Briffa KR (2014) A 3,500-year tree-ring record of annual precipitation on the northeastern Tibetan Plateau. PNAS 111:2903–2908
Acknowledgments
All necessary permits were obtained for the described field studies from the Administration of Gansu Qilian Shan National Nature Reserve. The study was jointly funded by the National Science Foundation of China (Grant No. 41325008, 31300412) and the Interdisciplinary Innovation Team project of the Chinese Academy of Sciences (29Y329B91). The research was also supported by Chinese Academy of Sciences visiting fellowship for researchers from developing countries (2014FFZA0006) and the CAS/SAFEA International Partnership Program for Creative Research Teams. The authors would like to thank Jie Wang, Jianqi Zhang, Hongyuan Ge, Wen Wang and Hongyi Wang for the maintenance of the field instruments.
Ethics declarations
Conflict of interest
All the authors declare that they have no conflict of interest.
Additional information
Communicated by E. Priesack.
About this article
Cite this article
He, M., Yang, B., Wang, Z. et al. Climatic forcing of xylem formation in Qilian juniper on the northeastern Tibetan Plateau. Trees 30, 923–933 (2016). https://doi.org/10.1007/s00468-015-1333-x
Received:

Revised:

Accepted:

Published:

Issue Date:

DOI: https://doi.org/10.1007/s00468-015-1333-x
Keywords