Abstract
Key message
Stomatal regulation involves beneficial effects of pruning mulch and irrigation on leaf photosynthesis in Prunus yedoensis and Ginkgo biloba under moderate drought. G. biloba showed conservative water use under drought.
Abstract
Leaf photosynthesis is highly sensitive to soil water stress via stomatal and/or biochemical responses, which markedly suppress the growth of landscape trees. Effective irrigation management to maintain leaf photosynthesis and information on species-specific photosynthetic responses to soil water stress are essential for the sustainable management of landscape trees in Japan, in which summer drought often occurs. In order to investigate effective irrigation management, we used plants with moderate soil water stress as controls, and examined the effects of daily irrigation and pruning mulch on leaf photosynthesis in container-grown Ginkgo biloba and Prunus yedoensis, which are the first and second main tall roadside trees in Japan. Stomatal conductance was significantly increased by pruning mulch and daily irrigation, with similar increases in leaf photosynthesis being observed in P. yedoensis and G. biloba. In order to obtain information on species-specific photosynthetic responses to soil water stress, we compared the responses of leaf photosynthesis and leaf water status to reductions in soil water content (SWC) between the two species. G. biloba maintained a constant leaf water potential, leaf water content, maximum carboxylation rate, and electron transport rate with reductions in SWC, whereas reductions were observed in P. yedoensis. We concluded that pruning mulch and irrigation effectively offset the negative impact of moderate water stress on leaf photosynthesis in summer in P. yedoensis and G. biloba via stomatal regulation, and also that G. biloba maintained its photosynthetic biochemistry and leaf water status better than P. yedoensis under severe water stress.
Access options
Buy single article
Instant access to the full article PDF.
USD 39.95
Price excludes VAT (USA)
Tax calculation will be finalised during checkout.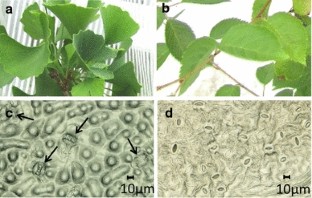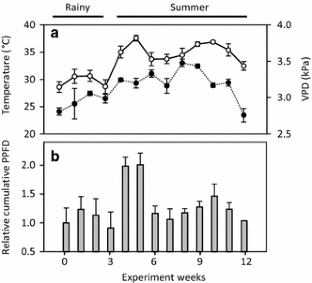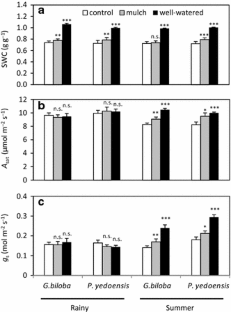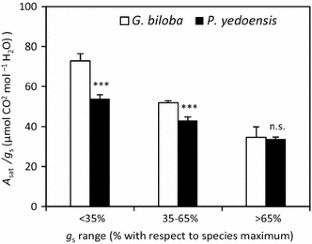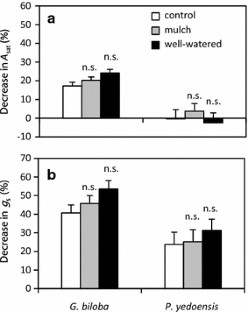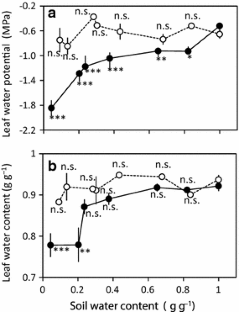 Abbreviations
A sat :

Light-saturated CO2 assimilation rate

Δ:

Carbon isotope discrimination

g s :

Stomatal conductance

J :

CO2-saturated electron transport rate

PPFD:

Photosynthetic photon flux density

RWC:

Relative leaf water content

SWC:

Soil water content

VPD:

Vapor pressure deficit

V cmax :

Maximum carboxylation rate
References
Balwinder-Singh Eberbach PL, Humphreys E, Kukal SS (2011) The effect of rice straw mulch on evapotranspiration, transpiration and soil evaporation of irrigated wheat in Punjab, India. Agric Water Manag 98:1847–1855. doi:10.1016/j.agwat.2011.07.002

Bassuk N, Curtis DF, Marranca BZ, Neal B (2009) Recommended urban trees: site assessment and tree selection for stress tolerance. Urban Horticulture Institute, Department Of Horticulture, Cornell University, Ithaca

Bota J, Medrano H, Flexas J (2004) Is photosynthesis limited by decreased Rubisco activity and RuBP content under progressive water stress? New Phytol 162:671–681. doi:10.1111/j.1469-8137.2004.01056.x

Chaves MM, Oliveira MM (2004) Mechanisms underlying plant resilience to water deficits: prospects for water-saving agriculture. J Exp Bot 55:2365–2384. doi:10.1093/jxb/erh269

Chaves MM, Flexas J, Pinheiro C (2009) Photosynthesis under drought and salt stress: regulation mechanisms from whole plant to cell. Ann Bot 103:551–560. doi:10.1093/aob/mcn125

Cook HF, Valdes GSB, Lee HC (2006) Mulch effects on rainfall interception, soil physical characteristics and temperature under Zea mays L. Soil Tillage Res 91:227–235. doi:10.1016/j.still.2005.12.007

Ethier GJ (2004) On the need to incorporate sensitivity to CO2 transfer conductance into the Farquhar–von Caemmerer-Berry leaf photosynthesis model. Plant Cell Environ 27:137–153. doi:10.1111/j.1365-3040.2004.01140.x

Ethier GJ, Livingston NJ, Harrison DL, Black TA, Moran JA (2006) Low stomatal and internal conductance to CO2 versus Rubisco deactivation as determinants of the photosynthetic decline of ageing evergreen leaves. Plant Cell Environ 29:2168–2184. doi:10.1111/j.1365-3040.2006.01590.x

Fain GB, Tilt KM, Gilliam CH, Ponder HG, Sibley JL (1999) Cyclic irrigation improves irrigation application efficiency and growth of sawtooth oak. J Arboric 25:200–203

Ferrini F, Fini A (2011) Sustainable management techniques for trees in the urban areas. J Biodivers Ecol Sci 1:1–20

Fini A, Ferrini F, Frangi P, Amoroso G, Piatti R (2009) Withholding irrigation during the establishment phase affected growth and physiology of norway maple (Acer platanoides) and linden (tilia spp.). Arboric Urban For 35:241–251

Flexas J, Bota J, Loreto F, Cornic G, Sharkey TD (2004) Diffusive and metabolic limitations to photosynthesis under drought and salinity in C3 plants. Plant Biol 3:269–279. doi:10.1055/s-2004-820867

Franks PJ, Farquhar GD (1999) A relationship between humidity response, growth form and photosynthetic operating point in C3 plants. Plant Cell Environ 22:1237–1349. doi:10.1046/j.1365-3040.1999.00494.x

Galmés J, Flexas J, Savé R, Medrano H (2007) Water relations and stomatal characteristics of Mediterranean plants with different growth forms and leaf habits: responses to water stress and recovery. Plant Soil 290:139–155. doi:10.1007/s11104-006-9148-6

Galmés J, Ribas-Carbó M, Medrano H, Flexas J (2011) Rubisco activity in Mediterranean species is regulated by the chloroplastic CO2 concentration under water stress. J Exp Bot 62:653–665. doi:10.1093/jxb/erq303

Hanba YT, Kogami H, Terashima I (2003) The effect of internal CO2 conductance on leaf carbon isotope ratio. Isotopes Environ Health Stud 39:5–13. doi:10.1080/1025601031000102233

Handa M, Iizuka Y, Fujiwara N (1997) Ginkgo landscapes. In: Hori T, Ridge RW, Tulecke W, Del Tredici P, Tremouillaux-Guiller J, Tobe H (eds) Ginkgo Biloba A Global Treasure. Springer, Tokyo, pp 259–283

Hanslin HM, Sæbø A, Bergersen O (2005) Estimation of oxygen concentration in the soil gas phase beneath compost mulch by means of a simple method. Urban For Urban Green 4:37–40. doi:10.1016/j.ufug.2005.05.001

Hochberg U, Degu A, Fait A, Rachmilevitch S (2013) Near isohydric grapevine cultivar displays higher photosynthetic efficiency and photorespiration rates under drought stress as compared with near anisohydric grapevine cultivar. Physiol Plant 147:443–452. doi:10.1111/j.1399-3054.2012.01671.x

Iijima K, Suzuki K, Takahashi S, Kondo M (1993) On the damage of trees for landscaping caused by drought conditions at Kanto area in summer 1992. J Jpn Soc Reveg Technol 19:193–198. doi:10.7211/jjsrt.19.193

Ikeda T, Hashimoto H (1996) On decline of street trees of Elaeocarpus sylvestris POIRET var. ellipticus HARA in relation to water relations. J Jpn For Soc 78:478–480

Iles JK, Dosman MS (1999) Effect of organic and mineral mulches on soil properties and growth of faiview flame red maple trees. J Arboric 25:163–167

IPCC (2014) In: CoreWritingTeam, Pachauri RK, Meyer LA (eds) Climate change 2014: synthesis report. Contribution of working groups I, II and III to the fifth assessment report of the intergovernmental panel on climate change. IPCC, Geneva, p 151

Kagotani Y, Fujino K, Kazama T, Hanba YT (2013) Leaf carbon isotope ratio and water use efficiency of urban roadside trees in summer in Kyoto city. Ecol Res 28:725–734. doi:10.1007/s11284-013-1056-7

Kaushal P, Aussenac G (1989) Transplanting shock in Corsican pine and cedar of Atlas seedlings: internal water deficits, growth and root regeneration. For Ecol Manag 27:29–40. doi:10.1016/0378-1127(89)90080-7

Kawamukai M, Nakazawa T, Shimizu S (2000) Continuous monitoring of the carbon dioxide concentration in the urban atmosphere in Kyoto. Bull Fac Text Fibers Kyoto Univ Ind Arts Text Fibers 24:53–56

Kurihara M, Takeda Y, Kubota S (2014) The roadside trees of Japan VIII. Tokyo

Lambers H, Chapin FS III, Pons TL (2008) Plant water relations, second edi. Springer Science + Business Media, New York

Lawlor DW, Cornic G (2002) Photosynthetic carbon assimilation and associated metabolism in relation to water deficits in higher plants. Plant Cell Environ 25:275–294

McAdam SAM, Brodribb TJ (2015) The evolution of mechanisms driving the stomatal response to vapor pressure deficit. Plant Physiol 167:833–843. doi:10.1104/pp.114.252940

Medrano H, Escalona JM, Bota J, Gulías J, Flexas J (2002) Regulation of photosynthesis of C3 plants in response to progressive drought: stomatal conductance as a reference parameter. Ann Bot Ann. doi:10.1093/aob/mcf079

Medrano H, Flexas J, Galmés J (2009) Variability in water use efficiency at the leaf level among Mediterranean plants with different growth forms. Plant Soil 317:17–29. doi:10.1007/s11104-008-9785-z

Montague T, Fox L (2008) Gas exchange and growth of transplanted and nontransplanted field-grown Shumard red oak trees grown with and without organic mulch. HortScience 43:770–775

Montague T, Kjelgren R, Rupp L (2000) Surface energy balance affects gas exchange and growth of two irrigated landscape tree species in an arid climate. J Am Soc Hortic Sci 125:299–309

Montague T, McKenney C, Maurer M, Winn B (2007) Influence of irrigation volume and mulch on establishment of select shrub species. Arboric Urban For 33:202

Moreno-Gutiérrez C, Dawson TE, Nicolás E, Querejeta JI (2012) Isotopes reveal contrasting water use strategies among coexisting plant species in a mediterranean ecosystem. New Phytol 196:489–496. doi:10.1111/j.1469-8137.2012.04276.x

Ögren E, Evans JR (1993) Photosynthetic light-response curves. Planta 189:182–190. doi:10.1007/BF00195075

Osone Y, Kawarasaki S, Ishida A, Kikuchi S, Shimizu A, Yazaki K, Aikawa S, Yamaguchi M, Izuta T, Matsumoto GI (2014) Responses of gas-exchange rates and water relations to annual fluctuations of weather in three species of urban street trees. Tree Physiol 34:1056–1068. doi:10.1093/treephys/tpu086

Percival GC, Sheriffs CN (2002) Identification of drought-tolerant woody periennials using chlorophyll fluorescence. J Arboric 28:215–223

Qin W, Chi B, Oenema O (2013) Long-term monitoring of rainfed wheat yield and soil water at the loess plateau reveals low water use efficiency. PLoS One 8:e78828. doi:10.1371/journal.pone.0078828

Satomura A, Imanishi J, Morimoto Y, Kojima A (2005) A study of diagnostic indices of vitality of Prunus jamasakura. J Jpn Soc Reveg Technol 31:15–20. doi:10.7211/jjsrt.31.15

Tardieu F, Simonneau T (1998) Variability among species of stomatal control under fluctuating soil water status and evaporative demand: modelling isohydric and anisohydric behaviours. J Exp Bot 49:419–432. doi:10.1093/jxb/49.Special_Issue.419

Tayasu I, Hirasawa R, Ogawa NO, Ohkouchi N, Yamada K (2011) New organic reference materials for carbon- and nitrogen-stable isotope ratio measurements provided by Center for Ecological Research, Kyoto University, and Institute of Biogeosciences, Japan Agency for Marine-Earth Science and Technology. Limnology 12:261–266. doi:10.1007/s10201-011-0345-5

Tomás M, Medrano H, Brugnoli E, Escalona JM, Martorell S, Pou A, Ribas-Carbó M, Flexas J (2014) Variability of mesophyll conductance in grapevine cultivars under water stress conditions in relation to leaf anatomy and water use efficiency. Aust J Grape Wine Res 20:272–280. doi:10.1111/ajgw.12069

Vico G, Revelli R, Porporato A (2014) Ecohydrology of street trees: design and irrigation requirements for sustainable water use. Ecohydrology 7:508–523. doi:10.1002/eco.1369

Wada R, Pearce JK, Nakayama T, Matsumi Y, Hiyama T, Inoue G, Shibata T (2011) Observation of carbon and oxygen isotopic compositions of CO2 at an urban site in Nagoya using Mid-IR laser absorption spectroscopy. Atmos Environ 45:1168–1174. doi:10.1016/j.atmosenv.2010.10.015

Warren CR (2008) water deficits decrease the internal conductance to CO2 transfer but atmospheric water deficits do not. J Exp Bot 31:1–8. doi:10.1093/jxb/erm314

Yamasaki S, Dillenburg L (1999) Measurements of leaf relative water content in Araucaria angustifolia. Rev Bras Fisiol Veg 11:69–75

Youkhana A, Idol T (2009) Tree pruning mulch increases soil C and N in a shaded coffee agroecosystem in Hawaii. Soil Biol Biochem 41:2527–2534. doi:10.1016/j.soilbio.2009.09.011
Acknowledgments
This work was supported by a Grant-in-Aid for Scientific Research, the Sumitomo Foundation (103230), Adaptable and Seamless Technology Transfer Program through Target-driven R&D (AS262Z01258N) and Discretionary expense of the President of Kyoto Institute of Technology. The leaf stable carbon isotope ratio was measured at the Center for Ecological Research, Kyoto University. We appreciate Drs. Ichiro Tayasu and Riyo Hirasawa for supporting the isotope measurements. We thank Dr Jiro Tatsumi for supporting our research.
Ethics declarations
Conflict of interest
The authors declare that they have no conflict of interest.
Additional information
Communicated by T. Koike.
About this article
Cite this article
Kagotani, Y., Nishida, K., Kiyomizu, T. et al. Photosynthetic responses to soil water stress in summer in two Japanese urban landscape tree species (Ginkgo biloba and Prunus yedoensis): effects of pruning mulch and irrigation management. Trees 30, 697–708 (2016). https://doi.org/10.1007/s00468-015-1312-2
Received:

Revised:

Accepted:

Published:

Issue Date:

DOI: https://doi.org/10.1007/s00468-015-1312-2
Keywords