Abstract
Key message
Seedling survival in Pinus pinea is controlled by both water status and photosynthetic performance. Optimal regeneration niche for the species is found at mid-shaded sites.
Abstract
Summer survival has been identified as the main bottleneck preventing natural regeneration in Mediterranean forests, although the physiological processes resulting in seedling mortality are not sufficiently known. In the present work, the effect of water status and photosynthetic performance on seedling survival and regeneration niche in a Mediterranean pine (Pinus pinea L.) was analyzed by means of a modeling approach. Midday water potential was modeled as a nonlinear function of environmental factors, and this model was coupled with an existing model for carbon assimilation. A model for seedling survival was then constructed using lifetime analysis techniques, including predicted values of daily and cumulative net assimilation and probability for critical midday water potentials as predictors. The model was applied over a wide range of irradiance environments in order to identify the optimal regeneration niche for the species. Results indicate that midday water potential for P. Pinea seedlings is affected by relative soil water content, leaf temperature, and irradiance, with younger seedlings being more likely to reach critical values. Seedling survival in P. pinea is controlled by both water status and photosynthetic performance, with mortality being triggered by the joint occurrence of low water potentials and negative assimilation rates, although photoassimilates stored during the spring season increase survival in older seedlings. Simulations indicated that seedling survival is optimized in shaded environments, while carbon assimilation reaches maximum values on more open sites, thus the optimal regeneration niche for the species is found on mid-shaded locations.
Access options
Buy single article
Instant access to the full article PDF.
USD 39.95
Price excludes VAT (USA)
Tax calculation will be finalised during checkout.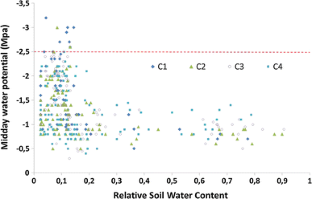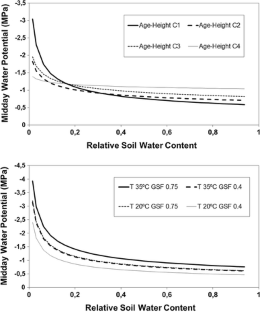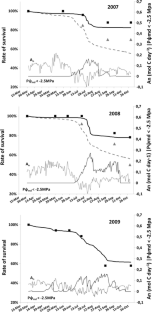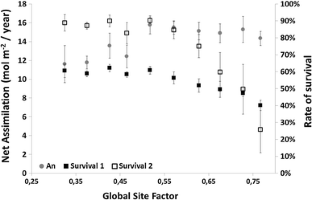 References
Anderegg WR, Berry JA, Smith DD, Sperry JS, Anderegg LDL (2012) The roles of hydaraulic and carbon stress in a widespread climate-induced forest die-off. PNAS 109:233–237

Calama R, Puértolas J, Madrigal G, Pardos M (2013) Modelling the environmental response of leaf net photosynthesis in Pinus pinea L. natural regeneration. Ecol Model 251:9–21

Canham CD, Kobe RK, Latty EF, Chazdon RL (1999) Interspecific and intraspecific variation in tree seedling survival: effects of allocation to roots versus carbohydrate reserves. Oecologia 121:1–11

Cuesta B, Villar-Salvador P, Puértolas J, Benayas JM, Michalet R (2010) Facilitation of Quercus ilex in Mediterranean shrubland is explained by both direct and indirect interactions mediated by herbs. J Ecol 98:687–696

Cui M, Smith WK (1991) Photosynthesis, water relations and mortality in Abies lasiocarpa seedlings during natural establishment. Tree Physiol 8:37–46

Elfving DC, Kauffmann MR, Hall AE (1972) Interpreting leaf water potential measurements with a model of soil-plant-atmosphere continuum. Physiol Plant 27:161–168

Fernández M, Martín D, Masedo F, Pardos JA (2000) Efecto del régimen de riego sobre la conductancia hidráulica en tallo hipocotilo de Pinus pinea L. In: Actas del 1er Simposio del pino piñonero (Pinus pinea L). Junta de Castilla y León. Valladolid. pp 177–182

Gómez-Aparicio L, Valladares F, Zamora R (2006) Differential light responses of Mediterranean tree saplings: linking ecophysiology with regeneration niche in four co-occurring species. Tree Physiol 26:947–958

Gómez-Aparicio L, Pérez-Ramos M, Mendoza I, Matías L, Quero JL, Castro J, Zamora R, Marañón T (2008) Oak seedling survival and growth along a resource gradient in Mediterranean forests: implication for regeneration in current and future environmental scenarios. Oikos 117(11):1683–1699

Grossnickle S (2005) Importance of root growth in overcoming planting stress. New For 30:273–294

Grubb PJ (1977) The maintenance of species richness in plant communities: the importance of regeneration niche. Biol Rev 52:107–145

Hartmann H, Ziegler W, Kolle O, Trumbore S (2013) Thirst beats hunger—declining hydration during drought prevents carbon starvation in Norway spruce saplings. New Phytol 200:340–349

Huang RS, Smith WK, Lost RS (1985) Infuence of vesicular-arbuscula mycorrhiza on growth, water relations an leaf orientation in Leucaena leucocephala (Lam.) Dewit. New Phytol 99:229–243

Jiménez MD, Pardos M, Puértolas J, Kleczkowski LA, Pardos JA (2009) Deep shade alters the leaf-level acclimation response to moderate water stress in Quercus suber L. Forestry 82:285–298

Klein T, Matteo G, Rotenberg E, Cohen S, Yakir D (2012) Differential ecophysiological response of a major Mediterranean pine species across a climatic gradient. Tree Phys 33:26–36

Kobe RK (1999) Light gradient partitioning among tropical tree species through differential seedling mortality and growth. Ecology 80:187–201

Lawless JF (2003) Statistical models and methods for Lifetime data. Wiley Series in Probability and Statistics. Wiley, Hoboken, p 630

Luis VC, Puértolas J, Climent J, Peters J, González-Rodríguez AM, Morales D, Jiménez MS (2009) Nursery fertilization enhances survival and physiological status in Canary Island pine (Pinus canariensis) seedlings planted in a semiarid environment. Eur J For Res 128:221–229

Manso R, Pukkala T, Pardos M, Miina J, Calama R (2014) Modelling Pinus pinea forest management to attain natural regeneration under present and future climatic scenarios. Can J For Res 44(3):250–262

Marshall B, Biscoe PV (1980) A model for C3 leaves describing the dependence of net photosynthesis on irradiance. J Exp Bot 31:29–39

Martínez-Tillería J, Loayza A, Sandquist DR, Squeo FA (2012) No evidence of a trade-off between drought and shade tolerance in seedlings of six coastal desert shrub species in north-central Chile. J Veg Sci 23:1051–1061

Martínez-Vilalta J, Prat E, Oliveras I, Piñol J (2002) Xylem hydraulic properties of roots and stems of nine Mediterranean woody species. Oecologia 133(1):19–29

McDowell N, Pockman WT, Allen CD, Breshears DD, Cobb N, Kolb T, Plaut J, Sperry J, West A, Williams DG, Yepez EA (2008) Mechanism of plant survival and mortality during drought: why do some plants survive while others succumb to drought? New Phytol 178:719–739

Oliet J, Planelles R, López-Arias M, Artero F (2002) Soil water content and water relations in planted and naturally regenerated Pinus Halepensis Mill. seedlings during the first year in semiarid conditions. New Forest 23:31–44

Oliveras I, Martínez-Vilalta J, Jimenez-Ortiz T, Lledó MJ, Escarré A, Piñol J (2003) Hydraulic properties of Pinus halepensis, Pinus pinea and Tetraclinis articulata in a dune ecosystem of Eastern Spain. Plant Ecol 169:131–141

Padilla FM, Pugnaire FI (2007) Rooting depth and soil moisture control Mediterranean woody seedling survival during growth. Funct Ecol 21:489–495

Pardos M, Ruiz del Castillo J, Cañellas I, Montero G (2005) Ecophysiology of natural regeneration of forest stands in Spain. Invest Agr Sist y Rec For 14(3):434–445

Pardos M, Calama R, Mayoral C, Madrigal G, Sánchez-González M (2014a) Addressing post-transplant summer water stress in Pinus pinea and Quercus ilex seedlings. iForest. doi:10.3832/ifor1256-007

Pardos M, Climent J, Almedia H, Calama R (2014b) The role of developmental stage in frost tolerance of Pinus pinea L. seedlings and saplings. Ann For Sci. doi:10.1007/s13595-014-0361-9

Pérez-Ramos I, Rodríguez-Calcerrada J, Ourcival JM, Rambal S (2013) Quercus ilex recruitment in a drier world: a multi-stage demographic approach. Perspect Plant Ecol Evol Syst 15(2):106–117

Rubio-Casal AE, Leira-Doce P, Figueroa ME, Castillo JM (2010) Contrasted tolerance to low and high temperatures of three tree taxa co-occurring on coastal dune forests under Mediterranean climate. J Arid Environ 74:429–439

Sack L (2004) Response of temperate woody seedlings to shade and drought: do trade-offs limit potential niche differentiation? Oikos 107:110–127

Sala A, Piper F, Hoch G (2010) Physiological mechanisms of drought-induced tree mortality are far from being resolved. New Phytol 186:274–281

Sánchez-Gómez D, Valladares F, Zavala MA (2006) Performance of seedlings of Mediterranean woody species under experimental gradients of irradiance and water availability: trade-offs and evidence for niche differentiation. New Phytol 170:795–806

Sevanto S, McDowell NG, Dickman LT, Pangle R, Pockman WT (2014) How do trees die? A test of the hydraulic failure and tree starvation hypotheses. Plant Cell Envir 37:153–161

Sperry JS (2000) Hydraulic constraints on plant gas exchanges. Agr For Meteo 104:13–23

Thornley JHM (1996) Modelling water in crops and plant ecosystems. Ann Bot 77:261–275

Thornley JHM, Johnson IR (1990) Plant and crop modelling. The Blackburn Press, Caldwell, p 669

Valladares F, Dobarro I, Sánchez-Gómez D, Pearcy DW (2005) Photoinhibition and drought in Mediterranean Woody saplings: scaling effects and interactions in sun and shade phenotypes. J Exp Bot 56:483–494

Vilagrosa A, Bellot J, Vallejo VR, Gil-Pelegrín E (2003) Cavitation, stomatal conductance and leaf ideback in seedlings of two co-occurring Mediterranean shrubs during an intense drought. J Exp Bot 54:2015–2024

Villar-Salvador P, Puértolas J, Cuesta B, Peñuelas JL, Uscola M, Heredia N, Rey-Benayas J (2012) Increase in size and nitrogen concentration enhances seedling survival in Mediterranean plantations. Insights from an ecophysiological conceptual model of plant survival. New For 43:755–770

Williams LE, Baeza P, Vaughn P (2012) Midday measurements of leaf water potential and stomatal conductance are highly correlated with daily water use of Thompson Seedless grapewines. Irrig Sci 30:201–212
Acknowledgments
The authors wish to thank Guillermo Madrigal, Santiago de Blas, and Enrique Garriga for data collection, and Javier Gordo and Ayuntamiento de El Portillo for helping in maintaining the experimental trial.
Ethics declarations
Funding
This study was funded by the Spanish Program for Research + Development (grant AGL-2010-15521) and INIA sectorial program for research in Agricultural Sciences (grants RTA2013-00011-C2.1 and AT2013-04).
Conflict of interest
The authors declare that they have no conflict of interest.
Additional information
Communicated by E. Priesack.
Electronic supplementary material
Below is the link to the electronic supplementary material.
About this article
Cite this article
Calama, R., Puértolas, J., Manso, R. et al. Defining the optimal regeneration niche for Pinus pinea L. through physiology-based models for seedling survival and carbon assimilation. Trees 29, 1761–1771 (2015). https://doi.org/10.1007/s00468-015-1257-5
Received:

Revised:

Accepted:

Published:

Issue Date:

DOI: https://doi.org/10.1007/s00468-015-1257-5
Keywords
Regeneration niche

Water potential

Hazard function

Net assimilation

Seedling mortality