Abstract
Key message
The main achievement of this work was an attempt to determine the best association between five tropical species and light environments, based on the physiological and morphological characters related to photosynthesis.
Abstract
Information about light tolerance and photosynthetic plasticity of indigenous tropical tree species is still limited, particularly information of first years of plants' development. In this study, we evaluated the adjustments in response to different light environments of 25 leaf traits most commonly assessed in studies on light acclimation of photosynthesis in current literature. This evaluation was used to investigate the photosynthetic plasticity on young plants of five tropical tree species belonged to different successional groups. All the species are commonly used in forest restoration programs in Brazil. Plants were grown for 6 months under different light conditions simulating environments that could exist due to variation in naturally occurring canopy openings of secondary tropical forests. The level of adjustment on leaf traits to environmental conditions was calculated via a plasticity index. The relation between leaf trait adjustments and species photosynthetic plasticity was investigated by multivariate Biplot analyses. We selected the seven most explicative leaf traits of the photosynthetic plasticity of the studied species in response to different light environments: dark respiration rate (R d), Rubisco carboxylation capacity (V cmax), total chlorophyll content (ChlT), contribution of spongy parenchyma (%SP), contribution of leaf collenchyma tissue (%C), chlorophyll parenchyma thickness (PP/SP) and specific leaf area (SLA). Based on the selected traits, we identified the traits most related to high plasticity (V cmax, PP/SP,  %SP,  %C and SLA) and low plasticity (V cmax, R d and ChlT) and grouped species into three different patterns of photosynthetic plasticity. Our plasticity grouping was not correlated with species successional classification, indicating the importance of including physiological features related to light tolerance in species successional classifications. This work provides complementing information to traditional species successional groupings and to our current ability to select species for enrichment planting on restoration efforts.
This is a preview of subscription content, log in to check access.
Access options
Buy single article
Instant access to the full article PDF.
US$ 39.95
Tax calculation will be finalised during checkout.
Subscribe to journal
Immediate online access to all issues from 2019. Subscription will auto renew annually.
US$ 199
Tax calculation will be finalised during checkout.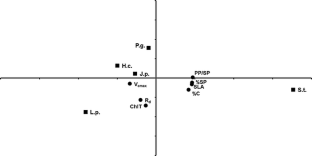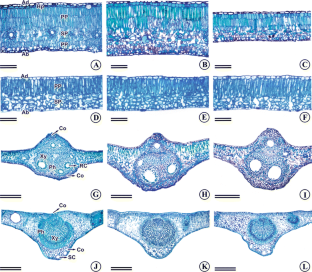 References
Baltzer JL, Thomas SC (2007) Determinants of whole-plant light requirements in Bornean rain forest tree saplings. J Ecol 95:208–1221

Barbosa LM (2006) Recuperação florestal de áreas degradadas no Estado de São Paulo: histórico, situação atual e projetos. In: Barbosa LM (Cood) Manual para Recuperação de Áreas Degradadas do Estado de São Paulo – Matas Ciliares do Interior Paulista. Prefeitura de Guaratinguetá, CATI Guaratinguetá: FAPESP, SMA/SP, GEF, IBt/SP e Governo de São Paulo, pp 4–25

Barros FV, Goulart MF, Sá Telles SB, Lovato MB, Valladares F, de Lemos-Filho J (2012) Phenotypic plasticity to light of two congeneric trees from contrasting habitats: brazilian Atlantic Forest versus Cerrado (savanna). Plant Biol 14:208–215

Bazzaz FA, Pickett STA (1980) Physiological ecology of tropical succession: a comparative review. Ann Rev Ecol Syst 11:287–310

Budowsky G (1965) Distribution of tropical american rain forest species in the light of succession process. Turrialba 15:40–42

Carpanezzi AA (2005) Fundamentos para a reabilitação de ecossistemas florestais. In: Galvão APM, Porfírio-da-Silva V (eds) Restauração Florestal—Fundamentos e Estudos de Caso. Embrapa, Colombo, pp 27–46

Carrascal L, Galván MI, Gordo O (2009) Partial least squares regression as an alternative to current regression methods used in ecology. Oikos 118:681–690

Cavanagh AP, Kubien DS (2014) Can phenotypic plasticity in Rubisco performance contribute to photosynthetic acclimation? Photosynth Res 119:203–214

Denslow JS (1987) Tropical rainforest gaps and tree species diversity. Annl Rev Ecol Syst 18:431–451

dos Santos MLS, França S, Gomes FP, do Nascimento JL, dos Anjos L and Mielke MS (2012) Low light availability affects leaf gas exchange, growth and survival of Euterpe edulis seedlings transplanted into the understory of an anthropic tropical rainforest. South Forests 74:167–174

dosAnjos L, Oliva MA, Kuki KN (2012) Fluorescence imaging of light acclimation of Brazilian Atlantic Forest tree species. Photosynthetica 50:95–108

Durand LZ, Glodstein G (2001) Photosynthesis, photoinhibition and nitrogen use efficiency in native and invasive tree ferns in Hawaii. Oecologia 126:345–354

Einhorn KS, Rosenqvist E, Leverenz JW (2004) Photoinhibition in seedlings of Fraxinus and Fagus under natural light conditions: implications for forest regeneration? Oecologia 140:241–251

Endres L, Câmara CA, Ferreira VM, Silva JV (2010) Morphological and photosynthetic alterations in the yellow-ipe, Tabebuia chrysotricha (Mart. Ex DC.) Standl., under nursery shading and gas exchange after being transferred to full sunlight. Agrofor Syst 78:287–298

Evans JR, Poorter H (2001) Photosynthetic acclimation of plants to growth irradiance: the relative importance of specific leaf area and nitrogen partitioning in maximizing carbon gain. Plant Cell Environ 24:755–767

Ewe SML, Sternberg LSL (2003) Seasonal gas exchange characteristics of Schinus terebinthifolius in a native and disturbed upland community in Everglades National Park, Florida. Forest Ecol Manage 179:27–36

Ewe SML, Sternberg LSL (2005) Growth and gas exchange responses of Brazilian pepper (Schinus terebinthifolius) and native South Florida species to salinity. Trees 19:119–128

Farquhar GD, von Caemmerer S, Berry JA (1980) A biochemical model of photosynthetic CO2 assimilation in leaves of C3 species. Planta 149:78–90

Gabriel KR (1971) The biplots graphic display of matrices with application to principal component analysis. Biometrika 58:453–467

Galmes J, Flexas J, Keys AJ, Cifre J, Mitchell R, Madgwick P, Haslem R, Medrano H, Parry MaJ (2005) Rubisco specificity factor tends to be larger in plant species from drier habitats and in species with persistent leaves. Plant Cell Environ 28:571–579

Gandolfi S. (1991). Estudo florístico e fitossociológico de uma floresta residual na área do Aeroporto Internacional de São Paulo, município de Guarulhos, SP. Campinas: UNICAMP, 1991. 232 p. Dissertação Mestrado (Ciências Biológicas)—Universidade Estadual de Campinas

Gandolfi S. (2003). Regimes de luz em florestas estacionais semideciduais e suas possíveis conseqüências. In: Claudino-Sales, V. Ecossistemas Brasileiros: Manejo e Conservação. Expressão Gráfica e Editora. Fortaleza, Ceará. 392 p

Genty B, Briantais J, Baker NR (1989) The relationship between the quantum yield of photosynthetic electron transport and quenching of chlorophyll fluorescence. Biochim Biophys Acta 990:87–92

Gianoli E, Saldaña A, Jiménez-Castillo M (2012) Ecophysiological traits may explain the abundance of climbing plant species across the light gradient in a temperate rainforest. PLoS One 7(6):e38831

Givnish TJ (1988) Adaptation to sun and shade: a whole-plant perspective. Aust J Plant Physiol 15:63–92

Hall JS, Ashton MS, Garen EJ, Jose S (2011) The ecology and ecosystem services of native trees: implications for reforestation and land restoration in Mesoamerica. Forest Ecol Manage 261:1553–1557

Hanba YT, Kogami H, Terashima I (2002) The effect of growth irradiance on leaf anatomy and photosynthesis in Acer species differing in light demand. Plant Cell Environ 25:1021–1030

Hiscox JD, Israelstam GF (1979) A method for the extraction of chlorophyll from leaf tissue without maceration. Can J Botany 57:1332–1334

Houter NC, Pons TL (2012) Ontogenetic changes in leaf traits of tropical rainforest trees differing in juvenile light requirement. Oecologia 169:33–45

Ivancich HS, Lencinas MV, Pastur GJM, Esteban RMS, Hernández L, Lindstrom I (2014) Foliar anatomical and morphological variation in Nothofagus pumilio seedlings under controlled irradiance and soil moisture levels. Tree Physiol 32:554–564

Johansen DA (1940) Plant microtechnique. McGraw-Hill Book Co. Inc., New York

Kenzo T, Yoneda R, Matsumoto Y, Mohamad Azani A, Nik Majid N (2011) Growth and photosynthetic response of four Malaysian indigenous tree species under different light conditions. J Trop For Sci 23:271–281

Kroonenberg PM (1997) Introduction to Biplots for GxE tables. Research Report 51, The University of Queensland, Brisbane, Australia

Kuptz D, Grams TEE, Günter S (2010) Light acclimation of four native tree species in felling gaps within a tropical mountain rainforest. Trees 24:117–127

Lamb D, Erskine PD, Parrotta JA (2005) Restoration of degraded tropical forest landscapes. Science 310:1628–1632

Leroux O (2012) Collenchyma: a versatile mechanical tissue with dynamic cell walls. Ann Bot 110(6):1083–1098

Lipkovich I, Smith EP (2002) Biplot and singular value decomposition macros for Excel©. J Stat Softw 7:1–15

Mattos FS, Wolfgramm R, Gonçalves FV, Cavatte PC, Ventrella MC, DaMatta FM (2009) Phenotypic plasticity in response to light in the coffee tree. Environ Exp Bot 67:421–427

Mittler R (2006) Abiotic stress, the field environment and stress combination. Trends Plant Sci 11:15–19

Nascimento HEM, Dias AS, Tanabez AAJ, Viana VM (1999) Estrutura e dinâmica de populações arbóreas de um fragmento de Floresta Estacional Semidecidual na região de Piracicaba, São Paulo. Braz J Bot 59:329–342

Niinemets Ü (2001) Global-scale climatic controls of leaf dry mass per area, density, and thickness in trees and shrubs. Ecology 82:453–469

Niinemets Ü, Lukjanova A, Turnbull MH, Sparrow AD (2007) Plasticity in mesophyll volume fraction modulates light-acclimation in needle photosynthesis in two pines. Tree Physiol 27:1137–1151

O'Brien TP, Feder N, McCully ME (1964) Polychromatic staining of plant cell walls by toluidine blue. Protoplasm 59:368–373

Oguchi R, Hikosaka K, Hiura T, Hirose T (2006) Leaf anatomy and light acclimation in woody seedlings after gap formation in a cool-temperate deciduous forest. Oecologia 149:571–582

Pereira DC, Barros CF, Scarano FR (2009) In situ variation in leaf anatomy and morphology of Andira legalis (Leguminosae) in two neighbouring but contrasting light environments in a Brazilian sandy coastal plain. Acta Bot Bras 23:267–273

Piotto D (2011) Spatial dynamics of forest recovery after swidden cultivation in the Atlantic forest of southern Bahia, Brazil. Dissertation, Faculty of the Graduate School of Yale University

Prioul JL, Chartier P (1977) Partitioning of transfer and carboxylation components of intracellular resistance to photosynthetic CO2 fixation: a critical analysis of the methods used. Ann Bot 41:789–800

Ribeiro AC (1999) Recomendação de calagem e adubação de substratos para mudas, covas e canteiros. In: Ribeiro AC, Guimarães PTG, Álvares VH (eds) Comissão de Fertilidade do Solo do Estado de Minas Gerais—Recomendações para o uso de corretivos e fertilizantes em Minas Gerais—5ª Aproximação. MG, Departamento de Solos da Universidade Federal de Viçosa, Viçosa, p 237

Ribeiro RV, Souza GM, Oliveira RF, Machado EC (2005) Photosynthetic responses of tropical tree species from different successional groups under contrasting irradiance conditions. Braz J Bot 28:149–161

Rodrigues RR, Lima RAF, Gandolfi S, Nave AG (2009) On the restoration of high diversity forests: 30 years of experience in the Brazilian Atlantic Forest. Biol Conserv 142:1242–1251

Rozendaal DMA, Hurtado VH, Pooter L (2006) Plasticity in leaf traits of 38 tropical tree species in response to light: relationships with demand and adult stature. Funct Ecol 20:207–216

Ruban AV (2009) Plants in light. Commun Integr Biol 2(1):50–55

Sabbi CLB, Ângelo AC, Boeger MR (2010) Influência da luminosidade nos aspectos morfoanatômicos fisiológicos de folhas de Schinus terebinthifolius Raddi (Anacardiaceae) implantadas em duas áreas com diferentese graus de sucessão, nas margens do Reservatório Iraí, Paraná, Brasil. Iheringia 65:171–181

Santos UMJr, Gonçalves JFC, Feldpausch TR (2006) Growth, leaf nutrient concentration and photosynthetic nutrient use efficiency in tropical tree species planted in degraded areas in central Amazonia. Forest Ecol Manage 226:299–309

Senevirathna AMWK, Stirling CM, Rodrigo VHL (2003) Growth, photosynthetic performance and shade adaptation of rubber (Hevea brasiliensis) grown in natural shade. Tree Physiol 23:705–712

Shao Q, Wang H, Guo H, Zhou A, Huang Y, Sun Y, Li M (2014) Effects of Shade Treatments on Photosynthetic Characteristics, Chloroplast Ultrastructure, and Physiology of Anoectochilus roxburghii. PlosOne 9:1–10

Sharkey TS, Bernacchi CJ, Farquhar GD, Singsaas EL (2007) Fitting photosynthetic carbon dioxide curves for C3 leaves. Plant Cell Environ 30:1035–1040

Stratton LC, Goldstein G (2001) Carbon uptake, growth and resource-use efficiency in one invasive and six native Hawaiian dry forest tree species. Tree Physiol 21:1327–1334

Swaine MD, Whitmore TC (1988) On the definition of ecological species groups in tropical rain forests. Vegetatio 75:81–86

Terashima I, Miyazawa SI, Hanba YT (2001) Why are sun leaves thicker than shade leaves? Consideration based on analyses of CO2 diffusion in the leaf. J Plant Res 114:93–105

Valladares F, Wright SJ, Lasso E, Kitajima K, Pearcy RW (2000) Plastic phenotypic response to light of 16 congeneric shrubs from a Panamanian rainforest. Ecology 81:1925–1936

Valladares F, Sanchez-Gomez D, Zavala MA (2006) Quantitative estimation of phenotypic plasticity: bridging the gap between the evolutionary concept and its ecological applications. J Ecol 94:1103–1116

Villar-Salvador P, Castro-Díez P, Pérez-Rontomé C, Montserrat-Martí G (1997) Steam xylem features in three Quercus (Fagaceae) species along a climatic gradient in NE Spain. Trees 12:90–96

von Caemmerer S, Quick WP (2000) Rubisco: physiology in vivo. In: Leegood RC, Sharkey TD, von Caemmerer S (eds) Photosynthesis: advances in photosynthesis and respiration, vol 9. Springer, Dordrecht, pp 85–113

Walters MB, Reich PB (2000) Trade-offs in low-light CO2 exchange: a component of variation in shade tolerance among cold temperate tree seedlings. Funct Ecol 14:155–165

Wellburn AR (1994) The spectral determination of chlorophylls a and b, as well as total carotenoids, using various solvents with spectrophotometers of different resolution. J Plant Physiol 144:307–313

Wyka T, Robakowski P, Zytkowiak R (2007) Acclimation of leaves to contrasting irradiance in juvenile trees differing in shade tolerance. Tree Physiol 27:1293–1306

Yamashita N, Ishida A, Kushima H, Tanaka N (2000) Acclimation to sudden increase in light favoring an invasive over native trees in subtropical islands, Japan. Oecologia 125:412–419

Yamori W, Suzuki K, Noguchi K, Nakai M, Terashima I (2006) Effects of Rubisco kinetics and Rubisco activation state on the temperature dependence of the photosynthetic rate in spinach leaves from contrasting growth temperatures. Plant Cell Environ 29:1659–1670
Acknowledgments
The authors thank the following institutions: CAPES (Brazilian Higher Education Council), CNPq (Brazilian National Council for Scientific and Technological Development) and FAPEMIG (Minas Gerais State Research Support Foundation) for their invaluable financial support. Our sincere thanks also go to Vale do Rio Doce Company for providing the seedlings for this work.
Conflict of interest
The authors declare that they have no conflict of interest.
Additional information
Communicated by M. Buckeridge.
Electronic supplementary material
Below is the link to the electronic supplementary material.
About this article
Cite this article
dosAnjos, L., Oliva, M.A., Kuki, K.N. et al. Key leaf traits indicative of photosynthetic plasticity in tropical tree species. Trees 29, 247–258 (2015). https://doi.org/10.1007/s00468-014-1110-2
Received:

Revised:

Accepted:

Published:

Issue Date:
Keywords
Forest restoration

Phenotypic plasticity

Light acclimation

Biplot analysis