Abstract
Key Message
In a field study, transgenic poplars with lower xyloglucan content showed distinct differences from wild-type plants in having a tubby stem morphology as well as smaller and thicker leaves with a stomatal adjustment dysfunction.
Abstract
Two transgenic lines of Populus alba which overexpressed Aspergillus xyloglucanase (trg300-1, trg300-2) showed inferior growth compared to the wild-type plants (wt) in a field study with two different soil nutrient conditions (fertile and infertile soil areas). In order to elucidate the causes, we examined their aboveground architecture and leaf macronutrients as well as the photosynthetic rate and leaf conductance in day and dark conditions. The transgenic lines in both soil areas had significantly shorter stems and smaller total mass in comparison to wt with the same cross-sectional area of branches or aboveground bodies, describing their smaller, tubby morphology. In addition, the transgenic lines in the fertile area had 16–22 % smaller leaves with similar masses, and larger number of branch tips than wt, which resulted in larger total leaf mass with similar total leaf area in comparison to wt with the same total aboveground mass. With similar stomatal length and density, the dark leaf conductance and minimum leaf conductance were 1.5–3 times and 3–10 times higher, respectively, in the transgenic lines than in wt while the daytime leaf conductance was similar among them. This indicates that the stomata of the transgenic lines are able to open but unable to close completely, possibly leading to greater water loss. Associated with lower xyloglucan content in the transgenic lines, we suggest that xyloglucan plays important roles in establishment of plant architecture as well as stomatal closure, which affect plant growth rate.
Access options
Buy single article
Instant access to the full article PDF.
US$ 39.95
Tax calculation will be finalised during checkout.
Subscribe to journal
Immediate online access to all issues from 2019. Subscription will auto renew annually.
US$ 119
Tax calculation will be finalised during checkout.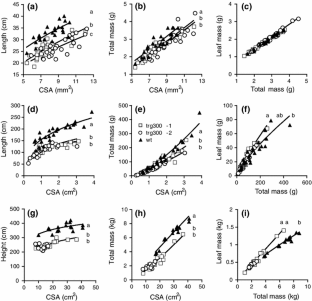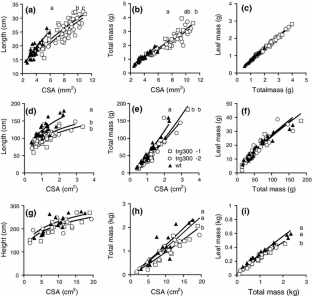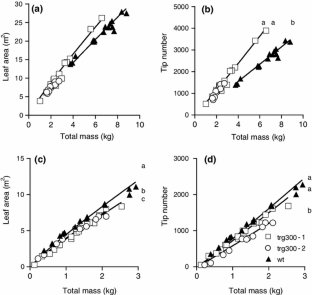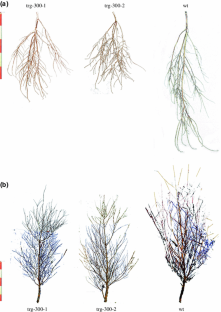 References
Alméras T, Costes E, Salles JC (2004) Identification of biomechanical factors involved in stem shape variability between apricot tree varieties. Ann Bot 93:455–468

Caird MA, Richards JH, Donovan LA (2007) Nighttime stomatal conductance and transpiration in C-3 and C-4 plants. Plant Physiol 143:4–10

Cavalier DM, Lerouxel O, Neumetzler L, Yamauchi K, Reinecke A, Freshour G, Zabotina OA, Hahn MG, Burgert I, Pauly M, Raikhel NV, Keegstra K (2008) Disrupting two Arabidopsis thaliana xylosyltransferase genes results in plants deficient in xyloglucan, a major primary cell wall component. Plant Cell 20:1519–1537

Cosgrove DJ (2005) Growth of the plant cell wall. Nat Rev Mol Cell Biol 6:850–861

Daley MJ, Phillips NG (2006) Interspecific variation in nighttime transpiration and stomatal conductance in a mixed New England deciduous forest. Tree Physiol 26:411–419

Dawson TE, Burgess SSO, Tu KP, Oliveira RS, Santiago LS, Fisher JB, Simonin KA, Ambrose AR (2007) Nighttime transpiration in woody plants from contrasting ecosystems. Tree Physiol 27:561–575

Farquhar GD, Von Caemmerer S (1982) Modeling of photosynthetic responses to environmental conditions. In: Lange OL, Nobel PS, Osmond CB, Ziegler H (eds) Physiological plant ecology II. Encyclopedia of plant physiology new series, vol 12B. Springer, Heidelberg, pp 550–587

Givnish TJ (1995) Plant stems: biomechanical adaptation for energy capture and influence on species distributions. In: Gartner BL (ed) Plant stems: physiology and functional morphology. Academic Press, San Diego, pp 3–49

Grace J (1997) Plant water relations. In: Crawley MJ (ed) Plant ecology, 2nd edn. Blackwell Science, Oxford, pp 28–50

Hartati NS, Rahayuningsih L, Kaida R, Sudarmonowati E, Hayashi T (2009) Overexpression Xyloglucanase gene in sengon (Paraserianthes falcataria) for growth acceleration. J Biotech Res Tropic Reg 2(1):1–4

Hayashi T (1989) Xyloglucans in the primary cell wall. Ann Rev Plant Physiol Plant Mol Biol 40:139–168

Hayashi T, Kaida R (2011) Functions of xyloglucan in plant cells. Mol Plant 4:17–24

Howard AR, Donovan LA (2009) Soil nitrogen limitation does not impact nighttime water loss in Populus. Tree Physiol 30:23–31

Iizuka H, Kaku T, Taniguchi T, Kurita M, Konagaya K, Ishii K, Kondo T, Baba K, Kaida R, Taji T, Sakata Y, Hayashi T (2012) Expression of xyloglucanase (AaXEG2) in open-field-grown poplars. Wood Res J 3(1):55–59

Japan Meteorological Agency (2011) Yearly report. Japan Meteorological Business Support Center, Tokyo, Japan

Jug A, Hofmann-Schielle C, Makeschin F, Rehfuess KE (1999) Short-rotation plantations of balsam poplars, aspen and willows on former arable land in the Federal Republic of Germany. II. Nutritional status and bioelement export by harvested shoot axes. For Ecol Manage 121:67–83

Kagan ML, Sachs T (1991) Development of immature stomata: evidence for epigenetic selection of a spacing pattern. Dev Biol 146:100–105

Kaku T, Baba K, Taniguchi T, Kurita M, Konagaya K, Ishii K, Kondo T, Serada S, Iizuka H, Kaida R, Taji T, Sakata Y, Hayashi T (2012) Analyses of leaves from open field-grown transgenic poplars overexpressing xyloglucanase. J Wood Sci 58:281–289

Kuo S (1996) Phosphorus. In: Bgham JM (ed) Methods of soil analysis. Part 3. Chemical methods. SSSA, Madison, pp 869–919

Larcher W (2003) Physiological plant ecology, 4th edn. Springer, Berlin, pp 239–285, 401–416

Long JN, Smith FW (1989) Estimating leaf-area of Abies lasiocarpa across ranges of stand density and site quality. Can J For Res 19:930–932

Mao HP, Iwanaga F, Yamanaka N, Yamamoto F (2008) Growth, photosynthesis, and ion distribution in hydroponically cultured Populus alba L. cuttings grown under various salinity concentrations. Landsc Ecol Eng 4:75–82

Mattheck C (1998) Design in nature: learning from trees. Springer, Berlin

McDonald EP, Erickson JE, Kruger EL (2002) Can decreased transpiration limit plant nitrogen acquisition in elevated CO2? Funct Plant Biol 29:1115–1120

McDonald PG, Fonseca CR, Overton JM, Westoby M (2003) Leaf-size divergence along rainfall and soil-nutrient gradients: is the method of size reduction common among clades? Funct Ecol 17:50–57

Nakamura S, Mori H, Sakai F, Hayashi T (1995) Cloning and sequencing of a cDNA for poplar endo-1,4-β-glucanase. Plant Cell Physiol 36:1229–1235

Normand F, Bissery C, Damour G, Lauri PE (2008) Hydraulic and mechanical stem properties affect leaf-stem allometry in mango cultivars. New Phytol 178:590–602

Park YW, Tominaga R, Sugiyama J, Furuta Y, Tanimoto E, Samejima M, Sakai F, Hayashi T (2003) Enhancement of growth by expression of poplar cellulase in Arabidopsis thaliana. Plant J 33:1099–1106

Park YW, Baba K, Furuta Y, Iida I, Sameshima K, Arai M, Hayashi T (2004) Enhancement of growth and cellulose accumulation by overexpression of xyloglucanase in poplar. FEBS Lett 564:183–187

Poorter H, Remkes C (1990) Leaf-area ratio and net assimilation rate of 24 wild-species differing in relative growth rate. Oecologia 83:553–559

Rosner S, Klein A, Muller U, Karlsson B (2008) Tradeoffs between hydraulic and mechanical stress responses of mature Norway spruce trunk wood. Tree Physiol 28:1179–1188

Sampedro J, Pardo B, Gianzo C, Guitian E, Revilla G, Zarra I (2010) Lack of α-xylosidase activity in arabidopsis alters xyloglucan composition and results in growth defects. Plant Physiol 154:1105–1115

Shinozaki K, Yoda K, Hozumi K, Kira T (1964) A quantitative analysis of plant form—the pipe model theory. I. Basic analyses. Jpn J Ecol 14:97–105

Snyder KA, Richards JH, Donovan LA (2003) Night-time conductance in C-3 and C-4 species: do plants lose water at night? J Exp Bot 54:861–865

Spatz HC, Bruechert F (2000) Basic biomechanics of self-supporting plants: wind loads and gravitational loads on a Norway spruce tree. For Ecol Manage 135:33–44

Suzuki AA (2003) Shoot growth patterns in saplings of Cleyera japonica in relation to light and architectural position. Tree Physiol 23:67–71

Takeda T, Furuta Y, Awano T, Mizuno K, Mitsuishi Y, Hayashi T (2002) Suppression and acceleration of cell elongation by integration of xyloglucans in pea stem segments. Proc Natl Acad Sci USA 99:9055–9060

Taniguchi T, Ohmiya Y, Kurita M, Tsubomura M, Kondo T, Park YW, Baba K, Hayashi T (2008) Biosafety assessment of transgenic poplars overexpressing xyloglucanase (AaXEG2) prior to field trials. J Wood Sci 54:408–413

Taniguchi T, Konagaya K, Kurita M, Takata N, Ishii K, Kondo T, Funahashi F, Ohta S, Kaku T, Baba K, Kaida R, Hayashi T (2012) Growth and root sucker ability of field-grown transgenic poplars overexpressing xyloglucanase. J Wood Sci. doi:10.1007/s10086-012-1281-7

Vidyagina E, Kovalitskaya Y, Loginov D, Koroleva O, Shestibratov K (2013) Overexpression of the recombinant xyloglucanase sp-Xeg from Penicillium canescens accelerates growth and rooting of transgenic aspen plants. Nat Sci 5(6A):36–43

Vose JM, Allen HL (1988) Leaf area, stemwood growth, and nutrition relationships in loblolly-pine. For Sci 34:547–563

Waring RH (1983) Estimating forest growth and efficiency in relation to canopy leaf-area. Adv Ecol Res 13:327–354

Watt MS, Clinton PC, Parfitt RL, Ross C, Coker G (2009) Modelling the influence of site and weed competition on juvenile modulus of elasticity in Pinus radiata across broad environmental gradients. For Ecol Manage 258:1479–1488

Wright IJ, Groom PK, Lamont BB, Poot P, Prior LD, Reich PB, Schulze ED, Veneklaas EJ, Westoby M (2004) Leaf trait relationships in Australian plant species. Funct Plant Biol 31:551–558

Yagi T (2004) Within-tree variations in shoot differentiation patterns of 10 tall tree species in a Japanese cool-temperate forest. Can J Bot 82:228–243
Acknowledgments
We thank Dr. Keiichi Baba for his specific advice about stem mechanical properties, Dr. Yuko Hanba and Dr. Yoshiko Kosugi for her technical assistances, Ms. Marci Barton for her writing instruction, and journal experts and anonymous reviewers for their valuable comments and improvement of the manuscript. This work was supported by JSPS KAKENHI [Grant-in-Aid for Scientific Research (A)19208016]. This manuscript is part of the outcome of the JSPS Global COE Program (E-04): In Search of a Sustainable Humanosphere in Asia and Africa.
Additional information
Communicated by R. D. Guy.
Electronic supplementary material
Below is the link to the electronic supplementary material.
About this article
Cite this article
Funahashi, F., Ohta, S., Taniguchi, T. et al. Architectural and physiological characteristics related to the depressed growth of poplars overexpressing xyloglucanase in a field study. Trees 28, 65–76 (2014). https://doi.org/10.1007/s00468-013-0930-9
Received:

Revised:

Accepted:

Published:

Issue Date:
Keywords
Assimilation

Stomatal guard cell

Genetically modified trees

Drought

Morphology