Abstract
The aim of this study was to estimate the amount of pollen produced by anemophilous woody taxa with allergenic properties and with considerable contribution in the concentration of pollen in the air of a Mediterranean city (Thessaloniki, Greece). The taxa selected are Corylus avellana, Cupressus sempervirens var. horizontalis and var. pyramidalis, Olea europaea and Platanus orientalis; each was studied in more than one sampling stations differing in elevation, direction or both. O. europaea produced the highest number of pollen grains per flower (1.3 × 105 ± 0.1 × 105) and P. orientalis the highest per inflorescence (3.3 × 106 ± 0.2 × 106). At the level of crown, pollen grains produced were of the order of 109 per surface/volume unit for O. europaea and the two C. sempervirens varieties; for the other two taxa, they were of the order of 106. Pollen production was lower at higher elevation and northern direction and depended on the size of the floral unit sampled (flower for O. europaea, inflorescence for all other species): the bigger the floral unit, the more pollen it contained. Our results and reports from other areas, where C. sempervirens and O. europaea grow, show that these two Mediterranean species produce comparable amounts of pollen at the levels of inflorescence or flower, respectively, wherever they occur.
Access options
Buy single article
Instant access to the full article PDF.
US$ 39.95
Tax calculation will be finalised during checkout.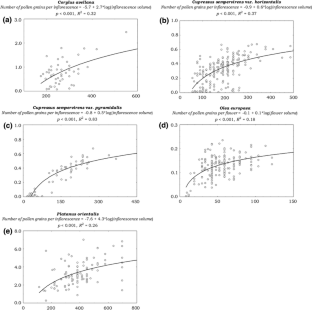 References
Allison TD (1990) Pollen production and plant density affect pollination and seed production in Taxus canadensis. Ecology 7:516–522

Bera SK (1990) Palynology of Shorea robusta (Dipterocarpaceae) in relation to pollen production and dispersal. Grana 29:251–255

Beri SM, Anand SC (1971) Factors affecting pollen shedding capacity in wheat. Euphytica 20:327–332

Beyer WH (1984) Standard mathematical tables, 27th edn. CRC Press, Boca Raton

Bhattacharya A, Mondal S, Mandal S (1999) Entomophilous pollen incidence with reference to atmospheric dispersal in eastern India. Aerobiologia 15:311–315

Bricchi E, Frenguelli G, Mincigrucci G (2000) Experimental results about Platanus pollen deposition. Aerobiologia 16:347–352

Campbell DR, Halama KJ (1993) Resource and pollen limitations to lifetime seed production in a natural plant population. Ecology 74:1043–1051

Cruden RW (1977) Pollen–ovule ratios. A conservative indicator of breeding systems in flowering plants. Evolution 31:32–46

Cuevas J, Polito VS (2004) The role of staminate flowers in the breeding system of Olea europaea (Oleaceae): an andromonoecious, wind-pollinated taxon. Ann Bot 93:547–553

Damialis A (2010) Patterns of pollen production and atmospheric circulation in the area of Thessaloniki, PhD dissertation. Aristotle University of Thessaloniki [in Greek with English summary]

Damialis A, Halley JM, Gioulekas D, Vokou D (2007) Long-term trends in atmospheric pollen levels in the city of Thessaloniki, Greece. Atmos Environ 41:7011–7021

Davarynejad GH, Szabó Z, Nyéki J, Szabó T (2008) Phenological stages, pollen production level, pollen viability and in vitro germination capability of some sour cherry cultivars. Asian J Plant Sci 7:672–676

de Vries APh (1971) Flowering biology of wheat, particularly in view of hybrid seed production. A review. Euphytica 20:152–170

de Vries APh (1974) Some aspects of cross-pollination in wheat (Triticum aestivum L.) Anther length and number of pollen grains per anther. Euphytica 23:11–19

Díaz de la Guardia C, Alba F, de Linares C, Nieto-Lugilde D, López Caballero J (2006) Aerobiological and allergenic analysis of Cupressaceae pollen in Granada (Southern Spain). J Invest Allerg Clin Immunol 16:24–33

Faegri K, Iversen J (1989) In: Faegri K, Kalland PE, Krzywinski K (eds) Textbook of pollen analysis, 4th edn. Wiley, Chichester

Ferrara G, Camposeo S, Palasciano M, Godini A (2007) Production of total and stainable pollen grains in Olea europaea L. Grana 46:85–90

Fotiou C, Damialis A, Krigas N, Halley JM, Vokou D (2010) Parietaria judaica flowering phenology, pollen production, viability and atmospheric circulation, and expansive ability in the urban environment: impacts of environmental factors. Int J Biometeorol (in press)

Fumanal B, Chauvel B, Bretagnolle F (2007) Estimation of pollen and seed production of common ragweed in France. Ann Agric Environ Med 14:233–236

Giantomasi MA, Roig Juñent FA, Villagra PE, Srur AM (2009) Annual variation and influence of climate on the ring width and wood hydrosystem of Prosopis flexuosa DC trees using image analysis. Trees 23:117–126

Gioulekas D, Papakosta D, Damialis A, Spieksma FThM, Giouleka P, Patakas D (2004) Allergenic pollen records (15 years) and sensitization in patients with respiratory allergy in Thessaloniki, Greece. Allergy 59:178–184

Gomez-Casero MT, Hidalgo PJ, García-Mozo H, Domínguez E, Galán C (2004) Pollen biology in four Mediterranean Quercus species. Grana 43:22–30

Guardia R, Belmonte J (2004) Phenology and pollen production of Parietaria judaica L. in Catalonia (NE Spain). Grana 43:57–64

Hall AJ, Vilella F, Trapani N, Chimenti C (1982) The effects of water stress and genotype on the dynamics of pollen-shedding and silking in maize. Field Crops Res 5:349–363

Hidalgo PJ, Galán C, Domínguez E (1999) Pollen production of the genus Cupressus. Grana 38:296–300

Hill SJ, Stephenson DW, Taylor BK (1985) Almond pollination studies: pollen production and viability, flower emergence and cross-pollination tests. Austr J Exp Agr 25:697–704

Hyde HA, Williams DA (1946) Studies in atmospheric pollen. III. Pollen production and pollen incidence in ribwort plantain (Plantago lanceolata L.). New Phytol 45:271–277

Jablonski LM, Wang XZ, Curtis PS (2002) Plant reproduction under elevated CO2 conditions: a meta-analysis of reports on 79 crop and wild species. New Phytol 156:9–26

Jato V, Rodríguez-Rajo FJ, Aira MJ (2007a) Use of phenological and pollen-production data for interpreting atmospheric birch pollen curves. Ann Agric Environ Med 14:271–280

Jato V, Rodríguez-Rajo FJ, Aira MJ (2007b) Use of Quercus ilex subsp. ballota phenological and pollen-production data for interpreting Quercus pollen curves. Aerobiologia 23:91–105

Joppa IR, McNeal FH, Berg MA (1968) Pollen production and pollen shedding of hard red spring (Triticum aestivum L. em. Thell.) and durum (T. durum Desf.) wheats. Crop Sci 8:487–490

Khanduri VP, Sharma CM (2002a) Pollen production, microsporangium and pollen flow in Himalayan cedar (Cedrus deodara Roxb. Ex D. Don). Ann Bot 89:587–593

Khanduri VP, Sharma CM (2002b) Pollen productivity variations. Pollen–ovule ratio and sexual selection in Pinus roxburghii. Grana 41:29–38

Khanduri VP, Sharma CM (2009) Cyclic pollen production in Cedrus deodara. Sex Plant Reprod 22:53–61

LaDeau SL, Clark JS (2006) Pollen production by Pinus taeda growing in elevated atmospheric CO2. Funct Ecol 20:541–547

Larese Filon F, Bosco A, Barbina P, Sauli ML, Rizzi Longo L (2000) Betulaceae and Corylaceae in Trieste (NE-Italy): Aerobiological and clinical data. Aerobiologia 16:87–91

Lau TC, Stephenson AG (1993) Effects of soil-nitrogen on pollen production, pollen grain size, and pollen performance in Cucurbita pepo (Cucurbitaceae). Am J Bot 80:763–768

Levanič T, Gričar J, Gagen M, Jalkanen R, Loader NJ, McCarroll D, Oven P, Robertson I (2009) The climate sensitivity of Norway spruce [Picea abies (L.) Karst.] in the southeastern European Alps. Trees 23:169–180

Martín-Benito D, Cherubini P, del Río M, Cañellas I (2008) Growth response to climate and drought in Pinus nigra Arn. trees of different crown classes. Trees 22:363–373

Matis KG (1994) Forest biometry. ΙΙ. Dendrometry. G. Dedousis, Thessaloniki, pp 105–107 (in Greek)

McKone MJ (1990) Characteristics of pollen production in a population of New Zealand snow-tussock grass (Chionochloa pallens Zotov). New Phytol 116:555–562

Moe D (1998) Pollen production of Alnus incana at its south Norwegian altitudinal ecotone. Preliminary observations. Grana 37:35–39

Mondal AK, Mandal S (1998) Pollen production in some terrestrial angiosperms. Curr Sci 74:906–910

Moore PD, Webb JA, Collinson ME (1991) Pollen analysis, 2nd edn. Blackwell Scientific Publications, London, pp 42–46 and 181–182

Oliveira G, Correia O, Martins-Loução MA, Catarino FM (1994) Phenological and growth patterns of the Mediterranean oak Quercus suber L. Trees 9:41–46

Palmer RG, Albertsen MC, Heer H (1978) Pollen production in soybeans with respect of genotype, environment and stamen position. Euphytica 27:427–433

Prieto-Baena JC, Hidalgo PJ, Domínguez E, Galán C (2003) Pollen production in the Poaceae family. Grana 42:153–160

Rogers CA (1993) Application of aeropalynological principles in paleoecology. Rev Palaeobot Palynol 79:133–140

Rogers CA, Wayne PM, Macklin EA, Muilenberg ML, Wagner CJ, Epstein PR, Bazzaz FA (2006) Interaction of the onset of spring and elevated atmospheric CO2 on ragweed (Ambrosia artemisiifolia L.) pollen production. Environ Health Perspect 114:865–869

Sapra VT, Hughes JL (1975) Pollen production in hexaploid triticale. Euphytica 24:237–243

Shivanna KR, Rangaswamy NS (1992) Pollen biology. A laboratory manual. Springer, Berlin

Spalik K, Woodell SRJ (1994) Regulation of pollen production in Anthriscus sylvestris, an andromonoecious species. Int J Plant Sci 155:750–754

Subba Reddi C, Reddi NS (1986) Pollen production in some anemophilous angiosperms. Grana 25:55–61

Suzuki AA, Suzuki M (2009) Why do lower order branches show greater shoot growth than higher order branches? Considering space availability as a factor affecting shoot growth. Trees 23:69–77

Tormo Molina R, Muñoz Rodríguez A, Silva Palacios I, Gallardo López F (1996) Pollen production in anemophilous trees. Grana 35:38–46

Vidal-Martínez VA, Clegg MD, Johnson BE, Osuna-García JA, Coutiño-Estrada B (2004) Phenotypic plasticity and pollen production components in maize. Agrociencia 38:273–284

Wan S, Yuan T, Bowdish S, Wallace L, Russell SD, Luo Y (2002) Response of an allergenic species, Ambrosia psilostachya (Asteraceae), to experimental warming and clipping: implications for public health. Am J Bot 89:1843–1846

Wayne P, Foster S, Connolly J, Bazzaz F, Epstein P (2002) Production of allergenic pollen by ragweed (Ambrosia artemisiifolia L.) is increased in CO2-enriched atmospheres. Ann Allerg Asthma Immunol 88:279–282

Westgate ME, Lizaso J, Batchelor W (2003) Quantitative relationships between pollen shed density and grain yield in maize. Crop Sci 43:934–942

Ziska LH, Caulfield FA (2000) Rising CO2 and pollen production of common ragweed (Ambrosia artemisiifolia), a known allergy-inducing species: implications for public health. Aust J Plant Physiol 27:893–898
Acknowledgments
This research was financially supported by the Operational Programme 'Education and Initial Vocational Training' (PYTHAGORAS II).
Additional information
Communicated by J. Carlson.
About this article
Cite this article
Damialis, A., Fotiou, C., Halley, J.M. et al. Effects of environmental factors on pollen production in anemophilous woody species. Trees 25, 253–264 (2011). https://doi.org/10.1007/s00468-010-0502-1
Received:

Revised:

Accepted:

Published:

Issue Date:
Keywords
Airborne pollen

Climate change

Forest species

Mediterranean vegetation

Pollen dynamics

Reproductive output