Abstract
Pongamia pinnata, commercially important tree species used to produce biofuels, is known for its multipurpose benefits and its role in agro-forestry. Present study examines the amenability of vegetative propagation and effect of maturation in candidate plus tree P. pinnata through rooting of stem cuttings treated with varying concentrations and combinations of auxins. The performance of the cuttings was evaluated using SAS GLM software and the data were analyzed as a one-way classified data with and without sub sampling for inferring auxin concentration that can be included in programmes aimed at genetic improvement of the tree species. All auxin treatments promoted sprouting and at lower concentrations triggered/enhanced rooting of cuttings. The effectiveness was in the order of IBA > NAA > IAA when applied singly. IBA at 4.92 mM was found to be most effective where rooting percentage and number of roots were significantly higher (P < 0.01) than in control. However higher concentrations of auxins above 7 mM in general inhibited the rooting of cuttings. The interaction among auxins was found to be effective in root induction and differentiation and the most stimulating effects were observed in three-component mixture. The effect of other cutting characteristics such as juvenility and cutting position on rooting is also discussed.
Access options
Buy single article
Instant access to the full article PDF.
US$ 39.95
Tax calculation will be finalised during checkout.
Subscribe to journal
Immediate online access to all issues from 2019. Subscription will auto renew annually.
US$ 119
Tax calculation will be finalised during checkout.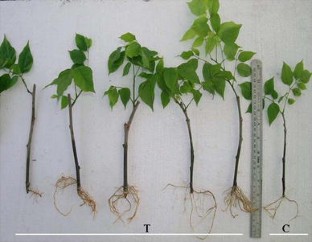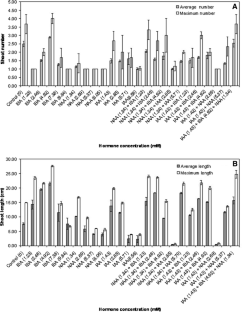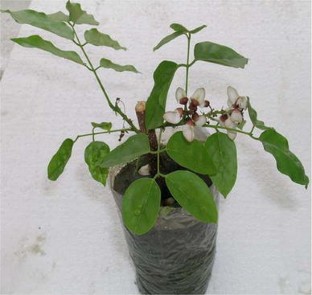 Abbreviations
CPT:

Candidate plus tree

IAA:

Indole-3-acetic acid

IBA:

Indole-3-butyric acid

NAA:

Naphthalene acetic acid

NG:

North Guwahati
References
Abramovich R, Tal M, Forti M (1980) Jojoba cuttings. In: Pueblo M (ed) Proc of the fourth international conference on Jojoba. Hermosillo Sonora, Mexico

Arya S, Tomar R, Toky OP (1994) Effect of plant age and auxin treatment on rooting response in stem cuttings of Prosopis cineraria. J Arid Environ 27:99–103. doi:10.1006/jare.1994.1049

De Klerk G, Ter Brugge J, Marinova S (1997) Effectiveness of IAA, IBA, and NAA during adventitious roots formation in vitro in Malus 'Jork 9'. Plant Cell Tissue Organ Cult 49:39–44. doi:10.1023/A:1005850222973

De Vier CL, Geneve RL (1997) Flowering influences root formation in Chrysanthemum cuttings. Sci Hortic 70:309–318. doi:10.1016/S0304-4238(97)00072-1

Duke JA (1983) Handbook of energy crops. http://www.hotr.purdue.edu/duke_energy/pongamia_pinnata.htm.(unpublished)

Epstein E, Ludwig-Muller J (1993) Indole-3-butyric acid in plants occurrence, synthesis, metabolism and transport. Physiol Plant 88:382–389. doi:10.1111/j.1399-3054.1993.tb05513.x

Hartmann HT, Kester DE, Davies FT, Geneve RL (2002) Hartmann and Kester's plant propagation: principles and practices, 7th edn. Prentice-Hall, Upper Saddle River, pp 298–342

Henrique A, Campinhos EN, Ono EO, de Pinho SZ (2006) Effect of plant growth regulators in rooting of Pinus cuttings. Braz Arch Biol Tech 49:189–196

Henselova M (2002) Synergistic effect of benzolinone with IBA and fungicides on the vegetative propagation of ornamental plants, park and fruit woody species. J Hortic Sci 29:41–50

House APN, Walker SM, Doran JC (1996) Improvement and propagation of Backhousia citriodora, an essential oil bearing species of commercial potential. In: Dieters MJ, Matheson AC, Nikles DG, Harwood CE, Walker SE (eds) Tree improvement in sustainable tropical forestry QFRI-IUFRO, vol 1. Queensland Forestry Research Institute, Gympie, pp 83–84

Kesari V, Krishnamachari A, Rangan L (2008) Systematic characterization and seed oil analysis in candidate plus trees of biodiesel plant, Pongamia pinnata (L.). Ann Appl Biol 152:357–404. doi:10.1111/j.1744-7348.2008.00231.x

Kevers CJF, Hausman O, Faivre-Rampant D, Evers T, Gaspar (1997) Hormonal control of adventitious rooting: progress and questions. J Appl Bot 71:71–79

Kibbler H, Jhonston ME, Williams RR (2004) Adventitious root formation in cuttings of Backhousia citridora F. Muell 1. Plant genotype, juvenility and characteristics of cuttings. Sci Hortic 102:133–143. doi:10.1016/j.scienta.2003.12.012

Kochhar VK, Singh SP, Katiyar RS, Pushpangadan P (2005) Differential rooting and sprouting behaviour of two Jatropha species and associated physiological and biochemical changes. Curr Sci 89(6):936–939

Krisantini S, Johnston M, Williams RR, Beveridge C (2006) Adventitious root formation in Grevillea (Proteaceae), an Australian native species. Sci Hortic 107:171–175. doi:10.1016/j.scienta.2005.05.015

Ludwig-Müller J (2000) Indole-3-butyric acid in plant growth and development. Plant Growth Regul 32:219–230. doi:10.1023/A:1010746806891

Mesen F, Newton AC, Leakey RRB (1997) Vegetative propagation of Cordia allidora (Ruiz and Pavon) Oken: the effects of IBA concentration, propagation medium and cutting origin. For Ecol Manage 92:45–54

Mullins MG (1972) Auxin and ethylene in adventitious root formation in Phaseolus aureus (Roxb.). In: Carr DJ (ed) Plant growth substances. Springer, New York, pp 526–533

Oduol PA, Akunda E (1988) Vegetative propagation of Sesbania sesban by cuttings. Agrofor Syst 6:283–288

Palanisamy K, Ansari SA, Pramod K, Gupta BN (1998) Adventitious rooting in shoot cuttings of Azardirachta indica and Pongamia pinnata. New For 16:81–88. doi:10.1023/A:1006586603388

Poupard C, Chauviere M, Monteuuis O (1994) Rooting Acacia mangium cuttings: effects of age, within-shoot position and auxin treatment. Silvae Genet 43:226–231

Rao CS, Egananthan P, Anand A, Latha R, Balakrishna P (2001) Application of biotechnology and classical breeding methods in the genetic enhancement of mangroves. In: Bhat NR, Taha FK, Al-Nasser AY (eds) Proceedings of the international symposium on mangrove ecology and biology, Kuwait, pp 83–95

Roh MS, Lee AK, Suh JK (2005) Production of high quality Ardisia plants by stem tip cuttings. Sci Hortic 104:293–303. doi:10.1016/j.scienta.2004.09.001

SAS Institute Inc. (1999) SAS/STAT user's guide, version 6, 4th edn, vol 1. SAS Institute Inc, Cary

Shrinivasa U (2001) A viable substitute for diesel in rural India. Curr Sci 80:1484

Somashekar BS, Sharma M (2002) Propagation techniques of commercially important medicinal plants. Training manual, FRLHT, Bangalore, p 118

Tchoundjeu Z, Ngo Mpeck ML, Asaah E, Amougou A (2004) The role of vegetative propagation in the domestication of Pausinystalia johimbe (K. Schum), a highly threatened medicinal species of West and Central Africa. For Ecol Manage 188:175–183

Teklehaimanot Z, Tomlinson H, Lemma T, Reeves K (1996) Vegetative propagation of Parkia biglobosa (Jacq.) Benth., an undomesticated fruit tree from West Africa. J Hortic Sci 71:205–215

Thiele J, Jorgensen RB, Hauser TP (2008) Flowering does not decrease vegetative competitiveness of Lolium perenne. Basic Appl Ecol. doi: 10.1016/j.baac.2008.04.002
Acknowledgments
VK thanks Ministry of Human Resources Development (MHRD), Government of India for fellowship. Thanks to the Forest Department officials of Sila Forest, North Guwahati for kind supply of study material and for provision of technical staff. LR acknowledges funding by the Department of Science and Technology, Government of India SERC Fast Track Young Scientist Scheme.
Additional information
Communicated by F. Canovas.
About this article
Cite this article
Kesari, V., Krishnamachari, A. & Rangan, L. Effect of auxins on adventitious rooting from stem cuttings of candidate plus tree Pongamia pinnata (L.), a potential biodiesel plant. Trees 23, 597–604 (2009). https://doi.org/10.1007/s00468-008-0304-x
Received:

Revised:

Accepted:

Published:

Issue Date:
Keywords
Biodiesel

Pongamia

Plus tree

Stem cuttings

Vegetative propagation