Abstract
Sprouting axillary buds sampled from a mature 27-year-old shrub of Cornus mas 'Macrocarpa' were used as starting material for in vitro culture establishment. Multiple shoot cultures, grown on basal woody plant medium with the pH adjusted to 5.6–5.7 and supplemented with 6-benzylaminopurine in combination with 1-naphthaleneacetic acid, were capable of continuous axillary and adventitious shoot proliferation up to 1 year. Later on, growth ceased, shoot tip necrosis appeared and shoot cultures died. Transfer of living shoots onto modified woody plant medium with the pH adjusted to 6.8–7.0 led to vigorous growth of multiple shoot cultures without any loss of multiplication rates or decreased vitality for several years. The use of 6-benzylaminopurine in combination with 1-naphthaleneacetic acid proved superior to the application of thidiazuron which induced a frequent formation of short and fasciated shoots. 1-naphthaleneacetic acid promoted in vitro adventitious rooting frequency up to 73.3%, whereas indole-3-butyric acid was not effective. Ex vitro acclimatized plants did not show any visually detectable morphological variation.
Access options
Buy single article
Instant access to the full article PDF.
USD 39.95
Price excludes VAT (USA)
Tax calculation will be finalised during checkout.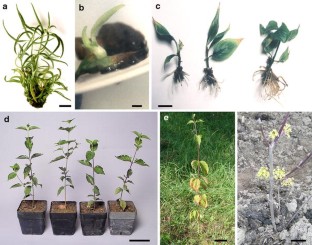 References
Declerck V, Korban SS (1994) Effects of source of macronutrients and plant growth regulator concentrations on shoot proliferation of Cornus florida. Plant Cell Tissue Organ Cult 38:57–60

Edson JL, Wenny DL, Leege-Brusven A (1994) Micropropagation of Pacific dogwood. HortScience 29:1355–1356

Hadziabdic D, Trigiano RN, Garton S, Windham MT (2004) In vitro regeneration of Cornus kousa. S Nurs Assoc Res Conf Proc 49:356–358

Kaveriappa KM, Phillips LM, Trigiano RN (1997) Micropropagation of flowering dogwood (Cornus florida) from seedlings. Plant Cell Rep 16:485–489

Lloyd GB, McCown BH (1980) Commercially feasible micropropagation of mountain laurel, Kalmia latifolia, by use of shoot-tip culture. Proc Int Plant Prop Soc 30:421–427

Pennell D (1983) The future use of micropropagation in the United Kingdom. Proc Int Plant Prop Soc 33:249–253

Preece JE, Huetteman CA, Ashby WC, Roth PL (1991) Micro- and cutting propagation of silver maple. 1. Results with adult and juvenile propagules. J Am Soc Hortic Sci 116:142–148

Quinn GP, Keough MJ (2002) Experimental design and data analysis for biologists. Cambridge University Press, Cambridge

Rushforth K (1999) Trees of Britain and Europe. HarperCollins Publishers, London

Trigiano RN, Beaty RM, Dietrich JT (1989) Somatic embryogenesis and plantlet regeneration in Cornus florida. Plant Cell Rep 8:270–273
Acknowledgments
The author thanks Dr. D. Gömöry for statistical advice, Mrs. H. Parobková for preparation of culture media, and Mrs. A. Lengyelová for excellent care for plantlets transferred to ex vitro environment. This work was financed by the Slovak Grant Agency VEGA (1/3262/06 and 1/3514/06).
Additional information
Communicated by D. Treutter.
About this article
Cite this article
Ďurkovič, J. Micropropagation of mature Cornus mas 'Macrocarpa'. Trees 22, 597–602 (2008). https://doi.org/10.1007/s00468-008-0228-5
Received:

Revised:

Accepted:

Published:

Issue Date:

DOI: https://doi.org/10.1007/s00468-008-0228-5
Keywords