Abstract
Because they maintain green foliage throughout the winter season, evergreen conifers may face special physiological challenges in a warming world. We assessed the midwinter low-temperature (LT) tolerance of foliage from eight temperate and boreal species in each of the genera Abies, Picea, and Pinus growing in an arboretum in Trondheim, Norway, using relative electrolyte leakage (REL) as an index of cell injury. Relatively LT sensitive species came from temperate coastal and Mediterranean environments and displayed a well-defined sigmoidal response to LT stress, with LT50 ranging from −27 to −38°C. Species originating from boreal regions were not lethally stressed by slow freezing to temperatures as low as −80°C, while species from temperate mountains and continental interiors displayed intermediate responses, with LT50s ranging from −33 to −44°C. Further evaluation of one sensitive and one insensitive species in each genus showed that boreal species can survive quenching in liquid nitrogen at −196°C provided they are first slowly cooled to −30°C or lower. Quantitative image analysis of color changes resulting from LT stress followed by exposure to light showed that foliage from nonlethally stressed boreal species developed mild to moderate chlorosis while more sensitive species developed a mixture of chlorosis and necrosis, with significant necrosis occurring mainly at temperatures resulting in REL of 50% or more. Sensitive and insensitive trees differed significantly in total raffinose, sucrose, and total sugar concentrations, and raffinose and sucrose correlated significantly with LT50 within the sensitive group.
Access options
Buy single article
Instant access to the full article PDF.
USD 39.95
Price excludes VAT (USA)
Tax calculation will be finalised during checkout.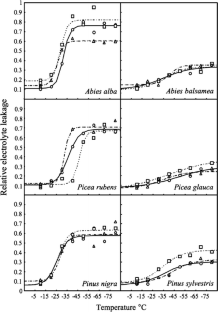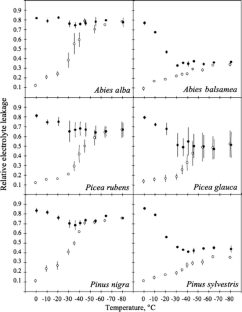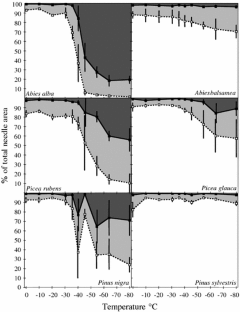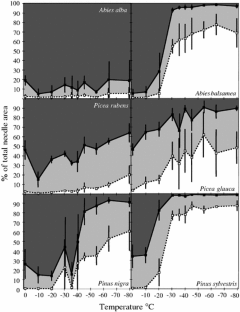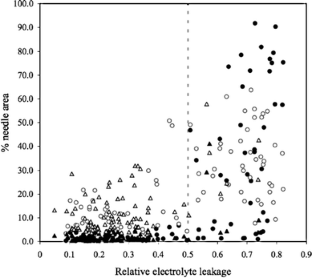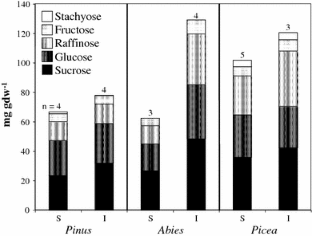 References
Adams GT (1996) Wintertime photostress in red spruce foliage. Master's Thesis, Department of Botany, University of Vermont, Burlington

Adams GT, Perkins TD, Klein R (1991) Anatomical studies on first-year winter injured red spruce foliage. Am J Bot 78:1199–1206

Anderson JA, Kenna MP, Taliaferro CM (1988) Cold hardiness of 'Midiron' and 'Tifgreen' bermudagrass. HortSci 23:748–750

Arakawa T, Timasheff SN (1982) Stabilization of protein structure by sugars. Biochem 21:6536–6544

Bannister P, Neuner G (2001) Frost resistance and distribution of conifers. In: Bigras FJ, Colombo SJ (eds) Conifer cold hardiness, vol 1. Kluwer, Dordrecht, pp 3–21

Baronius G, Fiedler HJ, Montag HG (1991) Comparative investigations by means of Munsell-color charts and the Cielab Color System on the winter chlorosis of Pinus sylvestris L. in the Pollution Area of the Dueben Heath. Forstwiss Centralbl 110:263–277

Becwar M, Rajashekar C, Bristow K, Burke M (1981) Deep undercooling of tissue water and winter hardiness limitations in timberline flora. Plant Physiol 68:111–114

Buitink J, Leprince O (2004) Glass formation in plant anhydrobiotes: survival in the dry state. Cryobiology 48:215–228

Burke MJ (1985) The glassy state and survival of anhydrous biological systems. In: Leopold AC (ed) Membranes, metabolism, and dry organisms. Comstock Publishing Associates, Ithaca, pp 358–363

Crowe JH, Crowe LM, Chapman D (1984) Preservation of membranes in anhydrobiotic organisms—the role of trehalose. Science 223:701–703

Crowe JH, Carpenter JF, Crowe LM (1998) The role of vitrification in anhydrobiosis. Annu Rev Physiol 60:73–103

DeHayes DH (1992) Winter injury and developmental cold tolerance of red spruce. In: Eagar C, Adams MB (eds) Ecology and decline of Red Spruce in the Eastern United States, vol 96. Springer, New York, pp 295–337

DeHayes DH, Schaberg PG, Strimbeck GR (2001) Red spruce (Picea rubens Sarg.) cold hardiness and freezing injury susceptibility. In: Bigras FJ, Colombo SJ (eds) Conifer cold hardiness, vol 1. Kluwer, Dodrecht, pp 495–529

Earle CJ (2006) The gymnosperm database. http://www.conifers.org/index.html. Accessed 5 February 2007

Franks F (1985) Biophysics and biochemistry at low temperatures. Cambridge University Press, Cambridge

Hawkins BJ, Davradou M, Pier D, Shortt R (1995) Frost hardiness and winter photosynthesis of Thuja-Plicata and Pseudotsuga-Menziesii seedlings grown at 3 rates of nitrogen and phosphorus supply. Can J Forest Res 25:18–28

Hinesley L, Pharr D, Snelling L, Funderburk S (1992) Foliar raffinose and sucrose in four conifer species: relationship to seasonal temperature. J Am Soc Hort Sci 117:852–855

Hiratsuka Y, Zalasky H (1993) Frost and other climate-related damage of forest trees in the prairie provinces. Forestry Canada, northwest Region, Northern Forestry Centre, Edmonton, p 26

Hirsh A (1987) Vitrification in plants as a natural form of cryoprotection. Cryobiology 24:214–228

Hirsh A, Williams R, Meryman H (1985) A novel method of natural cryoprotection. Intracellular glass formation in deeply frozen Populus. Plant Physiol 79:41–56

Johnson AH, McGlaughlin SB, Adams MB, Cook ER, DeHayes DH, Eagar C, Fernandez IJ, Johnson DW, Kohut RJ, Mohnen VA, Nicholas NS, Peart DR, Schier GA, White PS (1992) Synthesis and conclusions from epidemiological and mechanistic studies of red spruce decline. In: Eagar C, Adams MB (eds) Ecology and decline of Red Spruce in the Eastern United States, vol 96. Springer, New York, pp 365–411

Koster K (1991) Glass formation and desiccation tolerance in seeds. Plant Physiol 96:302–304

Koster K, Lynch D (1992) Solute accumulation and compartmentation during the cold acclimation of Puma rye. Plant Physiol 98:108–113

Krestov PV, Nakamura Y (2002) Physosociological study of the Picea jezoensis forests of the far east. Folia Geobotanica 37:441–473

Leprince O, Waltersvertucci C (1995) A calorimetric study of the glass-transition behaviors in axes of bean-seeds with relevance to storage stability. Plant Physiol 109:1471–1481

Liesebach J, Rades T, Lim M (2003) A new method for the determination of the unfrozen matrix concentration and the maximal freeze-concentration. Thermochim Acta 401:159–168

Moen A (1999) National Atlas of Norway: Vegetation. Norwegian Mapping Authority, Hønefoss

Ögren E, Nilsson T, Sundblad L (1997) Relationship between respiratory depletion of sugars and loss of cold hardiness in coniferous seedlings over-wintering at raised temperatures: indications of different sensitivities of spruce and pine. Plant Cell Environ 20:247–253

Olszowka D, Maksymiec W, Krupa Z, Krawczyk S (2003) Spectral analysis of pigment photobleaching in photosynthetic antenna complex LHCIIb. J Photochem Photobiol B-Biol 70:21–30

Pukacki P (1987) Deep supercooling of shoot and bud tissues of Picea abies. For Ecol Manage 20:97–103

Sakai A (1960) Survival of the twigs of woody plants at −196 °C. Nature 185:393–394

Sakai A (1978) Low temperature exotherms of winter buds of hardy conifers. Plant Cell Physiol 19:1439–1446

Sakai A (1983) Comparative-study on freezing resistance of conifers with special reference to cold adaptation and its evolutive aspects. Can J Bot-Revue Can De Bot 61:2323–2332

Sakai A, Larcher W (1987) Frost survival of plants: responses and adaptations to freezing stress. Springer, Berlin

Sakai A, Okada S (1971) Freezing resitance of conifers. Silvae Gentica 20:91–97

Sakai A, Weiser CJ (1973) Freezing resistance of trees in North America with reference to tree regions. Ecology 54:118–126

Schaberg PG, Shane JB, Hawley GJ, Strimbeck GR, Cali PF, Donnelly JR, DeHayes DH (1996) Physiological changes in red spruce seedlings during a simulated winter thaw. Tree Physiol 16:567–574

Schaberg PG, Shane JB, Cali PF, Donnely JR, Strimbeck GR (1998) Photosynthetic capacity of red spruce during winter. Tree Physiol 18:271–276

Schaberg PG, Strimbeck GR, Hawley GJ, DeHayes DH, Shane JB, Murakami PF, Perkins TD, Donnely JR, Wong BL (1999) Cold tolerance and photosystem function in a montane red spruce population: physiological relationships with foliar carbohydrates. J Sustainable For 10:173–180

Strimbeck GR, Vann DR, Johnson AH (1991) In situ experimental freezing produces symptoms of winter injury in red spruce foliage. Tree Physiol 9:359–367

Strimbeck GR, Schaberg PG, DeHayes DH, Shane JB, Hawley GJ (1995) Midwinter dehardening of montane red spruce during a natural thaw. Can J For Res 25:2040–2044

Trewartha GT, Horn LH (1971) An introduction to climate. MGraw Hill International, London

White PS, Cogbill CV (1992) Spruce-fir forests of eastern North America. In: Eagar C, Adams MB (eds) Ecology and decline of red spruce in the Eastern United States, vol 96. Springer-Verlag, New York, p 417
Additional information
Communicated by H.G. Jones.
Electronic supplementary material
Below is the link to the electronic supplementary material.
About this article
Cite this article
Strimbeck, G.R., Kjellsen, T.D., Schaberg, P.G. et al. Cold in the common garden: comparative low-temperature tolerance of boreal and temperate conifer foliage. Trees 21, 557–567 (2007). https://doi.org/10.1007/s00468-007-0151-1
Received:

Revised:

Accepted:

Published:

Issue Date:

DOI: https://doi.org/10.1007/s00468-007-0151-1
Keywords
Frost tolerance

Winter physiology

Sugars

Biogeography