Abstract
Pear (Pyrus sp.) is a major fruit crop of temperate regions with increasing extent of cultivation. Pear flavonoids contribute to its fruit color, pathogen defense, and are health beneficial ingredients of the fruits. Comparative Southern analyses with apple (Malus x domestica) cDNAs showed comparable genomic organization of flavonoid genes of both related genera. A homology-based cloning approach was used to obtain the cDNAs of most enzymes of the main flavonoid pathway of Pyrus: phenylalanine ammonia lyase, chalcone synthase, chalcone isomerase, flavanone 3β-hydroxylase, flavonol synthase, dihydroflavonol 4-reductase, leucoanthocyanidin reductase 1 and 2, anthocyanidin synthase, anthocyanidin reductase, and UDP-glucose : flavonoid 7-O-glucosyltransferase. The substrate specificities of the recombinant enzymes expressed in yeast were determined for physiological and non-physiological substrates and found to be in general agreement with the characteristic pear flavonoid metabolite pattern of mainly B-ring dihydroxylated anthocyanins, flavonols, catechins, and flavanones. Furthermore, significant differences in substrate specificities and gene copy numbers in comparison to Malus were identified. Cloning of the cDNAs and studying the enzymes of the Pyrus flavonoid pathway is an essential task toward a comprehensive knowledge of Pyrus polyphenol metabolism. It also elucidates evolutionary patterns of flavonoid/polyphenol pathways in the Rosaceae, which allocate several important crop plants.
Access options
Buy single article
Instant access to the full article PDF.
USD 39.95
Price includes VAT (USA)
Tax calculation will be finalised during checkout.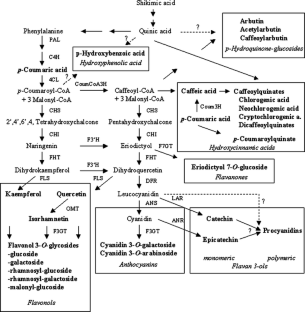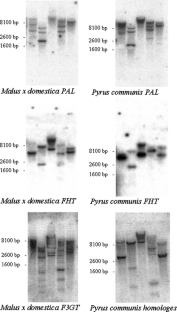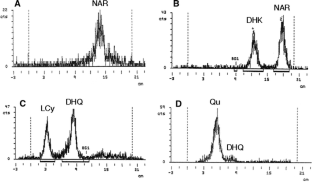 References
Amiot MJ, Tacchini M, Aubert SY, Oleszek W (1995) Influence of cultivar, maturity stage, and storage conditions on phenolic composition and enzymatic browning of pear fruits. J Agric Food Chem 43:1132–1137

Andrade PB, Carvalho ARF, Seabra RM, Ferreira MA (1998) A previous study of phenolic profiles of quince, pear, and apple purees by HPLC diode array detection for the evaluation of quince puree genuineness. J Agric Food Chem 46:968–972

Andreotti C, Costa G, Treutter D (2006) Composition of phenolic compounds in pear leaves as affected by genetics, ontogenesis and the environment. Sci Hortic 109(2):130–137

Arus P, Yamamoto T, Dirlewanger E, Abbott AG (2006) Synteny in the Rosaceae. Plant Breed Rev 27:175–211

Challice JS, Williams AH (1968) Phenolic compounds of the genus Pyrus–II. A chemotaxonomic survey. Phytochemistry 7:1781–1801

Challice J (1981) Chemotaxonomic studies in the family Rosaceae and the evolutionary origins of the subfamily Maloideae. Preslia 53:289–301

Davies KM (1993) A cDNA clone for flavanone 3-hydroxylase from Malus. Plant Physiol 103:291

Fischer M, Weber H-J (2005) Birnenanbau–integriert und biologisch. Ulmer, Stuttgart (Hohenheim)

Fischer TC, Halbwirth H, Meisel B, Stich K, Forkmann G (2003) Molecular cloning, substrate specificity of the functionally expressed dihydroflavonol 4-reductases from Malus domestica and Pyrus communis cultivars and the consequences for flavonoid metabolism. Arch Biochem Biophys 412:223–230

Fischer TC, Halbwirth H, Roemmelt S, Sabatini E, Schlangen K, Andreotti C, Spinelli F, Costa G, Forkmann G, Treutter D, Stich K (2006) Induction of polyphenol gene expression in apple (Malus x domestica) after the application of a dioxygenase enzyme inhibitor. Physiol Plant 128:604–617

Halbwirth H, Kampan W, Stich K, Fischer TC, Meisel B, Forkmann G, Rademacher W (2002) Biochemical and molecular biological investigations with respect to induction of fire blight resistance in apple and pear by transiently altering the flavonoid metabolism with specific enzyme inhibitors. Acta Hortic 590:485–492

Halbwirth H, Fischer TC, Schlangen K, Rademacher W, Schleifer K-J, Forkmann G, Stich K (2006) Screening for inhibitors of 2-oxoglutarate-dependent dioxygenases: flavanone 3β-hydroxylase and flavonol synthase. Plant Sci 171:194–205

Harborne JB (1993) Introduction to ecological biochemistry, 4th edn. Academic, London

Honda C, Kotoda N, Wada M, Kondo S, Kobayashi S, Soejima J, Zhang Z, Tsuda T, Moriguchi T (2002) Anthocyanin biosynthetic genes are coordinately expressed during red coloration in apple skin. Plant Physiol Biochem 40:955–962

Kim SH, Lee JR, Hong ST, Yoo YK, An G, Kim SR (2003) Molecular cloning and analysis of anthocyanin biosynthesis genes preferentially expressed in apple skin. Plant Sci 165:403–413

Ley JP, Krammer G, Reinders G, Gatfield IL, Bertram H-J (2005) Evaluation of bitter masking flavanones from Herba Santa (Eriodictyon californicum (H&A) Torr, Hydrophyllaceae). J Agric Food Chem 53:6061–6066

Macheix J-J, Fleuriet A, Billot J (1990) Fruit phenolics. CRC, Boca Raton, FL

Mendoza-Wilson AM, Glossmann-Mitnik D (2006) Theoretical study of the molecular properties and the chemical reactivity of (+)-catechin and (−)-epicatechin related to their antioxidant ability. JMS Theochem 761:97–106

Newcomb RD, Crowhurst RN, Gleave AP, Rikkerink EHA, Allan AC, Beuning LL, Bowen JH, Gera E, Jamieson KR, Janssen BJ, Laing WA, McArtney S, Nain B, Ross GS, Snowden KC, Souleyre EJF, Walton EF, Yauk Y-K (2006) Analyses of expressed sequence tags from apple. Plant Physiol 141:147–166

Petkou D, Diamantidis G, Vasilakakis M (2002) Arbutin oxidation by pear (Pyrus communis L.) peroxidases. Plant Sci 162:115–119

Pfeiffer J, Kühnel C, Brandt J, Duy D, Punyasiri PAN, Forkmann G, Fischer TC (2006) Biosynthesis of catechins by leucoanthocyanidin 4-reductases (LAR) and anthocyanidin reductases (ANR) in leaves of grape (Vitis vinifera), apple (Malus x domestica) and other crops. Plant Physiol Biochem 44(5–6):323–334

Pierantoni L, Cho K-H, Shin I-S, Chiodini R, Tartarini S, Dondini L, Kang S-J, Sansavini S (2004) Characterisation and transferability of apple SSRs to two European pear F1 populations. Theor Appl Genet 109:1519–1524

Punyasiri PAN, Abeysinghe ISB, Kumar V, Treutter D, Duy D, Gosch C, Martens S, Forkmann G, Fischer TC (2004) Flavonoid biosynthesis in the tea plant Camellia sinensis: characteristics of enzymes leading to the prominent epicatechin and catechin derivatives. Arch Biochem Biophys 431:22–30

Sandermann H, Strominger JL (1972) Purification and properties of C55-isoprenoid alcohol phosphokinase from Staphylococcus aureus. J Biol Chem 247:5123–5131

Schieber A, Keller P, Carle R (2001) Determination of phenolic acids and flavonoids of apple and pear by high-performance liquid chromatography. J Chromatogr A 910:265–273

Schijlen EGWM, Ric de Vos CH, van Tunen AJ, Bovy AG (2004) Modification of flavonoid biosynthesis in crop plants. Phytochemistry 65:2631–2648

Stich K, Halbwirth H, Wurst F, Forkmann G (1997) UDP-glucose: flavonol 7-O-glucosyltransferase activity in flower extracts of Chrysanthemum segetum. Z Naturforsch c 52:153–158

Stockigt J, Zenk MH (1976) Chemical synthesis and properties of hydroxycinnamoyl coenzyme A derivatives. Z Naturforsch 30c:352–358

Takos AM, Ubi BE, Robinson SP, Walker AR (2006) Condensed tannin biosynthesis genes are regulated separately from other flavonoid biosynthesis genes in apple fruit skin. Plant Sci 170:487–499

Treutter D (2005) Significance of flavonoids in plant resistance and enhancement of their biosynthesis. Plant Biol 7:581–591

Urban P, Mignotte C, Kazmaier M, Delorme F, Pompon D (1997) Cloning, yeast expression, and characterization of the coupling of two distantly related Arabidopsis thaliana NADPH-cytochrome P450 reductases with P450 CYP73A5. J Biol Chem 272:19176–19186

Xie D-Y, Sharma SB, Wright E, Wang Z-Y, Dixon RA (2006) Metabolic engineering of proanthocyanidins through co-expression of anthocyanidin reductase and the PAP1 MYB transcription factor. Plant J 45:895–907

Yamamoto T, Kimura T, Sawamura Y, Kotobuki K, BanY, Hayashi T, Matsuta N (2001) SSRs isolated from apple can identify polymorphism and genetic diversity in pear. Theor Appl Genet 102:865–870

Yilmaz Y (2006) Novel uses of catechins in foods. Trends Food Sci Technol 17:64–71
Acknowledgments
The financial support provided by the EU-Commission (QLK5-CT-1999-01583), the Bayerisches Staatsministerium für Umwelt, Gesundheit und Verbraucherschutz (76c-8793-2003/10), the Austrian Federal Ministry for Agriculture, Forestry, Environment and Water, and the Austrian Federal States (Project 1296) is gratefully acknowledged. Barbara Meisel (TUM, Freising, now Pretoria) is thanked for help in cloning work and Chikako Honda (National Institute for Fruit Tree Science, Japan) for providing the untranslated 5′ sequence of Malus CHS by personal communication. Dieter Treutter (Fruit Science, TUM, Freising, Germany) and Silke Peterek (IPK, Gatersleben, Germany) are acknowledged for discussion and help with literature on pear polyphenols.
About this article
Cite this article
Fischer, T.C., Gosch, C., Pfeiffer, J. et al. Flavonoid genes of pear (Pyrus communis). Trees 21, 521–529 (2007). https://doi.org/10.1007/s00468-007-0145-z
Received:

Revised:

Accepted:

Published:

Issue Date:
Keywords
Flavonoids

Pear (Pyrus communis)

Polyphenols

Rosaceae